The Vietnamese population of Australia totals around 300,000, just 1% of the country's inhabitants, but it's rich in entrepreneurs who are innovating in everything from establishing specialty restaurants to importing coffee beans, to cooking up traditional desserts. These are the places where you can count on quality pho, with slowly cooked broth and fresh herbs and spices. But, you'll also find lots of bánh mì, cà phê and so much more.
If you're keen on supporting Vietnamese entrepreneurs in the Land Down Under, we've got heaps of Vietnamese restaurants and cafes you can try when you're in the smallest continent.
Chè, Melbourne & Springvale
The term Chè translates to any traditional Vietnamese sweet beverage, dessert soup or pudding. This dessert house is a personal pick by one of our interns because of its irresistible offerings and air of nostalgia, giving it a Hoi An vibe. Chè is the first in Australia to showcase a variety of chè dishes in a formal business platform.
The founders of Chè are determined to do it right. They've traveled all over Vietnam and have embraced the traditional cooking style. They collaborated with a celebrity chef and an expert in traditional sweets, Mrs. Thu Pham, who helped them handpick the menu. They are thrilled to turn family recipes and traditional values into something tangible on a larger scale without compromising the authenticity. Che at 359 Lonsdale St., Melbourne, VIC; 64 Buckingham Ave, Springvale, VIC
PHO U Vietnamese Restaurant, Chatswood
The restaurant just turned two and claims to have the best pho in Sydney, each bowl is made with fresh ingredients and a broth that's been slow-cooked in 28 hours, just like you'd find on the streets of Vietnam.
But it's not just pho. They also have an array of choices such as cuốn (rice paper rolls), mẹt (special vermicelli trays), bún trộn (vermicelli bowls), fresh juices and Vietnamese desserts. Pho U Vietnamese Restaurant at Albert Ave, Chatswood NSW.
Old Saigon Coffee, Melbourne
Since 2014, Old Saigon Coffee has roasted Vietnamese coffee in Melbourne. Its Arabica and Robusta beans are imported from Vietnam's premier coffee-growing regions of Buon Ma Thuot and Lam Dong. The coffee is roasted in small batches, giving it the unique buttery chocolate flavor traditionally found in Vietnamese coffee.
The company only operates online, selling to individuals and bulk suppliers.
The Vietnam Restaurant, Adelaide
The Vietnam is one of Australia's oldest and most awarded Vietnamese restaurants. The Phan family founded the iconic South Australian suburban eatery, they arrived by boat in Australia during the Vietnam War.
Together with their children — Tien, Linda and Ben — they successfully established Adelaide's quintessential Vietnamese restaurant, and earned the reputation as one the city's best Asian restaurants, according to The Advertiser Food Guide and I Love Food Awards. Vietnamese style natural oysters, skewered minced pork balls and warm seafood salad are just a few of their signature dishes. The Vietnam Restaurant at 73 Addison Rd, Pennington SA.
Great Aunty Three, Sydney
Growing up in an old-fashioned Vietnamese household in Australia, Michael Le was aware of the great importance of traditional family recipes and shared mealtimes.
While on a trip to Vietnam, Le was bowled over by the variety of street food and returned to start a restaurant in 2011. Great Aunty Three is inspired by his grandmother Ba's knowledge and recipes. In Vietnamese, 'Ba' means three. Great Aunty Three at 115 Enmore Road, Enmore.
Superhero Banh Mi, Castlemaine
This Vietnamese baguette and noodle bowl place uses vegetables and herbs from their farm in Faraday, near the charming Victorian town of Castlemaine. Superhero Banh Mi offers vegan and gluten-free options.
Chef and owner Mary MacIntyre and Vietnamese husband Phi serve up a medley of fresh, crunchy, sticky, sweet, savory and spicy. Superhero Banh Mi at 12 Hargraves Street, Castlemaine.
Hong Ha Bakery, New South Wales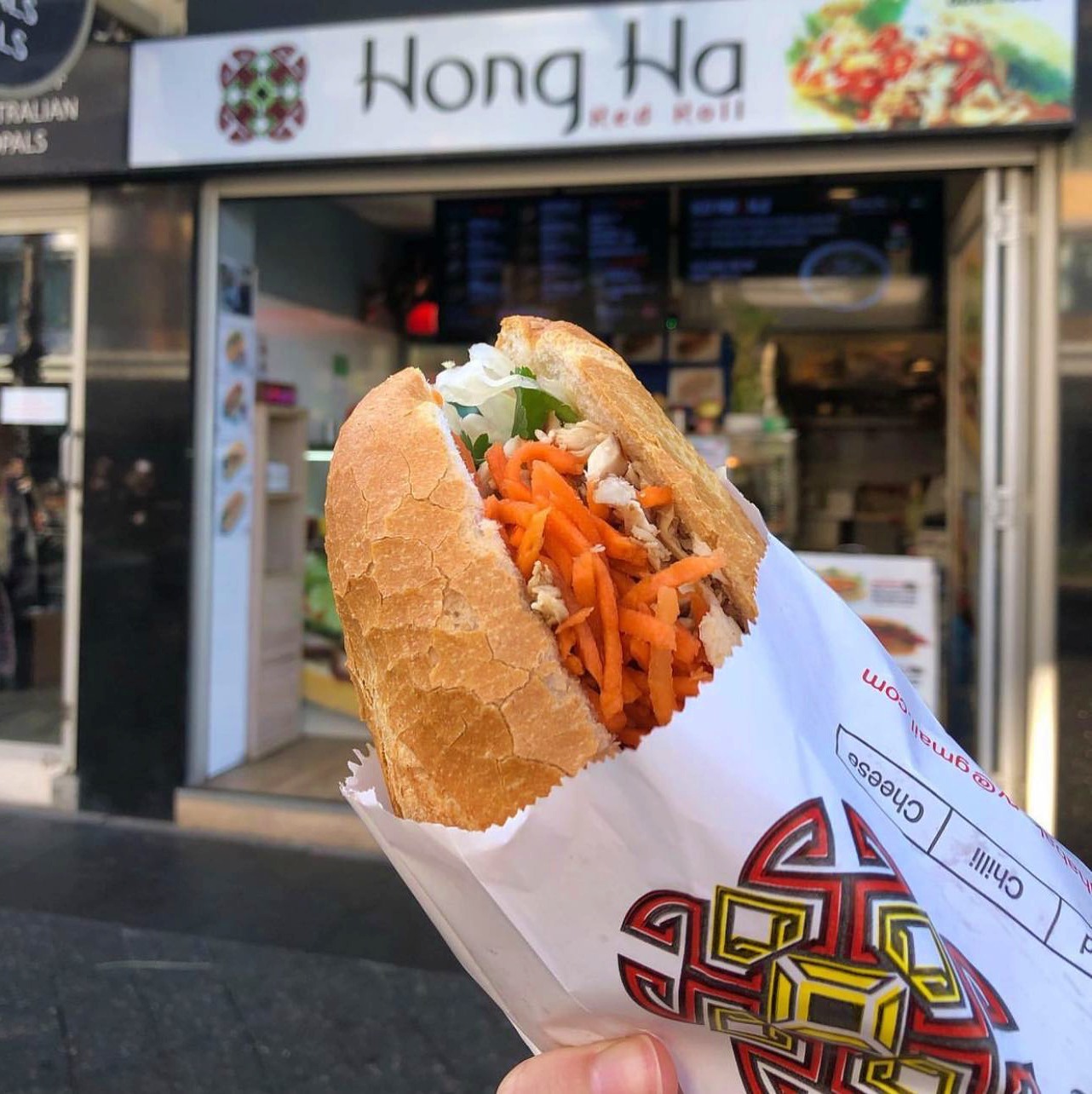 Founded by a Vietnamese engineer who immigrated to Australia as a refugee in 1986, Hong Ha is a family business famous for its freshly baked bread rolls served in pork, chicken and meatballs. Operating in two locations, Mascon and Bondi Beach, you will not miss the shop with the line of people permanently snaking out the door.
The chicken is a top choice, with both regular meaning fried or roasted or broiled or half or quarter? There is no "regualr" and schnitzel options. Go for the pork if it's your first time trying the bread rolls. Hong Ha Bakery at 1151 Botany Rd Mascot; 174 Campbell Parade, Bondi Beach NSW.
Annee's Caphe Sua Da, Queensland
Established in 2014, Annee's Caphe Sua Da is Australia's first Vietnamese iced coffee bar serving plant-based offerings, providing an innovative modern take on the traditional caphês.
The Vietnamese iced coffee bar has four locations across Queensland — Cairns City, Smithfield, Otto's Townsville and Townsville City.
Obunmee, Pyrmont
Tucked in one of Pyrmont's heritage terraces, here the range of banh mi fillings is a little broader than the rest of Sydney's banh mi shops. Obunmee's options come with lemongrass pork and a "veggie delight" alongside traditional pork. Its name was inspired by the Vietnamese word for bread which is Ổ Bánh mì and pronounced "O bun mee."
Their must-try? The chicken schnitzel and enjoy the combination of spicy chili mayo and pate with the crispy chicken schnitzel, with a kick of fresh cucumber, apple, carrot and coriander. Obunmee at 123 Harris St, Pyrmont NSW.