Let's fire up the grill and dive into a carnivore's dream in Ho Chi Minh City. If you're a meat enthusiast with an unquenchable appetite for exceptional cuts, prepare for a mouthwatering adventure.
In this guide, Vietcetera is your culinary compass, leading the way to the city's top five steakhouses. These establishments have perfected the art of meat selection, offering a delectable variety of premium-grade choices from around the world. Whether it's juicy Wagyu or expertly aged beef that tickles your taste buds, get set for a flavorful journey. Here, we have 5 of Ho Chi Minh City's best steakhouses that genuinely outshine the competition, proudly declaring, "A Cut Above the Rest!"
Stoker Woodfired Grill & Bar
Featured in the 2023 Michelin Guide, Stoker Woodfired Grill & Bar is a unique culinary destination in town, perfect for food enthusiasts. Inspired by the ancient method of grilling meat over an open flame, Stoker Woodfired Grill & Bar combines rustic charm with precision cooking. To ensure an excellent dining experience, Stoker carefully ages its beef to make it tender, reduce moisture, and enhance its natural flavor. Different types of meat are expertly grilled using various woods, giving them a smoky taste. With special wood-fired ovens and custom grills, our chefs pay close attention to temperature control and how meat interacts with the fire. The result? Every steak at Stoker is juicy, tender, and bursting with flavor.
Beyond its culinary skills, Stoker Woodfired Grill & Bar offers a unique experience. At both Stoker locations, guests can explore the aging room, where they can see how meat matures and choose their preferred cuts. The restaurant's layout adds an extra touch, ensuring that every customer enjoys a memorable journey from the moment they step inside.
Opening hours: 11:30 - 23:00 (17:00 - 23:00 on Weekends)
Address: 44 Mac Thi Buoi, D1 / 2 Dang Huu Pho, D2
IL CORDA - Charcoal Steakhouse
At IL CORDA - Charcoal Steakhouse, visitors encounter the essence of Akon-Yosai, a culinary philosophy seamlessly blending Western cuisine with an Asian palate. Despite their Italian facade, the main dishes are meticulously crafted with Japanese precision. A standout feature of this steakhouse is its signature charcoal-grilled steak, a masterpiece cooked in two stages under the watchful eye of the chef. The result is a tender texture and a distinctive charcoal-infused flavor unique to Il Corda. Additionally, the head chef prepares a range of specialty starters, including the velvety Pate De Campagne and the flavorful Salsiccia, both deserving of a taste.
Upon entering IL CORDA, patrons encounter a fusion of Italian and Japanese cultures within Vietnam. The restaurant's diverse dining spaces cater to different preferences, whether one seeks privacy in an elegant private room, a lively ambiance in an open area with a spacious Western-style wooden dining table and soothing background music, or the mesmerizing urban views from the balcony seats.
Opening hours: 11:00 - 14:00 | 17:00 - 23:00
Address: 11 Le Thanh Ton, D1
Prime Steak Boutique & Chill
Nestled in Saigon's heart, Prime Steak Boutique & Chill, led by Chef Khai Vu, stands as the premier boutique steakhouse. With a career spanning 25 years and recognition from publications like Desert Companion, Eater, and James Beard, Chef Khai Vu's dedication to steak, especially dry-aged beef, shines.
Prime takes immense pride as Ho Chi Minh City's top boutique steakhouse. Their expertise lies in dry-aging beef, a process that brings out unmatched flavor, tenderness, and juiciness. Only the finest beef cuts, aged for 45 to 100 days, make it to their kitchen, creating a truly exceptional taste. In an elegant and exclusive ambiance, Prime serves and grills premium dry-aged beef to perfection, aiming to become a renowned boutique steakhouse in Vietnam and Southeast Asia.
Opening hours: 17:30 - 23:30
Address: 138 - 142 Pasteur, D1
C's Steakhouse
C's Steakhouse aims to transport you to the golden era of classic steakhouse dining, with an unwavering focus on one core principle: Quality Before Everything. Prepare for a culinary journey that tantalizes your taste buds and ignites your senses as you step through their doors. Their esteemed chefs have perfected the art of crafting dry-aged steaks, ensuring each bite is a symphony of rich, savory flavors that leave a lasting impression.
Every detail of your visit is designed to create the perfect ambiance for an exceptional dining experience. From the elegantly curated menu inspired by European culinary traditions to the warm and inviting atmosphere that surrounds you, no effort is spared to ensure your enjoyment. C's Steakhouse's commitment to quality is evident in their ingredient selection, with only the finest cuts of meat gracing their kitchen. This dedication to culinary excellence guarantees that each dish surpasses expectations, making every bite a reflection of their passion for creating unforgettable moments.
Opening hours: 11:00 - 14:00 | 17:00 - 23:00
Address: 50 Truong Dinh, D1
B3 Steakhouse & Craft Beer
B3 Steakhouse & Craft Beer sets itself apart from other upscale steak restaurants by creating an inviting blend of contemporary and retro street styles, fostering a sense of intimacy for patrons. Their menu boasts an enticing highlight—the "sharing platter," which allows diners to relish three delectable beef varieties with three carefully crafted side dishes and an array of 11 tantalizing sauces. With a selection of 16 enticing side dishes, B3 offers a truly unique culinary adventure.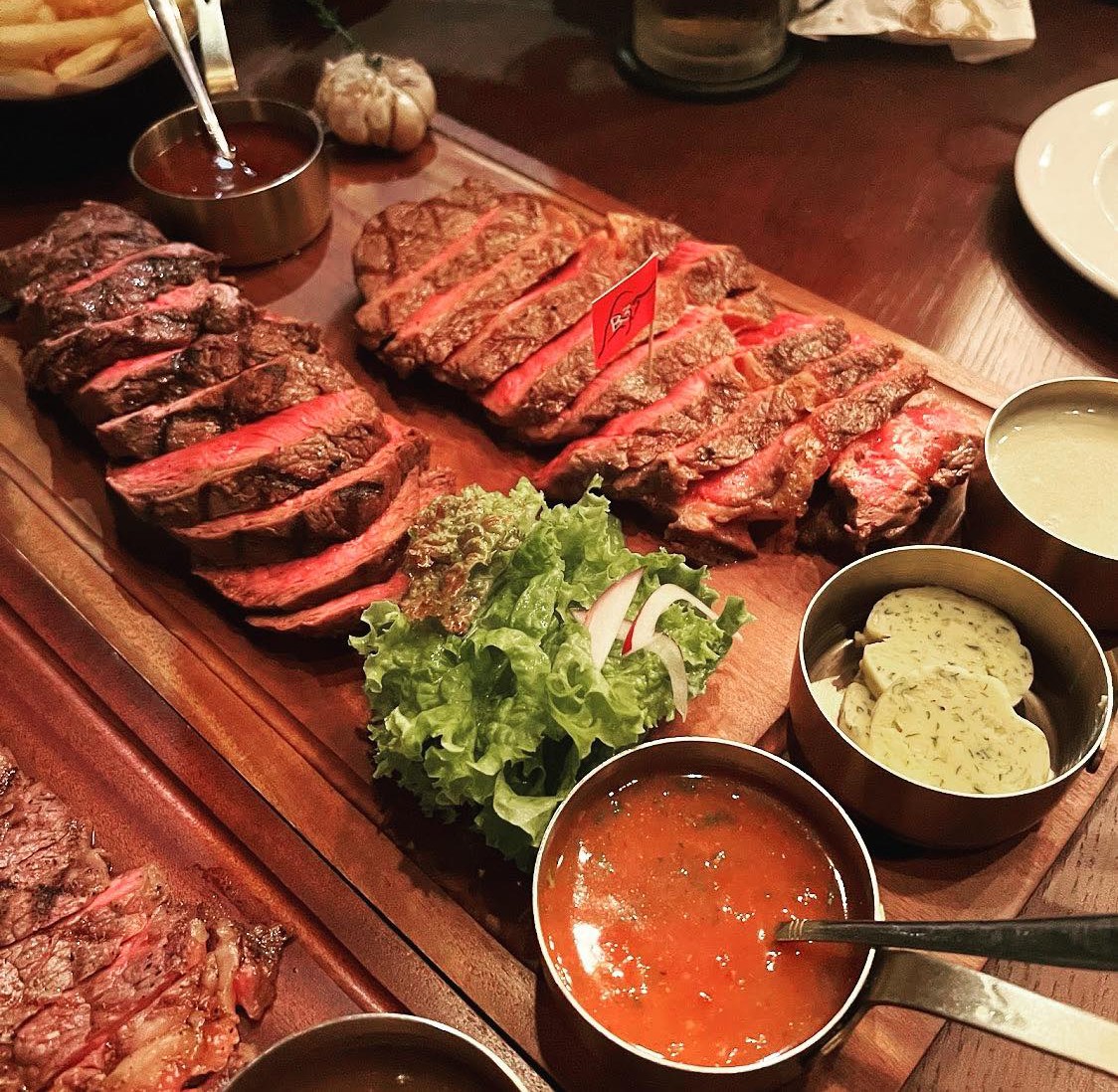 Similar to renowned steak establishments, B3 places great importance on sourcing and meat quality. They take an extra step by rejecting farms that use chemical substances and prioritize meat from free-range farms where cattle are grass-raised, adhering to the highest standards of quality and ethical practices. Imagine enjoying a mouthwatering steak and craft beer on the outdoor terrace, immersed in the vibrant atmosphere of a bustling main street. This perfect combination at B3 enhances the dining experience, creating unforgettable moments blending delicious cuisine, conviviality, and the lively energy of the bustling street.
Opening hours: 15:00 - 23:00
Address: 14 Nguyen Hue, D1