Guests to Quy Nhon will discover an abundance of tropical fruits. Walking around any of the beach-side city's bustling local markets will reveal boxes of strange looking fruits—tamarind pods and large, spiky jackfruit—alongside the more familiar fruits—like pineapples, oranges, and bananas.
With such a range of fruit to choose from, we enlisted some expert help to better understand the range available and help you negotiate a visit to the market. Anantara Quy Nhon Villas recently opened on a tranquil private cove, and their executive chef, Le Thu, is an expert on local produce. So we asked Le Thu to give us her guide to some of the most interesting tropical fruits found in Quy Nhon.
A guide to the tropical fruits of Quy Nhon
For any chef in Quy Nhon, the abundance of fresh tropical fruits is a blessing. "Some grow in Quy Nhon, like the mandarins, some come from Dalat, like the mangosteens, and lots more come from Can Tho, like these dragon fruit and rambutans," Le Thu tells us as we tour local Dam Market.
Longans (Nhãn)
Longan here usually come from Can Tho—Vietnam's fourth largest city and the largest in Vietnam's southern Mekong Delta. But they do grow throughout Vietnam. In Cantonese, the word means "dragon's eye" and these fleshy round fruits that contain a black seed do resemble eyeballs.
Longans are also members of the fruit family known as "soapberries" which includes other local specialities like rambutan and lychee, Le Thu explains.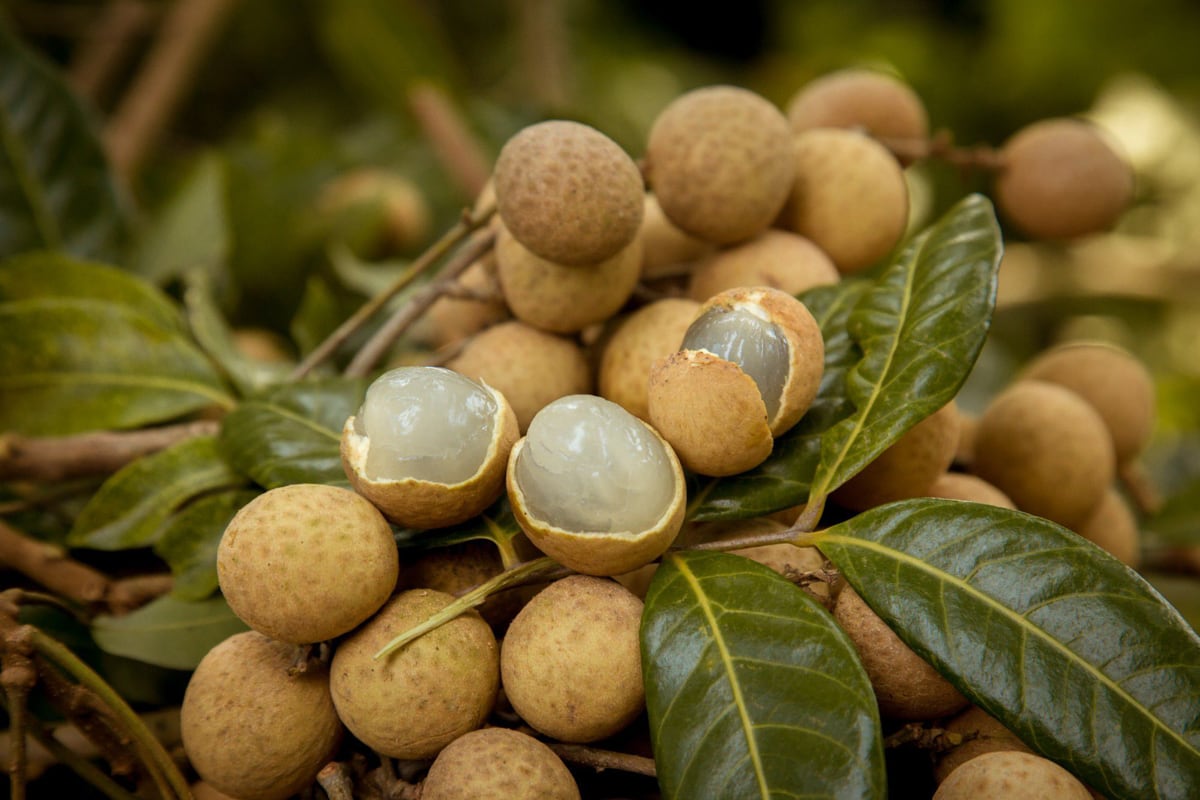 Lychee (Vải thiều)
Staying in the soapberry family of fruits, next Le Thu presents some lychees. The fruit is particularly common in the north of Vietnam—where longans can easily be found too.
However, according to Le Thu the taste and color are quite different. Whereas longan skins are earthy-colored, lychees are a vibrant reddy-pink fruit. They are also usually slightly bigger than their relatives. And in terms of taste, lychees are stronger, "almost like a wine," and they don't keep for very long—which is why you often find lychees canned.
Guava (Trái ổi)
Because guavas are found in many tropical countries they may be one of the more familiar fruits to visitors to Quy Nhon's markets.
Guava come in two kinds here, according to Le Thu, ones that are pink inside, and ones that are white. The pink ones are best for juicing, the chef elaborates, while the white ones are crunchier and are usually eaten raw. In Vietnam, this means dipping them into a chilli-salt mix.
Sapodilla (Nhựa cây)
Sapodilla are distinctive for their thick brown skins. Inside the orange-red flesh is pleasantly scented, Le Thu tells us. Any visitors from the Caribbean, and Central and South American should recognize them, as they are cultivated extensively there where they go by a variety of names—like mispel, zapote, and chicosapote. There the fruit is often eaten as it is, or it's used to flavor ice creams and milkshakes.
Pomelo (Bưởi)
Due to their size, pomello are a particularly distinctive fruit. In Vietnam, many grow in the Mekong region, with lots coming to Quy Nhon from Can Tho—although they can be found in many places in Vietnam according to Le Thu.
The fruit resembles a large grapefruit in the texture of its flesh and in its taste. In fact, the name "pomello" is sometimes used to describe grapefruits too. However, the much larger pomelo is distinctive for its thick rind—and opening them up easily takes practice. Inside the flesh is white or less commonly light pink. And they're popular with women, according to Le Thu, for their nutrition benefits.
Ambarella (Cây cóc)
Besides being found in popular markets like the ones found in Quy Nhon, ambarella is often sold by street vendors in Vietnam's cities. Roughly the size of a peach, the skin of the ambarella gradually changes from green to yellow as it ripens.
Vietnam's ambarella are particularly sour and they are mostly used for making juice which benefits from some sweetening. Due to their abundance, they are also very cheap in Vietnam, selling for around VND15,000 for 1KG in local markets, according to Le Thu.
Dragon fruit (Thành long)
Dragon fruit might be one of the strangest looking fruits of all. In Vietnam, you can see the otherworldly green and purple fruit also known as "pitaya" or "pitahaya" growing from cactus in Mui Ne and Phan Thiet, and also around Quy Nhon.
The dragon fruit's sharply-shaped leaves overlap, and lots of seeds rest inside—but fortunately they are so small that they are easily edible. The flesh, which Le Thu describes as tasting something like a kiwi, is either white or purple. Purple dragon fruit are said to be more flavorful, and, if you look carefully, you can tell what color the flesh will be inside by examining the outer skin.
Custard apples (Mãng cầu)
Custard apples, sometimes known as sugar-apple or sweetsop, are rich and creamy, and a little sour especially when they are young, according to the Anantara Quy Nhon Villa's executive chef.
Custard apples also have an interesting appearance. The spherical fruit has grainy overlapping "fingers" of skin. Inside, the fruit, which is rich in antioxidants and vitamin C, is partitioned with a seed in each segment. They also do have a sweetly custard-like taste, Le Thu admits. And, she adds that custard apples are rarely used in cooking, and so you're much more likely to see them eaten as they are—or perhaps with the addition of salt and chilli to taste.
Gac (Quả gấc)
Gac is a fruit that is native to Vietnam, and so it's most commonly referred to by its Vietnamese name "gac," or as quả gấc—"gac fruit." The large fruits are covered with tiny spines and as they ripen the color changes from green, to orange, and then orangy-red—the color you will usually see them on markets in Vietnam.
In fact, gac fruit cannot be eaten raw. Instead, it's commonly cooked during festive seasons with sticky rice, which gives the rice a deep red color and soft fruit flavors, Le Thu tells us.
Related content:
[Article] Local Food Specialties In Quy Nhon And Where To Try Them