Afternoon tea is no longer a foreign concept in Vietnam. In recent years, this elegant experience has found its way into the urban lifestyle of Vietnamese city dwellers.
For these new avid tea-drinkers, breaking shortbreads over a cup of fragrant tea in a cozy café surrounded by family or friends is quickly becoming the preferred afternoon pastime.
Over time, afternoon tea has taken on new forms. Though still retaining its quintessential Britishness, the experience has recently embraced cultural and culinary influences from the East.
One such example of successfully fusing East and West is the afternoon tea experience at Sheraton Saigon. Skillfully integrating local elements and seasonal ingredients into its afternoon tea offerings, the culinary team at Sheraton Saigon has captured the imagination and hearts of many Vietnamese diners who flock to the hotel's tastefully decorated salon, The Lounge, to enjoy fine tea blends and exquisite desserts.
In a nod to the tastes of the Vietnamese public, seasonal fruits feature prominently on the menu. Known as the "King of Fruits", pungent durian is a popular local delicacy, its soft creamy flesh and unmistakable aroma bringing an exciting cacophony of flavors to the table. Eaten raw or as a part of a local dish, the fruit is high in nutrients and many healthy eaters swear by it.
That said, not everyone is a fan, as durian is definitely an acquired taste. That Sheraton Saigon's version of durian desserts has been so well received is a testament to the culinary skill and creative genius of new Executive Chef, Gael Ladirerie. Revealing themselves in subtle and complex layers of flavors, Chef Gael's durian creations turn skeptics into converts and believers into staunch cheerleaders.
Chef Gael confesses that the secret to pleasing diners from both sides of the divide is to strike a balance between letting durian shine on its own and fusing it with a flavor that is more familiar. To see (or rather taste) how this is achieved, try Chef Gael's take on such classics as choux à la crème, gorgeously crumbly tarts and airy scones — all bursting with exotic undertones. Then there are Sheraton's moreish chocolate pralines and cheesecakes promising layer upon layer of sophisticated durian-infused flavors.
On the savory side, The Lounge's menu features durian sticky rice — a recent addition to Vietnamese cuisine, as well as more timeless options such as smoked salmon sandwich, tartlet and brie cheese on crackers.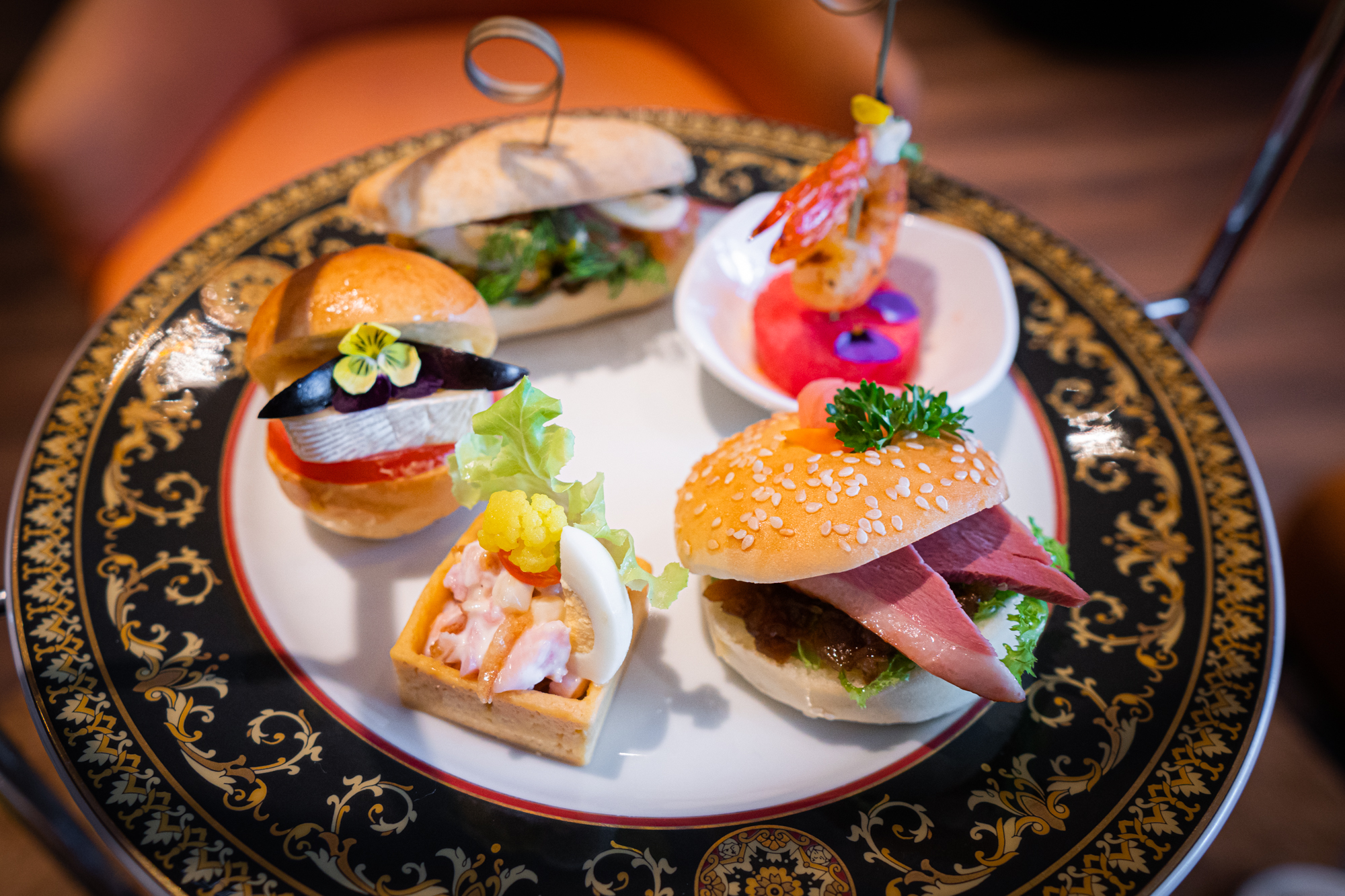 For Saigon's epicures with a taste for European-style afternoon tea who have found a spiritual home at The Lounge, the experience matters as much, if not more, as the food itself. First, the presentation.
Classic three-tier stands towering over the tea room tables feature an eye-pleasing assortment of savory delights such as: mini bagel with smoked duck and onions chutney ; brie cheese, tomato, grape in soft bun roll; compressed watermelon with coriander and grilled prawn; and smoked salmon and dill cream cheese in ciabatta bread
The right ambiance is no less important, and The Lounge pulls the classic tea room experience off with panache. Elegant, sophisticated and refined — the venue offers the perfect respite from Saigon's scorching heat (and an escape from occasional afternoon showers).
The purists will be delighted to find many of Europe's most celebrated confections and exquisite French patisserie on the menu alongside durian-flavored creations: tangy raspberry macarons, coconut mousse drizzled with caramel, rich lemon tarts, chocolate praline and refreshing pandan chiffon cake.
The culinary symphony performed by the Sheraton Saigon team and conducted by Chef Gael brings harmony to the hectic lives of the Saigonese and offers the perfect quiet refuge in the very heart of the city. A place to indulge your sweet tooth or savory cravings in the company of your nearest and dearest and to challenge your palate with surprising and eclectic choices, as well as finding comfort in the familiar.
This article is adapted by Peter Phan.
Address: Lobby of Sheraton Saigon Hotel – 88 Dong Khoi, District 1, Ho Chi Minh City
Service hours: Daily from 14:00 to 16:30 every day.
King Of Fruits Afternoon Tea:
From VND 368,000 for afternoon tea party with unlimited teas and coffee
From VND 498,000 for an afternoon tea party with a glass of Chandon Sparkling wine
Western Afternoon Tea:
From VND 388,000 for afternoon tea party with unlimited teas and coffee
From VND 498,000 for an afternoon tea party with a glass of Chandon Sparkling wine