There's nothing new about crossing Cambodia from Vietnam or the other way around. In fact, there are several options to traverse from one country to the other.
Vietnam and Cambodia share six international border crossings and they're generally open to all foreign nationals as long as they have a valid passport and visa. And of course, the quickest way is to book a plane ride that usually costs $100 to $300 for a flight that takes about two hours and ten minutes.
The Cambodian government recently proposed a water link connecting Vietnam's Phu Quoc island with Cambodia's Kep province by speed boat. The goal is to boost tourism throughout the Cambodian province, which boasts the seaside resort of Kep and the sleepy riverside town of Kampot.
Jacques Guichandut, managing director of All Dreams Cambodia, told TTG Asia that while the move will stimulate demand for the two countries, especially among regional travelers, it holds limited appeal to his mainly European and American clientele.
"This is a combination we won't put forward," Jacques said. "Phu Quoc's main attraction is its beach resorts, but in Cambodia, we also have a choice of beach resorts on the islands of Koh Rong and Koh Rong Samloem."
In the same interview with TTG Asia, Sinan Thourn, chairperson of PATA Cambodia and B2B Travel shared the same sentiment. According to him, Phu Quoc is "not an option for combination tours" with his clients. Instead, they prefer to connect with Vietnamese destinations such as the business hub of Ho Chi Minh City, the capital Hanoi, or the Mekong Delta area.
One other possible hindrance — a major one that could hamper the possibilities of this new waterway connection between two countries — is the visa requirements of both ends. As of this writing, a 30-day tourist visa for Cambodia costs $25 (~VND600,000). While Vietnam offers visa-free entry for citizens from European countries like Germany, France, Italy, and Spain, the holders cannot re-enter the country using the same visa.
TTG Asia also talked to Pham Ha, founder of Lux Travel DMC, who said the offering would appeal to Vietnamese and other ASEAN holidaymakers who can travel visa-free. "It's a good move as it connects Phu Quoc with lesser-known areas in Cambodia and offers Vietnamese travelers the chance to visit places like Sihanoukville and Rabbit Island easily."
It's true, that this new connection via speed boat poses great opportunities for Vietnamese locals and some foreign expats living in Phu Quoc holding visas with more coverage than a tourist's visiting Kep province. After all, it hits the goal set by the Cambodian government — amplifying their tourism reach.
We're curious if the same tourism appeal is valid for the locals of Cambodia. So we spoke to a few Khmers and asked them if this proposed waterway connection is attractive enough to come, cross the border and explore Vietnam's largest island.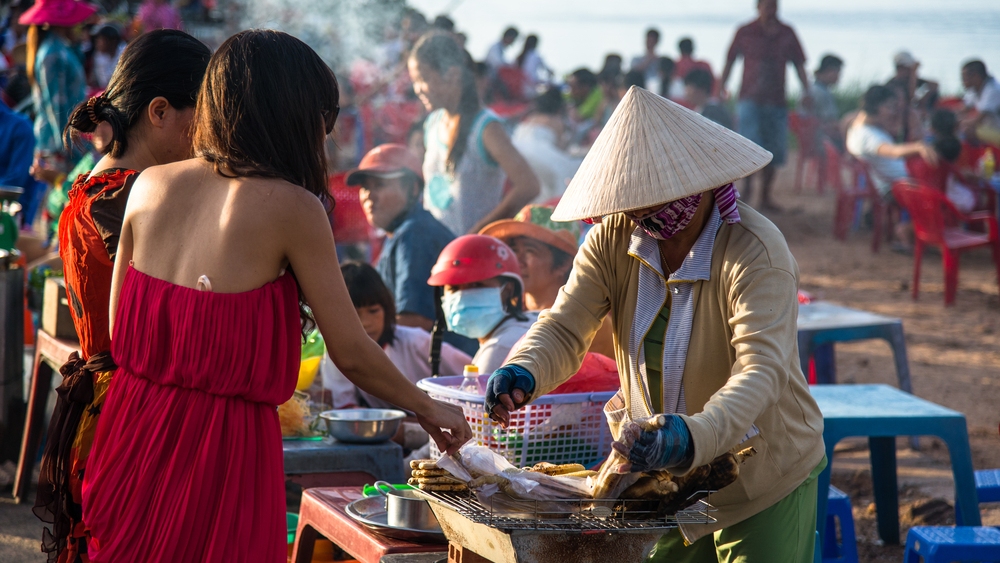 Kanika Som, who works at the Ministry of Foreign Affairs in Cambodia, shared she had heard how Phu Quoc's white-sand beach and serene atmosphere are a big hit to the tourists. When asked if Khmers will take advantage of this proposed connection in the future to visit Vietnam, Kanika said, "I think many Khmer will find the new connection interesting because many people here love to explore new coasts and relaxing places, especially if those places are near our country."
Kanika added that with this "waterway connecting the two destinations — Vietnam's Phu Quoc island and Cambodian coast — people will find it more convenient for traveling." Of course, she also pointed out how affordable and convenient visa issuance will change everything, especially for foreign travelers.
Chenda Hun, a well-traveled student based in Cambodia's capital Phnom Penh, also expressed his interest in this proposed new link. "I love traveling and although Vietnam is a stone's throw away, I have to admit I have not seen a lot of the country yet," he said.
"There's an unspoken dispute between my country and Vietnam, especially when talking about Koh Tral (how Khmers call Phu Quoc), but I don't want to go there, it's long been resolved," Chenda revealed. "Instead, I want to focus on the fact that we're (Cambodia) reaching out and I'm definitely crossing this off my bucket list once it officially launches." The young Khmer believes they'll "cross the bridge when we get there."
Sopheap, not his real name, whose hometown is Kampot, finds this unacceptable. He didn't want to say anything more but he felt disappointed that his country "recognizes Koh Tral as Vietnam's." Although he's aware this could mean more good for Cambodia, he's still "unhappy with how my government is handling the border dispute."
Chhang Vanna, a 32-year-old software developer, shares the same principle with Kanika and Chenda. "I look forward to traveling to Phu Quoc and see for myself why it's called a paradise on earth by everyone," he shared. "I have two kids and they both love beach and sand, when this new link opens, I might wait for a few months for the bandwagon to die down and I'll go cross." Chhang hopes many Khmers will also utilize this not only for tourism but also for business. "I know Khmers are natural entrepreneurs, I look forward to finding Cambodian products and food when I visit Phu Quoc in the future."