There's something festive brewing at the New World Phu Quoc Resort this holiday season. The newly-opened resort has already claimed a clutch of industry awards, including Asia's Leading Beach Family Resort (2022 World Travel Awards), Best New Resort in Asia (2022 Haute Grandeur Global Awards), and Best Luxury Spa in Vietnam (2022 Luxury Lifestyle Awards).
However, the resort is showing no sign of resting on its laurels and is now pulling out all the stops to make this festive season one to remember. With the launch of the New World Hotels & Resorts "Celebrate Together" offers, the luxury beachfront resort promises guests a series of unforgettable Christmas and New Year moments, made all the more accessible through discounted accommodation and dining rates, comprehensive spa packages, personalized destination trips for a close up look at the stunning Phu Quoc Island, and fun festive-themed events.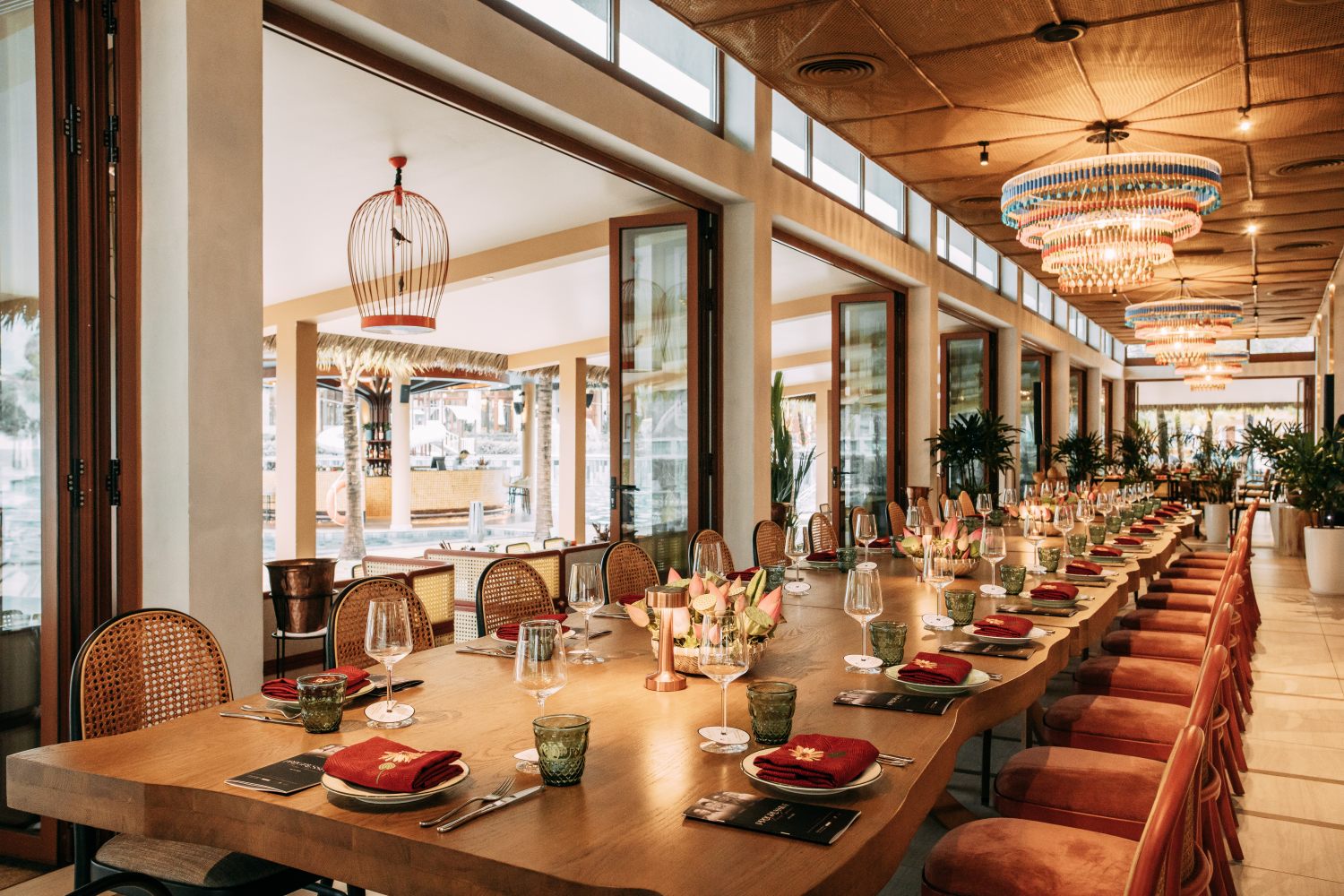 Even without mention of indulgent special offers and holiday celebrations, The New World Phu Quoc Resort has plenty to write home about. It's located on the far southwestern tip of the island, facing the golden sands and turquoise waters of Khem Beach – a hot spot for both beach lounging and water sports, as well as mesmerizing sunrises and sunsets. Inside the boundaries of the 60-hectare resort, guests can choose from six categories among 375 peaceful villas in a range of sizes. Each thatched-roof villa boasts its own private swimming pool, too, with access to the rest of the resort granted through perfectly manicured lawns under the shade of 8,000 coconut trees.
Aside from the award-winning spa with its 16 treatment rooms, kids' club, and health & fitness center, there's a litany of dining and drinking spaces to choose from; The Bay Kitchen, LUA - Grill & Bar, The Lounge, Pool Bar & Bai Khem Bar.
Each, of course, is staffed by the team that General Manager Jai Kishan credits with the resort's quick rise in status. In a recent interview with Vietcetera, Kishan noted, "It was the kind of service that we offer here that really brought attention to the resort."
Kicking off the holiday season
Through its "Celebrate Together" promotions, The New World Phu Quoc resort is offering guests a range of services and experiences for all the family to enjoy, from homely to glitzy, classic to modern. As is customary around Christmas and New Year, much of the focus is on relaxing, eating with loved ones, and celebrating late into the evenings. Here's a taste of what's on offer.
Santa's Pastry Shop
Found right by the main lobby of the resort, The Lounge is an ideal spot to relax for a while in the morning or through the afternoon. There's something extra on offer this holiday season, too, with Santa's Pastry Shop serving up a smorgasbord of festive Christmas cakes and other sweet treats, all fresh from the chef's kitchen daily and ready to be eaten at your leisure in the cozy seating area or indeed whisked away to enjoy by the poolside.
Santa's Pastry Shop, The Lounge: 22nd - 31st December, 9:00 - 16:00
Traditional Christmas Eve Dinner
LUA - Grill & Bar is yet another of New World Phu Quoc Resort's award winners, taking home the International Dining Awards prize for 2022 Best Designed Restaurant. LUA takes its name from the Vietnamese word for "fire" and has won acclaim for its woodfire and charcoal cooking – an homage to the culinary methods of the island's fishermen.
This Christmas Eve, though, guests are welcome to join a special four-course dinner, offered in a homely family-sharing style and accompanied by an entertaining live music performance. Enjoy it inside, where the restaurant takes its design cue from the island's fishing heritage, or outside, complete with panoramic views over the ocean as the sun sets.
Traditional Christmas Eve Dinner, LUA - Grill & Bar: 24th December, 18:00-22:00
Christmas Fair
If the four-course feast at LUA - Grill & Bar isn't for you, the poolside Bay Kitchen Square, a contemporary and casual space, promises a perfect alternative. Gather your family and friends and enjoy a lavish international buffet, where the cooks are serving up an array of both local and international specialties, from traditional western Christmas dishes to fresh seafood, all expertly prepared in full view at the live cooking stations.
It's not just about the food either, with a live Santa show as well as popular Christmas carols and celebratory songs offering entertainment for the whole family.
Christmas Fair, The Bay Kitchen Square: 24th December, 18:00 - 22:00
Premium Festive Breakfast
The Vibrant Bay Kitchen Square is a vibrant place to start the day. Live cooking stations attended by top cooks are the order of the day again, but on Christmas morning, there's a little more luxury on offer. As well as the international options on offer every day at the resort, Christmas morning features a number of festive delights from all over the world to treat yourself to, including roasted turkey, a sumptuous truffle Croque madame, and a wonderfully decadent caviar omelet. These are not the kind of dishes you get to enjoy every day, but Christmas is a special occasion…
Premium Festive Breakfast, The Bay Kitchen: 25th December, 7:00 - 11:00
Santa By The Pool Christmas Lunch
Santa is doing the rounds this Christmas at the New World Phu Quoc Resort, and he'll be delivering a feast at LUA - Grill & Bar on Christmas Day. For some, Christmas lunch is all about a bounty of seafood – exactly what's on offer by the pool. Premium meats and sides are also available, all accompanied by glasses of sparkling wine as the DJ keeps the festive spirit flowing.
Santa By The Pool (Christmas Tableside Brunch), LUA - Grill & Bar: 25th December, 12:00 - 17:00
Golden New Year's Eve and Countdown Party
The Bay Kitchen is the place to be once again on New Year's Eve, followed by an end (or start) of the year celebration until late amidst the tropical island vibes at Khem Beach. Fresh seafood, traditional Vietnamese dishes, international staples, and specialties are all to be found at the end-of-year buffet. Eat, drink and be merry until your heart's content, and if you're worried about overindulging, the Countdown Party on the golden sands of Khem Beach – complete with live music, DJ sets, and crafted cocktails – is an opportunity to dance off some calories, or simply lounge under the fire torches on a cozy bean bag on the beach. After all, it's a New Year the morning after – a perfect time for making a fresh start after an unforgettable holiday at New World Phu Quoc Resort.
Golden New Year's Eve & Countdown Party, The Bay Kitchen & Khem Beach: 31st December, 18:00 - late
For more information on pricing and booking, click here to learn more about the "Celebrate Together" offers from New World Phu Quoc Resort