With more than 1.2 million subscribers, Changmakeup YouTube channel is a force to be reckoned with. The channel's founder Ngo Quynh Trang, aka Chang, found her calling as a beauty blogger and influencer offering everything from authoritative yet approachable make-up tutorials to beauty product reviews.
To those in Vietnam's beauty industry Chang is also known as a co-founder of OFÉLIA – a popular cosmetic brand that Chang launched in 2016 after completing her studies in the U.S.. She now serves as the brand's creative director while parallelly growing Changmakeup's Youtube audience.
OFÉLIA launched its first lipstick line in the end of 2016 to the acclaim of Vietnam's beauty community. To build on the early success, a collection of six lipstick shades in varying finishes was rolled out reflecting both global beauty trends and local customers' needs.
In recognition of OFÉLIA's formidable year-on-year growth rate of 140% and the brand's contribution to Vietnam's beauty industry, in 2020 Chang was selected by Forbes Vietnam for inclusion in the magazine's influential 30 Under 30 list spotlighting Vietnam's young business and industry leaders.
Vietcetera sits down with Chang to pick her brain about turning a hobby into a money-making business and the bumps in the road to success.
What are the values that you respect and want to convey to the community?
At the beginning when I first started with YouTube, the message I wanted to convey to my audience was "love yourself". At the time, I always felt insecure about my appearance, and learning about the art of make-up made me feel better. YouTube was a place where I could share my passion about cosmetics with similar-minded people. After years of self-development, I've learned to love myself, so the original message is even stronger. When you are not confident or feel dissatisfied with yourself, you can only break this cycle if you learn to love yourself.
"Always love and appreciate yourself". This is my go-to inspirational quote and also a value I want to instill in the youth, no matter who they are and what they do.
How has your definition of beauty changed from the early days?
When I first exposed myself to the concept of beauty, I considered beauty as a way to cover up the flaws, such as applying lipstick to add more color to your pale face, or contouring your nose to "lift up" the nose bridge. Any "defect" on my face would be covered up or improved by cosmetics.
Afterwards, the hobby of beautifying yourself would gradually become a part of your routine and even your passion. I have been friends with cosmetics since I was in high school – applying eyeliner and lipstick were among the first lessons I learned about make-up.
At some point in my life, I realized that I could not live without make-up, regardless of whether I applied light, natural-looking make-up, or spent hours to do an intense, full-face look.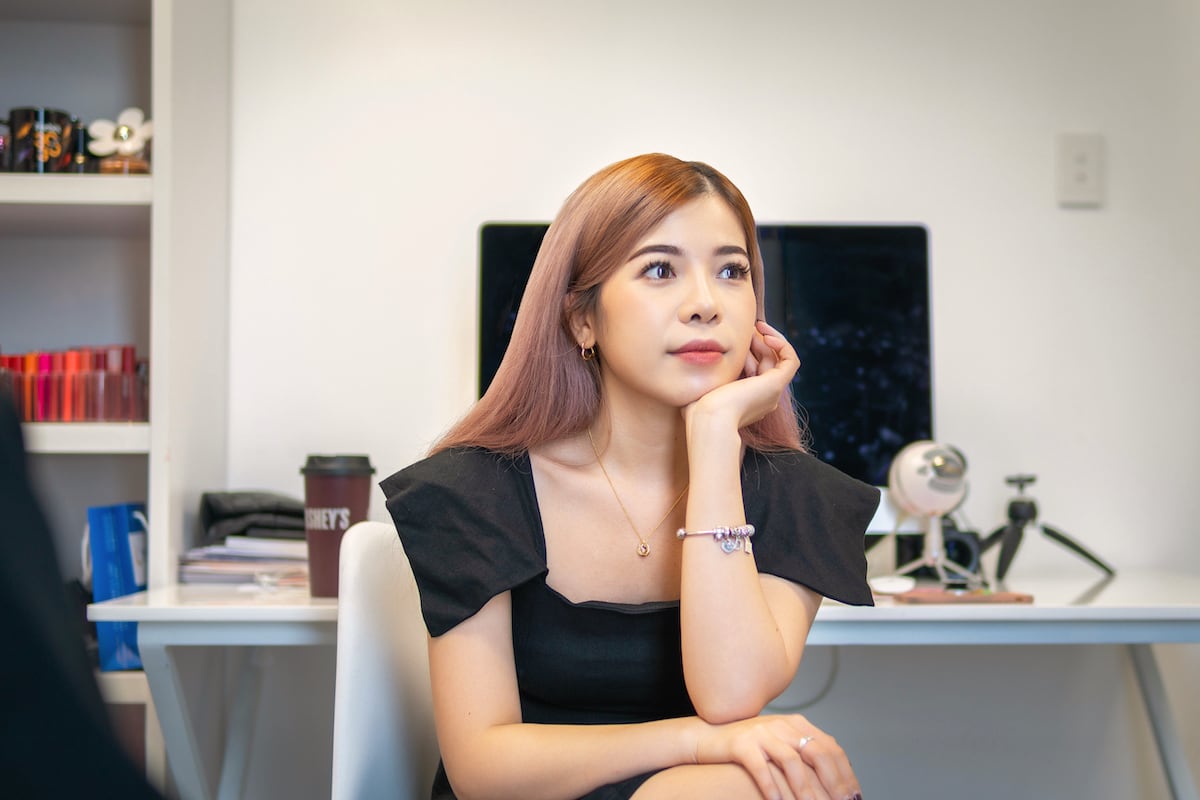 My YouTube channel is my way to show young people that makeup is an art, and it absolutely doesn't have to be part of your daily work and study life. Makeup is simply one way to help you feel more confident.
What motivates you to keep Changmakeup channel up?
My biggest motivation during the past 5 years is probably my huge love for make-up. The two YouTubers who "led" me to the beauty community and have inspired me over time are Michelle Phan and PONY's Syndrome.
From interesting content to meaningful messages, I observed and learned from the way the two bloggers communicated, swatched and reviewed products in front of the camera. Michelle Phan was my "first love" among the beauty bloggers, and I have been watching her videos since I was in the 9th grade.
I love the way she talks – calmly, gently and remarkably, retaining her own style and quality. Every time I watch her videos, I feel so inspired and deeply immersed in the cosmetics heaven.
What is your opinion about the opportunities and challenges in the domestic cosmetic market?
Over the past 3-4 years, the cosmetics market in Vietnam has grown rapidly, while the major markets like the U.S. and South Korea have been saturated. Moreover, Vietnamese consumers nowadays have more understanding about make-up and cosmetic products. They are interested in the beauty products such as eyeliner, blush and foundation, as well as in advancing their make-up skills.
I've noticed that along with the high-speed globalization and the robust development of social networks, beauty trends are also arriving and changing quickly. What is different today is that Generation Z, the savvy consumer generation, cares a lot about the environmental impact, sustainability and ethical issues when choosing a product.
They always seek transparency in the product information and origin, as well as asking about the story of the brand they are buying into, not just of the product itself.
As your brainchild, what are OFÉLIA's greatest values?
OFÉLIA's two greatest values ​​are confidence and respect for diversity, in terms of skin color, gender and style. In my opinion, these are the values ​​that everyone should have. In order to show more of these values, from our first product photo shoots, we collaborated with both male and female models with many different skin tones.
Also, I want to support the LGBTQ community. I'm planning a series of tutorials on my channel aimed specifically at my LGBTQ followers, and at OFÉLIA I want to connect and create a playground for every individual, so no one will feel left out.
In addition, as OFÉLIA is an online store, we've invested in high quality packaging to ensure the values of the product inside are communicated. So when customers receive the product, it's wrapped as a precious gift. This enhances the customer experience, hopefully bringing them back to OFÉLIA.
In addition, OFÉLIA also donates to charitable projects to support those who need it most.
Juggling two demanding roles, beauty blogger and entrepreneur, do you consider yourself good at reconciling the two?
About 2-3 years ago, I was still struggling to find the balance between business and personal time. To be honest, I was new to the start-up world and launching a brand was something I've never experienced before.
It was challenging to balance the time I spent managing OFÉLIA and Changmakeup. Building the brand and managing the company consumed all my time from early morning til late night and I felt exhausted, with barely any time left to create content for my YouTube channel. This hiatus pushed my audiences away.
Until now, I'm still trying to balance the two sides. I set myself a deadline to shoot a video every week. Passion also needs discipline. Without deadlines, I'm prone to procrastination. The content of the channel might be affected too, as I could neglect making a video for a special event, such as the New Year celebrations or the International Women's Day, when there is an increased demand for video content.
What skills have you cultivated since you took on the role of an entrepreneur?
The biggest improvement has been to my communication skills. When I was a full-time YouTuber, I had little in-person interaction with others. Whenever I met someone, I would be shy and hesitant to speak.
For some reason, my brain would freeze, unlike when I talk in front of the camera and my lines are scripted. Later, when moving into the business world, learning how to work and communicate with others was a must. Thanks to being exposed to this new environment, my communication skills have improved.
If before I used to be a Youtuber who reviewed others' products, I'm now creating my own. Not only do I need to ensure the quality and get the color right, but I also have to plan for advertising campaigns and come up with media angles for the product. It requires a lot of work to run a profitable business.
Starting a business could be a difficult task for beginners. In the first stage, it's even harder because there is no clear instruction of where to go and what to do next. I'm lucky to have a partner who has walked that bumpy road with me. She is in charge of operation, and I'm responsible for product development and advertising content.
Running a business is much more difficult than maintaining a YouTube channel because with the latter, you just need two days to brainstorm, record, edit, and upload the videos; whereas in business, planning for a campaign could take up to a year. I also have to pay attention to conflict of interest issues, control inventories and keep in mind that each of my future decisions is no longer a childish move, but instead could affect the whole company.
When I first started, I didn't have any understanding of development or growth. Many decisions were made based on a gut feeling. Gradually, I realized that if the financial situation is not stable, the company cannot continue to develop or contribute to the community. Our current growth rate is quite good, about 140% a year.
What does being included into Forbes Vietnam 30 Under 30 2020 mean to you?
This was a big surprise for me! Last year I wasn't active on social media all too much spending most of my time working as an entrepreneur, not as an influencer. I don't usually talk too much about my business to anyone, only to some of my close friends who I feel comfortable sharing with, and yet my story has somehow reached Forbes!
I got into the top 30 Under 30 of Forbes as my brand OFÉLIA is one of the first and most successful domestic cosmetic brands in Vietnam. I think Forbes Vietnam is especially interested in the domestic market and wants to support its growth. Most of the listed names in the 30 Under 30 promote local values ​​in their products, or promote universal values to Vietnamese consumers. These are the criteria that Forbes based its selection on, I think.
I personally feel that I'm not worthy, because I have met other people whose contribution is much more meaningful than mine. What I'm doing right now is so normal that I feel anyone could accomplish as much, as long as they have the determination and goals to shoot for.
I'd like to send Forbes my sincere thanks. All I can do now is to keep trying to improve myself and OFÉLIA.
What beauty trends are on the doorstep? What is the next move for OFÉLIA and Chang?
Currently, the beauty trend in Vietnam is still very much influenced by Korean cosmetic products. Korean cosmetics are sought after by young people for being both of good quality and affordable.
I think in the next few years this trend will continue to spread, and coupled with the minimalistic make-up trend, we will see more focus on improving the skin condition. OFÉLIA is also actively planning for new product launches, and hopefully in the near future we'll be able to create more trend-setting products.
For me personally, I will try to find a balance. I still love and want to continue my YouTube activities, but I'm trying to separate the brand Changmakeup and OFÉLIA. Personally, I don't talk too much about OFÉLIA on my channel.
I want customers to purchase OFÉLIA products because of their quality, not because they're made by Changmakeup. OFÉLIA is a team effort with all OFÉLIA employees contributing to its success. Hence, the customers build trust in the products based on their positive experiences, not because they associate the brand with my name.
Related Content:
[Article] Lincup by Lintimate: A Miracle Menstrual Solution for Asian Women
[Article] Ask A Senior: Mai Vu, Marketplace Director At GoBear