Fine art photography is a relatively young and evolving field. Many photographers, like Cindy Sherman and Andreas Gursky, established themselves as recently as the '70s. But with record-breaking sales in the last decade, auction house Christie's are saying now is "a thrilling time for prospective collectors, long-time devotees, and the culturally curious."
The prices of fine art photography support the claim. When Australian landscape photographer Peter Lik's "beautiful…slick" black and white "Phantom" sold for US $6.5 million in 2014, the price far exceeded the US $4.3 million paid for Andreas Gursky's "Rhien II" in 2011. Besides his "Phantom," in 2015 Lik's said to have sold half-a-billion dollars worth of prints over the course of his career.
Collecting fine art photography in Vietnam
Two kinds of buyer: art collector and art lover
Ngoc Nguyen is the south area manager at the Couleurs by Réhahn Fine Art Photography Gallery in the characterful 151 Dong Khoi building. The gallery sees collectors from around the world come through its doors. "I'd divide people who come here into two kinds—one is the serious collector, the other simply loves art," Ngoc explains. "But all the people who come here are attracted by Réhahn's view of Vietnam," she adds from the District 1 gallery which has another location in Ho Chi Minh City, and two in Hoi An.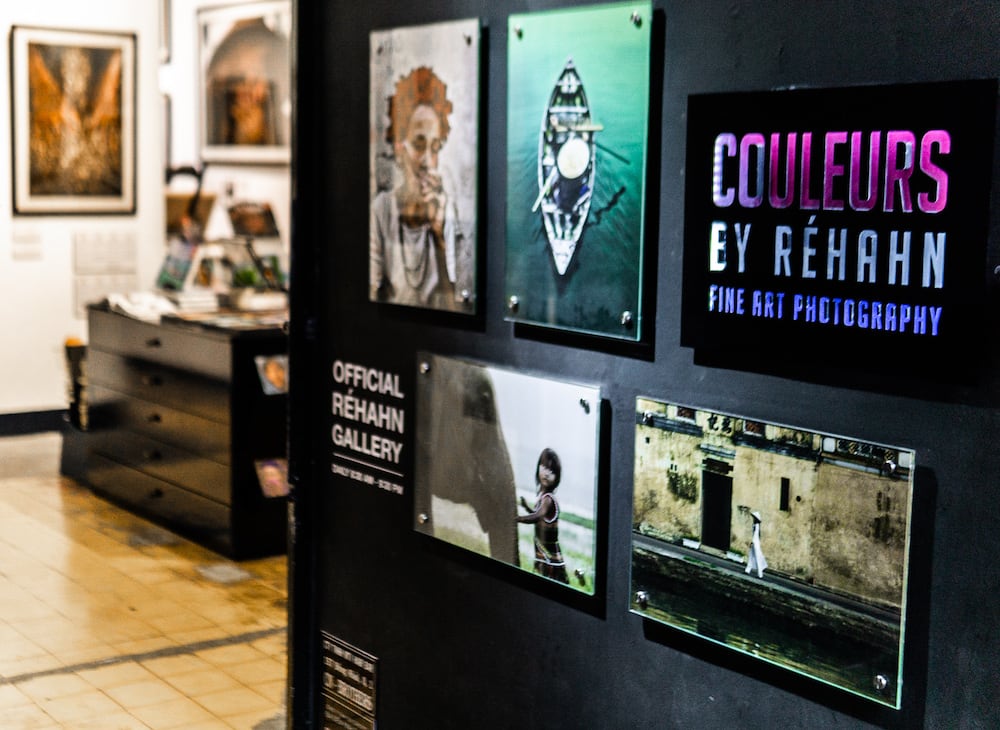 Photographs are an accessible entry-point into fine art collecting—they're often figurative and conceptually easy to understand like the Vietnam-based French photographer Réhahn's "Best Friends" or his "Madam Xong."
As collectors' items photographs also make perfect pieces for apartments and homes. And, because they are created in multiple editions, prices are usually lower than fine art. For the investment-minded collector the upward trend in fine art photography prices combined with the chance to speculate on young up-and-coming artists' work—as well as the work of established artists like Réhahn—can be an attractive proposition.
Making investments: understanding artworks, editions, and collections
Stories of record-breaking sales at the higher end of the fine art market regularly make the news. In November 2015, Amedeo Modigliani's "Nu couche" sold for US $170.4 million. That's US $100 million more than any other work by Modigliani.
But below stellar sales by 20th-century blue-chip art stars the market is "illiquid [and] volatile." "Buying art is easy, but selling it can be hard," Ngoc says from the sofa of the Couleurs by Réhahn District 1 gallery. "That can be true for fine art photography as well as fine art. It really depends whose work you buy," she adds.
One recurring question the gallery fields from new collectors of photography is how "original" a print is. "Anything printed by an artist for sale is an 'original,'" Ngoc explains, "but artworks come in a limited number—the editions in the collection." Naturally, the fewer the editions the higher the price. And the gallery is bound to only print the number of editions stated for that series.
Ngoc advises any buyer to understand two factors: the rarity of the artwork and the market around the artist's work.
"Réhahn, for example, has featured in international media such as the BBC, The Los Angeles Times, and National Geographic—something like over 400 articles in the last four years including recognition as one of the ten best portrait photographers in the world," Ngoc explains about the artist's reputation that's pushing up the prices of his work.
"And so far, Réhahn has photographed 49 of the 54 recognized tribes in his adopted home country," Ngoc adds. Each photograph is the product of a relationship the artist builds with the subject.
Added to that a number of collections have sold out, like his "Best Friends," and others are almost sold out, creating a burgeoning secondary market around the artworks.
In fine art photography, 25 or more editions is considered large, between three to five is regarded as small. Réhahn creates between three to fifteen editions for any one size of artwork.
"At Couleurs by Réhahn, we might produce fifteen large 90cm x 60cm, and fifteen "giga" 150cm x 100cm artworks, although this varies—we'll create only three if the artwork is particularly significant or special such as 'Best Friends,'" Ngoc Nguyen explains.
"Each of our fine art photographs is numbered and they come with a certificate of authenticity," Ngoc says showing a map of the sales of "Best Friends." The map tracks the location of each person who's bought one of the iconic photographs. In fact, they have a map for every collection they've sold.
"So now, if someone wants to buy an artwork from a collection that's sold out, we contact everyone who's bought one and ask if they are willing to sell—at whichever price they think is appropriate," the south area manager for Couleurs by Réhahn adds, "but art lovers we contact don't even consider selling."
Another factor that affects price is the artwork's edition number in a series—Couleurs by Réhahn, for example, price their artworks higher as the editions become fewer.
"The artwork's size, the medium, and the time it took to create are all factors to be aware of too. Réhahn's medium, for example, for his fine art images is metallic paper. "We're transitioning from Kodak to Fuji," Ngoc explains of their switch to the slightly weightier brand of iridescent metallic paper. Each artwork, whether 60cm x 90cm or "giga," is printed in Germany and then shipped to the gallery.
The final word on what to buy
"Art lovers make their choices emotionally," Ngoc Nguyen explains about the people buying fine art photographs at Couleurs by Réhahn, "but collectors often come in frequently to track which pieces have been sold and which editions have only a few copies left."
"For collectors, it really depends on their budget, for example, this is the last 'Madam Xong,'" she explains about the famous photograph which takes pride of place on the gallery wall. The face, partially covered by Madam Xong's two hands, is instantly recognizable, even for viewers who don't yet know the photographer.
"Madam Xong" was printed in an edition of three, each priced ascendingly. "The first and the second have sold…but I wish we could keep this last one for the gallery," Ngoc adds ruefully. "All the proceeds from this will go towards a museum which is being built by the Co Tu ethnic tribe so we will have to let this one go."
"And for the beginner collector? I'd simply recommend buying something you love," Ngoc smiles finally.
Related Content:
[Article] Vietnamese Contemporary Artist Luu Tuyen's Perfect Reality
[Article] Contemporary Art In Vietnam With Pioneering Artist Bui Cong Khanh