Over the past few days, we asked our Twitter followers about what Vietnamese food they miss the most during the lockdown. The answers didn't come as a surprise - we've all been missing the same things!
As Ho Chi Minh City enforces stricter measures starting tomorrow, and Hanoi, Danang and several other cities continue with their mobility restrictions, we hope to lighten your mood through these appetizing and culturally significant Vietnamese dishes. 
You can easily cook these in your kitchen and serve to the whole family. Or, when everything goes back to normal, head down to your favorite restaurant together and satisfy your cravings — you deserve it.
Bun Bo Hue
A "hidden gem" in the global culinary scene, but a common favorite and well-loved dish among the Vietnamese, Bun bo Hue is a spicy beef noodle soup that originated in the central city of Hue, the former royal capital of Vietnam. 
This noodle soup dish is prepared meticulously, with its broth simmered so slowly with various types of beef and pork bones (tail, neck, feet, knuckles, shank) and loads of lemon grass. Its fiery flavor is made from garlic, shallots, red pepper flakes, paprika, fermented shrimp paste, and tender parts of lemongrass. The ground annatto seeds, which gives it its iconic red color, are added in the later part of the whole process.
This bowl of heavenly goodness uses thick round rice noodles cooked until al dente (firm and just slightly chewy), and then topped with slices of meat and cubes of congealed pig's blood. The tasty broth is then poured on top of the noodles — wait for a few minutes for the hot broth to get through and cook the noodles and meat. Finish it with a garnish of green onions, cilantro, bean sprouts, banana blossoms, mint leaves and lime.
Check out this recipe.
Banh Mi
It's impossible not to miss banh mi, everyone's all-time favorite. Before we got stuck into our homes, banh mi was the easiest to spot at about every corner, with its inviting smell freely wafting in the air.
This Vietnamese sandwich is made of crusty bread rolls smeared with pate, Asian ham, pickled vegetables, onion, cilantro, fresh chillies and a drizzle of seasoning. Its rich taste is sensational, so there isn't any doubt how banh mi generated a cult following around the world. As a matter of fact, "Banh Mi Food Tour" is a common offering among local travel agencies in Vietnam — and it's a hit among foreign visitors!
While banh mi is so easy to recreate in home kitchens, sourcing the perfect ingredients can be tricky (it's a skill mastered by local vendors). But because we can't go to our favorite banh mi stall just yet, why not try it at home?
Check out this recipe.
Banh Cuon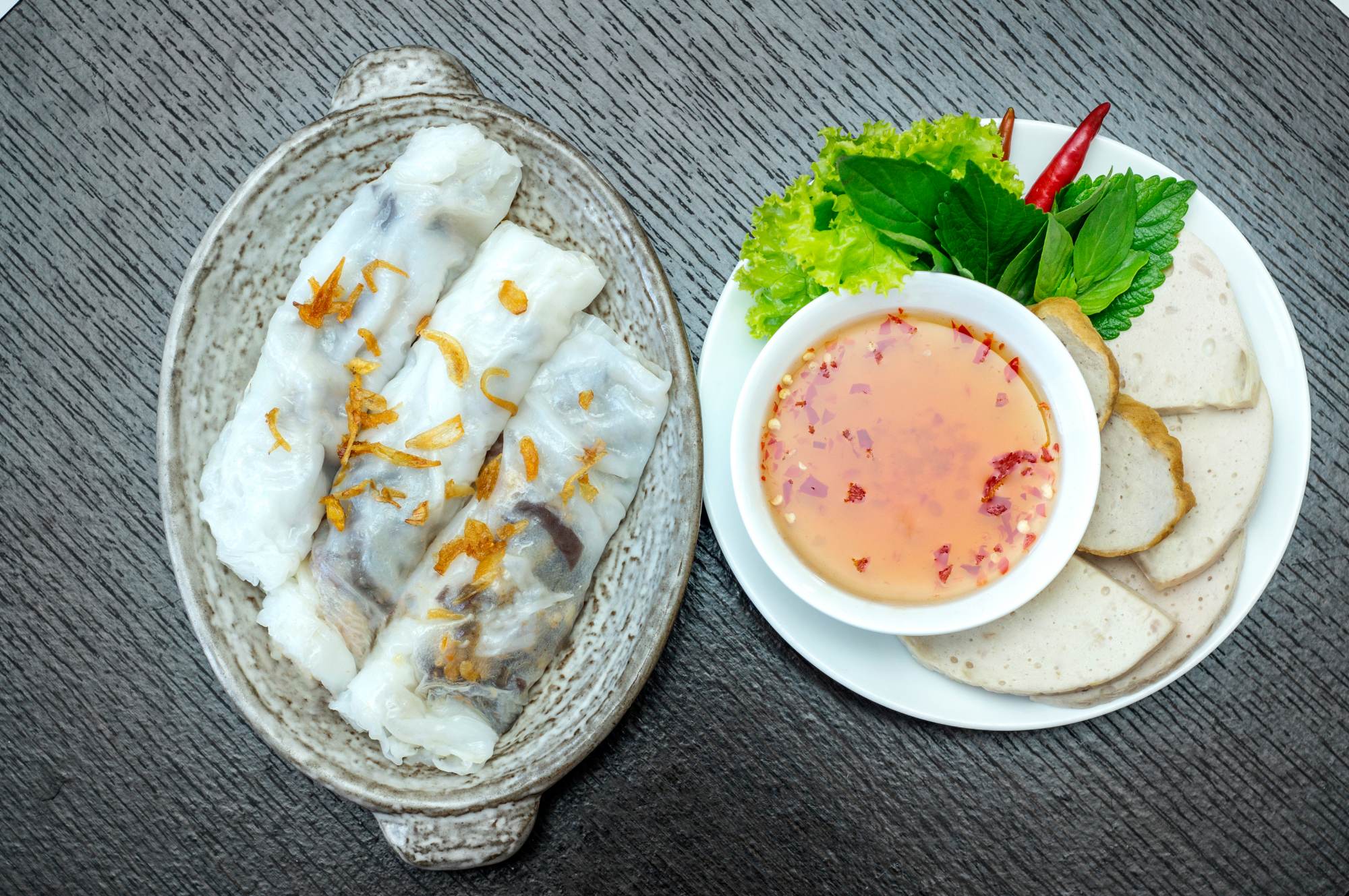 Banh cuon is a deliciously light Vietnamese rice roll filled with minced pork, wood ear mushrooms and shallots — just the right balance of Asian ingredients. It's usually served with a special dipping fish sauce, slices of Vietnamese pork sausages, cucumbers, bean sprouts and some herbs.
This dish is fairly simple to make so you can easily make some for yourself and your family for breakfast. Take out rice paper and soak them in warm water for a few minutes, until they're soft enough to roll. Place it on a flat place, add the filling (stir-fried), roll and seal!
Or, since we now have all the time in the world, we can actually create our own batter for the rice paper by combining rice flour, tapioca flour, water and vegetable oil. Be sure the sheets are made thin so they don't overpower the taste of the filling.
Check out this recipe.
Cha Ca La Vong
This Hanoi-famous fried fish dish is typically made with filleted snakehead fish marinated in turmeric, sugar and other local seasonings. What makes this dish unique is its two-part cooking process — the fish is grilled and then fried to give it a crispy outer crust. The sizzling fried fish and semi-wilted dill are placed on a bed of rice noodles, then eaten together with chopped peanuts, sesame rice crackers and the infamous sauce, mắm nêm, a pungent fermented anchovy sauce.
Eating cha ca la vong is fun, as it involves tabletop cooking — you'll have to fry the fish on your table. Many Hanoians describe the sizzling of cha ca in oil as the sound of happiness. When the aromas start to spread out in the dining area, you can feel the sense of anticipation filling the people huddling around the table. 
To eat this dish like a true Hanoian, wash it down with a few shots of liquor, which is best suited for cold weather.
Check out this recipe.
Xoi vo
Many say that making xoi vo is an art in itself. This classic delicacy is not easy to cook, but its taste makes it a rewarding experience. "Vo" means squeezing hard, which is exactly what the process of this stick rice dish entails. It's made with glutinous rice, mung beans, some salt and vegetable oil. The flavor of the dish greatly depends on the quality of the grain, so picking the right kind is a must.
Xoi vo follows a time-consuming process, too. The grains need to be soaked separately for up to 12 hours and then washed so meticulously. This is all so the kernels can absorb enough water and at the same time, be completely dry and crumbly. The mung beans are also steamed and mashed until they become powdery before they're mixed into the rice. The indicator of success with this dish is to have separated grains of rice completely covered with ground mung bean so the rice is yellow rather than its original white. Afterwards, everything will be steamed again until the rice becomes tender. You have to wait for a couple of minutes for it to cool off before you can roll it between your hands with some sugar. Let it cool, and enjoy!
What's great about xoi vo is it can be eaten any time of the day. It can be stored up in the refrigerator so you can enjoy it for a whole week.
Check out this recipe.