Think of a luxury retreat and an infinity pool comes to mind. But pretty as the pool is, it's actually the deck that does the heavy lifting of creating the look and style of the entire swimming area. So materials matter. You want them durable and easy to maintain. Eco-friendly is a bonus. How about packing a story that spans many countries and is so thrilling that it stays with you long after that sunny afternoon by the pool?
It's a jungle out there
"Logs to make this deck were harvested at the bottom of a man-made reservoir in Suriname by Brazilian divers working for a multinational that operates a manufacturing facility in Vietnam," explains Tau Van Ngo, head of Vietnam operations at Brokopondo Lakewood, at his company's new showroom in Saigon's District 7.
The reservoir wood industry is relatively new and was pioneered by the Brazilians who are still considered the best timber divers out there. Even the presence of piranhas in the water doesn't put them off. In fact, the formidable predator, together with peacock bass, attracts hordes of professional and amateur anglers to Brokopondo lake where Lakewood sources its hardy timber.
The Brokopondo lake is big. If you are not familiar with the lake's origin story, it's hard to make sense of what's in front of you as you take in the sprawling 1,560 km2 reservoir. It is undoubtedly stunning, but it's a stunning rainforest graveyard, in which dead (but perfectly preserved) trees stick up through the water's surface from what was once the forest floor.
The reservoir was created by flooding nearly one percent of the South American country when Afobaka Dam was constructed across the Suriname River between 1961 and 1964. The Americans who built it to power a bauxite mine left the trees standing.
What doesn't kill you
Preserved in a kind of suspended animation in dark, oxygen-poor water, tree wood won't decay for thousands of years. Like sinker wood found today on the bottoms of rivers across the coast of the Southeastern U.S. where pine and cypress were harvested into the late 1800s, these logs are considered buried treasure. Once recovered, they yield the richest patina of any wood and are naturally resistant to pests and rot. 
The romantically named marblewood, tonka, and purpleheart (a hit with Vietnamese customers) are just a few of the species that Brokopondo Lakewood uses in manufacturing their deck flooring and other products.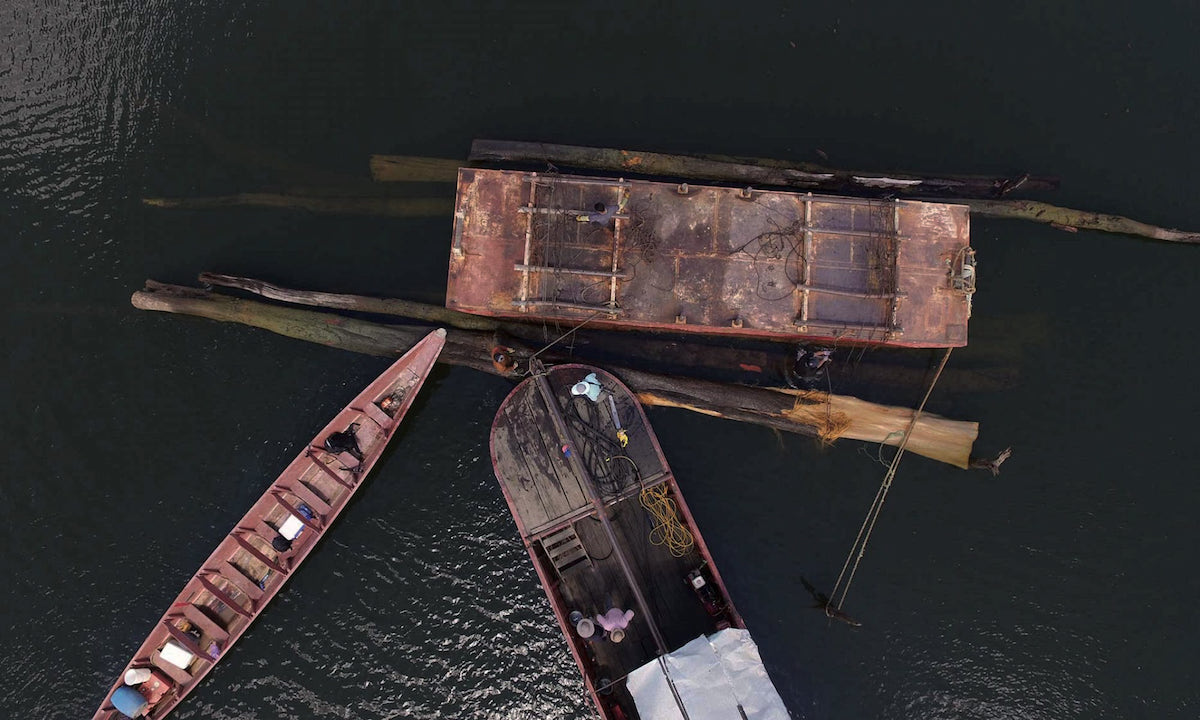 While most trees at the bottom of the lake are suitable for harvesting, explains Tau, divers look for the larger trunks. Clad in diving gear and armed with hydraulic chainsaws, they descend 15 meters below the surface. Once a waterlogged tree bobs to the surface, it is taken to the company's sawmill nearby. From there, sawn timber is transported to Vietnam.
A chip off the old block
"Vietnam has a long-standing tradition of woodcraft," says Tau who works with a team of local craftspeople to fashion everything from solid wood flooring for luxury hotels like Amanoi and a 6-star resort on Con Dao to customized furniture for clients around the world. Thanks to the forestry-products processing know-how and traditions that are kept alive in wood-working villages, the country has a well-established network of an incredibly skilled and talented workforce, he continues.
Thanks to that mastery, every scrap of wood that can be turned into a beautiful or useful object is put to good use. Since Brokopondo Lakewood NV. started operating in Vietnam, wastage was minimized considerably. New products like sleek butler trays and charcuterie boards with inlays are now being manufactured from leftover wood, while sawdust and unusable wood chips are sent for further processing and recycling.
Good wood
Before covid-19, Brokopondo Lakewood's business model was export-oriented. But with international travel on hold, Tau made the most of his time on the ground in Vietnam. First spreading the word about a sustainable source of solid tropical hardwood that does not harm owls and other creatures when harvested. 
Then, once inquiries started pouring in about the treasure hidden at the bottom of a hydro lake in Suriname, he busied himself with the plans to open additional showrooms in Vietnam, once business activity in the region has returned to pre-pandemic levels.
While a good story is worth retelling, a good product is worth investing in. 
Tau, being a gifted storyteller himself, appreciates a good yarn, but has no illusions about why his customers choose Lakewood's timber: "In hospitality today, storytelling is one of the biggest buzzwords. If buildings are heritage and eggs arrive in a carton with the hen's name on it, why shouldn't the dining table or the pool deck have a story to tell too? But ultimately, you want your deck to last, not to splinter, and to feel good under your feet. Story or no story."