Unlike Saigon, Hanoi experiences all four seasons. When temperatures drop and the northeast monsoon blows, soup noodles bring comfort. In sweltering summer days, hearty broths give way to cooling che.
Given the plethora of what's out there, eating your way through Hanoi, in any season, requires stamina. So where should you go when in Hanoi? In this round-up of Hanoi's best Vietnamese restaurants we sidestep the street food stalls and hotel restaurants to zoom in on stand-alone venues serving traditional Vietnamese food with an occasional fusion dish thrown in.
Hanoi Garden Restaurant
One of the city's first casual fine-dining restaurants, Hanoi Garden Restaurant has been in business for over 20 years. As it reopens in its original location in the Old Quarter following a refurbishment, the second generation of the family takes over the reins and puts a modern spin on this Hanoi mainstay.
Designed by Ho Thieu Tri, one of the architects behind Hanoi Opera house renovation in 1994, the restaurant may be French in style, yet foreign influences are limited to decor. Food, in both the taste and presentation, is authentically Vietnamese. A calming spot featuring a waterfall, a lush garden and flickering candles, this is a great dinner destination.
Location: 36 Hang Manh Street, Hoan Kiem District, Hanoi
HOME Hanoi Restaurant
Set within a former French residence in the charming Truc Bach neighborhood, HOME Hanoi Restaurant is infused with old-world splendor. It's grand yet somehow cozy and unpretentious – not an easy feat for a venue set in a colonial mansion and featuring lobster as their specialty.
If, like many patrons, you prefer outdoor seating with tables encircling the detached mansion, you'd be wise to book in advance, as the place is popular. For a taste of Hanoi, try West Lake snail pie with traditional dipping sauce and bún chả Hà Nội, Hanoi's famous grilled pork with fresh rice noodles.
Location: 34 Chau Long Street, Ba Dinh District, Hanoi
Uu Dam Chay
Strictly speaking, Uu Dam Chay is not a Vietnamese-food-only restaurant; the menu features Western dishes, as well as Asian-inspired ones, all of them vegetarian. Vietnamese dishes, like lotus root chips and fried soft tofu, will satisfy local food cravings, while durian pizza and other daring innovations spice the menu up.
At night, the dramatically lit façade is especially attractive. On the roof, a striking greenhouse-like structure is hung with enough tropical plants to create Instagram envy in all your design-conscious followers.
Location: 34 Hang Bai Street, Hoan Kiem District, Hanoi
Chusa Vietnamese Cuisine
Most Vietnamese dishes are made for sharing, which means that occasionally solo diners are left with half-finished plates if they attempt to tackle multiple dishes or feeling cheated out of the full experience. Not so at Chusa Vietnamese Cuisine.
With solo travelers in mind – they see quite a few wander in after a tour of St. Joseph's Cathedral next door, Chusa's set menu aims for the perfect balance of variety and portion size. For couples, groups and those with a big appetite, pineapple fried rice is a must-try. Most of the dishes on the menu skew fusion and go down well with local lagers, craft beer and wine by the glass.
Location: 22 Au Trieu Street, Hoan Kiem District, Hanoi
37 Nam Trang — State-Run Food Shop #37
Named after a pre-war state-run food store, 37 Nam Trang takes its historical accuracy seriously: from a display of ration books and food coupons, prevalent in the 1970's and 1980's, to the menu of simple, no-frills Northern Vietnamese food. Iced tea served in chipped enamel mugs, old radios and TV sets crowding the bar counter, black and white photos – there's plenty to feast your eyes on.
Locals come here for nostalgia-filled lunches, while dinnertime tends to draw a tourist crowd. In less capable hands, the concept might have amounted to nothing more than a gimmick, but 37 Nam Trang is filled with such appreciation for the post-war generation's resilience that it just works.
Location:
37 Nam Trang Street, Truc Bach, Hanoi
158 Tran Vu Street, Truc Bach, Hanoi
Chim Sao
In essence, this is traditional village-style cooking that highlights the cuisine of Vietnam's ethnic minorities. Ingredients are seasonal – everything from snails and grasshoppers, to eel and water buffalo meat supplied daily by local farmers, while Chim Sao' beverage list proudly features potent and flavorful rice wines.
The restaurant moonlights as an art gallery and its permanent collection of contemporary Vietnamese art is well worth a look. Head upstairs for traditional village-style dining settings with floor cushions or settle down on antique timber furniture downstairs.
Location: 65 Hue Street, Hai Ba Trung District, Hanoi
Au O Vietnam Kitchen
Proving the enduring popularity of family-style dining in Hanoi, the newish Au O hits the sweet spot between modern, urban decor and traditional cuisine. The atmospheric venue features an indoor patio overflowing with tropical foliage – a little oasis a stone's throw from the Opera House and other sights.
The food is traditional and is sure to please the purists. There are cozy nooks for the couples, as well as communal-style tables popular with families and after-work gatherings of friends.
Location: 13A Ly Thuong Kiet Street, Hoan Kiem District, Hanoi
Cau Go Vietnamese Cuisine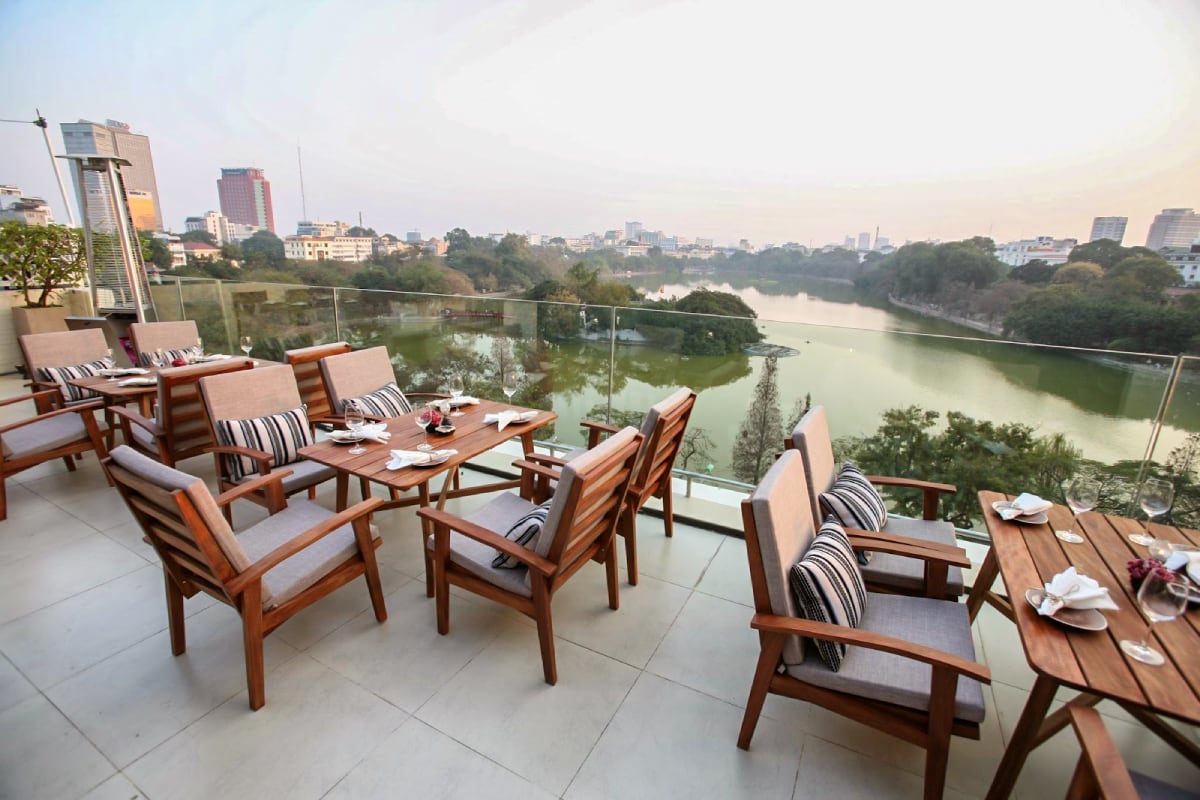 Cau Go warrants a visit for the sweeping views of Hoan Kiem Lake, the Huc Bridge and Ngoc Son Temple alone. The fact that food refuses to play second fiddle and is exceptional is an added bonus. As befits the venue surrounded by so much history and cultural heritage, Cau Go serves traditional Vietnamese cuisine.
Impossibly romantic at night, Cau Go is also a great lunch sport to recharge your batteries after exploring the Old Quarter. On chilly winter nights, consider cozy indoor seating or order a hearty broth to keep you warm on the alfresco deck soaring above the lake.
Location:
9 Dinh Tien Hoang Street, Hoan Kiem District, Hanoi
73 Cau Go Street, Hoan Kiem District, Hanoi
1/3/5/7 Dinh Tien Hoang Street, Hoan Kiem District, Hanoi
Related Content:
[Article] Private Dining Options in Hanoi: Vietcetera's Favorite Picks
[Article] Hanoi Garden Restaurant: A Second-Generation's Perspective