An initiative of the British Council's Digital Collaboration Fund, Eye See Ai is a community art project that uses augmented reality (AR) technology to provide unique "touring experiences" for autistic and disabled artists, with six short performances set in Hanoi and Cardiff, Wales.
The project is founded by Hijinx Theater Company from the United Kingdom, along with Vietnam's very own Mat Tran Ensemble and Tohe Social Enterprise. 
Mat Tran Ensemble is a group of artists with high expertise in the performing arts. They don't tell stories in ordinary ways, but rather challenge the barriers of space and language with puppetry, thus connecting people together and bringing art closer to underprivileged communities.
Tohe is a social enterprise with the mission of providing a creative playground for disadvantaged children and supporting young autistic artists to learn and develop through a variety of educational and visual art activities. With AR technology from Viet Interactive, Tohe aims to redefine and establish new memories in our familiar conventional spaces. 
Hijinx 
Hijinx is a professional theater based in Wales, working to pioneer the production and promotion of educational opportunities for actors with autism and disabilities. They have been producing excellent performances with many world tours.
As part of the Eye See Ai project, Hijinx has contributed to orienting the direction of art and ensured that people with autism and/or learning disabilities are understood and heard in the society.
How it began
Hijinx first met Mat Tran Ensemble in April 2019, when its senior producer Ellis Wrightbrook visited Vietnam with the support from the British Council's Connecting Through Culture fund.
 After that, both Mat Chan and Hijinx realized that they shared the same vision and direction. In February 2020, they had the opportunity to meet again in Cardiff to discuss the cooperation more deeply. That is the premise of Eye See Ai.
A few difficulties along the way
It's the language barrier. With the assistance of an interpreter, the meeting lasted as twice as usual, but at least everyone understood clearly the details of the messages conveyed.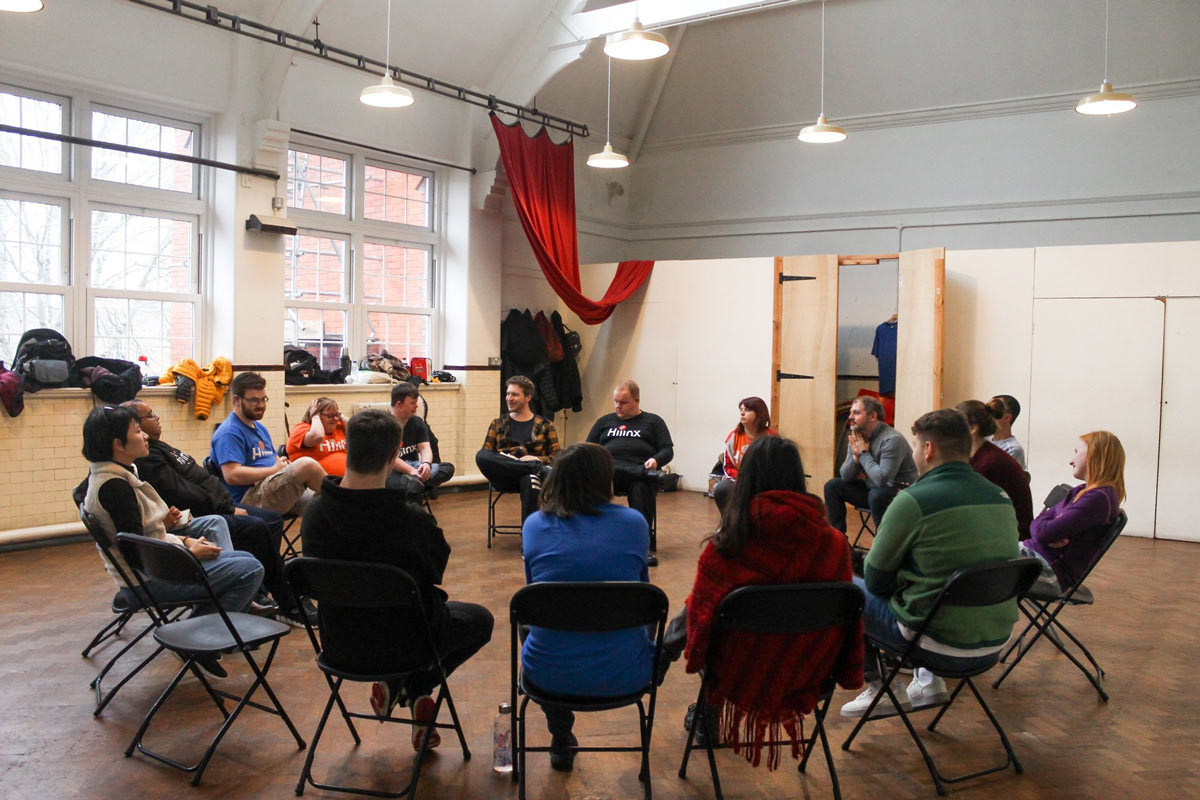 They have to try every online tool from OneDrive, Google Drive/Docs to WhatsApp, and Zoom – by all means to help all partners stay connected and well-informed. Fortunately, the meetings have gone smoothly so far.
The highlight
Hijinx produced three short films as part of this research and development. Each film stars an actor and an instructor. Once the locations were decided, Hijinx would get ideas from the group based in Hanoi, then each pair of an actor and an instructor picked a place and started thinking about what inspiration they could draw from it. 
They flew and dived into Hoan Kiem Lake, finding mythical creatures hiding in Dien Hong Park, and sent time travelers to explore Hoa Phong Tower through many eras. Each footage, although without any words, is scored by the music made by Sound Awakener and Tic Ashfield-Fox.
Mat Tran Ensemble
Mat Tran (naked eye) is a young art collective, founded with the desire to break down stereotypes about performing arts through various forms of storytelling languages such as movement, puppetry, and breathing.
Mat Tran's performances, workshops and socio-educational programs center on community and communal conversations. In the Eye See Ai project, Mat Tran Ensemble participates as part of the founders, coordinators, and performers.
How it began
 After receiving a cooperation offer from Hijinx, Mat Tran immediately thought of Tohe - a partner Mat Tran has known and supported for a long time.
Given that Hijinx has expertise in the performing arts while Tohe has a group of visual artists and hands-on experience, Mat Tran thinks that the cooperation of these three friends will be very interesting.
A few difficulties along the way
Mat Tran Ensemble used to have classes at Tohe. However, after April 30 when the pandemic in Vietnam became more serious, they could no longer hold such on-site classes and had to take their puppetry training sessions to Zoom.
At first, they thought it would be difficult going online like this. Fortunately, the first training session on Zoom was very well received.
The highlight
The unique characteristics and personalities of the artists are conveyed clearly through each work of art. If you are curious, wait for their artworks when the project is officially released to the public.
 Audiences will access the artworks through an app and can choose to interact with the installation in their own way. This means they will bring their stories of the day, the weather, and the sounds of the city around them into the artworks.
Tohe
Tohe is a Vietnamese social enterprise with the mission of providing a creative playground for disadvantaged children, supporting children with autism to learn and develop through a variety of educational and visual arts activities.
In the Eye See Ai project, Tohe participated in the idea development process of the project. The artist/teacher at Tohe researched how to expose autistic children in Art Coaching class to create paintings of imaginary places based on Wales, UK.
How it began
In 2019, Tohe held Khoe Creative Festival - a crowdfunding event with the participation of creative businesses, organizations and artists in Hanoi. Mat Tran Ensemble is a partner invited by Tohe to perform and hold puppet workshops. Since then, Tohe and Mat Tran have followed and supported each other's activities.
In October 2020, Mat Tran performed Little Peanut & the Sneeze Theory –  a puppet performance designed for all types of audiences, with a special short showing for autistic children of Tohe's Art Coaching class.
In the process of preparing for this trial show, Tohe and Mat Tran had a lot of discussions to bring the best experience to the young artists. After a short performance and a workshop on making puppets, the team was surprised when these autistic children have good interactions and are interested in the activities.
In November 2021, when Mat Tran and Tohe were preparing an art activity for exceptional children, the British Council's Digital Cooperation Fund emerged. Although Tohe has never collaborated with Hijinx before, with the invitation of Mat Tran, the 3 parties have the opportunity to work together.
A few difficulties along the way
Because of the language barrier, each meeting requires an interpreter, which makes the process of transferring information take a lot of time. Moreover, the prolonged lock down in the UK and Hanoi also causes many difficulties to the on-site practice between artists and children with autism and learning disabilities.
Therefore, the team had to organize online workshops and change the filming schedule later than expected.
The highlight
Working with partners and artists
Tohe has been working offline with Mat Chan (Vietnam) and online with Hijnix (UK). Tohe and Mat Tran also met families of children with autism to announce the program, inviting them to participate in the project and asking for consent to use their children's photos and videos.
During the weekly session on Saturday, Mat Tran would join Tohe's Art Coaching class to observe how these children learn and interact with other aritsts.
After Mat Tran held some workshops to get to know these young artists through movement, games, and puppetry activities, Tohe also participated in these sessions to support these children's behavior. The 3 partners of Eye See Ai have a lot of exchange sessions to build the works.
In terms of works: The performance, which is designed as a walking tour, will take place at three familiar locations in Hanoi. Through an app, the audiences can access and watch the performance anywhere and anytime. Therefore, each viewer and sound at every moment all contribute to the stories of the work. Everyone can interact with the performance in their own way on the existing platform. 
Partner South East Asia: Arts and Culture Matters is an online forum series initiated and represented by the British Council. The event is organized to provide information, trends and knowledge about the arts and cultural ecosystems of countries in the region, namely Indonesia, Malaysia, Philippines, Thailand, and Vietnam. The forum series also offers opportunities for networking and collaboration between the arts and cultures of Southeast Asia and the UK.

"The Việt Nam Connections" will be re-broadcasted at Vietcetera fanpage with English and Vietnamese subtitles.

Translated by Bich Tram