Vietnam and the Philippines have a historical relationship marked by trade and cultural exchanges dating back to the pre-colonial period. However, the most familiar connection between the two nations would be when the Vietnamese refugees sought asylum in the Philippines when the Vietnam War ended in 1975.
Over the years, many Vietnamese have been able to resettle in other countries, but a significant number stayed in the Philippines, where they have built new lives and established communities. However, not all Vietnamese in the Philippines are products of war; some have relocated on their own for better opportunities.
While it's difficult to determine the exact number of Vietnamese living in the Philippines, as many may not be officially registered, it's estimated to be relatively small, numbering in the tens of thousands. This population is comprised mainly of expatriates working in various industries, such as business and finance, as well as their families.
Despite the population being small, the Vietnamese community has significantly impacted the food and business sectors. And it has changed how Filipinos appreciate food to this day.
Vietnamese food has become increasingly popular in the Philippines in recent years, with a number of Vietnamese restaurants popping up in major areas such as Metro Manila and provincial locations like Iloilo.
Bringing the flavors of Vietnam to her new home
Anh Le was born and raised in Vietnam and moved to the Philippines more than two decades ago. It turns out it only took her one visit to her sibling who married a Filipino to fall in love with the country's culture and atmosphere. Anh was part of her family's traditional Vietnamese food business in Vietnam for 20 years, where she learned about cooking and serving traditional Vietnamese dishes. So, establishing her food business is not new to Anh.
In 2013, she started Bon Banhmi and Bon Pho & Roll in Makati, the business capital of the Philippines. Her goal? To promote Vietnamese food and culture. The restaurant started with two locations serving a full menu and expanded to 6 to-go locations, serving popular Vietnamese dishes like Bánh Mì, Phở, Bún Bò Huế, and spring rolls.
Anh, now 5o years old, says that Filipinos are warmly embracing the unique Vietnamese flavors, and more people are looking for a healthy alternative to the typical Filipino dishes. She's happy to see more Vietnamese restaurants opening in different parts of the Philippines and hopes that they will serve good food and grow together to promote Vietnamese food and culture.
Some of the items that are selling the most include Bánh Mì, Phở (northern origin rice noodle soup), Bún Bò Huế (central origin rice noodle soup), and spring rolls.
Although Anh doesn't eat all kinds of meat, it doesn't hold her back or hinder her, in any way, from ensuring the food they serve is of the highest quality. "I can only eat seafood and vegetables," she said. "At first, I thought it would be at my disadvantage. But no, it even helps me focus more and give more than 100% attention when I cook meat dishes, I had to establish a procedure of tasting the food that I can't eat or the food marination even before it gets cooked."
Despite the pandemic, Bon Banhmi and Bon Pho & Roll remained operational. "We're able to continue the operation despite the strike of COVID-19, but it required a lot of work where we had to establish an in-house food delivery team and totally shifted to online ordering for the duration of lockdown, and until the moment our food delivery bring the most income."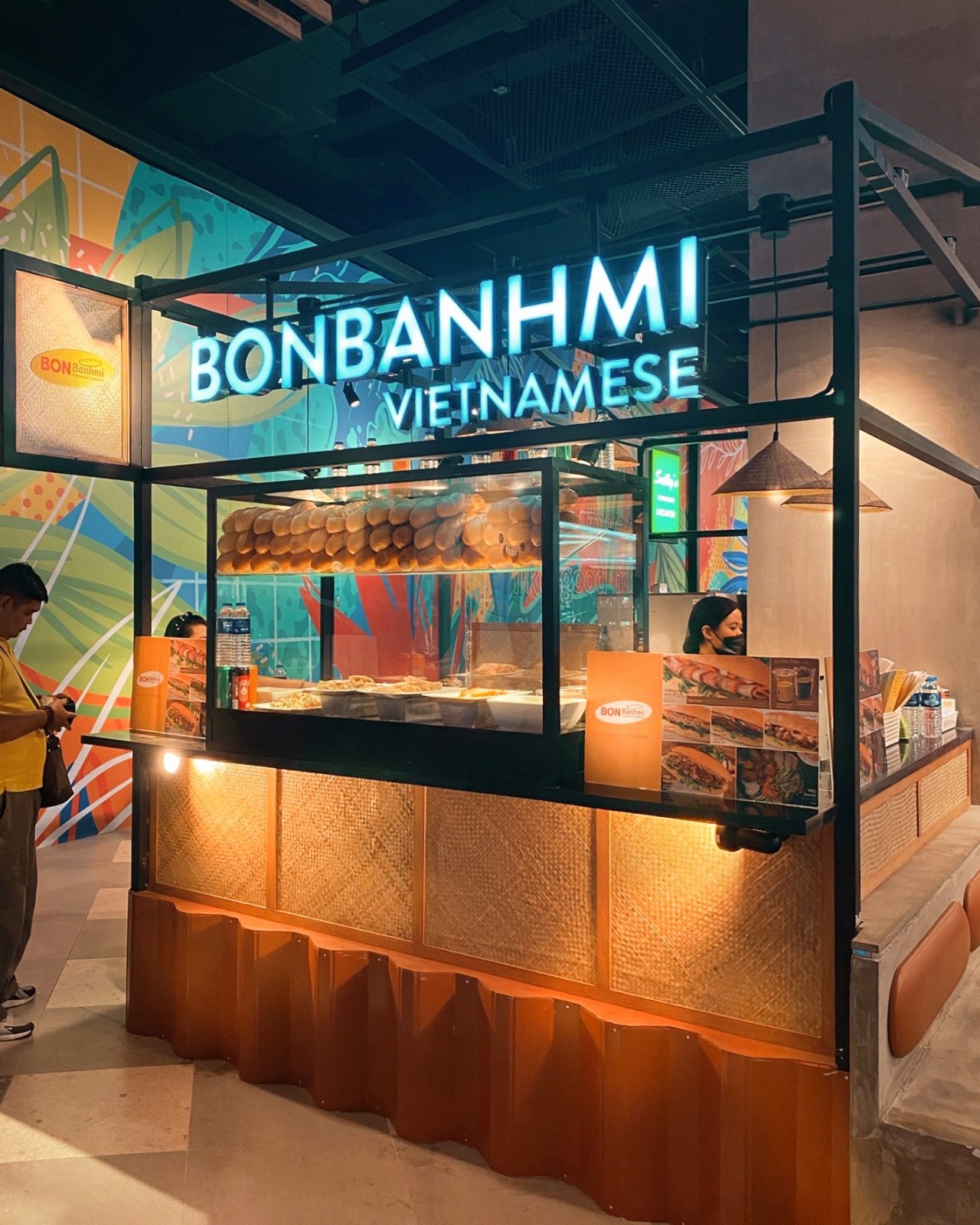 Now that all restrictions have been lifted in the Philippines, Anh and her team are happy to see their customers returning to dine in and experience Vietnamese food-to-go and delivery no matter where they are in Metro Manila.
Anh's strategy is to focus on the quality of the food and slowly expand the locations. She cut down on marketing fees to offer quality food at an affordable price and relied on her customers to be her food ambassadors.
"We are happy to see more Vietnamese restaurants opening around because we believe we have been a part of the process of promoting Vietnamese food and culture to the Philippines," Anh said about the rising number of Vietnamese restaurants in the country. "We hope every Vietnamese restaurant will serve good food and grow, so we can promote our food, our culture, and our country."
Hole-in-the-wall Vietnamese restaurant
After a work trip that lasted for only a week in Vietnam, April Frances Ortigas, or Sky to her friends, already got hooked on the Vietnamese flavors. So much so that she brought it home and opened a Vietnamese restaurant - Viet-Yum Kitchen.
Sky is a web UX designer, layout artist, and social media manager by profession and a part-time foodie and coffee lover. A few years ago, while working for a catholic community called Couples for Christ, she was sent to Vietnam for seven days to help the community build its website and social media platforms in the Greater Mekong Area. And as you may have expected, that was when she found love.
"I fell in LOVE with the food," Sky proudly shared. "Every time I travel, I make sure to taste and explore local cuisines and appreciate the ingredients and the way the food is prepared. I was so in awe with the pho, I love eating Banh mi across the street from where I was staying, and I always buy coffee on the roadside."
After that "work" trip to Ho Chi Minh, Sky came back a couple of times, bringing her family and friends. That was how Viet-Yum was born.
Along with four of her friends, Sky established Viet-Yum Kitchen, a Vietnamese street kitchen in Iloilo, a city in the Western Visayas region of the Philippines. "It was funny because there was just a time when the five of us were trying to plan a vacation trip for the family, and all of us were thinking of Vietnam," she said. "Turns out that we all are fans of Vietnamese food!"
Their travel plan ended up becoming a business plan. "Then another conversation occurred that we would like to put up a restaurant outside our compound. Since one of our co-owners is a cook, who studied Vietnamese cuisine and loves to prepare Vietnamese food during events and occasions, we all decided to focus on Vietnamese food."
To Sky and her partners, the best part about Vietnamese food is that it's healthy, light on the stomach, and so refreshing. There is only a handful of Vietnamese restaurants in the county. But instead of putting up a typical restaurant or starting with catering services, they agreed to open a Vietnamese hole-in-the-wall restaurant instead.
Although they're relatively young since they just opened on January 3, they already have regular customers who keep coming back for the food and experience. What keeps them going is the positive feedback from happy customers, who say the food is "authentic" and "refreshing."
Both Anh and Sky believe it's definitely possible that Vietnamese food could become as popular as Korean BBQ and Mexican tacos. And while it has yet to establish the same level of familiarity among Filipino consumers, many appreciate and enjoy Vietnamese food in the Philippines. Its fresh and healthy ingredients, such as herbs, spices, and vegetables, which Vietnamese cuisine is known for, appeal to many Filipinos.
With the growing number of Vietnamese restaurants in the Philippines, it's safe to say that many Filipinos have a favorable view of Vietnamese food and that it's an appreciated addition to the Philippines' culinary scene.