Noi Bai International Airport, the bustling aviation hub serving Vietnam's capital city of Hanoi, has been recognized among the world's top airports for its efficient queueing management, according to a recent analysis by Casago, a vacation rental property management company. The capital's air terminal secured an impressive 11th position among the world's finest airports for queueing, 5th in the Asian region.
Airport queues have long been a concern for travelers, often causing inconvenience and delays at various points during their journey. The exponential growth in global air travel over the years has contributed to the expansion of these queues, with passenger numbers surging from 1.9 billion in 2004 to 4.7 billion in 2020, just before the pandemic altered the trajectory of the industry.
Following the unprecedented disruptions caused by the pandemic, airports worldwide have grappled with the challenge of accommodating the revived travel demand, leading to extended queues and longer wait times. Despite these challenges, the travel and tourism sector has shown remarkable resilience, rebounding to 95% of its 2019 market size, as reported by the World Travel and Tourism Council.
Casago's study utilized a rigorous methodology, examining passenger reviews from airlinequality.com that assigned queueing times a rating on a scale of 1 to 5 stars. The analysis concentrated on airports with a substantial number of passenger reviews, ensuring a comprehensive and accurate assessment. Moreover, the study also examined the nationalities that expressed the most contentment or dissatisfaction with queueing experiences, taking into account the home countries of the reviewers. Vietnamese was listed as one of the least likely to complain travelers.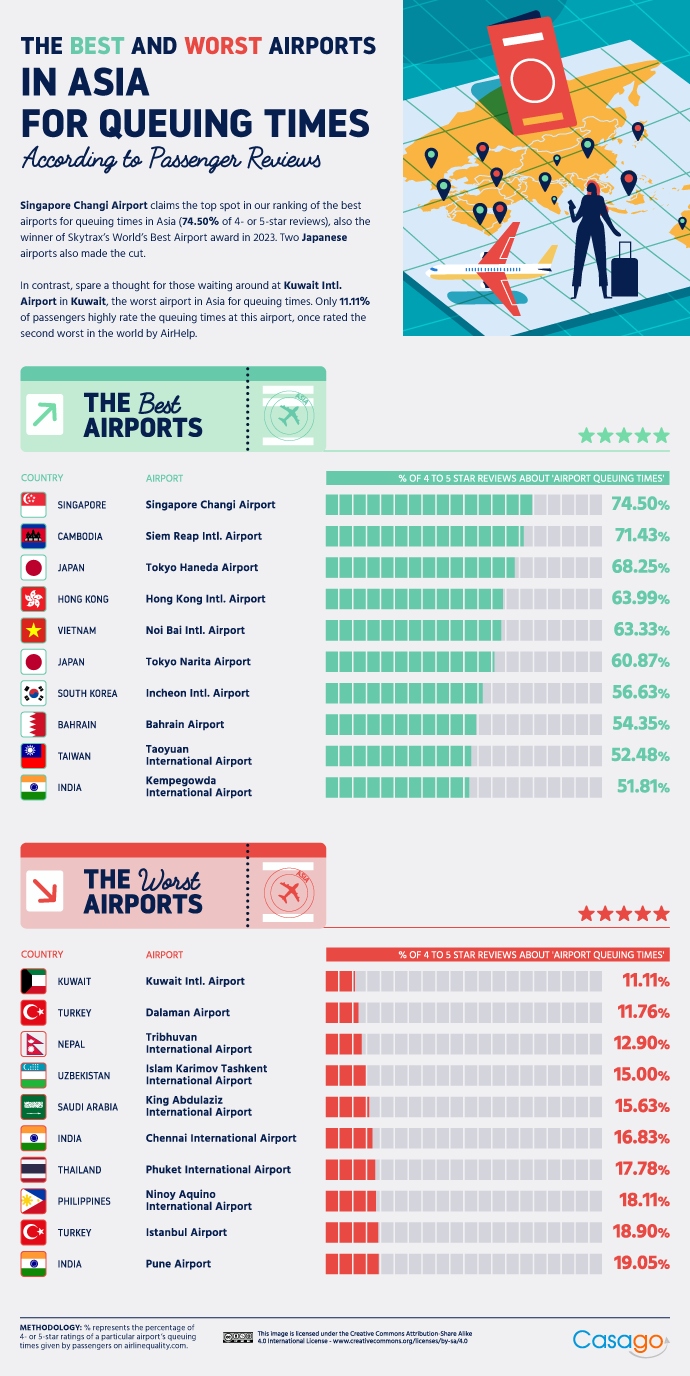 Noi Bai International Airport's recognition as one of the world's best airports for queueing is a testament to the concerted efforts undertaken to enhance the passenger experience. By minimizing queueing times and streamlining procedures, the airport has succeeded in contributing to the overall satisfaction of travelers passing through its terminals.
As the global travel industry continues to navigate the evolving landscape, efficient queue management remains a pivotal aspect of ensuring a seamless and enjoyable travel experience for passengers. Noi Bai International Airport's achievement in this regard underscores its dedication to providing a world-class travel experience and positions it as a key player in Vietnam's growing aviation sector.
Note: The analysis and rankings are based on Casago's evaluation as of July 2023, reflecting the experiences and feedback of passengers who submitted reviews on airlinequality.com.