When you first walk into Hey Camel Ceramics, you can't help but feel drawn to the objects that surround the store. It's clear that each piece is unique and thoughtfully made. My personal favorite is the tea set with eyes, which Leandro Mercelino, the owner and artisan behind the creations, says is inspired by the Cao Dai folk religion in southern Vietnam. Hidden in an alley off Tran Quoc Toan in District 1, the store and studio offers a moment of peace and aesthetic from the bustle of Saigon. We meet with Leandro in his ceramics studio to learn about the growing popularity of his brand and to take on our own session in the ceramics workshop.
Can you tell us what led you to start a ceramics business?
I come from the Canary Islands, Spain. I've always been passionate about art and I carried that passion when traveling. I lived in Valencia, Madrid, London and now here I am, in Vietnam.
Before arriving in Saigon I was into photography. I started pottery here, four years ago, by taking lessons. As my first teacher was Japanese, my pottery is finished with the Japanese style. I started as a student but soon I applied to become an assistant and then a teacher of the studio.
As I was practicing a lot, I started to have many pieces at home. I didn't know what to do with all of them. So I decided to sell my work on the art market. I wasn't expecting to sell so many, it was unexpected and a pleasant surprise. I sold 80% of what I had very quickly.
So that's how the idea of Hey Camel Ceramics first came about. We decided to create the first handmade ceramics store in Saigon. The name comes from my origins. Years ago, the Canary Islands used camels to carry different goods and especially potteries to different towns. I chose a name not related to Vietnam to be free to work in other places and keep the brand relevant.
Being in a niche, it must be difficult to build awareness for your brand. How did you approach this challenge?
We try to be active on social media, especially on Instagram. We also have a Tumblr. Though most of our traction comes from word of mouth. We also opened workshops to allow people to discover pottery and help them understand what we're doing. We also think that the process of making ceramics is as beautiful as the final product. It's a great opportunity to share our passion to our customers.
We have workshops on weekends, from 10.00 to 12.30 and from 15.00 to 17.30.
We also feature some places to have visibility such as Work Café, PEMA (flower shop), Collective Memory (Hanoi) and Cocobox (Hoi An). We are constantly looking for new places to feature our products.
Who's working with you?
I'm working with Anthony. I met him in London. More than my business partner, he is my partner in life. Anthony decided to quit his job at an international French corporation to focus on Hey Camel and help me run the business. I'm in charge of the workshops, the artwork and the production, while Anthony leads the designs and finances.
We also have part time employees that help us make ceramic pieces that we sell, though, I always put the final touch.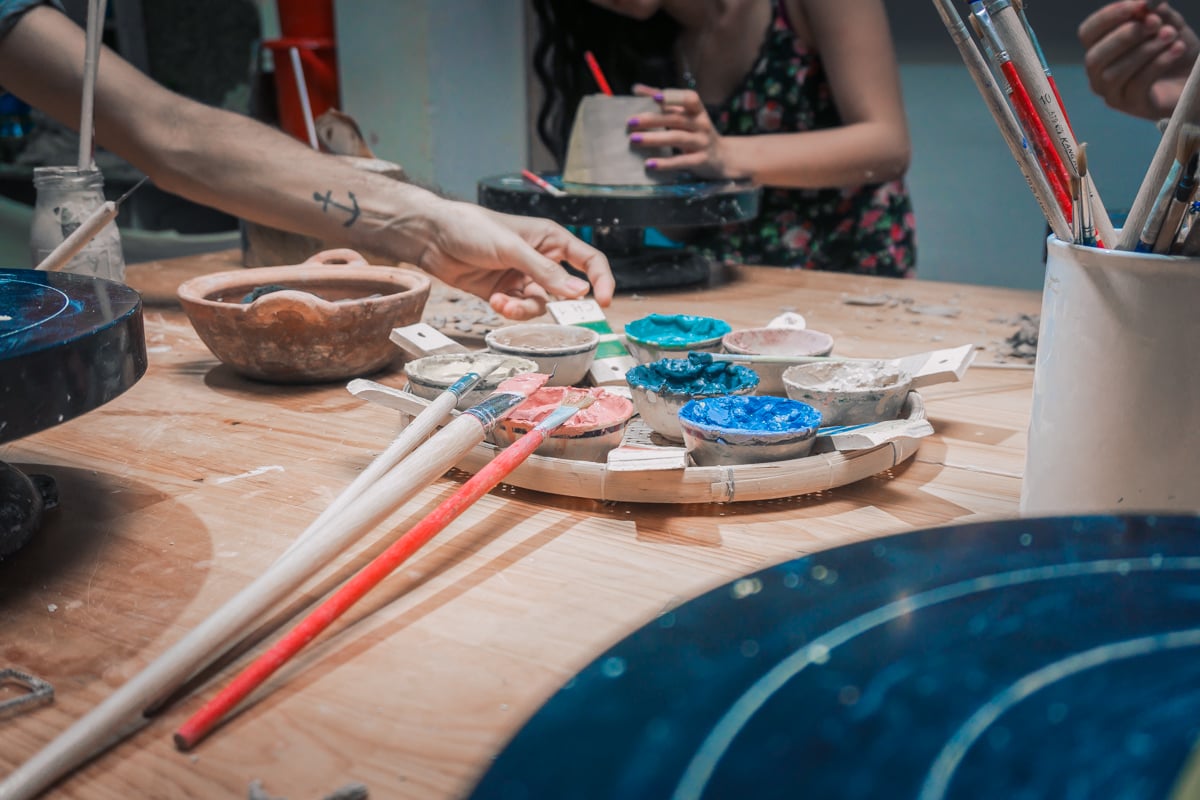 Do your pieces reflect the Vietnamese tradition, the Japanese, and/or the Canarian?
The pieces mainly reflect the vibe of the Canary Islands. The islands are influenced by the Moroccan culture through the Berber ethnic group. I carry that influence with me and you can see it in my pottery style. I also like to find inspiration through sacred objects from different religions such as Cao Dai.
As I learned pottery from a Japanese teacher, my work is influenced by Japan as well. Concerning Vietnamese tradition, I've traveled around villages in Vietnam to discover local knowledge and expertise. There are only a few towns that I've visited, such as Quy Nhon, Hoi An and one in the province of Binh Duong (now closed). But sadly I witnessed a disappearing tradition…
Can you feel a growing Vietnamese interest for craft products such as ceramics?
When I arrived four years ago, there were few artists and fewer young artists. Everything was more traditional and this craft wasn't popular. Today the younger generation is more open-minded and express themselves a lot more. I like to believe that we contribute to this trend by sharing our experience.
What are the obstacles of launching and running a ceramics workshop?
At the beginning, it was hard for us to represent a handmade ceramics brand. In Vietnam, such businesses are rare. We are the only one in Saigon. But that's an opportunity to show the younger generations that there are alternatives to industrial production of goods. We'd like to be an example that you can make a living out of your passion.
Legal paperwork was another obstacle in order to become a local Vietnamese business. But the most difficult was to have the kiln which is an oven to fire pottery. We tried unsuccessfully to find one in Vietnam. Either they were old ones powered by gas or electrics ones of poor quality. So we decided to import it from the US, which took three months to bring over here. It was a complicated and expensive administrative process.
Is working with clay a way for you to leave a positive impact regarding the environment?
I think so. More than ceramic creation, we also try not to use plastics or other pollutants. For instance, we are currently working with The Lab to develop our branding and we will produce biodegradable packaging. We want to take care of our planet while we're doing business.
When most of Vietnamese businesses try to compete through pricing, we want to focus on quality. Making our product personal with high quality and creating our own design. This positioning might make us sell less, but with a better quality and we're proud of what we're doing.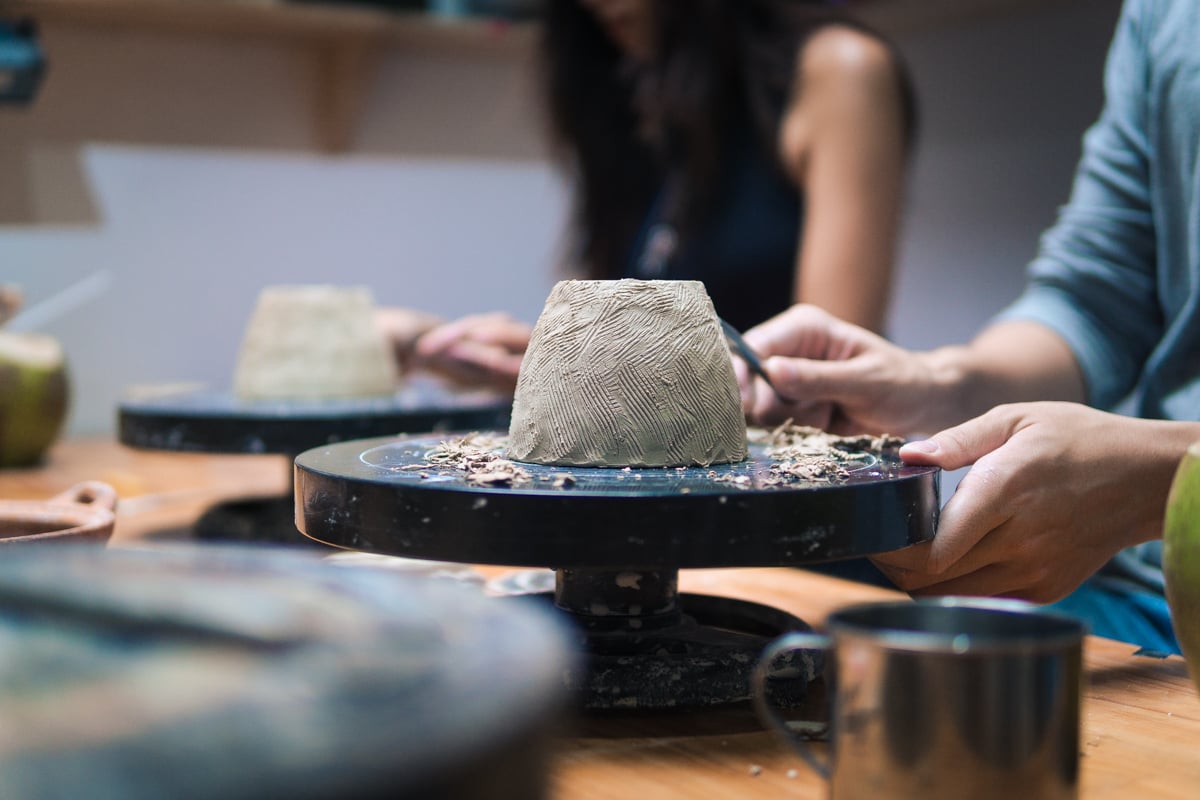 What is the future for Hey Camel Ceramics?
We're also trying to make other products outside of pottery. Right now, we're making a collection of workwear in collaboration with with Linda mai Phung, a local designer. We're creating something that looks like a uniform that workers wear to protect themselves, but it's wearable and functional. Like an apron and a jumpsuit that you can also wear casually. They're going to be made of linen and other materials that are biodegradable.
This is still in early stages, though we'd like to open a concept store. We'll have a place where we can make ceramics. And we want to leave a social impact by creating job opportunities for people with disabilities.