Diageo World Class is the most prestigious bartending competition; whoever wins its trophy is akin to winning an Oscar. Last year, the global competition saw bartenders from 50 countries participate, each competing in a series of challenges designed to test their cocktail skills, knowledge and creativity.
In 2022, the Diageo World Class Bartender of the Year title went to Adrián Michalčík, the head bartender at Pier 42, a cocktail bar at Amerikalinjen Hotel in Oslo, Norway. He was also named the winner of The Singleton challenge for his cocktail, Equality.
Adrián Michalčík has teamed up with The Singleton for a 10-day tour in Asia. During his stop in Vietnam, Vietcetera had a chance to meet up with Adrián and had him share about his 15-year bartending journey, the challenges he faced during the competition, and what is interesting about this job.
How did you start your bartender career?
It sounds unusual, but I used to play ice hockey professionally. As I've always loved challenges, I decided to switch careers. That's when I looked into hospitality, which has always been a thing in Norway, and it brought me to a gastronomy major in hotel management.
I was trained from cooking to waiting, but what really "stole my heart" was the bar. It is a magical place where people meet up after demanding days and unwind with their favorite cocktail. The bar's vibe and the atmosphere hooked me from the beginning and kept me going in the industry for more than 15 years.
We all have bad days. What keeps you going?
There are days when we feel out of energy, but when coming to work as a bartender, we're basically somehow living our private lives in front of the bar. We should have clean heads, not negativity in our heads.
Even when I was competing in World Class, it's important to always come back on the route and remind yourself why you're doing this. That will give us the power to survive and maintain our professionalism in this industry.
What was the craziest drink you've ever made?
It was my martini recipe in 2017. It looks transparent like water but tastes like coffee. People expect the coffee taste to have a really strong color, so when the flavor hits them, it is pretty mind-blowing, crazy, and priceless!
That's the best part of my job: Creating something that disrupts expectations. You can never expect the taste by just seeing the drink.
You've used The Singleton's Single Malt Scotch Whisky during this Asia Tour to make cocktails. What makes them unique from other kinds?
Single malt Scotch whisky is made entirely from malted barley and water, and is distilled in a single distillery. This often results in a more unique and distinct flavor profile compared to blended malts, which are made by combining whiskies from different distilleries.
And we are here with The Singleton, Asia's #1 Single Malt Scotch, The Singleton is crafted for making the most enjoyable, smooth yet rich whiskies that are delicious from the very first sip, inviting people to the world of Single Malt Whisky to discover more tates and pleasure in life for the many, not just the few.
The Singleton inspires me beyond my cocktail creativity.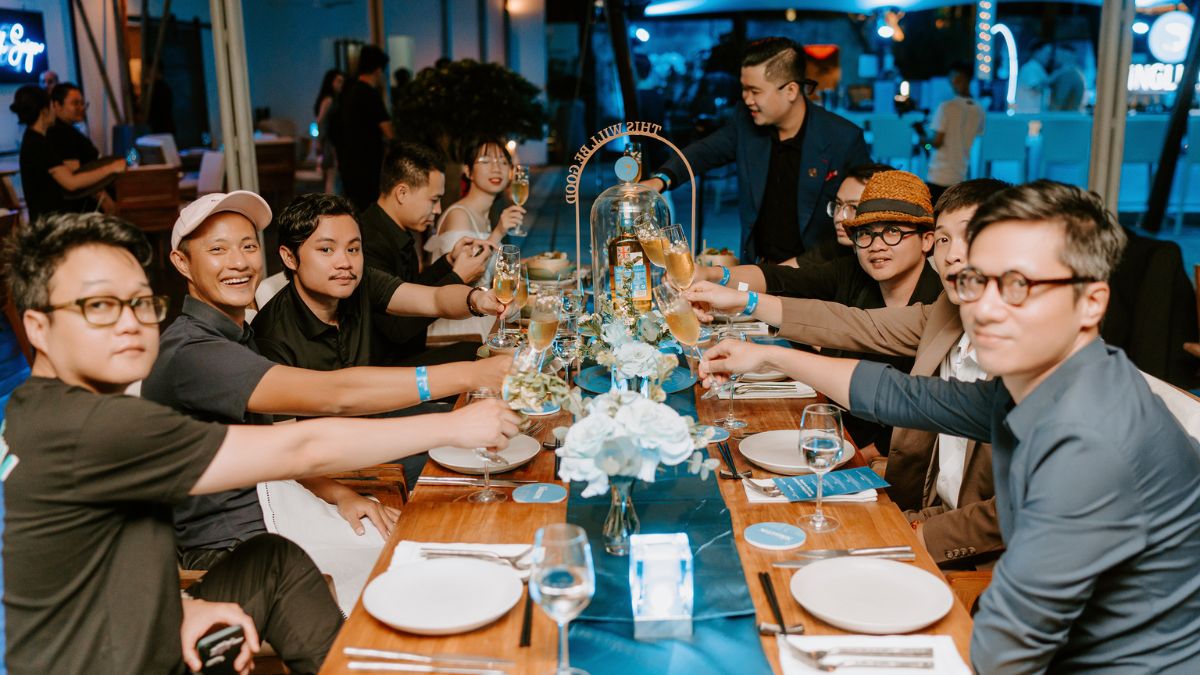 Does this job require more socializing skills than just crafting and mixing drinks? How can introverts survive it?
I believe this is a challenge for everyone. And my friends know this, I am a big introvert. But to me, the important thing is to break those walls in your head. You will find a person who understands you and help you get through it. Eventually, you can get better every day and maybe turn into an extrovert.
So, it's all about practicing, but you can make a small step by just smiling. I believe the smile is the universal language and with a nice smile, you don't need to do too much in a bar. Everyone has a chance to start in the industry, whether you're an introvert or extrovert.
Do you think meaningful conversations are important to a bartender's job?
Not really, since some people really just want to spend quiet time by themselves at the bar. As a bartender, I am usually busy collaborating with other bartenders in the team to deliver the drinks on time. There are also many more aspects to consider aside from hosting people, so we don't always have so much time to have conversations with guests.
It's good to delight guests over small talks, but private ones about life or controversial and complex topics like politics should be definitely avoided.
What was the hardest part of competing in World Class?
The question is harder than the competition itself (haha).
I love competing in general and Diageo World Class Global is actually the challenge that I want to go through to become a better person than I am. Regarding "the hardest point," I didn't really have one but what I found really hard was TIME. During the competition sometimes I only slept 4 hours, not 8 hours as usual because I wanted to finish my masterpiece, which drained my energy.
We, the attendants, also have our full-time job and our private life, while the competition is something that we do extra. So balancing between these aspects is challenging, like when you have to decide whether to hang out with friends or prepare for the competition. Whenever I felt tired, I kept reminding myself why I was doing this and why it was worth the effort.
Another thing is that although World Class values creativity, our creation has some limitations. For instance, when asked to create new modern classic cocktails, we need to keep in mind things that modern classic cocktails need to be easy to reproduce and replicate, EVEN easy for other people to make at home without modern technology.
In that case, I aimed for simplicity & sophistication in creation, focusing on sophisticated combinations to uncover different levels of flavors and also different textures.
What makes bars in Asia different from those in Europe?
I and The Singleton team have been to Seoul, Korea and Manila, The Philippines before coming to Vietnam and from what I see, each country in Asia already has distinct bar culture, not to mention the continent level.
If I have to point out one difference between bar culture in Asia and Europe, it would be drinkers' cocktail taste. In Asian countries I have visited, people may like the sweet flavor, but in Europe, they're more on the sour and dry side.
What about the bar behavior in two continents?
It's all about the vibe. In Asia, people like loud music and enjoy clubbing very early around 7 to 8 p.m, which never happens in Europe where people's ways of vibing out could be isolated in different groups. European people just want to have small talks in the cocktail bars and clubs are for midnight.
But then, how people unwind in the bar is different from country to country.
What would you tell those who want to pursue a bar career?
Stay hungry for knowledge. Knowledge gives you confidence.
Learn, but don't learn what's already in the present but also learn in the past. Learn as much as you can from history. They have always existed despite our presence and future.
And always remember why we are working in this industry. This industry is about the people, so wear a smile and be there for the guests.
Translated by Bich Tram
#DrinkResponsibly18+