If you ask me who I look up to in the advertising industry, I will answer without thinking: It's Trong Nguyen, Creative Director at Dinosaur Vietnam. Not only because he was my first mentor in the advertising industry, but also because he always worked with an open mind and a genuine heart.
With an open mind, he was able to welcome and listen to the problems of all customers, whether they were the marketing team from a multinational corporation or a business owner in a small province. And with a genuine heart, he could carry out many bold ideas, including one for the huge campaign "Không Tạo Thống Khổ, Ấy Là Cứu Độ" ("Cause No Torment, That's Salvation").
As a senior with 15 years of experience in the advertising industry, he now realizes that ideas only flourish when both the client and the creative team have at least one important thing in common: genuineness.
1. Genuinely follow out an idea
On the occasion of Tet 2019, many people were taken aback by the presence of three wildlife statues - one elephant, one rhino, and one pangolin - "kneeling" in the front yard of Vinh Nghiem pagoda in Ho Chi Minh City, as a way to "speak for themselves" about their reality in nature: being brutally hunted and killed for human consumption.
These statues were a part of the "Không Tạo Thống Khổ, Ấy Là Cứu Độ" ("Cause No Torment, That's Salvation") campaign, jointly implemented by CHANGE and WildAid organizations with creative consultation from Dinosaur Vietnam.
The impact was obvious, as many viewers immediately became aware of the seriousness of the problem. To some extent, CHANGE and WildAid organizations have succeeded in delivering the campaign's message to the public.
This impressive campaign is a prime example of the genuineness that Trong Nguyen and his team at Dinosaur have shown in following out a good, albeit challenging, idea.
Regarding the implementation of this project, when researching the target consumers of wildlife, the creative director saw that those people attached great importance to spiritual life. As a result, temples were almost the most reasonable place for the campaign to "touch" their minds. Trong shared that it was no coincidence that the creative team and their partners fought to the end to be able to place those statues in the temple.
Despite facing a lot of pressure, from internal (as media projects should avoid getting entangled in religion) to external (permission of the temple), Trong and his teammates still tried their best to reach their biggest goal — to display these statues in a large pagoda, on the occasion when many people come to pray and do good deeds. Only by going all the way to that goal, the campaign could fully deliver the meaning it conveys.
In fact, if the team were "frightened" and balked at this bold implementation, the creative industry would have lost a very sophisticated, yet influential, local campaign.
2. Genuinely consider clients as partners
When asked what a good brief is, Trong gave me an unexpected answer: "It is not important how you receive a brief, but whether the person who presents that brief is interested in the product or the service that they are doing."
Because to him, there is no perfect brief. The perfection here lies in the love and devotion of the clients to their own products.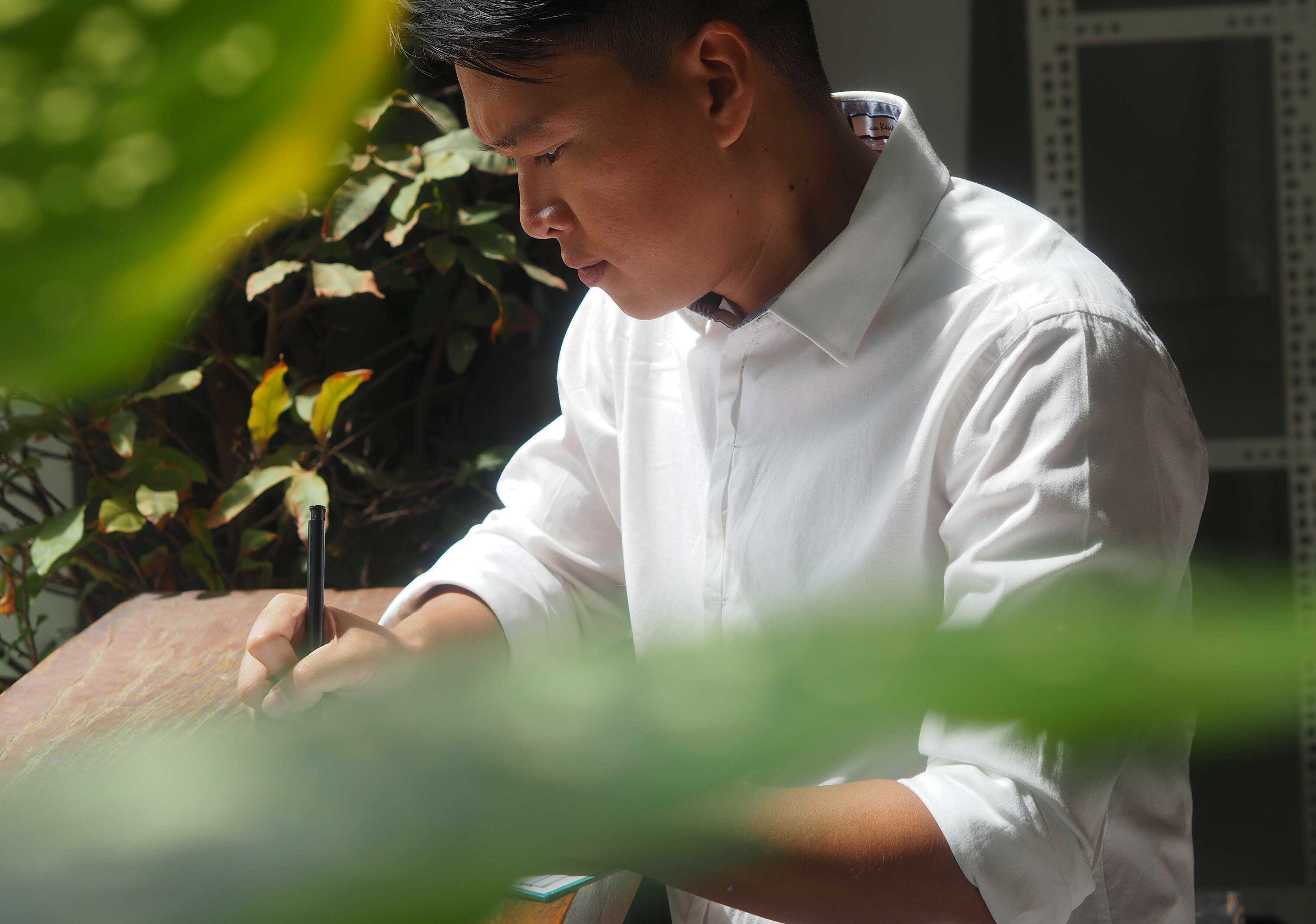 Trong once worked with a soy milk company. This partner of his, although not based in a big city and had no methodical marketing strategy, was confident and honest with the products they created. That mindset was clearly shown in the product quality, so the creative team members at Dinosaur Vietnam were also naturally inspired and extremely energetic to stay by the brand's side to fully implement the project.
This genuineness was also often found in the NGOs, or non-profit organizations with which Trong has partnered. The people there devoted themselves to social benefits, and they saw agency partners as an integral part of the journey to find solutions to communication problems. That cooperation was perhaps the reason behind the resonance of many community campaigns from Dinosaur Vietnam within the society.
One of them was the "Gia Vô Vị" ("Tasteless Spice") campaign produced by Dinosaur Vietnam that calls for the community to say no to single-use plastic.
3. Genuinely evolve with the advertising industry
"I rarely watch ads recently," Trong told me. For him, doing advertising does not mean always looking for materials in ads. We should take a broader view to enrich our creativity, like going to the movies, listening to podcasts, or even learning improvisation and stand-up comedy.
Because sometimes, a good creative product can even do its own communication task, just like how Netflix attracts the audience's attention with completely new themes in many Korean films, or with documentaries and entertainment shows that meet the tastes of the community and reflect the social reality.
According to Trong, the writing profession has now expanded its scope, with many different genres for creative enthusiasts to practice, such as journalism, television, or even podcasts. Among them, podcasts still have the highest growth potential to deploy content and are expected to grow even larger in Vietnam.
Advertising is now different from the past. It has expanded and became… more genuine. But even after many years, Trong Nguyen's enthusiasm is one thing that always remains the same. "Every time we receive a brief, we have the opportunity to listen to our partners' stories. Their passion for the product, which is a great fuel for creativity, leads me to believe that advertising has always been valuable."
Adapted by Thao Van