The month of March marked several milestones for Vietnam's recovery efforts from the pandemic. The full reopening on March 15 saw the country's first international tourists land at Tan Son Nhat International Airport and other major international hubs across Vietnam. Last Saturday, March 26, the Ministry of Culture, Sports and Tourism also held the opening ceremony for National Tourism Year 2022 in hopes of boosting both inbound and domestic tourism after a two-year hibernation.
The country has scrapped quarantine requirements and COVID-19 vaccination proof for travelers. What tourists need to prepare to be allowed entry to Vietnam are a few documents and a heart ready for some meaningful adventures.
Read: Your Checklist For Traveling To Vietnam In The New Normal
Since the reopening announcement, topics about visa — requirements, process and fee — have been circulating in forums and Facebook groups. Travelers are now very eager to hop on a plane to Vietnam, but don't know how to get a tourist visa, or if they would need one. The Vietnamese government has already resumed pre-pandemic visa regulations, including visa exemptions and e-visa.
For travelers from Asian countries, you can stay in Vietnam for 14 to 90 days without needing a visa. Citizens from Belarus, Sweden, Finland, Denmark, Norway, Germany, France, Spain, Italy, Japan, South Korea, Russia, and the United Kingdom can visit the country for up to 15 days without applying for a visa, regardless of your travel purposes.
If you come from one of the 80 countries listed here, you are eligible for an e-visa. Although visa on arrival is still an option, government officials recommend tourists put in applications for e-visa because they will save more time and are cheaper than paying additional fees for stamping at the airport. E-visa costs $25 and can be paid using any of the payment methods offered on the Vietnam Immigration website. Approval usually takes three days from receipt of documents and payment.
Here's a comprehensive guide to e-visa applications in Vietnam.
Step 1: Visit the official website
You can apply for an e-visa here. It is available both in English and Vietnamese so before moving on, choose the language you prefer in the top right corner. Keep in mind that the e-visa is only effective for a selective number of ports, please check if your planned airports, land ports, or seaports allow e-visa. After that, choose "For Foreigners" section to go to the application page.
Step 2: Fill out the information
On this page, you can see a description of all the steps to apply for an e-visa in Vietnam. At the bottom of the page, check the box to confirm that you have read the instructions and completed the application, and click Next to continue the process.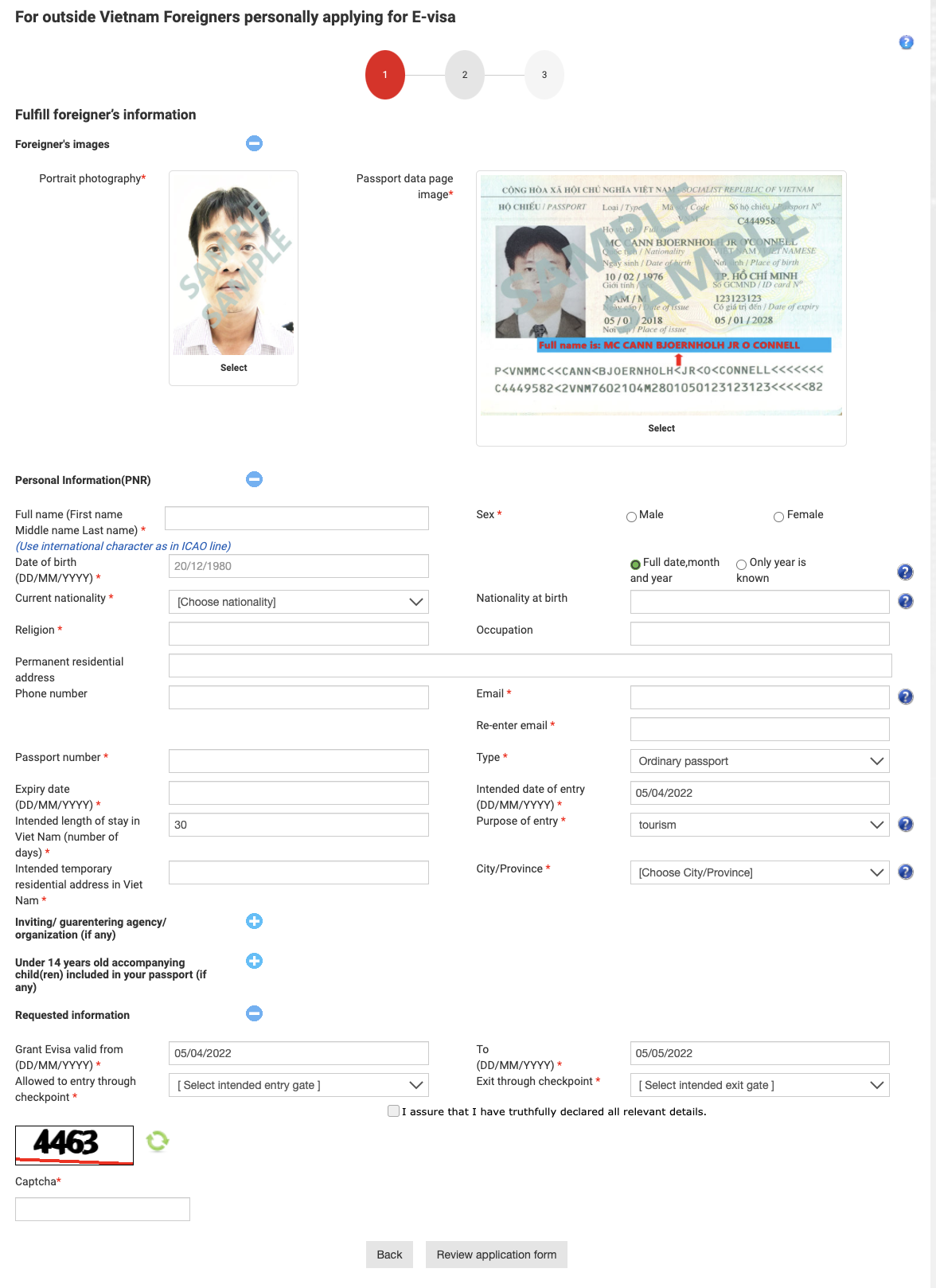 There are three required main sections in the form: Foreigner's images, Personal Information, and Requested Information. Two optional sections include inviting/guarantering agency/organization and under 14 years old accompanying children if included in your passport.
In the first section Foreigner's images, you are required to upload a portrait and passport data page image as shown in the example. Next, fill out the required information in Personal Information section which includes:
Full name (Use international character as in ICAO line)
Sex
Date of birth (DD/MM/YYYY)
Religion
Email
Passport number
Type of number
Expiry date (DD/MM/YYYY)
Intended date of entry (DD/MM/YYYY)
Intended length of stay in Vietnam (number of days)
Purpose of entry
Intended temporary residential address in Vietnam
City/Province (that you visit/stay)
If you have a hosting organization, fill out its name and address in the Inviting/guarentering agency/organization. In case you travel with under 14-year-old children, write their names, gender, date of birth as well as upload their portrait photos in the Under 14 years old accompanying child(ren) included in your passport section. Otherwise, you are allowed to skip these two sections.
Moving to the last section - Requested Information, you can see that the start date for your granted visa has been filled out as the intended date of entry. The end date is also completed automatically — 30 days from your entry.
However, be careful while changing your dates between these sections. If you change your intended arrival date in the Personal Information, the form will update other dates. Otherwise, if you only change your grant e-visa validation duration, it will not change your arrival date.
After confirming the dates, you have to choose your entry and exit checkpoint, ranging from airports, land ports to seaports. The last steps are to write the Captcha code and check the box to confirm you have truthfully declared all relevant details.
Step 3: Verify the information and make the payment
After verifying your information, you will get a verification code. Make sure to note it down as you will need it in the future. The e-visa fee is $25 and you can pay it via online options.
Step 4: Print your e-visa letter
As stated in the initial instruction, your application will be processed in three working days. However, if you apply during high season of tourism, it might take longer to process. Therefore, if possible, complete your e-visa application one week in advance.
After a few days, access the website again and go to the Search section at the top of the page. Fill in your registration code, email, date of birth, and captcha to check your e-visa application process. If approved, you will receive a link to download your one-page e-visa letter for Vietnam.
Finally, when you arrive in Vietnam, show the letter at the entry point.
Important Notes
Double-check your information before submitting as e-visa cost is non-refundable.
Your port of entry is fixed and cannot be changed after sending the application or issuing the e-visa. If you want to change, you have to apply for a new one.
Each application is for one applicant only, no group application.
E-visa can be extended during your stay in Vietnam.