Thu Thiem 2 bridge that links District 1 Thu Duc City opened to traffic on April 28. The 1.5 km bridge is the new thoroughfare linking Ho Chi Minh City's financial and commercial hub to the 3-district city of Thu Duc.
Phan Van Mai, chairman of the municipal People's Committee, said at the bridge's inaugural ceremony, Thu Thiem 2 is "an important transport work that will increase development momentum for the eastern region of HCMC." The VND3.08 trillion ($134.26 million) bridge is already becoming an architectural landmark on the Saigon River.
The new bridge is expected to enhance connectivity between the city center with the Thu Thiem new urban area.
Deputy Prime Minister Le Minh Khai said Thu Thiem 2 bridge would contribute to developing the Thu Thiem new urban area and residential areas in the eastern part of the city. It will also help fuel other projects nearby, improve local transport infrastructure, and ease traffic congestion.
Ultimately, Thu Thiem 2 bridge will help people get around the city easier. With another option besides the Thu Thiem 1 bridge and the tunnel beneath the Saigon River to cross from one business district to another, this architecture is set to boost investment attractiveness. Vietcetera photographers Rita Ha Vu and Bobby Vu documented the city's new landmark.
Thu Thiem 2 bridge is a cable-stayed bridge with a 113-meter-high tower that arches towards Thu Thiem designed by the Finnish company WSP. WSP Finland has designed several landmark bridges in Vietnam, such as Binh Bridge and Rao 2 Bridge in Haiphong and Tran Thi Ly Bridge in Danang.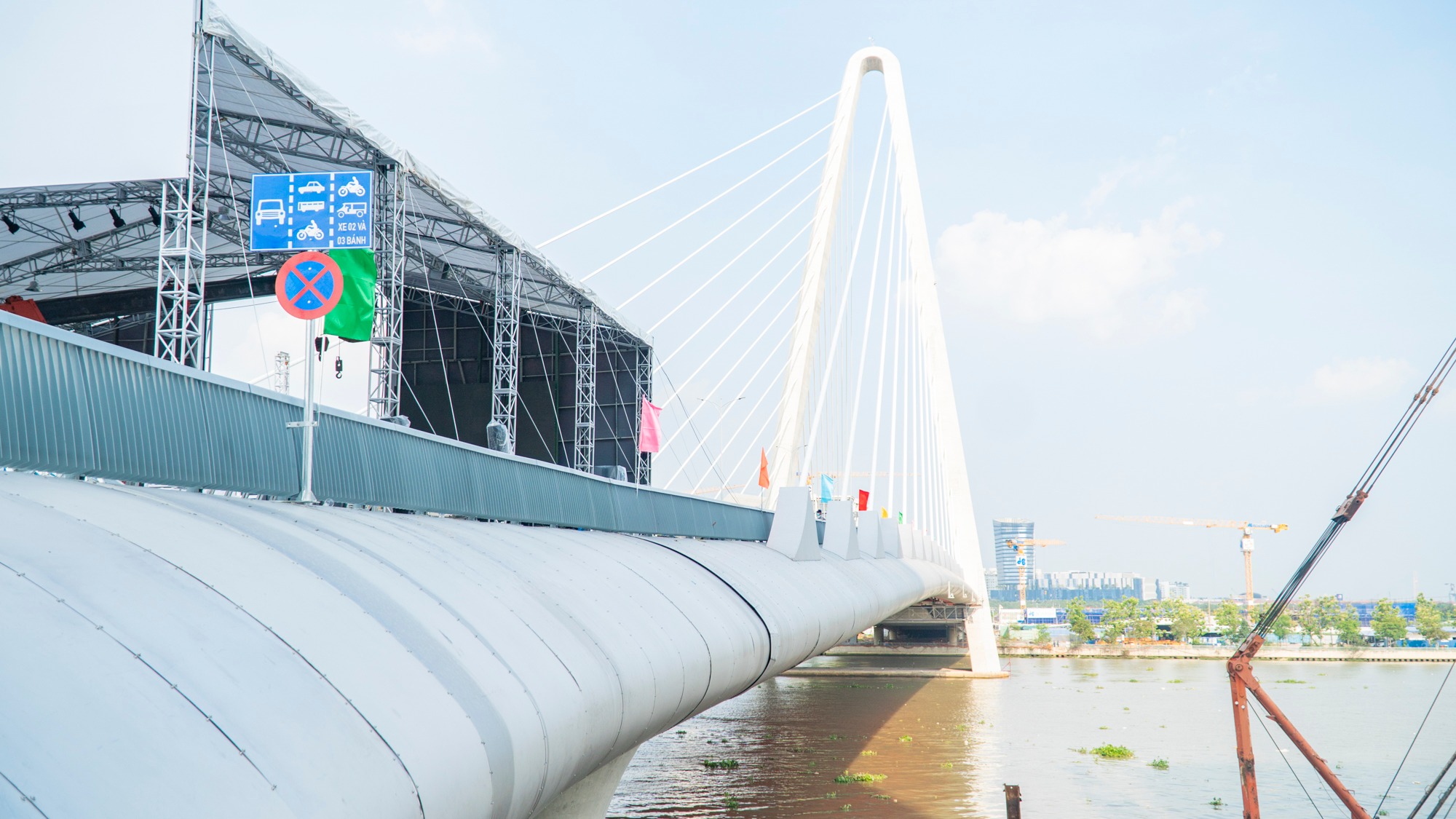 Thu Thiem 2 bridge's main span is 885.7 meters. It includes 6 lanes for traffic with pedestrian walkways on both sides.
One end is at Ton Duc Thang – Le Duan crossroads in District 1, and the other is at Crescent Boulevard in District 2.
Dai Quang Minh Corporation built Thu Thiem 2 bridge as part of a Build-Transfer (BT) contract.
The bridge is named after the new urban area on the Thu Thiem Peninsula in District 2. The first Thu Thiem Bridge opened in 2008 and connected Binh Thanh District to the Thu Thiem peninsula. Thu Thiem 2 Bridge project was initiated in February 2015.