When Ho Chi Minh City opened its schools for more than a million children from preschool to sixth grade on Monday, teachers and school staff members stepped up their safety protocols, and so did the parents. After weeks of preparation, all schools concerned received students back based on their parents' consent, the municipal Department of Education and Training said.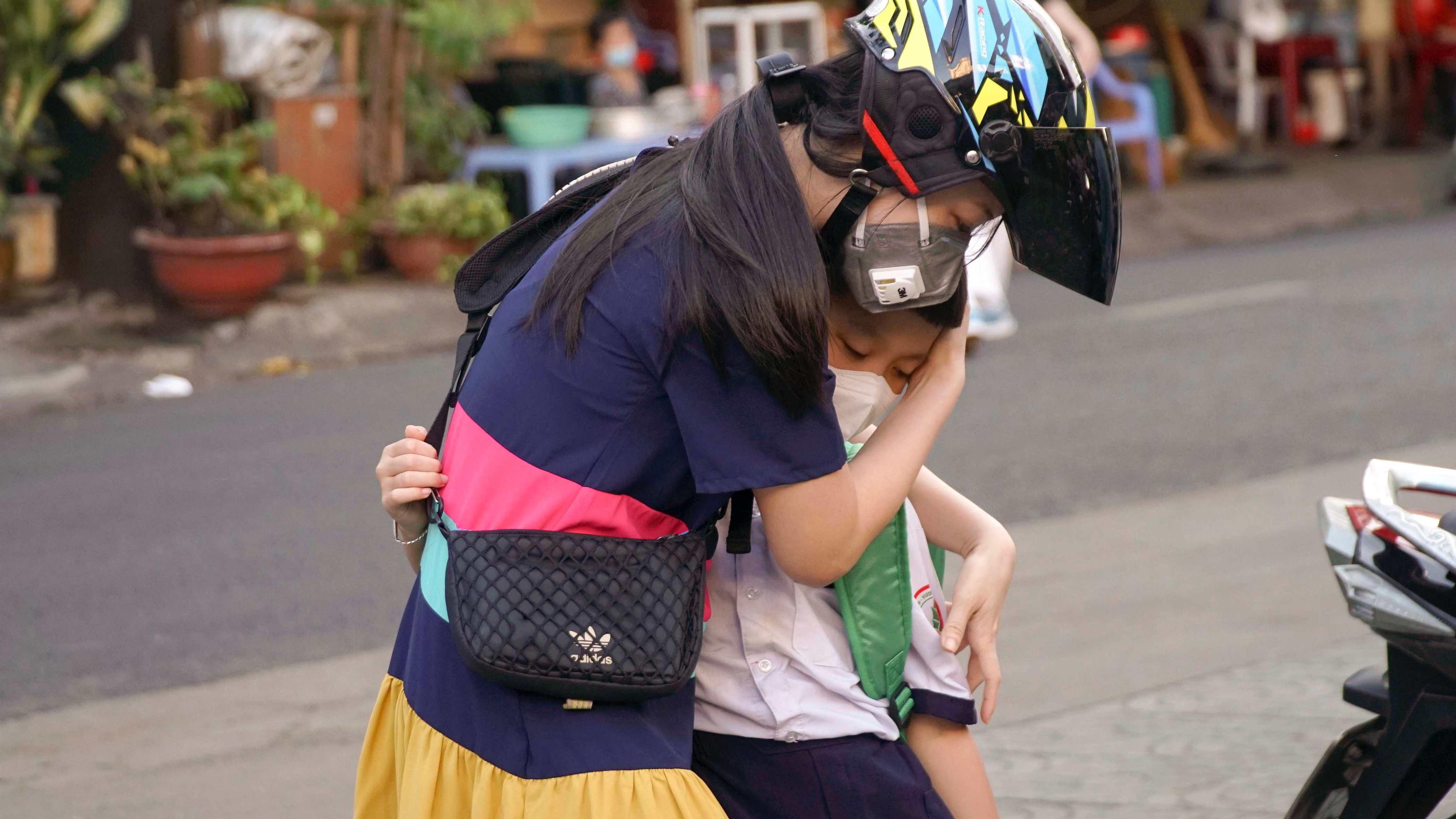 At Nguyen Van Troi Primary School in Quan 4, every single student gets their body temperature checked upon at the entrance. They have also installed automatic hand sanitizer dispensing machines and to ensure safety, school staff manually disinfects the hands of anyone entering the premises. Across the city, students are returning to classes. Vietcetera photographer Bobby Vu documented the morning rush at Nguyen Van Troi Primary School.
A massive red banner was also installed right above the school sign with the 5T message. In addition to the 5K message, the Ministry of Health also released a 5T message to further promote anti-COVID-19 measures. The 5T message includes Test COVID; strictly follow 5K (Tuan thu 5K); provide adequate food and necessities (Thuc pham); provide medicine bags and utilize mobile medical stations (Thay thuoc); and vaccination (Tiem chung).
The reopening of in-person classes in Ho Chi Minh City means the school system is whirring back to life. After around nine months of online classes, this is a win for the country.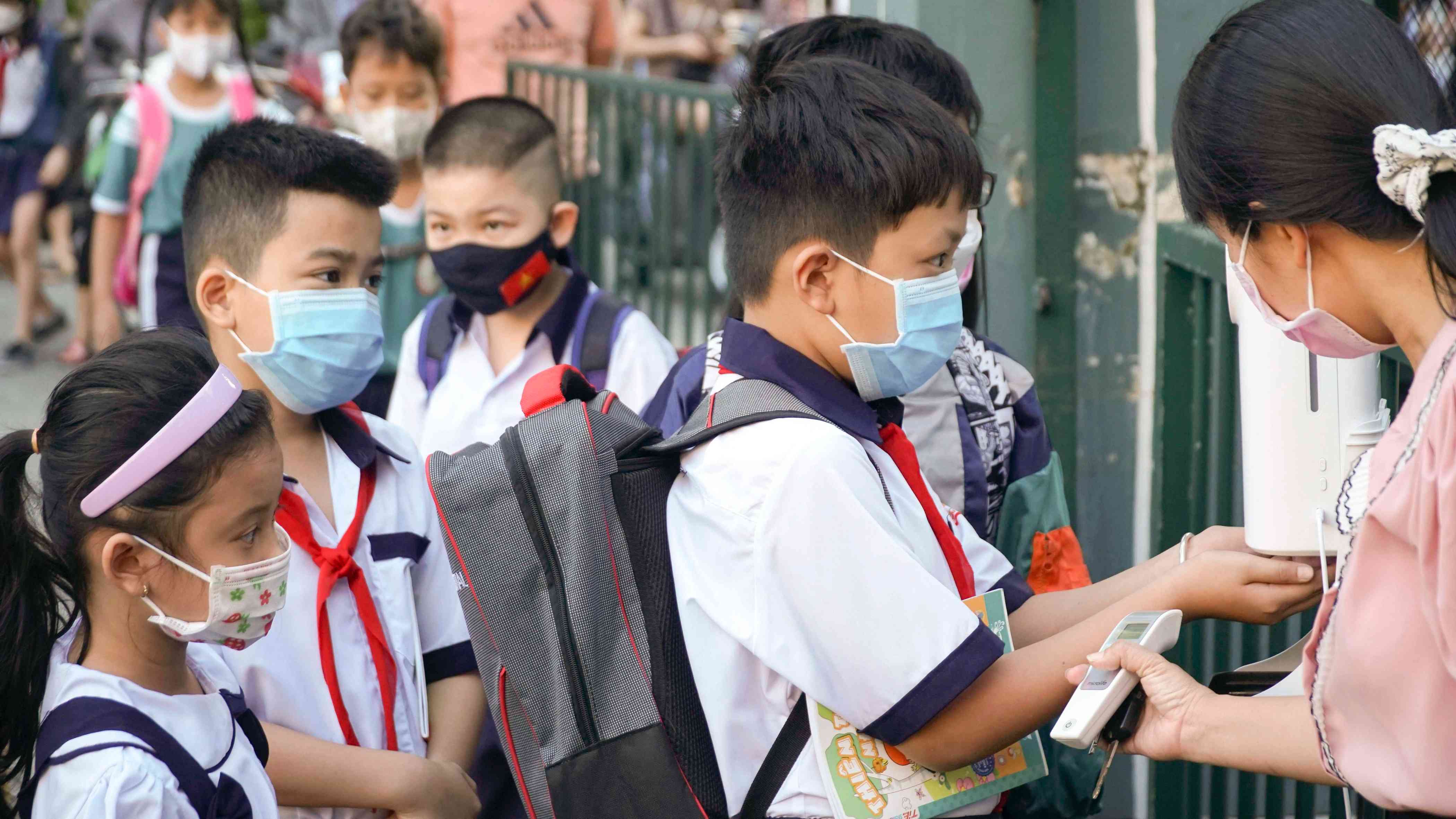 Duong Anh Duc, deputy chairman of the HCMC administration told the local media that to guarantee the safety of other students, parents should promptly report any abnormal health signs in their children to teachers. "Teachers should also closely coordinate with parents in ensuring safety for all students at school as well as at home," he added.
More than 80% of elementary students' parents and nearly 70% of preschoolers' parents have registered for their children to take in-person studies, the department said.
Students whose parents do not want their kids to return to school will continue attending online classes.
Vietnam on Friday recorded 42,439 new COVID-19 cases, taking the total number of confirmed coronavirus infections to 2,685,463. Of the new infections, 4,549 were recorded in Hanoi, and 12 were imported cases. The rest were reported in 63 provinces and cities.
So far, 200 cases of the Omicron variant were detected in HCMC (97), Quảng Nam (27), Hà Nội (14), Khánh Hòa (11), Đà Nẵng (8 ), Kiên Giang (4), Quảng Ninh (20), Thanh Hóa (2), Hải Dương (2), Hải Phòng (1), Long An (2), Bà Rịa - Vũng Tàu (1), Bình Dương (2), Lâm Đồng (1), Ninh Bình (1), Hưng Yên (6) and Bình Phước (1).
More than 190.2 million doses of COVID-19 vaccines have been administered nationwide since the start of the pandemic.