Flowers in full bloom in spring symbolize March, the month dedicated to celebrating amazing women. Le Méridien Saigon continues its series of "months of love" (avec amour) with gift suggestions and engaging culinary programs for all diners on 8 March.
Chic Chocolate Box by Le Méridien Saigon - A meaningful gift for a remarkable woman
Beginning with a decadent and lavish gift, Chocolate Box by Le Méridien Saigon offers a selection of 12 unique French-inspired flavors created by the hotel's talented pastry chefs, including premium truffle, pistachio nuts, Grand Marnier and orange, apple tatin, champagne, or fleur de sel, etc. All bring messages of gratitude and genuine love for our women.
Chocolate Box by Le Méridien Saigon comes in two versions: a box of 9 pieces priced at VND 400,000++, Box of 16 pieces priced at VND 700,000++/box. This is an ideal gift that our glamorous customers select to give to their influential women on a special day – Women's Day.
Romantic dinner with a breathtaking view of the Saigon River at night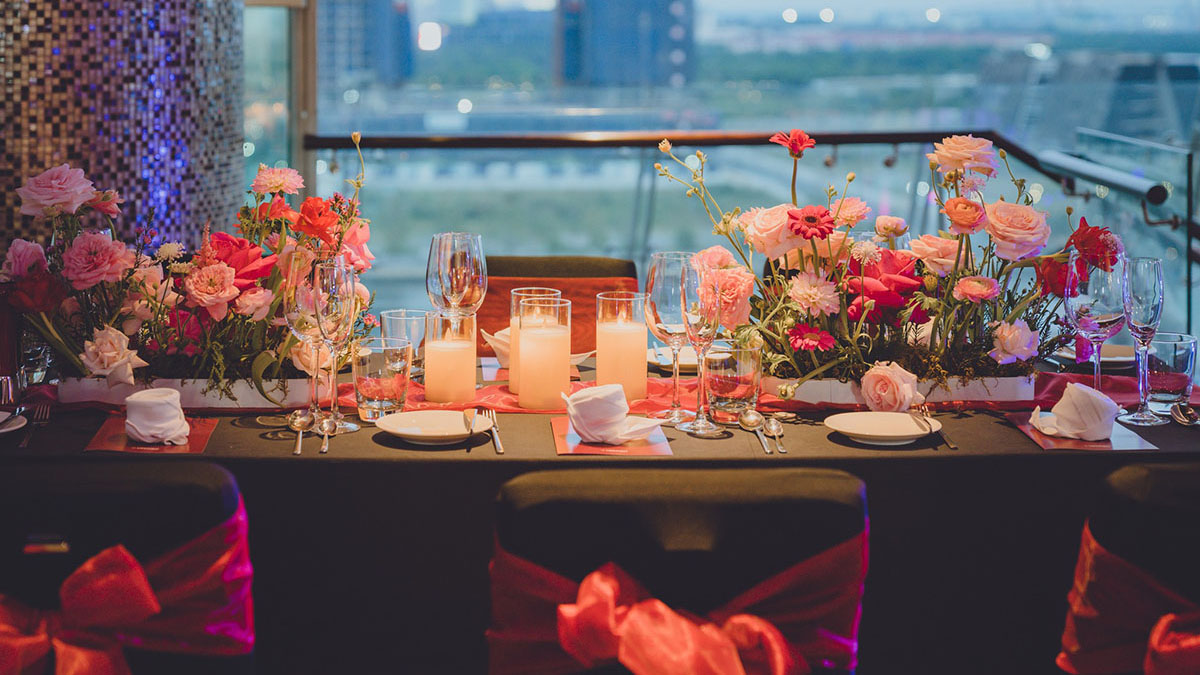 A candlelit dinner for two on the 9th floor of Le Méridien Saigon will surely be one of the memorable events that will earn its place as the day's most important and unique highlight. This special dinner was created by our top chefs with a one-of-a-kind and high-class set menu, marking a wonderful memory with beautiful photographs in addition to the splendid night view of the Saigon River and the modern Ba Son Bridge.
This exceptional 6-course menu will be served on the 9th Floor from 7 PM to 11 PM on 8th March for a price of VND 2,800,000++/guest. The upscale experience is limited in the number of bookings. Make sure that you and your loved ones have a reservation for the event!
Cozy Dinner Buffet at Latest Recipe
Latest Recipe restaurant, located on the M floor of Le Méridien Saigon, is well-known for its fresh seafood buffet and premium Vietnamese ingredients. This International Women's Day, Latest Recipe will provide a unique experience for women by creating a lovely buffet dinner with roses, candles, and special dishes. When families or groups of friends of six or more people book a table, each guest will receive a complimentary bottle of wine.
In addition, each lady will receive a gift that is uniquely hers, and they will also be given a voucher that can be used at BARSON - the top new entertainment venue at Le Méridien Saigon.
Buffet dinner ticket: From VND 1,490,000++/guest.
The allure of perfume at night for BARSON's female residents
The most confident and beautiful version of a woman recognizes her worth, treats herself to the very best, and does so with gratitude. Participate in a party night geared toward women in BARSON, where the cocktails bring "parfum" and the event is only available on the evening of 8 March.
In addition, BARSON sent out a promotion to all the ladies: Buy 1 Get 1 Free on this one-of-a-kind "parfum cocktails" menu. Along with swaying to the modern and trendy sounds, the evening will be even happier when experiencing the new entertainment repertoire provided by the "Go-Go Dancer."
All you have to do is to doll up and come to Le Méridien Saigon to celebrate the day specially dedicated to you.
To learn more about the promotions at Le Méridien Saigon, follow us on Facebook: Le Méridien Saigon and BARSON.

--
Le Méridien Saigon

3C Ton Duc Thang Street, District 1, HCMC

028 6263 6688

Lemeridien.Saigon@lemeridien.com