The Vietnam Innovators Summit is a Vietcetera-initiated live event series inspired by the media firm's top-rated business podcast Vietnam Innovators. The Vietnam Innovators Summit event series comprises The Conference (main event) and four Industry Insights Sessions spread throughout the month of November.
---

The Vietnam Innovators Summit, one of Vietcetera Media's biggest events in 2022, brought together some of the most influential minds and exemplary innovators across different industries in Vietnam on November 18, 2022, at the GEM Center in Ho Chi Minh City.
The whole-day gathering, dubbed 'The Conference, ' saw 17 industry experts, including the US Consul-General in HCMC Susan Burns, AIA Vietnam's CEO Wayne Besant, and Alexander Koch from HEINEKEN Vietnam, talk about Vietnam's massive economic and social transformation, the innovations happening right here and now, and why the future of the country must be centered around sustainability.
Hosted by Hao Tran, the CEO and co-founder of Vietcetera, the fireside chats and panel discussions opened profound and honest conversations that recognized the risks and challenges Vietnam's industries face in the fast-innovating world and the potential it holds in redefining innovation.
Miro Nguyen, the host of Vietnam Innovators Vietnamese edition, Spencer Ton, Managing Partner at Vietcetera, and Ferish Patel, Partner in Charge (Singapore) at Cooley LLP., also co-moderated select panel discussions.
Key takeaways from the Vietnam Innovators Summit
Sustainability and innovation go hand in hand
Bruce Delteil, Managing Partner at McKinsey & Company in Vietnam, opened the event with one of the most crucial topics, Vietnam's net-zero goals and the effort required across sectors, particularly in power, to achieve net-zero emissions by 2050.
"There's not really much of a choice when it comes to sustainability. Companies need to embrace it because Vietnam is one of the top five countries affected by climate change," said Bruce, who was also one of the first guests of the Vietnam Innovators podcast back in 2021.
He noted that adapting more sustainability-focused strategies, policies, and operations is beneficial for big and small companies in the long run. "Green financing is still a challenge, but many investors want to be part of it in Vietnam because of the various quantitative and qualitative opportunities."
In a separate fireside chat, HEINEKEN Vietnam Managing Director Alexander Koch concurred that sustainability is the only way forward. HEINEKEN Vietnam Vung Tau brewery, the latest of HEINEKEN's expansion in Vietnam, which produces 12 million cans a day, invests heavily in sustainability across its breweries and end-to-end supply chain. It has made progress toward renewable energy and releases zero waste to Vietnam's landfill. At present, All HEINEKEN products are brewed with 52% renewable energy.
"Our HEINEKEN Vung Tau brewery is designed to be state-of-the-art using the latest technologies, and it's also designed to be green. The whole ecosystem — including the 46 companies around the brewery that support the production, such as can suppliers and biomass heat plants — is very sustainable. It's going to be the first carbon-neutral brewery in Asia very soon," explained Alexander, adding that HEINEKEN Vietnam uses innovative thinking to make its sustainability goals and visions feasible.
Vietnam needs concrete goals, clear policies
From a broader perspective, the status of sustainability and digitalization is hinged on the policies set and implemented by the Vietnamese government. Individual companies and enterprises can advance their own net-zero commitments, but the nation has to have clear guidelines on how it wants to achieve long-term goals against climate change, as highlighted by Gabor Fluit, the Vice-Chairman of EuroCham Vietnam. Once a clear path is set, the government and foreign companies — including the 1200 European firms in Vietnam — could work together to attract financing and investments.
The same goes for the American-owned businesses and investments flowing into Vietnam. The new US Consul General for HCMC, Susan Burns, said that with innovation being the US' best export to Vietnam, having a healthy and FDI-friendly business landscape is a great foundation to expand the two nations' bilateral relations further.
"The US is helping Vietnam transition from a manufacturing economy to a digital economy. We're advocating for policies that are FDI-friendly, as well as connect businesses to the government here," said Susan, noting that the US fully recognizes the importance of Vietnam in the global supply chain and its critical position for the US market.
"By the formal framework of foreign relations, Vietnam and the US are in a comprehensive partnership, but I hope that during my term, we can elevate that to a strategic partnership. But without the label, the level of cooperation between us and the interest for cooperation is very high."
Better Vietnam means healthier citizens
For the healthcare and insurance sectors — industries that gained renewed attention during the pandemic — the challenges for growth, innovation, and investments may seem more formidable. After the pandemic, people have become more conscious of taking care of their health, so having the right self-care knowledge is the foundation for healthy individuals, families, and society.
Vietnam has the potential to fully integrate self-care into its general healthcare system. This specific sector has unlocked annual economic outcome of USD 4.2 billion in 2022, up from just USD 2.5 billion in the previous year. Notably, recurring savings of up to USD 0.6 billion in avoidable treatment costs can be gained through implementing self-care.
Kevin Doak, the General Manager of Consumer Healthcare at Sanofi Vietnam, said digitalizing the healthcare industry would be difficult, but it has begun. With the young generation now leaning more on self-care than sick-care — and knowing the importance of such mindset — they are demanding better and easier access to health products and services. "Healthcare companies like Sanofi play a big role to serve healthier and fuller lives, now and for the generations to come."
And so does the life insurance sector. AIA Vietnam, one of the biggest insurance firms in the country, continues to push for "healthier, longer, better lives" among the Vietnamese.
Wayne Besant, CEO of AIA Vietnam, said the company creates different products and services catering to various Vietnamese society segments. "That means more universal products, more versatility in what we offer." A soon-to-be-launched product AIA Vitality will be a game-changer for the life insurance industry in Vietnam, said Wayne. A wellness program that rewards customers for their effort to a healthier lifestyle, AIA Vitality will help "encourage people to take more responsibility and ownership of their health and wellbeing."
Closing the event was a panel discussion with leaders from Viglacera, Standard Chartered, and Genestory. Ranko Lukic, the Chief Commercial Officer of Viglacera Corporation, commented that the most critical key for Vietnam to evolve as a fully digital and sustainable society is to change the mindset of all its stakeholders.
It's always hard to accept and embrace change, he said, but Vietnam — with its dynamic and open young population — is traversing the right path.
The Vietnam Innovators Summit, planned to be held annually, was inspired by Vietcetera's top-rated Vietnam Innovators podcast. With over 150 episodes since its launch in October 2020, the podcast has paved the way for the media firm to become Vietnam's number-one podcast network. Other podcasts produced by Vietcetera include Have A Sip, Coi Mo and M.A.D.
Aside from The Conference, the Vietnam Innovators Summit includes different Industry Insights Sessions focusing on industries driving Vietnam's economic growth and the digital revolution.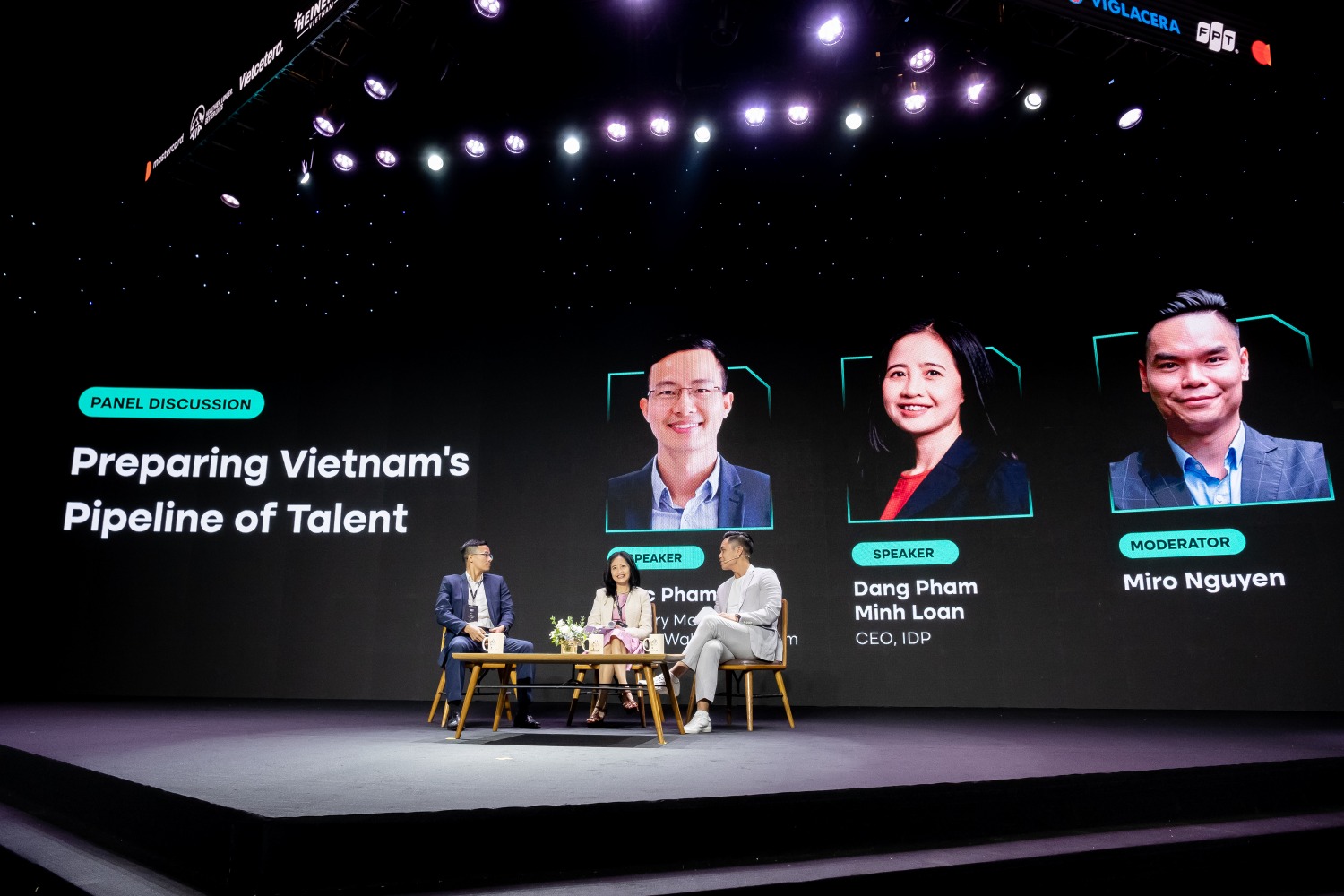 Vietcetera partnered with some of the most trusted industry names and brands to make the Vietnam Innovators Summit possible. AIA Vietnams served as Title Sponsor at The Conference. Major and Program sponsors include HEINEKEN Vietnam, FPT, Meta, Mastercard, Viglacera, Cốc Cốc, Cooley, Robert Walters, and Jio Health.