Fashion illustration communicates ideas. It's a visual way of brainstorming before clothing is produced, or record looks for publications and promotional materials. The profession isn't new—it's been around as long as clothes have been designed.
Paul Thomas Anderson's "Phantom Thread" gave a glimpse of the art form in 1950's England, with designer Daniel Day Lewis scribbling new looks obsessively every morning for his fashion house. Now, millennials in Vietnam are taking up the profession too. Kiquy Pham has created artwork based on the collections of both world-renowned and local designers during her short career. Her watercolor illustrations are filled with bold hues and loose lines that perfectly portray the vibrancy of the clothing she's attempting to capture.
So, Vietcetera sat down with Kiquy, who is also a lecturer at Vietnam Fashion Academy and a visual blogger, to understand what it takes to become a successful fashion illustrator today.
Tell us a bit about yourself and your job as a fashion illustrator.
I studied at the University of Architecture in Ho Chi Minh City. Fashion design was my major. At that time, fashion illustration was an emerging profession in Vietnam—it still is really.
Since graduation, my sketches have been used as promotional materials for collections. They often publish my sketches next to photos of their show after the collections have appeared on the runway.
How did you first become interested in this line of work?
I started out as a fashion designer for a local brand in Vietnam. Watercolor painting was just a hobby. But unexpectedly, when I posted my paintings to Instagram, they got lots of attention. That's when I really discovered fashion illustration—and its potential as a career.
Clients from other industries started coming to me with offers to work for their brands. Suddenly, I was being paid to do what I love, which made me happy. That doesn't mean committing to the profession full-time was an easy step. In fact, I was filled with self-doubt and so I kept my day job—even though I was losing interest in it—while I continued to produce more illustrations.
Soon after that, I suffered from a serious illness that confined me to bed for weeks. Staring death in the face, I knew I had to pursue fashion illustration as a career once I'd recovered. And when I had, I sent out my resignation letter and never looked back.
Fashion illustration is a fairly new career path in Vietnam. Besides being a fashion design graduate, what resources helped you develop your technique?
Here in Vietnam fashion illustration is taught as part of the curriculum in fashion design—not as a separate, independent major yet. I was introduced to basic illustration in class then I self-learnt through any resources I could find.
Online tutorials were my bible. Plus, of course, a commitment to practicing daily. It took a lot of time and effort. I truly believe patience is a virtue when you learn independently.
The models in your paintings often have audacious cheekbones—it's become a signature of yours. Do any other elements of your illustrations scream "Kiquy"?
The cheekbones in my paintings were inspired by the contouring makeup applied by makeup artists in the dressing rooms of fashion shows. I wanted to replicate the brush action of the make-up artists in my work.
Besides that, I think my style is vivid and lively. I achieve that by avoiding copying directly from photos. I play with the models' poses. If the models are standing or catwalking in the photos, they might be sitting or dancing in my illustrations. The features of the clothes don't change, but they're expressed in a different, more dramatic way.
What are some opportunities and challenges for a fashion illustrator in Vietnam?
Fashion brands in Vietnam have only recently become aware of the potential of fashion illustration to promote their work. Clients are sometimes hard to find. We don't have a lot of fashion events here either. That means the market is relatively small and opportunities scarce. Most illustrators freelance just like most photographers do in this field.
However, as Vietnamese fashion is being exposed to the world and our designers are making a mark on the global stage I'm positive more work is coming. And I'll be here waiting.
What's a typical day like for a fashion illustrator?
Having a freelance career is often romanticized. People love the idea of being your own boss. For me, it's mostly about the extra level of self-discipline. I work at home so it's easy to get lazy. But I try to get up at 8:00am most days. Then, I have breakfast, get some coffee, tidy up and start working at 9:30am.
Work often starts with emails and client communication. After receiving their creative brief, I do a quick sketch explaining my ideas and send it to them. If they approve, I go on to coloring. Otherwise, we continue discussing the draft until it's finalized.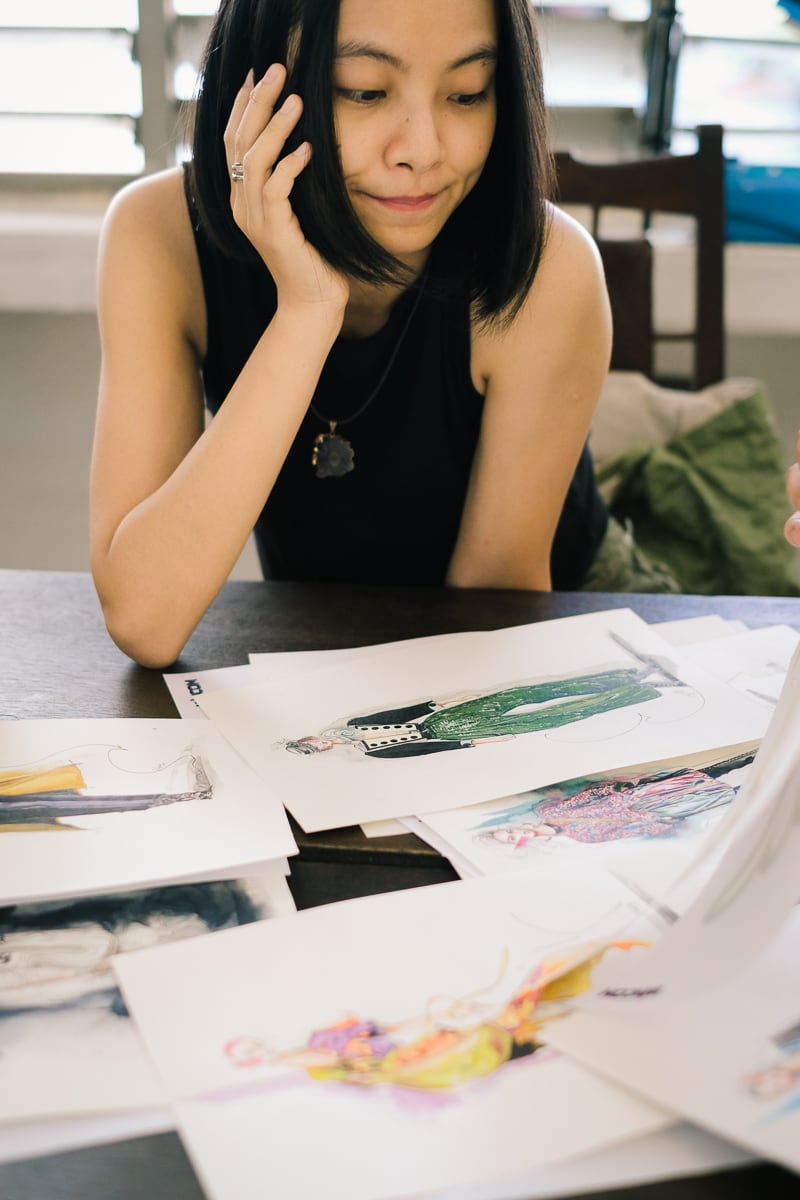 Deadlines after periods of procrastination used to be a challenge. But I recently got a lot better with scheduling and time management. As a creative, I find it helpful to optimize my workflow according to my energy level during the day. I'm a night owl so I start the morning slowly. My prime time is the afternoon so I make sure I'm able to complete most of my work then.