Mai Dang was one of the first members of Creatory, when the video content platform was just starting out. Mai was behind the success of many renowned Vietnamese content creators including PewPew, MisThy, Linh Ngoc Dam, Di Di, and Kenjumboy. With eight years of working experience in the gaming, entertainment, and talent management industries, she is now concurrently holding the positions of Brand Manager and Manager of Virtual Business at Creatory.
In this brand new series called "Transform your possibilities", co-produced by Vietcetera and RMIT University Vietnam, Mai Dang shares her working experiences, and the decision to study MBA to pave the path for her career advancement.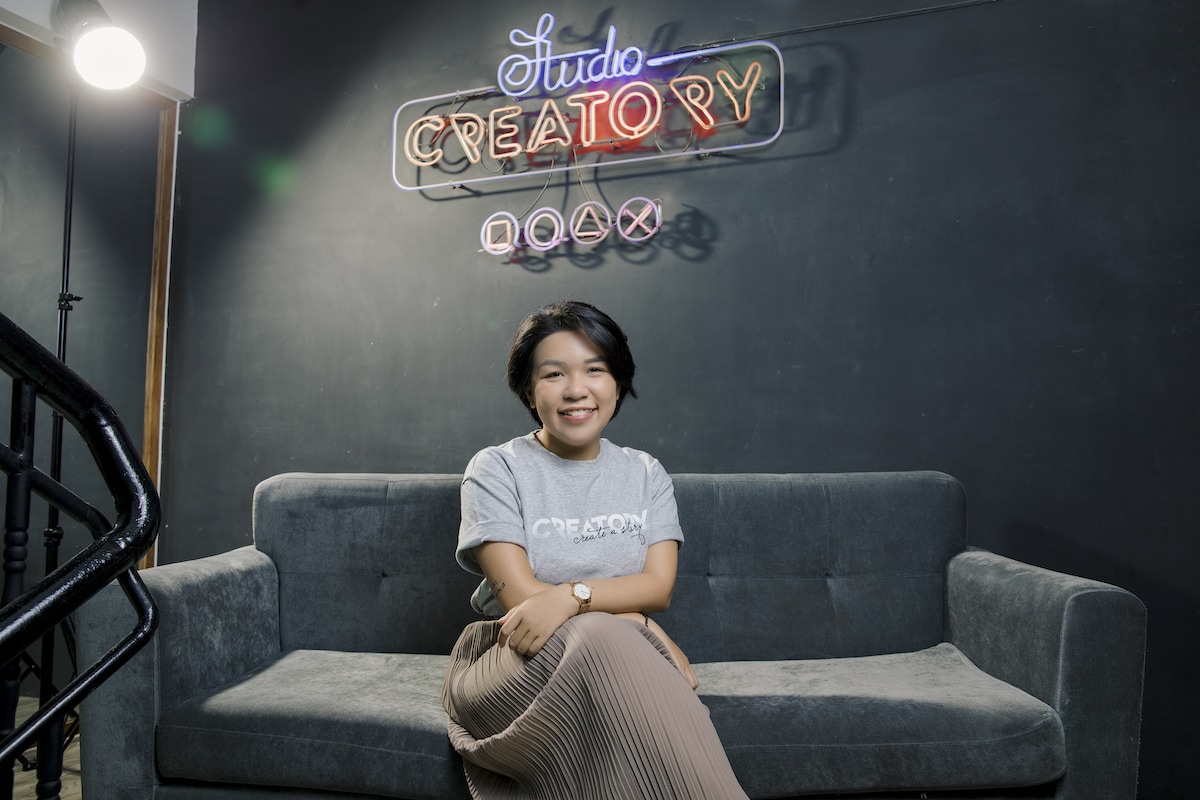 1. Always start asking yourself the question: "Why am I doing what I am doing?"
There are two things that Mai is always looking for: the enjoyment that work brings to her, and the value that her work brings to others.
After many years of working in the gaming industry, Mai knew so well that the value of her work was to help game lovers relieve stress and feel delighted. However, working on that value only was not enough for Mai, and when the excitement when working lessened, she started to wonder constantly: "Why am I doing what I am doing?"
At that moment, she met Jay - the founder of influencer marketing startup Creatory. Jay himself used to give up on working at large corporations, to later find joy and happiness in pursuing his own career path. Bringing fun and excitement to everyone was also the reason behind the establishment of Creatory. When she joined the company, Mai applied her experiences in entertainment and gaming to help potential content creators reach that goal.
During her four years of working at Creatory, Mai may have taken on many different roles, but the value of her work remains: "to bring joy to people".
2. Although talent discovery is intuitive, talent development is a collective effort
After so many years working with hundreds of talents, Mai has come to realize that it's almost impossible to make a star be recognized universally.
Instead of looking for big and influential talents like game streamers MisThy or PewPew, the company started focusing on talents with smaller files, but have the ability to help people develop their own capabilities and spread the excitement to all.
When asked if there is a standard process for discovering talents, Mai just genuinely smiled, "Even in a huge entertainment industry like Korea, talent discovery is still intuitive. And you have to work with the talents for a long time to cultivate their potential to grow."
This also is the reason why talents and management units no longer decide to cooperate only by interviewing like before. Now it takes about three months of probation to determine if a talent is right for the company, and if the talent is capable of collaborating with many people.
Mai also emphasized that talents who know their strengths in a certain area are often able to go further than the ones who think they can do everything.
3. Influencer marketing is always changing, and you should always be ready to convert and adapt
As shared by Mai, influencer marketing at the moment is not just a one-time transactional relationship between brands and content creators (generation 1.0), nor just carrying out the concept of "personalizing the message" (generation 2.0).
With the rise of e-commerce and affiliate marketing, influence marketing has also "evolved" to a new stage where creators themselves give advice to brands on selecting the message that best suits their social values, as a way to commit to a conversion rate.
Some of today's top creators even proactively approach brands, or build a campaign entirely by themselves (from conceptualization of ideas to production and distribution) to directly sell the products on their platforms.
Through each development stage of influencer marketing, the workload of a talent management unit also increases a lot. In phase 1.0, Mai entirely focuses on providing content, along with short and long-term development strategy orientation for talents.
Now as a Brand Manager, Mai has to plan a strategy for the company to transform as quickly as possible. Creatory no longer merely produces content, the company now must be proactive in ideation, production and logistics to maximize the potential of the content creators and commit to the conversion rate.
4. When the next development demands more than your current ability, you must continue to learn
2018 was the time when the live game streaming trend exploded in Vietnam, with the involvement of many big livestream networks such as Nonolive, Bigo Live, and Nimo TV.
As a pioneer in the field of livestreaming in Vietnam, Mai's company received the largest contracts in the market, and the number of members in the game team at that time grew very quickly. The highest number of team members recorded was 12 creators and 30 employees, and Mai had to directly manage them all.
Working with many individuals with different strengths and weaknesses, along with managing many large contracts, Mai then realized her shortcomings in human resources and budget management. To be able to do well in the job and discover the next potential in her career, Mai began to consider studying MBA to get proper training in management skills.
Mai even planned to study abroad. But thinking about the possibility of leaving her favorite career behind then coming back after two years of study, Mai already feels very low-spirited. The only way to both acquire knowledge and continue pursuing her career at the same time is to study an equivalent program right here in Vietnam.
After sifting through the available scholarship options and considering the schools' rankings, as well as seeking advice and guidance from experts, Mai decided to pursue an MBA program at RMIT University.
Studying MBA at RMIT, Mai experienced a combination of foundational knowledge in management, human resources, and data analysis. She also received instant updates and heard from leading experts in the industry.
And with the knowledge acquired through studying MBA, Mai is now able to systematize the way of accounting for expenses in her department, and ensure the ROI rate required by the upper management team at Creatory is met. In addition, the MBA program also helped Mai enrich her "vocabulary stock" to explain financial and business results to CFOs and accountants, or to convince staff why she needs more resources.
Of all the subjects at RMIT University, Mai especially enjoyed Authentic Leadership — a subject that has helped her better understand herself and her work, and have a broader view of her career. Not only applying in her own profession, Mai also regularly shares this knowledge by holding seminars to exchange experiences with students.
5. The livestreaming trend is slowing down, and producing video is at its peak. So, what's next?
As Mai just finished her MBA, her company also began to enter the restructuring phase. Mai's department now has more managers to support her more effectively, and the number of creators that Mai has to manage directly also decreased. At the same time, Creatory pioneered a new trend — metaverse, after successfully conquering the wave of livestreams and videos.
Therefore, in parallel with managing the Brand team, Mai started taking on a brand new department specializing in the development of platforms, technologies and content formats for the metaverse. Also within the framework of this project, a virtual reality studio will soon be established to support creators in improving content quality, shortening the time spent on production and post-production.
Working on this project, not only will Mai gain access to the latest innovations in the industry, but she will also get the opportunity to apply the management knowledge she has acquired to manage a team of virtual reality programmers (with a different "language" than the game or app developers that Mai previously worked with), and to manage the budget during the construction process of building facilities, optimizing costs and work efficiency.
As for the creators, they also need to equip themselves with knowledge and skills to be able to start working on metaverse platforms, as well as building contents and interacting with audiences there. Mai also predicts that the metaverse will lead to the emergence of a whole new generation of creators consisting of talented individuals who are afraid to "show up", therefore will create contents through virtual characters (avatars).
Will this new generation of content creators challenge long-established creators? Mai believes that as long as the creator is really talented and is willing to take this challenge to learn and upgrade head on, they will continue to shine in the metaverse world!
Having been taught for over 10 years, the MBA program at RMIT University helps students hone their expertise in business and management, expand their professional networks, gain international experience, and become potential leaders. On the upcoming August 7th, RMIT University will hold an information session and online mock-up workshop in the MBA program. Please register here to experience the real world, get more information and learn more about scholarships.
Adapted by Thao Van