Marou Chocolate co-founders Vincent Mourou and Samuel Maruta met in the jungle on a weekend survival course led by an ex-French foreign legionnaire. A year later, the pair were crashing through the South Central Highlands towards Bao Loc, where they'd been promised that the perfect car was waiting for them: a Citroën La Dalat, the first Vietnamese-made car.
And it was theirs for just $2,000. "We needed a way of getting around the countryside, since we were out searching for cacao. That car personified the spirit of Marou Chocolate—adventure," says Vincent.
Marou Chocolate, Faiseurs de Chocolat, sprinted from idea to reality in just nine months. Neither Vincent, an ex-filmmaker and advertizer, nor Sam, an ex-banker, had any previous experience in chocolate. "We were really flying by the seat of our pants back then," laughs Vincent.
"Nobody here was making chocolate, so there were no machines. A lot of it we had to make ourselves. Luckily, we're both very autodidactic, and we both like learning new things because in the beginning, there was everything to learn. We worked in Sam's kitchen with very basic machines which we'd bought or made."
Since its start seven years ago, Marou Chocolate has come a long way. They buy 80 tons of cacao annually, and predict that they'll make 80 tons of chocolate this year. They source cacao from over 800 cacao farmers in seven different provinces, each of which bears a different flavor and color of packaging. And they now export to over 20 countries, including the USA, France, Germany, Japan, the UK, Korea, and Hong Kong. And they've even planted 2,500 cacao trees in Dalat's Madagui Forest.
But how did the brand become what it is today? We hop into the Citroën La Dalat with Vincent as we go around old Saigon listening to his stories about the places that fueled the brand's success.
Marou Chocolate curates a 5-stop heritage tour
First Stop: Hem 158, Nguyen Cong Tru
Vincent fires up the old Citroën La Dalat and we're off, but we don't go far—just a stone's throw away from Maison Marou, Marou Chocolate's flagship store, on Calmette Street in District 1. In the old financial district of Nguyen Thai Binh ward is the characterful courtyard that might have been their home. We're talking and miss the turn-off and the Citroën La Dalat lurches as Vincent pulls off a quick 90-degree turn. "Like Jimmy Carter used to say, you can't walk and chew gum at the same time," he smiles at us.
"We got to know pretty much every street in Districts 1, 3, 4 and 5 trying to find an old warehouse to fit our image," Vincent explains as we stroll into the alley. "It was all about feel, and actually bringing something back to life. That was a key component in the early days of who we wanted to be."
It's been a while since he was last here and Vincent is taken aback by the resurgence in the alley which is now home to Biker Shield Bistro. "We were looking for really cool places to start our workshop and we found this little courtyard fascinating. All these old buildings were just waiting for something to be done. Unfortunately, we couldn't get two buildings side-by-side like we needed."
Next Up: Kim Bien Market, Cho Lon
The Citroën La Dalat attracts all kinds of curious looks as Vincent takes us down Vo Van Kiet street in District 5, where he reminisces about Marou Chocolate's first trip outside of Vietnam in 2011. "We went to a food expo in Hong Kong just to see what this world of gourmet food was all about.
We spent the night before wrapping chocolate with a friend of ours, John Reeves, a furniture designer here in Saigon. He was playing Cole Porter on piano at four in the morning while we were busy wrapping bars to jump on a 7am flight. We literally went with chocolate in our pockets."
The smell of Chinese spices hits us as we turn the corner from Vo Van Kiet onto Hai Thuong Lan Ong street in Cho Lon, the old Chinese district. "It felt to us like Brooklyn in the '90s—no one was doing anything much but it was cool and full of character. You go into these old houses and you would just uncover these family histories, complicated ones—every time we visited them, it was like opening up a Balzac novel."
Kim Bien Market is situated right next to the old Co Ba soap factory, and deals mostly in items for manufacturing. It was a regular haunt of the Marou Chocolate founders in their early years when they had to fashion their own equipment. "We spent a lot of time just searching, seeing what kind of stuff that we could repurpose for making chocolate, grinders, pulverizers, that kind of thing."
Then Vincent remembers, "The bonus was that we found our first wrapping paper here. It was like that golden paper you find inside a cigarette box, and we later learned that it was actually the paper people would symbolically burn at funerals!
For us it was close to that metallic, aluminum foil that we're used to seeing with chocolate. We were really excited when we found this paper because all of a sudden we had something that had a semblance of "real chocolate" about it. There's something magical about that glint of gold under the wrapper."
Lunch Time: Cuc Gach Quan Cafe
After a late morning storm washes over Cho Lon, we get back into the now soaking wet Citroën La Dalat for the next stop on Marou's city tour. We drive back into town to the original Cuc Gach Quan Cafe in District 1 at 92 Thach Thi Thanh, Tan Dinh—a brand which now has four locations in Saigon.
"We'd come here almost on a weekly basis. There's such a very unique, Saigonese vibe—a lot of found objects like wood and tiles and old stereos and pottery…it has a real pride of place and does it with style and taste. You go in and they're playing music by Khanh Ly and other artists—the music is always good. It's also a very inexpensive, family-style lunch." Just VND 450,000 buys us lunch for five people.
As we start eating, Vincent recalls a big moment in Marou Chocolate's backstory which happened right here in Cuc Gach Quan Cafe. "In our second month, we met with a German agronomist, Hans Wiberg-Wagner, who was here working for GIZ training farmers in cacao fertilization.
He started right from the beginning—from trees and tree architecture, all the way to fermentation. That was really important for us as it boosted our confidence when we went back to the farm. He had almost 20 years' experience, so he was sharing all these stories about his experiences in Nicaragua and Venezuela and all sorts of places. It was a really rich encounter for us."
A coffee break after lunch: Kem Café
We're in need of a pick-me-up after a long morning barreling around town and a colossal lunch so we trundle down Dong Khoi street in District 1 to Kem Café (24 Ho Huan Nghiep) for the next location. It's a quaint, unassuming coffee and ice cream shop, which appears not to have changed much over the course of three generations.
The creamy yellow walls match the Citroën La Dalat perfectly. "I don't remember any important meetings here. Our visits were never work-orientated, it was just a place we'd visit when we were in the neighborhood. The owners probably don't really care about making money—it's always pretty quiet at this time of day. It's such a simple place that's resisted time where you can just get away from it all. Everything's changing around us but this café hasn't changed one bit." We relax for a while enjoying the relative silence of the café.
Final stop: Dan Sinh Market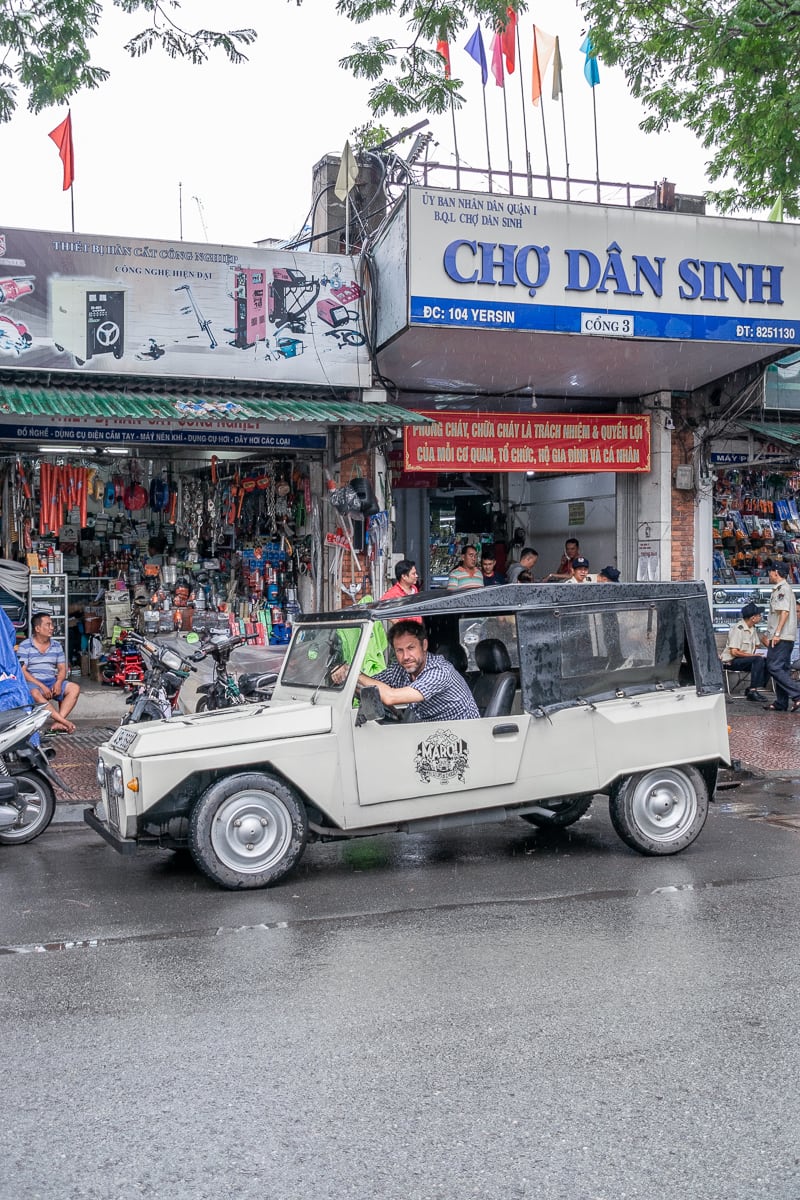 "It's the local take on the name Yersin, Alexandre Yersin—Dan Sinh—Yersin—Dan Sinh," Vincent laughs as he pulls back into Nguyen Thai Binh ward in District 1 completing our curated tour. "It's the go-to place if you need parts, electrical equipment, rain gear, or if you're going out to the jungle and need a hammock." It's actually where he came to stock up before that fateful trip into the woods in 2010.
Dan Sinh Market used to be the Kim Chung area where American soldiers gambled. Locals have referred to it as Dan Sinh since the 1940s when it operated as a black market selling goods which breached Vietnam's import laws.
"We actually bought the caps for the Marou Chocolate staff here," Vincent remembers before we get sidetracked by a beautiful antique motorized Marelli fan for sale for VND 9,000,000. It reminds Vincent of another story from Marou's early days: "Back in the beginning, we built a hydraulic press that we used for pressing butter—it was pretty much all made from parts we found here."
Pulling the Citroën La Dalat back up to the sidewalk outside Marou Chocolate, Vincent's thinking about the company's history we've swept through—and how they still try to balance the old with the new. "I think our store does exactly the same thing. We look at history and have a respect for it, but also we're progressive. We didn't want this place feeling like a museum. There's tradition mixed with a modern feeling of freshness which takes people back…just like our chocolate."
Related Content:
[Article] Marou Chocolate: The Pair Behind Vietnam's First Premium Chocolate Brand
[Article] A Guide To Ho Chi Minh Districts: Understanding The City