Amidst the global economic landscape, where growth and profitability are paramount, the WPP Vietnam Retail Summit emerged as a catalyst for change in the country's dynamic retail sector. On June 20, 2023, industry leaders, including 75 C-Suites, converged at the CTY Kitchen & Bar in Ho Chi Minh to delve into the untapped potential of return on investment (ROI) within Vietnam's retail revolution.
The summit marked a turning point as industry pioneers set out to redefine success by venturing beyond conventional marketing approaches. While many companies have invested heavily in above-the-line communications, there remains a notable oversight: the underexplored ROI of sales channel development and below-the-line marketing endeavors. This summit shattered the status quo, challenging organizations to confront this blind spot head-on. The summit propelled participants to recalibrate their strategies, harnessing the power of ROI to propel sustainable growth.
Central to the summit's theme was the strategic optimization of sales and marketing ROI. Embracing the emerging "phygital" (physical & digital) shopper journeys, attendees embarked on an intellectual expedition, exploring winning strategies such as continuous commerce and behavioral science-based shopper solutions. The summit empowered business leaders to navigate the merging of physical and digital realms, resulting in exceptional ROI outcomes.
Data, the lifeblood of modern commerce, emerged as a clarion call at the summit. Participants delved into the trade-zone data opportunity, uncovering the hidden potential when data insights are harnessed to elevate sales and marketing strategies. The role of segmentation, deployment, and data insights was emphasized, illuminating their transformative impact on customer engagement and business performance.
Curated panel discussions, skillfully moderated by industry experts, became a hub for intellectual exchange, offering a treasure trove of best practices, real-world case studies, and innovative approaches. Attendees departed armed with practical strategies and a newfound understanding of Vietnam's retail landscape, ready to forge ahead with enhanced sales, marketing, and eCommerce efforts.
The WPP Vietnam Retail Summit was a significant event for Vietnam's retail industry, emphasizing collaboration, innovation, and the determined pursuit of profitable growth in a challenging global environment. It marked a crucial moment, sparking a transformative journey for businesses and showcasing the spirit of innovation. The summit encouraged forward-thinking organizations to embrace the abundant opportunities that await them.
If you missed the event, here are a few highlights of the discussions.
Vietnam is an omnichannel market.
In Vietnam, the retail landscape is characterized by a convergence of physical and digital channels, presenting opportunities and challenges. As an omnichannel market, Vietnam offers immense potential for businesses to reach and engage consumers in diverse ways. However, this complexity brings forth significant considerations in terms of market entry and customer engagement, requiring strategic approaches to optimize ROI.
Lester Kahn, Principal Consultant, Ogilvy Action Vietnam, highlighted the one area that has evaded scrutiny, the substantial budgets invested in brand activation, with limited transparency, measurement, and optimization of ROI. This represents opportunities to integrate, synergize, rationalize, and leverage resources with the development of integrated brand activation strategies that will drive both effectiveness & efficiencies to drive ROI optimization.
Christopher Brewer, Ogilvy Consulting, President Asia, highlighted Vietnam's potential as an omnichannel market with substantial opportunities for businesses. To tap into these opportunities and reach the Vietnamese consumer effectively, businesses must navigate the complexities inherent in the market. Vietnam, like Indonesia, is recognized as a "convenience market." With a plethora of available channels and a mix of physical and digital touchpoints, the journey of reaching the right target market can commence from various entry points.
Understanding the channel and shopper trends in Vietnam is crucial for businesses seeking to thrive, with the TT market representing 70% of value sales contribution! By staying abreast of the emerging trends in physical and digital retail channel development, businesses can adapt their strategies to align with evolving consumer behaviors. This includes leveraging the convenience-seeking nature of Vietnamese consumers and capitalizing on the available channels to engage them effectively.
Amidst the opportunities presented by Vietnam's convenience market, businesses must carefully allocate resources to ensure effective reach and engagement. Investing in the right places, at the right times, with the right formats deployed to connect with target audiences is essential for maximizing ROI. This requires a deep understanding of consumer preferences, behaviors, and the most impactful touchpoints along their purchasing journey.
Harnessing the power of data, staying attuned to changing customer preferences
The trade-zone data opportunity allows businesses to profile and segment trade zones in Vietnam, gaining valuable insights into consumer demographics, preferences, and behaviors. This data is instrumental in optimizing distribution, marketing resource allocation, and deployment. Soames Hines, CEO of Ogilvy Vietnam, emphasized that data-driven strategies and the strategic deployment of resources are crucial for sales channel development and marketing efforts, aligning shopper behavior with targeted messaging.
Marek Forysiak, Founder and Executive Chairman of SmartPay, highlighted the need for evolving payment methods, as cash transactions lack data insights. He emphasizes that changes driven by recent events are permanent, and the digital-mobile-first Gen Z population expects consistent experiences across channels.
Nhat Phuong, Executive Director Kantar, emphasized the importance of shoppers in retail, stating, "You can't talk about retail without talking about the shoppers." Understanding shoppers is the starting point for developing effective retail strategies and tactics. Phuong highlighted that shoppers face an overwhelming choice of brands and products, and winning them over in digital and physical retail is essential to drive sales and conversions. The pressure to convert shoppers into loyal customers is relentless as their expectations rapidly evolve alongside the growth of e-commerce. E-commerce should be seen as an additional channel, not a replacement for traditional retail.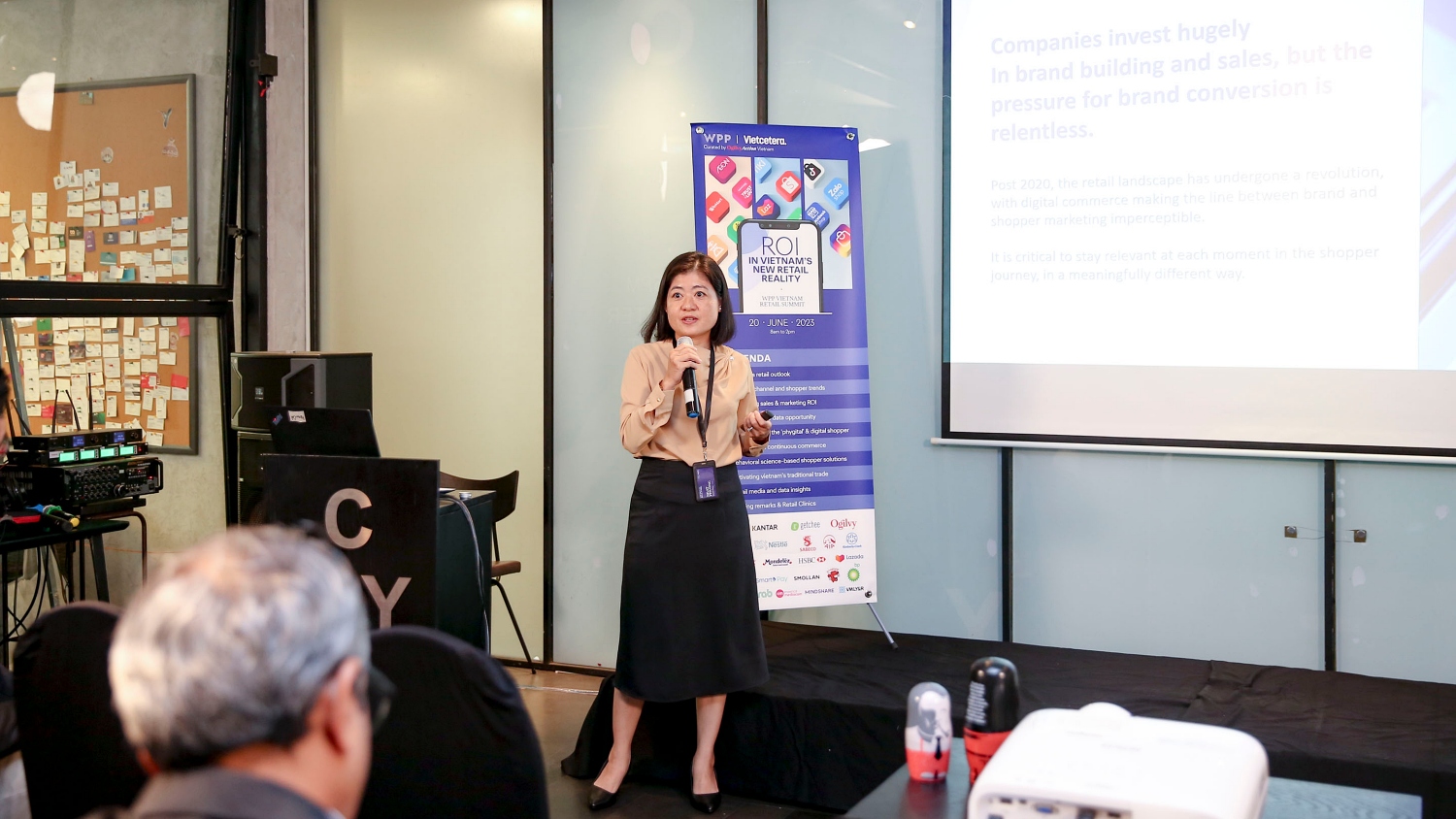 An Ha, Deputy MD Ogilvy Experience Vietnam, emphasized that the brand needs to take a different view on commerce that fosters continuous transactions through seamless "phygital" interactions driving easy commerce and engagement experiences.
Brandon Chew, Chief Strategy Officer and Managing Director Ogilvy Consulting Vietnam, emphasized that shopper marketing solutions should be focused on driving the desired shopper behavior and not changing perceptions and beliefs. That being the case, Brandon showcased how brands use behavioral science principles to develop more effective consumer messaging, promotions, POSM, and packaging.
Following the WPP Vietnam Retail Summit, Ogilvy Vietnam's CEO anticipates that clients will adopt a holistic view of ROI, considering it a comprehensive marketing endeavor rather than focusing solely on specific objectives.
For further information, please don't hesitate toxuanquynh.pham@ogilvy.com and tramy.nguyen@ogilvy.com.