The recent years have seen Saigon' nightlife transformed enthusiastically from a street-oriented drinking culture to a trendy, up and coming bar-hopping scene. From the cozy warm-white corners of Birdy, the Palm Spring-esque aesthetics of BamBam, to the midcentury modern whiskey bars such as Firkin and the likes, gradually more options are growing for the eager girls and boys of the city.
With more bars entering the market, so too does the world of mixology expand. Saigon millennials are now becoming more familiar with terms like spirits and bitters, having names like Monkey 47 Sloe and Yamazaki 18 streaming their consciousness. One bitters in particular that stands out recently is Angostura, which should be introduced by no one other than Agung Satria, winner of the Angostura Global Cocktail Challenge as well as Head of Mixology at BamBam.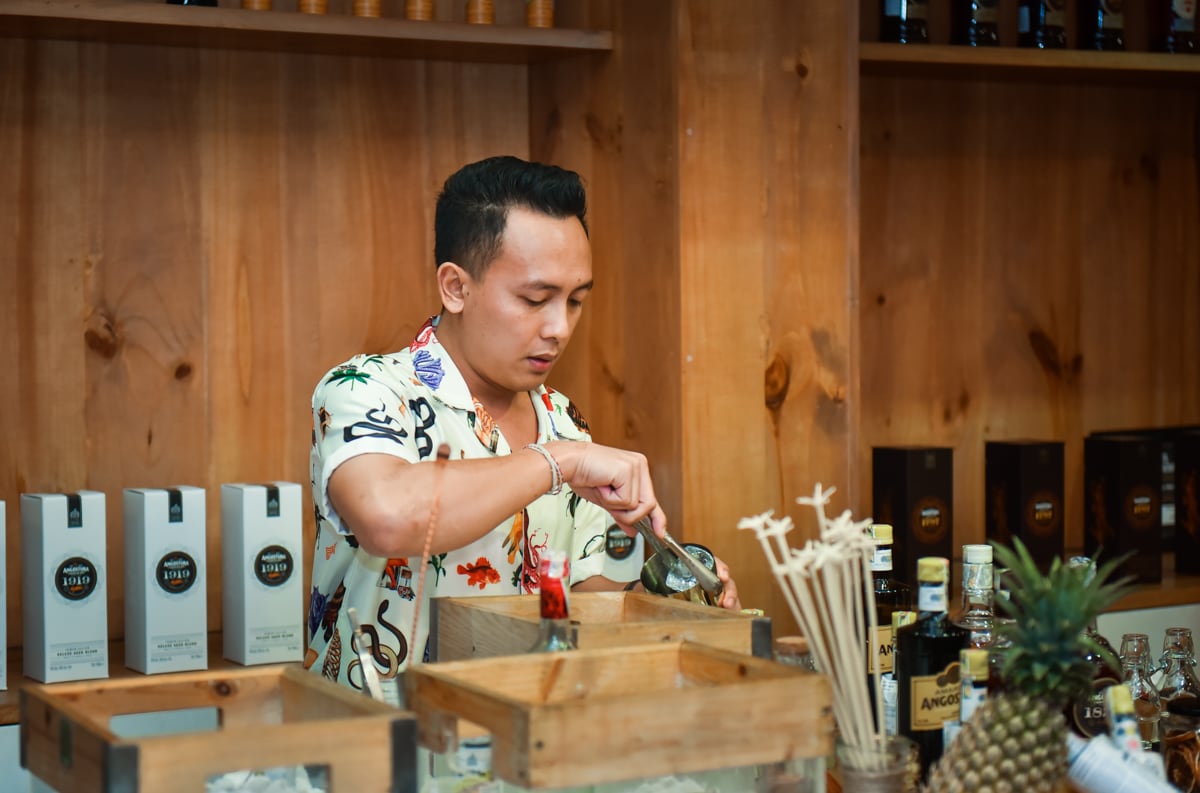 Tell us more about the drinks you prepared at the Angostura Global Cocktail Challenge. How did the Angostura stand out in these drinks?
Part of the fun of bartending is mostly in the creative license we get to take with our ingredients. Thus, when a funky bitters like Angostura is in the game, we can truly let our imaginations fly. This gentian bitters is by the Trinidad and Tobago company House of Angostura, invented in the Venezuelan town of the same name. Together with herbs and spices, the gentian plays a big role in bringing out the aroma and contributing to the flavor. Its extreme concentration also provides some kick on the throat.
What is it like to bartend in Saigon? How did you learn how to pick up the trade?
Bartending is always guaranteed fun no matter where the jigger finds its place. Nonetheless, Saigon is unique compared to the previous countries I've worked at. You can find everything you need efficiently. While I'm still finding my ground here in the city, I still try to explore the trade scene, where ingredients and equipments move about. Observing the city on the many stools of different bars further allows me to discover what is actually the market's demand so that I can be inspired and create a cocktail list based on such.
Can you describe BamBam to someone who has never been?
Our neon-painted poolside and synth-pop tropical interior creates an atmosphere that could be found no where else, thus this in itself is a unique gravity that attracts many people within the dynamic city of Ho Chi Minh altogether to dine, drink, and dance.
What sort of drinks are you most excited to take down from the shelves and serve?
Different settings and mood often calls for different taste, but in general I find myself incredibly drawn to brown spirits. When I'm more active, I would mostly mix out my own high ball to match the adrenaline. On the other hand, when I'm in a more tranquil state of mind, I prefer to make a twisted classic Manhattan using aged rum, finished with a touch of banana liqueur.
Who is your typical customer? And what do they usually order?
Standing behind the bar means constantly interacting with many faces, including those who are new to the bar. Our job as bartenders is to make our customers feel most at ease, so we often take the chance to educate them about our specialties as well as give them some recommendations. The majority of our customers tend to go for cocktails, considering we're a cocktail bar. The ladies gravitate towards fancy, funky, fruity martinis while the gentlemen are quick on dryer, muskier palate.
We are coming to BamBam. Where should we sit and what should we order?
The bar displays all of our various spirits at the island counter in the middle of our venue, where not only will you enjoy the central view of pink and blue lights bouncing between all walls but also all of our mixology magic. Our talented team of bartenders are also enthusiastic storytellers, who will share the history behind the very drink they're shaking up for you just before offering a few rounds of shots (don't worry, it's on us.) I would recommend our all-time favorite cocktail, Coco Mojo – a twist in the traditional mojito using pandan, topped with fizzy coconut water.
What other than Angostura Bitters spices up your life?
There aren't quite as many things as you would expect to spice me up, so dare I must say Angostura Bitters holds its position consistently.
What does Angostura Bitters add to a cocktail?
Complexity and extra dimension in every sip you take.
Winning Angostura Global Cocktail Challenge, what does this mean to you and your career?
It's truly an honor to be among the best bartenders from all over the world. After winning in the Asian region, I'm given a chance to compete into the Global Final in Trinidad and Tobago, South Caribbean on February 23rd.
This will be a special and unforgettable experience that I cannot wait to join. The winner can get cash prize of US$10,000 and a two-year contract to serve as the Angostura® Global Brand Ambassador, which is promising and wonderful. Besides Trinidad and Tobago, I also be invited to visit Thailand and Indonesia as well.
Not only is it life-changing, from here onwards, I would love to use this opportunity along with all of my mixology passion to share #AngosturaLove across all continents.
Angostura is one of the Caribbean's leading rum producers with a superb collection of rum brands and is the world's market leader for bitters. Lighthouse Group Indochina is the exclusive distributor of Angostura in Vietnam.
Related Content:
[Article] 28 Bartenders To Know Before Gin Festival Saigon 2019
[Article] Cocktail Bars To Know In Hanoi