Vietnam's golden age of travel is in full swing. Tourists are welcomed with open arms at glittering new airports sprouting up in the former bucolic backwaters of Quy Nhon and Phu Quoc. E-visas and visa exemptions are the new normal, while the island of Phu Quoc has gone visa-free (up to 30 days) for those who enter via an international flight or cruise ship.
Along the coast and in mountainous hamlets theme-park-sized resorts rub shoulders with sleek boutique hotels. Every category of traveler is catered for: those who wish to see and be seen (Dalat's bubble hotel is better placed than most) and those who'd rather not be disturbed. (Go full incognito mode at Anantara Quy Nhon where superior in-villa amenities eliminate the need to engage with the world.)
And if the quality of hotel projects nearing completion in 2020 is anything to go by, the best may yet to come. Here is Vietcetera's pick of new hotels opening this year we're most excited about.
Off-The-Grid
Zannier Hotels Bãi San Hô 
Zannier Hotels' signature paired back elegance arrives in Bai San Ho. | Source: Revpar-marketing.comNonflashy, rustic and effortlessly cool, Zannier hotels found the perfect base for their first Vietnam venture in sleepy Bai San Ho – a private bay surrounded by lush green hills in Central Vietnam, between Danang and Nha Trang. 
The resort promises to become a scuba divers' mecca (the name of the property translates to "Bay of Corals"), while design-conscious guests will recognize the group's signature brand of modernity that chimes with the surrounding environment. 
Bai San Ho and its environs were once part of the Champa Kingdom and the landscape is peppered with cinematic ruins dating back to the lost civilization's heyday. You can (and should) tour the relics, if nothing else to better appreciate the subtle ways the kingdom's heritage is woven into the resort's design.
Apart from dining on excellent local seafood and submitting to expert care of the spa therapists, simple pleasures like line fishing and rice planting await the curious and the adventurous. 
Downtown Digs 
Mandarin Oriental Saigon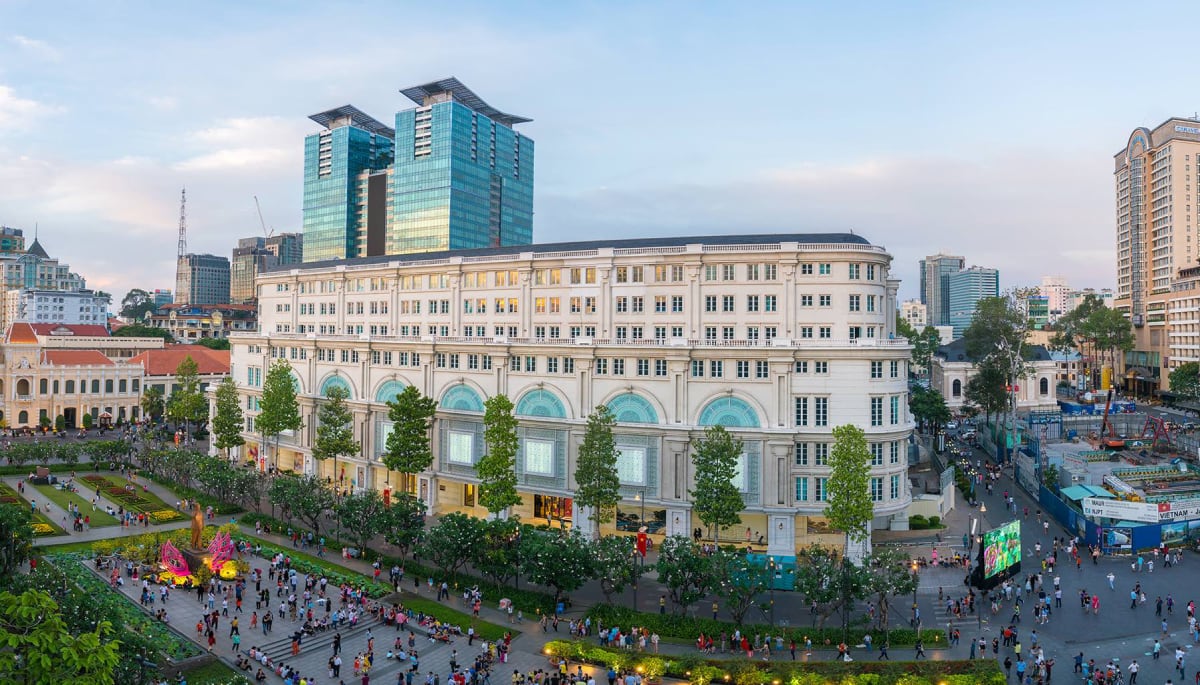 Mandarin Oriental puts its stamp on downtown Saigon. | Source: Robb ReportMandarin Oriental, a luxury hotel chain with Asian roots, has won fans the world over with impeccable service and award-winning restaurants – a total of 27 Michelin stars in 17 dining outlets speak for themselves. 
It is little wonder, then, that the arrival of Mandarin Oriental in Saigon is hotly anticipated by the international jet-set and Saigon's gourmands alike. 
The opening date is shrouded in mystery and all the curious onlookers have to go by, visually, is a flurry of activity behind the hotel's four façades on Saigon's chic downtown boulevards: Nguyen Hue, Dong Khoi, Le Thanh Ton and Le Loi. 
Patricia Urquiola, an acclaimed Spanish architect, is leading the design work on the 227-room property that will also feature six restaurants, a spa, leisure facilities and meeting space as part of the prestigious Union Square development.
Parks and Recreation 
Avani Doc Let Resort 
Recharge your batteries poolside at Avani Doc Let before hitting the water slides. | Source: Avani Hotels & ResortsWhere Nha Trang is high-rise and high-energy, Doc Let, 50 kilometers north, is largely devoid of the signs of mass tourism. That is about to change. Before the year is out, Doc Let's chalk-white sands will welcome a 61,000-square-meter water park and entertainment complex and with it, a tidal wave of thrill-seeking tourists.
Avani Doc Let Resort, an upscale 273-key property, is part of the development. With generous on-site leisure facilities and waterpark's slides and concert venues next door, Avani guests could be excused for never leaving their slice of palm-fringed Eden. But venture into the big outdoors they should.
The scenery is gorgeous around here and many of the attractions, being impossible to reach by bus, are unspoiled. A vigorous hike up to Ba Ho Waterfalls for a satisfying swim in a crystal-clear lake or a kayak excursion to Hon Lon Island is what makes Doc Let so magnetic in the first place. 
To The Lighthouse 
Azerai Ke Ga Bay
Azerai's understated luxury in Ke Ga Bay. | Source: AzeraiFounded by the legendary hotelier and visionary Adrian Zecha (of Anam Resorts fame), Azerai Hotels are making inroads into Vietnam just as the local boutique resort sector is starting to hit its stride.
Joining its two sister properties in Can Tho and Hue, Azerai Ke Ga Bay stays true to the brand's philosophy of keeping the number of rooms in the double digits in the name of more personalized service.
With only 55 rooms, suites and villas, some with plunge pools, some with larger swimming pools, the property is maintaining the light footprint of Princess D'Annam Resort & Spa that it had taken over and is currently renovating.
"Azerai" is a portmanteau combining the founder's initials and the name of Zecha's first Anam-esque resort in Bali – the Serai. Other than the name, Adrian Zecha's stamp is evident in signature attention to detail and focus on cultural experiences.
Located 180km east of Saigon, Ke Ga Bay is popular with lighthouse junkies (nearby Hon Ba Island features one) and fans of low-key, sand-between-the-toes, hammock-happy days.
Camera-Ready
Maia Quy Nhon by Fusion
Immersive experiences at Maia Quy Nhon. | Source: Fusion Resorts.Fusion Resorts are famously Instagram-friendly (and butler-service averse). The new Maia brand, with its focus on immersive culinary experiences, is an opportunity for the social-media savvy to eat their way to Instagram stardom. At Maia, cultural awakening and #foodporn go hand-in-hand. 
The first of the crop is the upcoming Maia Quy Nhon. The property promises culinary journeys tailored to the location and a different culinary program for each night of the stay. 
Given Quy Nhon's fame as a seafood destination, Maia guests can expect sea-to-table dining, with other food-centric activities to include food tours, cooking classes and pop-up concepts. 
Related Content:
[Article] Quy Nhon And The Anantara Villas: Lush, Undiscovered, And Luxurious
[Article] The Hamptons Ho Tram: New Luxuries In A Seaside Community