"Phuong Linh is one of the strongest voices in her generation. Her poetic and lyrical approach to anything (especially as a female artist in Vietnam — a career choice that defies the norms and is often not supported within society) is oftentimes abstract: it's not easy to grasp, but full of emotional sensitivity." — These are the introductory words from The Factory Contemporary Art Center.
If you could choose a space for your dream exhibition, what would it be like?
I like places with special architecture, such as the Casa Wabi designed by Tadao Ando in Mexico, or the Teshima Art Museum designed by Ryue Nishizawa in Japan. I think being able to visit such places and see the architecture is already fulfilling - there is no need for me to do anything else with it!
My friends and I from the Nhà Sàn Collective have been building an exhibition space by the Ngoc Thuy riverside wharf in Long Bien. We are going to take my father's old Nhà Sàn and redesign it for convenience, flexibility, and comfort.
I'd like for that art space to be transparent. The element of transparency was influenced by some friends of mine in Cu Ru Bar in Da Lat — it creates a sense of fluidity between inside and outside, and breaks down the barriers between the guests inside and the people outside, whether they are neighbors or strangers or just passers by. We want to create a comfortable environment where old people or young children are also happy to stop by.
(Nha San (Stilt House) is an experimental art space that has existed for a long time in Vietnam, co-founded by artist Nguyen Manh Duc, Phuong Linh's father, and artist Tran Luong. With the idea originating from the Muong people's architecture of a house on stilts, artist Nguyen Manh Duc began crafting the space in 1993 as an open exhibition for experimental artists working with different forms from 1998 to 2018.) 
And in that transparent space, which artwork of yours would you put in an exhibition?
I'm not quite sure what I'm going to do. I am interested in something that's light, with basic geometry, vertical and horizontal columns. Perhaps I will design a lighting system using the available materials in my dad's inventory.
In this space, each person in our friend group will craft an element of the space, almost like a game of corresponding and matching up each piece that makes up the essence of a stilt house: the house itself, each supporting pillar, the space it occupies on the water, the porch, the roof...
If you could transform into another artist's masterpiece, which piece would that be?
If there's one thing I can't answer, it would be that. I am my parent's daughter, their masterpiece, the unique product of their DNAs, and I now carry my family's heritage. With my husband Lang, we have created Nguyen, who is now two, to continue the family legacy. 
I am the actress in Director Siu Pham's film 'Into Life', which started in 2018 when she was over 70 years old. There's a scene where I'm a teenage girl, lying in bed with my boyfriend when the souls of my parents in that movie return to retrieve their belongings and leave. At that time, I was one month pregnant. That was my favorite scene.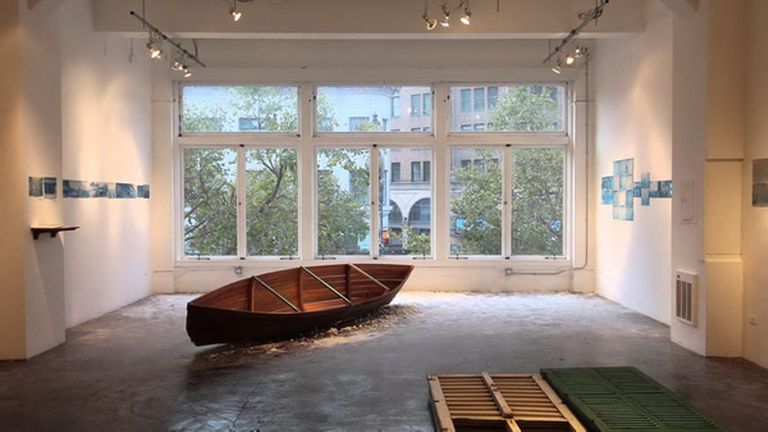 Siu set up the scene right in my bedroom, the actress that played my mother in the movie was my real mother, the props were pieces of my daily life, the bed has been with me for twenty-something years — be it alone, with a lover, or with friends. A close friend of mine, who was on this very same bed, actually passed away.
Then I gave birth. And I slowly forgot the movie existed. So it's been more than three years, and now I can say that I partially understand Siu as a person, as well as understand the intention behind her weird idea for that scene. I'd like to consider myself lucky.
When a contemporary artist encounters a creative block, does making art help you move on from being stuck?
I sometimes find that I am walking down a long and meaningless path, just to suddenly find that I feel like flying, but then always end up back on this path again.
When I was young, every piece I completed gave me a sense of release; it was a way for me to express myself by metaphorically saying — or screaming — something out loud. But now, even when I've finished a project, I don't find myself feeling free, I just find myself looking for something new to start on.
So how do you do it?
I just live life normally: work and take care of my children. Everyone that's born has a destiny that binds them to their lifestyle and career. I'm no exception. I just try to fulfil my purpose.
When I'm stuck, I also watch Korean dramas. And sometimes, I cry.
Which piece of yours do you really like, but no one seems to fully understand?
I think that always happens. I try to not guide the audience too much, so they have the space to form their own interpretations of my work. If everyone understands my creations in the way I want them to, then I don't see the point of continuing this career.
Most recently, I had a collaboration with artist Que Chi by the name of 'Nhung Mat Khong Mat' (Eyes Without a Face). After that exhibition, I felt as though I gained the understanding and knowledge from my friend — that after over ten years of collaborating with one another, we are now entirely in sync, both in terms of age and lifestyles.
I don't think anyone can fully understand me or my art, but after each exhibition, if my friends and loved ones can understand a little more about me, then that's the most wonderful thing.
On the contrary, there are also artworks that I've made many years ago which I've completely forgotten, and never publicly showcased. Only recently, I've remembered them and surprised myself since at the beginning of my career, I was experimenting with femininity through sculptures. But this piece, in particular, was the most provocative and powerful in that it showcased the carnality of mankind, alongside how life and nature can fall into ruin.
The piece is called 'Chewing' and involved me transforming a watermelon into a piece of art through performance. It was created when I was 23, and performed in an exhibition in 2008.
If you had a time travel machine and could go back in time to where contemporary art was 10 years ago, how do you think it is different from contemporary art right now?
Ten years ago would be 2011. Back then, we had very few exhibition spaces: San Art, Galerie Quynh, and Hanoi had Nha San (Stilt House), International art spaces, Goethe Institute, and the Japan Foundation.
Now, however, there are so many big spaces with the proper investment that have allowed them to positively impact the economy and influence the consumption of art. There are more art collectors in the country, professional curators, professionally trained artists.
Ten years ago, the audience for contemporary art was smaller and more limited to those within the contemporary art bubble. Now, crowds are high in numbers, and the public is more informed about art. All of this makes me feel that independent artist groups such as those from Nha San (Stilt House) or Sao La bring a new wave of purity and excitement to current times — which is all the more important given our current society.
What if you travel 10 years into the future?
I'm certain it will be more and more professional.
Which vision is better?
There is no such comparison. The only thing we're sure of is that growth is inevitable. If we are lucky, then art in Vietnam will only grow to become more pure, sophisticated, and full of histories like the art in Thailand or Indonesia; or it could even evolve into something more fluid and contemporary like that of Korea and Singapore.
What defines a masterpiece of a lifetime?
I have no idea, but there's definitely an element of luck involved in that you can create something that touches the soul of so many. It needs the right timing, the right people, and the right execution that helps transform a piece of art into a masterpiece.
The Factory Contemporary Art Center (The Factory) is the first purpose-built space for contemporary art in Vietnam, operating under the business model of a social enterprise, The Factory focuses on interdisciplinary cultural activities to introduce and expand knowledge of contemporary art in Vietnam.

Address: The Factory Contemporary Art Center, 15 Nguyen U Di, Thao Dien Ward, District 2, Ho Chi Minh City
Contact information: art@factoryartscentre.com | +84 (0)28 3744 2589
Translated by Dieu Linh