Nguyen Viet Cuong is a freelance artist born in Kien Giang and currently living in Saigon. With an immense love for visual arts using different materials, his artworks mostly present his perspective of humans and society – where he lives and what is happening around his neighborhood.
The idea of the "Saigon Box" project ignited even before the whole city decided to tighten its COVID-19 restriction and implement a full lockdown. Instead of using drawing paper, Viet Cuong chose to play with cardboard boxes, harmoniously combining his painting with things printed on the cardboard – brand logos, barcodes, stamps, and even the "fragile warning" tapes. 
Through the familiar and rustic quality of cardboard boxes, Viet Cuong depicted the reality of life during the lockdown, unveiled some unseen misery brought by the pandemic, and honored the enormous efforts of our frontline forces and healthcare workers.
What motivated you to start the "Saigon Box" project? 
Being restricted from going outside, I feel like my life is being compressed in a box, which reminded me of the cardboard boxes I had received from online orders. 
So I decided to draw how life in Saigon is during the pandemic days on those cardboard boxes. 
What type of paint do you use on cardboard boxes? 
I observe photos spread on social media and recreate those images with acrylic and iron pen.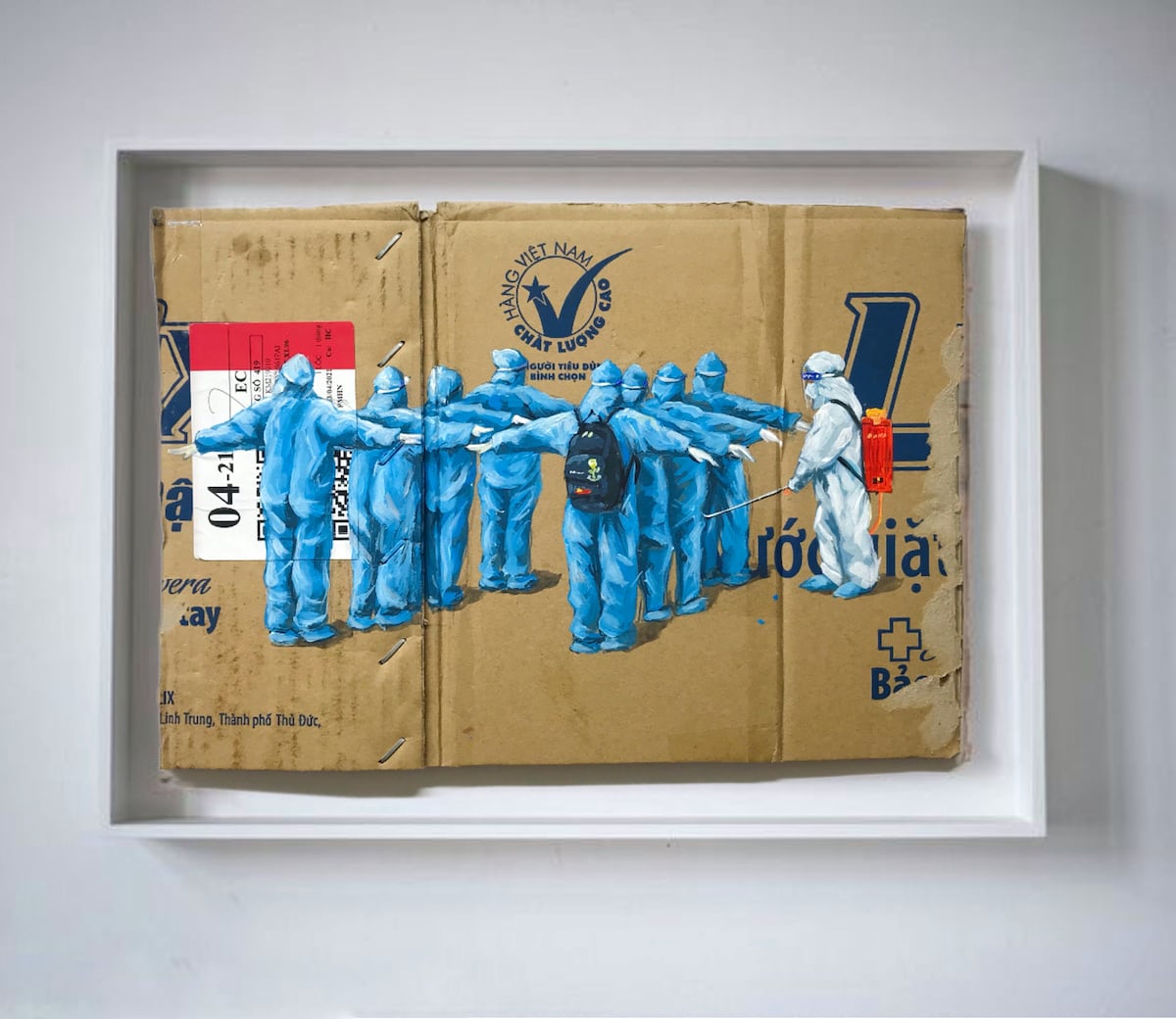 Why did you choose cardboard boxes with brands on them? 
It's because I want to liberate paper from the fate of being just the background.  
I could make good use of the colors and patterns printed on the box to emphasize the story and produce space effects for my painting. 
Do you have a favorite music playlist when working?
Delta waves 432HZ music.
Which of your works would you want to send to the frontline health workers? 
"Lego" is short for the two Danish words "leg godt," which means "play well."
I did make some adjustments and changed the Lego into LET'S GO as a message to our frontline forces who are battling against COVID-19. Consider this fight as playing a good game in 'hard' mode. Let's fight together and we will conquer it in the end.
How do you feel when you finish an artwork? 
I really can't give you a specific answer as each artwork carries its own story, capturing a range of emotions that I can't find in other pieces.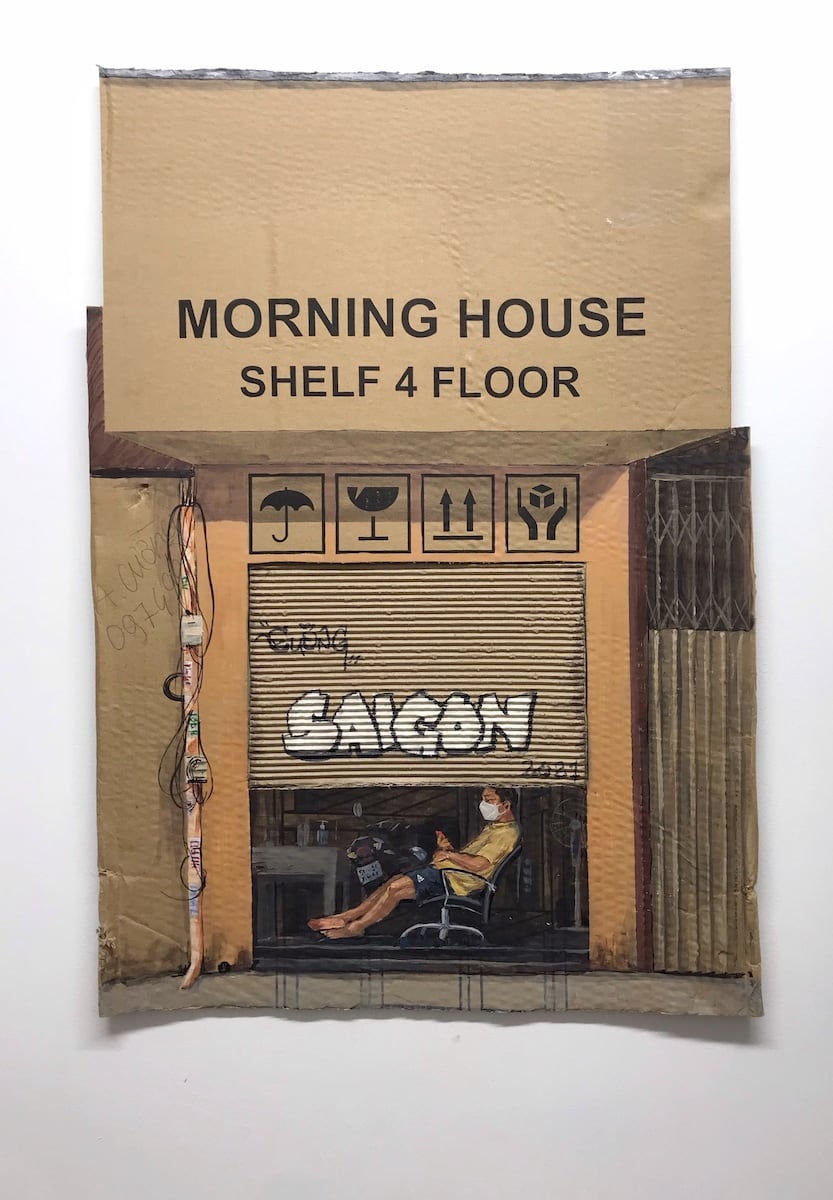 If you could only keep one artwork, which one would it be? 
The painting of an elderly who has gone through two major wars in this country. Now, at the age of 90, he struggles with another kind of war – the pandemic. 
That old man reminds me of my decision to be single-minded in the pursuit of art despite its difficulties.  
What is the role of arts during this crucial period in Vietnam? 
The purpose of visual arts is not only to satisfy our pure sense of aesthetics but more importantly, to serve as a narrative and documentary material, capturing every historical transformation in a form of visual images. 
During this situation, art is like an effective vaccine for our mental health. When artists are capable of expressing inner beauty through their artworks, they would gain viewers' recognition and genuine empathy.
Is there a specific kind of artwork you plan to do next? 
Now, half of my works in the 'Saigon Box' project were bought by art collectors. I still let my creative energy flow and paint more pieces. Perhaps I would organize them into one collection and hold a small exhibition after the lockdown. 
If you have to put things associated with Saigon into a box, which ones would you choose? 
Immigrants, various architectural structures, and the energy that makes it "the city that never sleeps". 
Adapted by Bich Tram