Culinary enthusiasts and those just looking for some foolproof dining recommendations would definitely find @foooooodsaigon Instagram page an answered prayer. Lien Sterkens, the bubbly and "hungry" Belgian girl behind it, says her page is a happy place for people to rejoice about their favorite food and dining experiences. And it has, without a doubt, grown into a joyful foodie community that loves and relishes Vietnamese cuisine's unique flavors.
While Lien admits to going out to explore Saigon's vibrant food scene almost daily, she works full-time as Head of Content at the award-winning creative agency Happiness Saigon. The 27-year-old foodie holds a Master's degree in Communication, which explains how she's quickly navigated through and made a name for herself in the ultra-competitive social media landscape, where everything needs to fit in less than a hundred characters.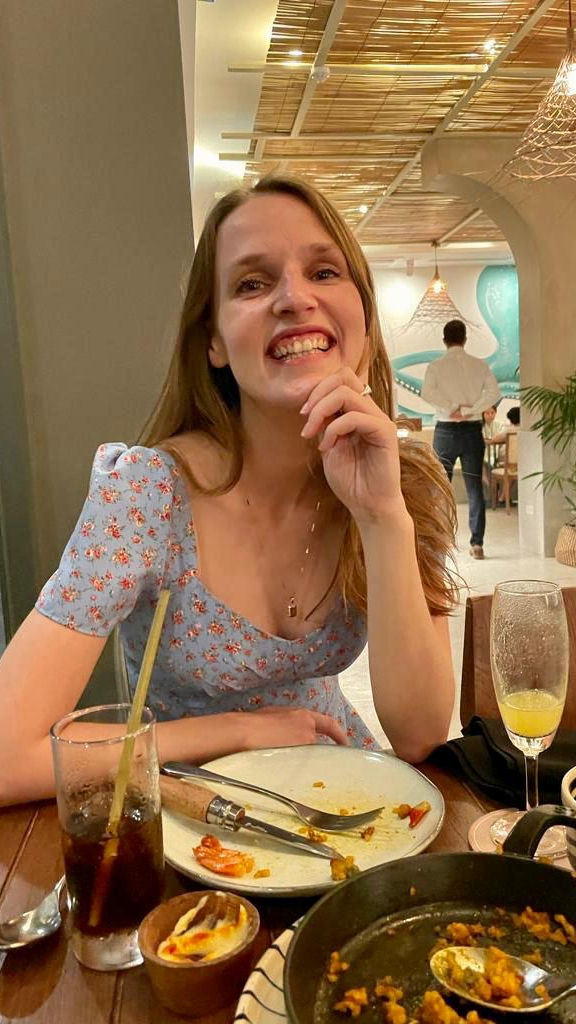 But it's Lien's "big" appetite for good food and her heartfelt take on her experiences in local eateries and high-end restaurants that made her social media presence an absolute delight to all.
As a new fan and follower of @foooooodsagion (and definitely of Lien's creative flair), I'm personally proud to introduce Lien Sterkens as Vietcetera's new F&B contributing writer. Now with a bigger space and platform to tell her food stories, Lien will be writing about her new restaurant and bar discoveries or give out recommendations of the best places to check out for a packed bowl of bún thịt nướng or an irresistible char-grilled octopus.
I had a fun conversation with Lien Sterkens, where she shared her most memorable meal in Vietnam so far, what it takes to be an effective social media influencer, and her honest review of Vietnamese cuisine.
How did you become a "global foodie"?
It's funny because I grew up a picky and rather small eater. But I always loved indulging in food. For years, I've been obsessed with trying out the best places back home. Then I came to Vietnam and I was overwhelmed by the number of amazing restaurants. But since Belgium was still in lockdown, I was making my friends terribly jealous with all my delicious food pictures. That's when I had the idea to create my own account to put all those pictures and celebrate the F&B scene in Saigon. I had so much fun, even with 100 followers. Now, a year later, I have an amazing foodie community who I have taken across the globe to explore great spots.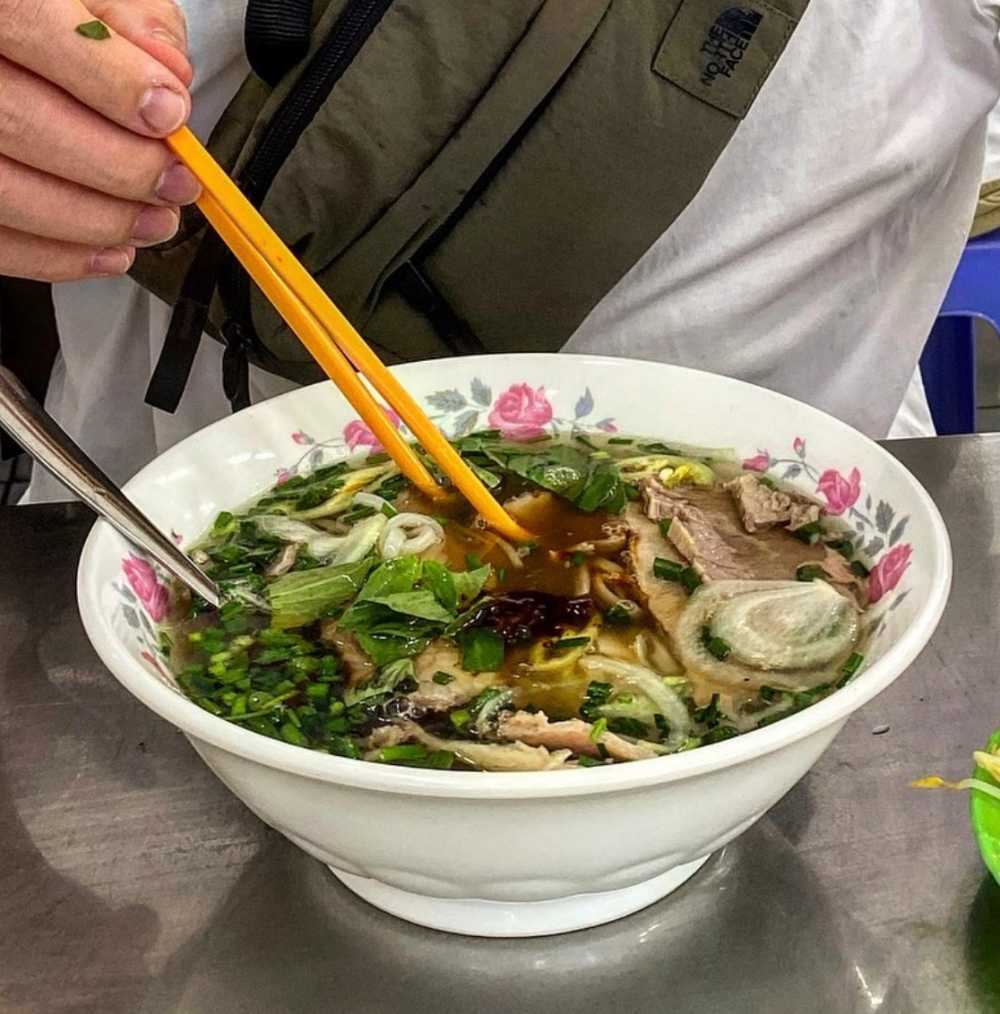 What countries have you been to?
With my food blog, I've visited Vietnam, Belgium, The Netherlands and Malta. But before, I've traveled to New York, Greece, Italy, Iceland, the UK, Portugal, Spain, Germany, France, Turkey, etc. I have had some great food along the way. So I hope to take my followers on my future travels and explore the best spots together.
When did you arrive in Vietnam and what made you stay?
I arrived in Vietnam in January 2021 when visiting my boyfriend for two months, who started a new job here. I completely fell in love with the country and since I was also very much in love with my boyfriend, I took my chances and stayed. We love our life and our jobs here, and with regular visits back home, I'm very comfortable staying for a while. I don't know when I will leave, but for now, I'm very happy.
What's the best thing about Vietnamese cuisine?
The balance. Every meal has the perfect flavor balance, it's sweet - salty - acidic - spicy all in one. Don't get me wrong, I love our little Western salty meals. But I'm always marveling at how a little bánh mì can hold an entire universe of different flavors. Honestly, it's food magic.
You've grown quite a following on Instagram. Why do you think people are so engaged with food content?
I think after a lockdown and not being able to enjoy life's simple pleasures, people were so excited to just go out to their favorite restaurant again and indulge in these small pleasures. And I think it makes people happy. My fellow foodie community really seems like the happiest corner of social media. Just people who love food hyping each other up. It really brings people together.
How do you curate your content? How does one become a social media influencer?
I've been taking pictures of my food since forever. But only since last year did I turn them into content pieces. And honestly, anyone can do it. I try to learn from fellow foodies about how they pose the food. I try to mix it up with a reel every now and again, because Instagram is pushing those to compete with TikTok. I like to keep my feed bright and positive too. If I have any creative vision, it's that one. I want my page to be a happy place for people to rejoice about their favorite spots and about food in general. Other than that, it's finding your editing style and planning your content ahead in the Notes app.
Does this mean you go out and explore new dining experiences?
Not every day, but it's close. Honestly, I'm so amazed by how affordable the food and eating out are here compared to Europe. I must say, we have been living like kings here. In the beginning, I sometimes went out to eat three times a week and ordered in the other four days. Now I've calmed down a bit from my FOMO of needing to try every newly discovered spot immediately. But I still have a lot of places to try, and every day, Saigon is adding another hotspot to the list.
Do you go beyond Saigon to discover new exciting dining experiences?
I love to explore, also in Vietnam. I did ask my followers if they wanted to explore places in Belgium and the Netherlands with me because I also want to make content that is relevant to them. They were up for it and now they are planning foodie trips to Europe, so I guess they love to explore with me.
What's the most meaningful meal you've had in Vietnam?
I tried phở for the absolute first time here in Vietnam. We have some restaurants back home serving it, but never tried. So for sure, trying that first bowl of phở, and discovering my new favorite comfort food, will always stay close to me. Otherwise, an anniversary dinner at Nage Eatery or that truffle-filled Valentine's Day dinner at Quince Saigon were not too bad either.
What's the most awful meal you've had in Vietnam?
I've had the luck not having any awful meals in this beautiful country. I must admit, I'm not the most adventurous eater either, so it saves me from trying something I'm really not going to like. But also on my page, I rarely share truly negative reviews. If I don't recommend a place, I simply don't go out of my way to bash them. If something was wrong with the food, I try to solve it with the staff. I'm definitely not a Karen there. But if it's a popular place people would otherwise try out, I would tell my audience honestly. I don't want people wasting their money when there are so many good spots out there.
If you were to eat your last Vietnamese meal, what would it be?
Of course, a big bowl of phở bò. To be eating my last Vietnamese meal would be a very sad moment. I think I would need a steaming, comforting bowl of meaty broth to slurp my sorrows away.
You don't necessarily stick with authentic Vietnamese dishes. How do you define Vietnam's openness to foreign cuisines and influences?
Saigon never ceases to amaze in that regard. I think it's such a worldly, exciting city with so much life and opportunities. I really see Vietnam as a big community and not an exclusive one. I love that expats who want to share their tastes from home get the ability to do that and are welcomed as well. For example, I love moments like eating out at Belgo, a Belgian beer & food pub, and being the only European there. Even though they already have such a rich food culture themselves, the Vietnamese are very open-minded. I do want to explore more local spots, but I also like the idea of people coming to my page to explore the wide variety of cuisines that Saigon houses.
3 of your most highly recommended restaurants in Saigon.
1) Kashew Cheese. I think my followers know this answer, I think I'm single-handedly responsible for a lot of people's Kashew cravings. Their pesto-mozzarella sandwich is hands down the best pesto-mozzarella sandwich I've ever had, and it's made with plant-based cheese. Good vibes and great owners.
2) Anan Saigon. If you're spending money on a nice dinner in Saigon, let it be Anan Saigon. You'll get these amazing Vietnamese flavors, but with a unique twist. Definitely try the Duck Da Lat Pizza and the Bone Marrow.
3) My local phở place. I know everyone is biased towards their neighborhood place, but I think my phở lady is the best. Find Trang Anh on Đường số 65 in D7 for delicious phở bò and bò lá lốt.
An honest general review of Vietnamese cuisine.
I think the most important part of Vietnamese cuisine is that you taste the love and effort they put in. Whether it's a cơm tấm or even the house trà đá, you can taste the family recipe. It never feels industrialized or fake. My honest review would be that it's a very honest cuisine. What you see is what you get. And what you get is delicious.