On graduation day, many of my friends shouted: "So classes are over!", some even joked: "Now we can go home and burn all our books!"
I used to feel "jealous" of them. Because deep down, I didn't feel like my academic path was completed with just a bachelor's degree. Bachelor's education just provided me with a basic foundation — like a "uniform."
In order to change myself profoundly, I needed to find another outfit that would suit me better. Therefore, after some time working, I decided to go back to learning and study for a master's degree.
To this day, almost 10 years after entering the master's program, I think this was one of the wisest decisions of my life.
Studying for a master's degree really "upgraded" me in many ways, filling the gaps I had in knowledge, skills, university experience and opening up a wide range of career opportunities in the future.
But not everyone who studies for a master's degree gets the same transformation. I have many friends who have complained that their process of studying for a master's was "just a waste of money" and gave them "nothing more than a degree."
Is studying for a master's degree really worth it?
This question is quite personal. In fact, "worth it" or not depends on your own point of view, needs and learning goals.
For many, a formal academic path ends at university graduation (or even earlier). They continue to cultivate themselves through work and daily life.
Meanwhile, for others, studying in a formal and methodical environment then graduating with a master's degree, is essential to their development.
Therefore, the correct question should be: "Is it worth it for you to study for a master's degree?"
Studying for a master's degree is much different from studying for a bachelor's
Firstly, if studying for a bachelor's degree can overwhelm you with various general subjects, then studying for a master's degree will gain you an in-depth understanding and skills that are more related to the requirements of your career. It will also give you the opportunity to better practice your leadership, self-management and teamwork skills.
When studying for a bachelor's degree in Vietnam, I majored in International Studies, a very interesting program but was also quite broad. It includes many social subjects, about many countries around the world.
Studying for a master's degree provided me with enough understanding and developed certain expertise for a smooth "transfer" process, and at the same time opened up a formal path for me to enter a career in education — a profession that has a high demand for qualifications.
Second, studying for a master's degree helps to expand your network at a higher level than studying for a bachelor's degree. Students who pursue master's degrees are graduates, who may have been working for a few years.
Students in the same master class have different ages, living and working experiences, and have different purposes. Therefore, the master's studying environment is often more mature and realistic, and students can form work-collaboration networks (especially for MBA programs). If you know how to take advantage, this will be a premise for your career development.
When I was in college, I was often afraid to express my curiosity and interest in academic subjects, because of the fear of being teased as a "nerd."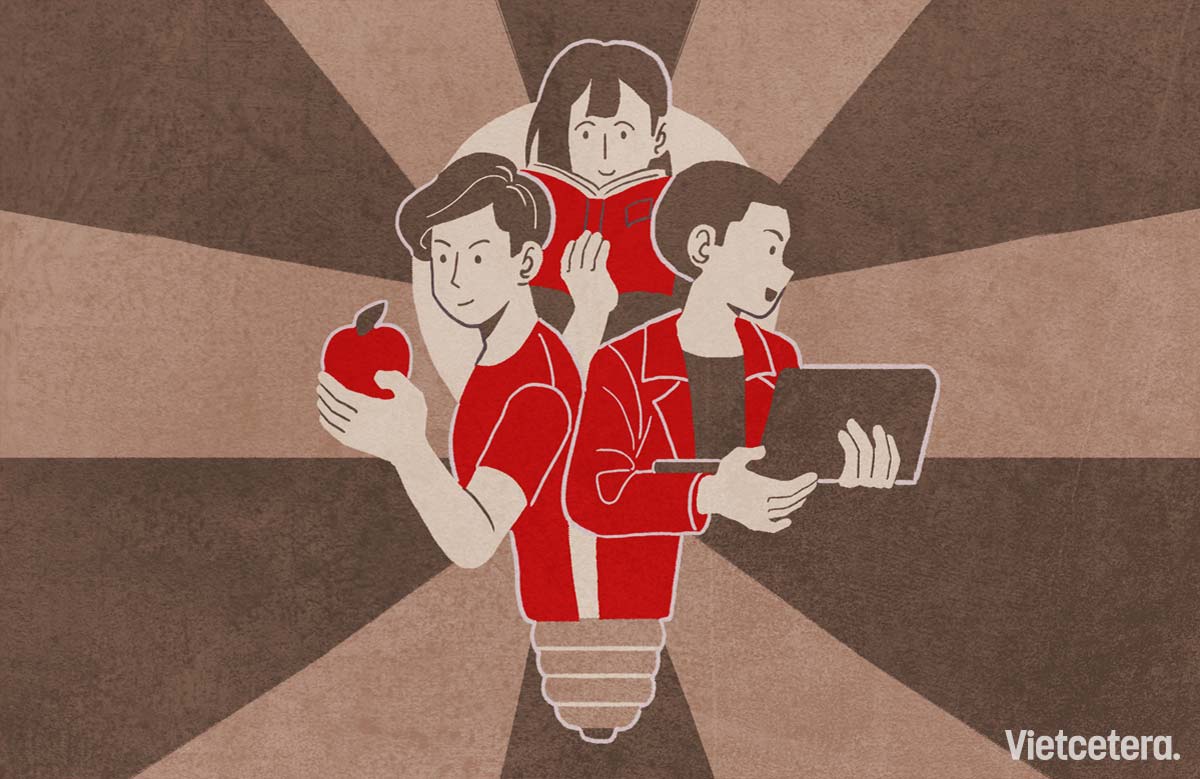 But in the master's study environment, since everyone pays attention and has to sacrifice something (such as time, money, family, or work) to go to higher education, working hard and showing progressing spirit is a very normal and accepted mindset.
It was the "nerd" group of the graduate class that helped me better orient myself to the future, follow my passion, and find better opportunities in the education industry.
In addition, studying for a master's degree also brings up a lot of changes in students' thinking, helping them open up new perspectives on their own selves and society, as well as think more deeply about the future.
In the same program, there will be people who study master's directly after they graduate from bachelor's because they want to get a double degree, or because they still have no clear direction about their future. But there are also people who already know for sure what their future profession is and decide to go back to school after some time working to get closer to that goal.
Personally, I feel that I have become more mature while studying for my master's degree, even though the study period was very short (just over a year) and I was under great pressure (studying while working and applying for a PhD scholarship). The professional master's study environment and the opportunity to study with people who are passionate about academics made me feel more serious about my studies and have a more certain direction in the future.
In addition, I also started living alone in a foreign country since I started studying for a master's degree, so I had a feeling that if I don't "grow up" quickly, then I wouldn't be able to survive.
What is the right way to study for a master's degree?
Truth is, the positive changes from studying master's only come to those who really want to change themselves. At the same time, attending a prestigious program that fully meets expectations and needs is also an essential step to support students in the long run after studying.
Before pursuing a master's degree program
You need to ask yourself these questions: Why do I want to take a higher education? Why should I choose this major? Why should I choose this program? After acquiring a master's degree, what do I want to do?
Don't just decide to get a higher degree because you vaguely "have nothing else to do," or because of the influence from others (family, friends or society), without thinking about your own direction.
When I began to think about applying for a master's degree, I started the habit of carrying a small notebook and a fountain pen. Whenever I had thoughts about the future such as the profession I want to pursue or the environment I want to study in, I quickly wrote it down in my notebook.
As the notebook was getting filled, my dreams and ambitions were also clearer and more realistic. Those scribbled lines later became the document that I referred to write my master's thesis, as well as a source of encouragement for me every time I face difficulties and failures.
When choosing a program
You should choose programs that are well-known, provide recognized degrees, and are taught by clearly qualified teachers.
In addition, since networking at the master's level is very important, you need to find out if the networks of alumni or business partners — including corporations or exchange opportunities — of the school are strong enough for you to continue to expand your career after graduation.
In addition, as the needs of society are getting more innovative, quality programs need to provide students with practical, technological and innovative knowledge, as well as opportunities to strengthen their leadership, self-management, time-management, and teamwork skills.
While looking for schools to apply for master's study, I created an Excel sheet with a long list of schools I was targeting and filled the columns with information about these schools (such as tuition, application requirements, experts, or benefits) that I gathered online.
I also visited the school myself when possible, listened to a few lessons or contacted the lecturers of that school to make sure that this was the right environment for me. I named that file "The Me Project" because that was the first time I applied the researching skills that I had acquired to make a project for myself and my own future.
While studying
You need to make an effort to get yourself out of your comfort zone in order to grow.
You can start by taking advantage of the opportunities available from the school (such as job fairs, alumni networking programs, touring and researching opportunities on real-life corporate-business models). At the same time, challenge yourself with different positions while studying, in group work, internship, or collaboration. This is how you make the process of studying master's worthwhile for yourself.
When studying for a master's degree, because of the huge pressure with time and finances, I had to study and work as much as possible at the same time.
There were stressful times that made me feel that life was unfair. Why did I have to go to school and work at the same time while other students had conditions to extend their study time? Why did they not have to go to work, just needed to focus on going to class and then turning in their homework?
But later on, it was the experiences gained through the part-time job that helped me thrive and became a firm springboard for my career opportunities in the future — something I never expected.
Final words
Looking back at the time I studied for a master's degree, I realize that the most valuable thing left for me is not the academic knowledge in the lecture hall, nor the degree hanging on the wall, but the priceless experiences I gained during that journey.
There is a saying: "The journey is more important than the destination." This is absolutely true of studying for a master's degree. And the good news is that we are completely in control of our journey.
The MBA program at RMIT University helps students hone their expertise in business and management, expand their professional networks, gain international experience, and become potential leaders.

The October semester is open for enrollment with many scholarships worth 25-50% of the entire program's tuition fees, as well as opportunities to experience attractive subjects or sub-majors, catching up with market needs, highly practical ways of teaching and learning, which are convenient for busy working people.

Please find out more about scholarship opportunities and apply here today.
Adapted by Thao Van