Since 2010, Barbie Kuehne has gained a reputation for making some of the best sweets in Vietnam. Sweet + Sour, an inspired brand that mixes the best of an international and Vietnamese upbringing, started in her family's kitchen where it began selling its first batch of cupcakes. Ten years ago, nobody knew what cupcakes were in Vietnam. From selling just three cupcakes, to 30, then hundreds a day, Sweet + Sour jump started the growing demand for Western sweets in Vietnam. Today, Barbie and her team are making some of the sweetest cupcakes from their flagship store in Saigon's Thao Dien neighborhood.
We stop by her team's shop to learn how Sweet + Sour got its start almost a decade ago and how it's been able to weather the storm of trends and newcomers to Saigon's food and beverage scene.
Who's your everyday customer at Sweet + Sour?
Our everyday customers are the one year olds, five years olds, the teenagers, the moms, dads, grandparents, the husbands, the wives, the boyfriend, the girlfriend, the best friend, the colleagues, the bosses. We literally have something for everyone. We feel blessed that we are able to create something very special for the local community as well as our global community here in Vietnam.
How do you come up with your recipes?
My recipes stem from cakes that I grew up on. The Southern red velvet, black and white cake with vanilla buttercream, Lemon Loaf, Choco Coco cake, Pink Lemonade, S'mores. These are all cakes that I have memories from my childhood. It wasn't always easy to find the ingredients I needed here to create exactly what I wanted. But over the years I've been able to source from the local markets and use at all times the freshest ingredients. Growing up I spent a lot of my summers in the south of France, and so I also bring in the French side of my roots to Sweet + Sour. My mother is French Vietnamese and my father is American and so it only seems right to melt those three cultures together at Sweet + Sour.
Tell us about the concept behind a recent new creation.
My favorite creation so far, which takes tradition and merges it together with a Sweet + Sour flair, is our mooncakes. I wanted to create something that would appeal to locals and foreigners alike so I created mooncakes that look traditional but are filled with our cake flavors and incorporate local ingredients. We have four flavors in the traditional style mooncake in two different versions. Traditional baked and snowskin with a red velvet cake and a lotus seed center, a green tea cake with coconut , lemon cake with lemon curd filling, and dark chocolate cake. I kept the history of the mooncake, but tried to incorporate a new taste with a whimsical feel that was different than the traditional local mooncakes. We named our mooncakes Ruby, Jade, Luna and Eclipse.
What else are you working on right now?
Right now we are working on Precious Cookies by Sweet + Sour. Besides our cakes and cupcakes, we make a lot of cookies. We have created a concept of themed cookies which are packed in a matching box. They make an ideal gift or present to give locally or travel globally. For instance, we have boxes that represent baby showers, birthdays, fathers day, mothers day, teachers day, International Women's Day. The possibilities are endless. Everything can be personalized for all age groups. We also have more bespoke cookies that we are selling by the kilo, half-kilo and grams. These are just basic homemade cookies. Chocolate chip, Oatmeal raisin, ginger snaps, oreo, red velvet, and sprinkles. We have 15 different flavors and all have been in some part of my childhood memory. They are fun to pick up on the go and bring home to the kids or grab as a hostess gift. It's all very precious and magical to me, this whole cookie concept.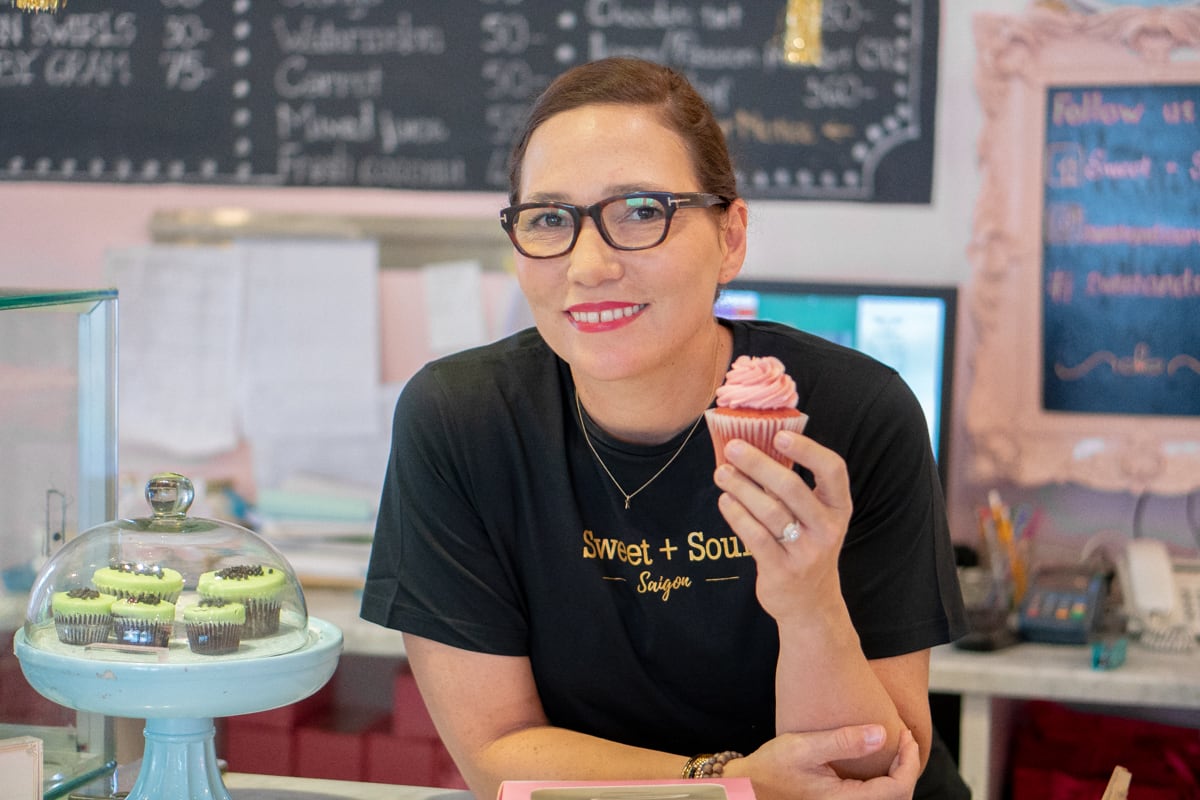 What's your bestseller?
Our best seller is the Red Velvet cake. It took me a very long time of trial and error here in Vietnam to create the perfect red velvet cake consistency. Red Velvet cake was born in the Southern United States and so if you didn't grow up on it, baking it is a challenge. It comes with a very secret ingredient which is the key to keeping it moist and flaky. I am quite proud of this little cake that I managed to perfect here in Vietnam so far away from home. I went through a lot of ups and downs with this best seller before it was finally perfect.
We're convinced, so tell us where can we buy some?
All of our cakes, cookies and cupcakes as well as a magical supply of gifts and party decorations are available exclusively at our Flagship store in Thao Dien, District 2.
And because, we have to ask. What keeps you here in Vietnam?
I have always had a close connection with Vietnam because its where my mother was born and grew up. I have a lot of family history here from my parents and grandparents. 21 years ago I made the decision to move here and now its where I have started my roots with my husband and my children. We love it here. Our life, our family,and our friends. The Vietnamese culture is so unique and special. I am very lucky that I have the opportunity to travel with my children all over the world, but Vietnam is where they call home.
Related Content:
[Article] How Craft Beer Inspired Three Brew House Desserts
[Article] Quan Ut Ut Reveal The Secrets Behind 4 Of Their Burgers