With the trials and tribulations of 2020 finally behind us, everyone has high hopes for 2021 – the Year of the Buffalo. And our resolutions and wishes are beginning to revolve around good health and good fortune.
Many people believe that buffalos, heavy and slow, belong to a bygone era. But for many Vietnamese, the buffalo is closely tied to their national identity: a gentle, hard-working creature that symbolizes bumper harvest, happiness, strength, and the martial spirit of the Vietnamese people.
It's this message of hope – that this year we will reap the fruits of our hard work and past sacrifices – that the release of Sông Cái Distillery's golden buffalo-themed New Year 2021 gift box is transmitting.
Along with new year wishes, what kind of gifts should we give?
Even though the custom of giving gifts for Tet is not as wide-spread as it used to be, we still find solace in the act of gift-giving: a token of appreciation and affection. What is considered a proper Tet gift?
Spring plants: plum, peach, yellow chrysanthemum, kumquat, bamboo... these are the trees and flowers that bloom at the beginning of the year. From their names to their legacy and auspicious shape, these seasonal plants symbolize prosperity, good fortune, good health, and unity.
Red couplets and folk paintings: pairs of couplets written on red paper express a wish of good tidings. Giving folk paintings is equivalent to wishing the homeowner a year of good fortune, a fulfilling life, and that everything will happen as planned.
Spirits: our ancestors gave each other jars of the best spirits during the Tet holiday because they thought it contained the quintessence of heaven and earth.
Candied dry fruits, pastries, and rice: children can give their parents and grandparents rice to wish them a healthy and prosperous year ahead. For example, Bánh Chưng, a traditional Tet cake made with sticky rice and green beans, can be used in ancestral worship and to ask for a fulfilling and prosperous new year.
Red-toned objects: scarlet red and red are widely used in Tet paintings, lucky money envelopes and Tet decorations to promote prosperity and happiness.
Sông Cái's gift box honors the significance of the Buffalo, Hàng Trống paintings, and the Hồng Điều color
Sông Cái Distillery was created with the mission to uphold cultural values ​​and share meaningful stories. It's in this spirit of rich symbolism that their release of the Golden Buffalo New Year gift box was encoded with wishes for a prosperous new year.
Start with the lid of the gift box. Printed on Dó paper, a traditional Vietnamese craft paper made from the bark of the Dó tree known for its strength and durability, the packaging itself is a work of art that the recipient will surely want to keep.
From cutting the plant and steaming the bark to separate the fibers to sun-drying it, the paper-making process is extremely meticulous. Thanks to its durability and inherent insect repellent properties, Dó paper can last for hundreds of years.
When deciding on the theme of this year's artwork, instead of the signature indigo, Sông Cái Distillery's craftsmen used scarlet pink (Hồng Điều) and features inspired by traditional folk paintings of "Canh Nông Vi Bản" (Agriculture is the Bedrock of Society) to honor rice farming and Hàng Trống paintings – the picture seen on the lid of the box.
This particular shade of pink has been known since ancient times. Back in the day, Vietnamese people used to make it from "Đất Son" – a red pigment similar to clay. Because it was ubiquitous (unlike bright red), it became one of the five main colors in the Hàng Trống painting style.
The symbolism of the buffalo is explained in a popular Vietnamese saying "Con trâu là đầu cơ nghiệp — the buffalo is essential to starting one's legacy". Treated by many like a family member, the animal helped many generations to put food on the table and has been associated with agricultural gains, economic development, and the well-being of the Vietnamese people.
The flowing silk cloth is also rich in symbolism: it represents the Mother River flowing through the different regions of Vietnam. It expresses the spirit of unity, generosity, and prosperity from the highlands to the lowlands.
Vietnam's national flower, the lotus, is also present and embodies purity, optimism, and national pride.
The gift box comes with lucky money envelopes, bamboo cocktail stirrers, and Bát Tràng ceramic jigger cups
If the lid of the box features a pleasing arrangement of traditional motifs inspired from Hàng Trống Painting style and the Hồng Điều color on Dó paper, then the precious items carefully selected to complement Sông Cái's premium gin inside represent the soul of the nation.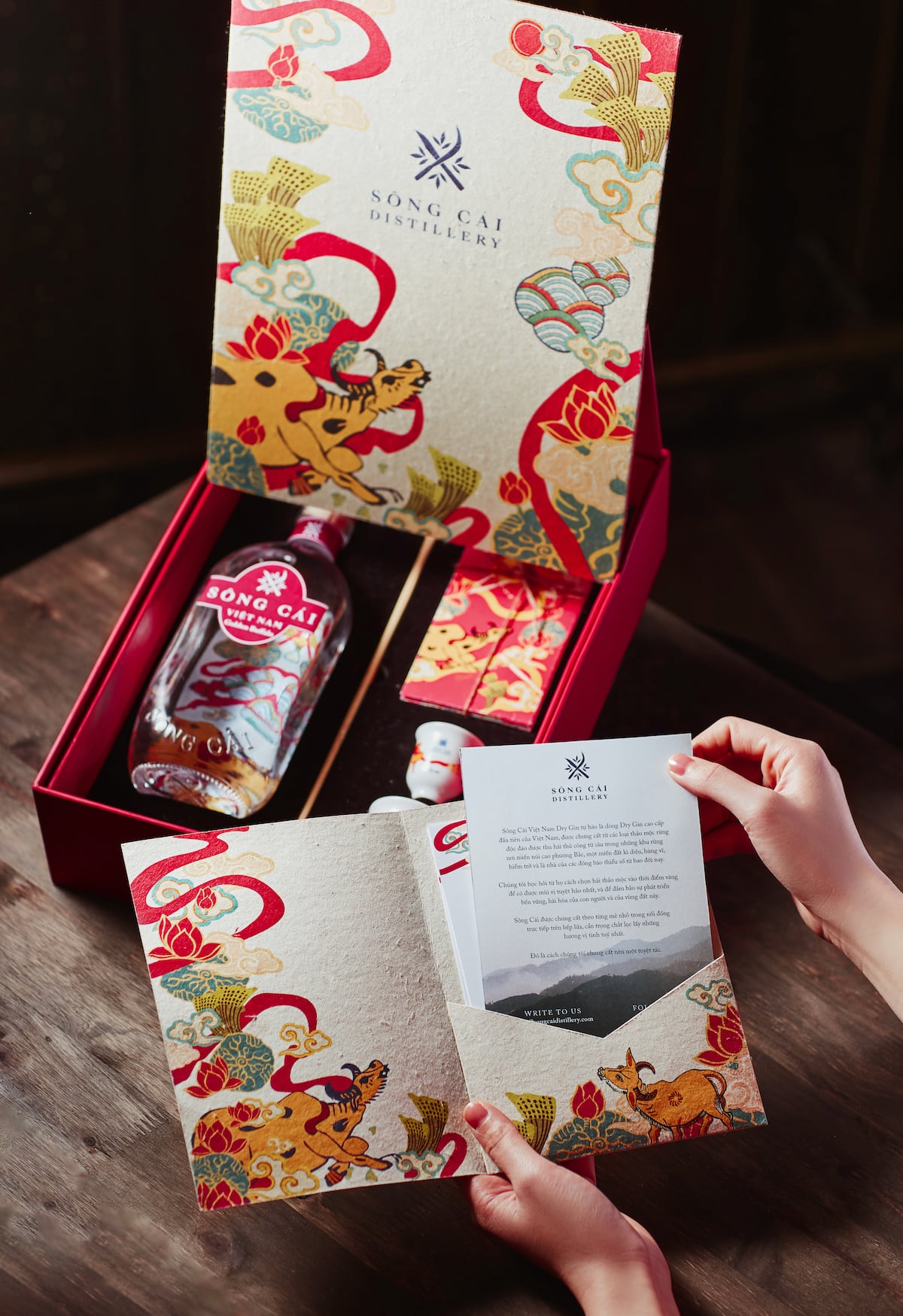 A pair of nesting ceramic jigger cups handcrafted by local artists from Bát Tràng – a village that dates back more than 500 years – is a nod to the times when Bát Tràng ceramic objects were given to foreign diplomats to welcome them to the Imperial court.
The delicate cups are carefully molded, fired, and glazed to carry the rich history of the folk culture with its heart-warming stories and wisdom.
Also included in the gift box is a cocktail stirrer. Instead of using modern materials like stainless steel, Sông Cái stirring rod is made of bamboo. Bamboo holds a sacred place in Vietnamese culture. When prompted, any Vietnamese child will happily recite this nursery rhyme dedicated to the ubiquitous plant:
"Tre xanh,
Xanh tự bao giờ?
Chuyện ngày xưa... đã có bờ tre xanh.
Thân gầy guộc, lá mong manh,
Mà sao nên luỹ nên thành tre ơi?
Ở đâu tre cũng xanh tươi,
Cho dù đất sỏi đất vôi bạc màu. [...]"
Sông Cái Dry Gin - The essence of Northwestern mountains and forests to wish you a prosperous new year
Living as they did among forests and rivers, our ancestors knew well how to find and enjoy gifts from Mother Nature. They didn't feel the need to turn nature's bounty into fancy objects; instead, they consumed what they found as spices, medicine or tea. Nothing was wasted and everything had a purpose.
Such loving attitude to nature and respect towards traditions passed down from the previous generations are the foundation of Sông Cái Distillery's brand. When working on the recipe of Vietnam's first craft gin, the team gave priority to the local botanicals.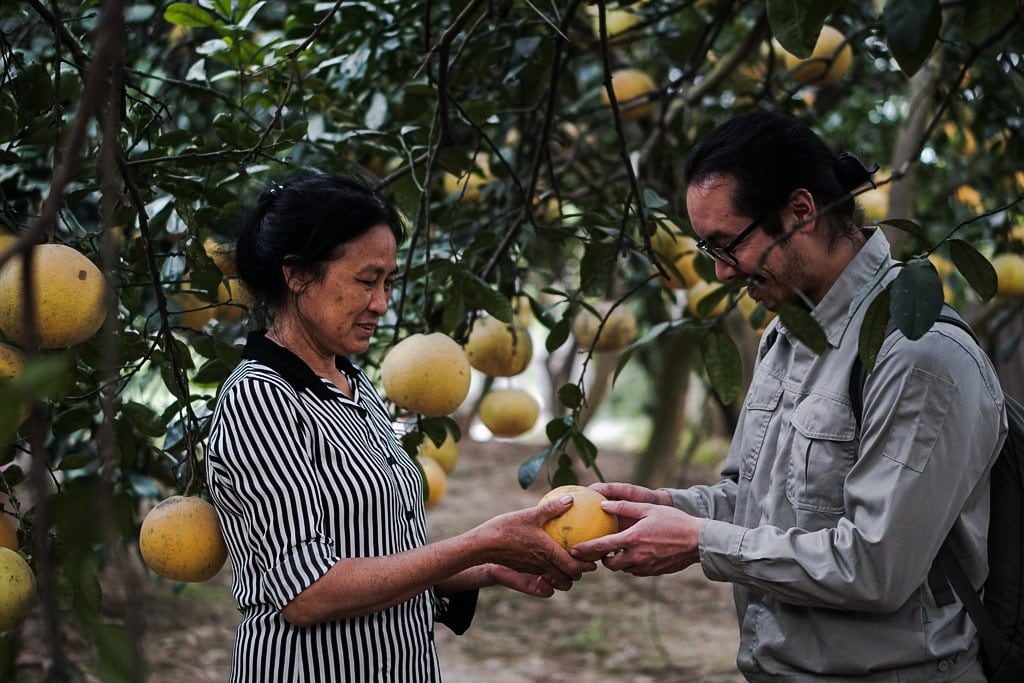 These indigenous ingredients such as Licorice, Turmeric, Mắc Khén, Mắc Mật, and Mountain Pepper are manually harvested only when in season to ensure the herbs and spices are in their prime and at their most aromatic.
To retain the authenticity of flavors, Sông Cái's gin makers distill over direct-fire copper pot stills – a long-standing distillation method popular with Vietnam's ethnic groups.
Enjoying gin is a sensory experience. And of the five senses, smell is the most powerful. For that reason, smelling the gin is an important first step. With Sông Cái, the first notes are familiar, yet mystifying: sweet citrus peel, fresh pine, ripe lychee accompanied by the warmth of earthy spices with a touch of savory roots.
And after smell comes taste. This is where the all-important first impression and nostalgia meet. When sipping Sông Cái Dry Gin, the fresh pine combined with the sweet fruit and mountain licorice bloom sweetly on the palate. Then comes the numbing sensation from the mountain pepper.
Considered as a whole, the experience evokes a walk in the woods where the aromas of warm spices, dried fruits, aromatic roots create an intoxicating harmony of fragrances. This is a drink that needs to be enjoyed at a leisurely pace to unfurl the flavor bit by bit.
Enclosed are four hand-picked recipes for simple gin-based cocktails that are easy to create at home. Enjoy this familiar yet enigmatic gin with your friends and family around the dinner table for a memorable and cozy Tet celebration.
This article is adapted by Angie Tran.