The Clumsies is an all-day bar in the Greek capital of Athens. Currently ranked sixth in the world, their high-concept cocktail menu is changed annually. While their team continue to innovate at home, two of The Clumsies are here to launch a pop-up at the Park Hyatt Saigon. They touched down with a suitcase filled with the syrups and cordials that form the base of the nine cocktails they will serve up. It's drinks like their El Draque, a mojito where the mint comes squeezed as an edible paste onto a toothbrush, that have helped them build their formidable reputation.
When we arrive, Konstantinos Papakonstantinou, The Clumsies' Head Bartender, is sharing the secrets of one of their signature cocktails with the Hyatt team. So, we grab Nikos Bakoulis, The Clumsies' Co-founder and Greek World Class Winner in 2011, to ask why the financial crisis helped Athens to become a global cocktail capital, and how a Vietnamese bar can one day break into the Top 50.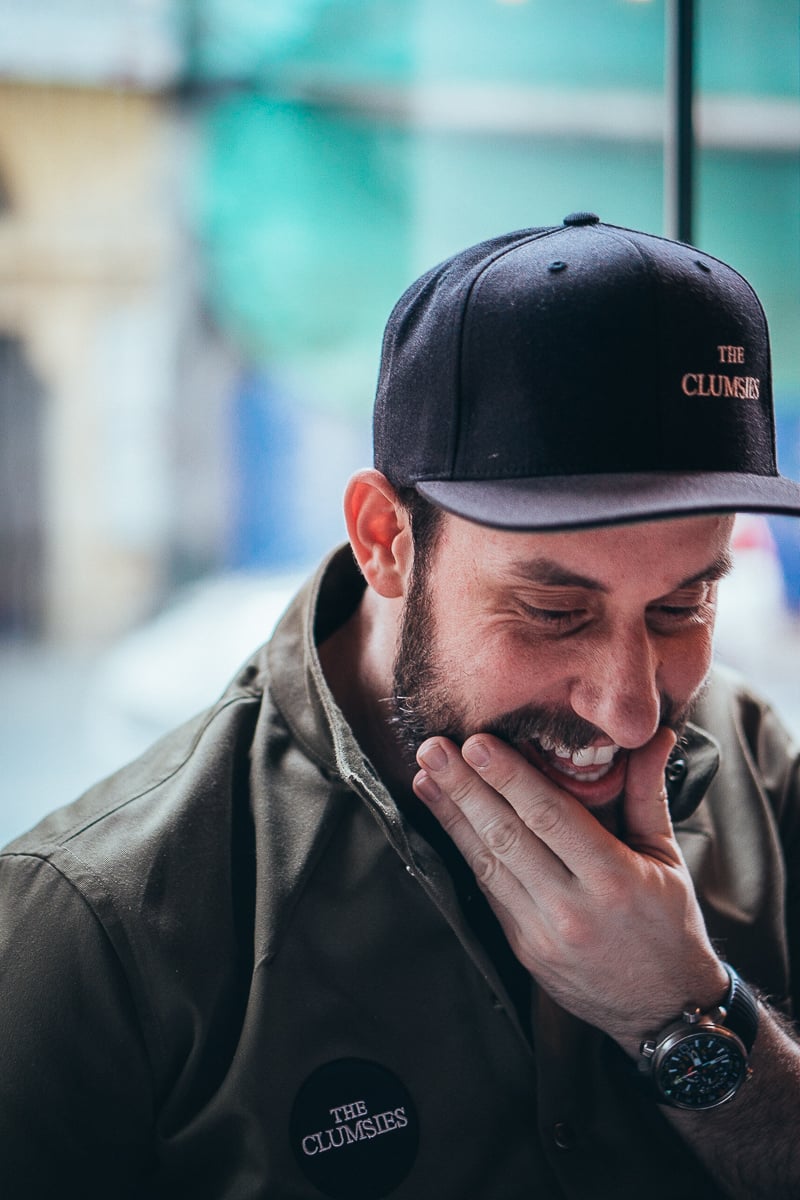 How did The Clumsies get its name?
There are two stories behind the name. The first is that I worked in The Gin Joint in Athens with Vassilis, The Clumsies' other Co-Founder and Greek World Class Winner in 2012. One of our regular customers told us that we were super bartenders…but kind of clumsy.
The second story is that The Clumsies is meant to be human and imperfect. Look, I've already spilled something on my jacket! Running an informal place is part of our concept—the way we dress for example is very casual. This philosophy arose during the time of the financial crisis. We figured if you want to have a drink to forget your problems, you want to feel comfortable while you do it.
What do you do differently to other bars?
Our focus has never been to win awards and competitions—it's been to realize our dream. Before opening, we already had a very clear concept. We asked ourselves why are we doing this? Why are we serving these drinks? That meant the drinks, the venue, the website, the graphic identity, are all aligned. Everything is done for a reason.
The Clumsies is also high volume. Some days we have 350 people in the bar at the same time. Most of the people will be standing—Greek people love to stand in bars. At that scale, we don't have time to individually measure and pour ingredients for each cocktail. We need to be fast and consistent. To achieve that, preparation is the key. Using prepared ingredients poured quickly, my head is also raised most of the time, which means I still have eye contact with the customers so I know when someone wants another drink.
Preparation is a crucial job—and it's a morning job unlike bartending. For us, preparation alone requires 35 to 40 hours per week. Now, we have a specialist dedicated to doing this job for us. He works one day a week behind the bar to maintain his skill set, and the rest of his time is spent preparing upstairs. Each bartender will spend one day a week helping him, which helps deepen their understanding of the drinks we make.
And how intensive is the development phase for the launch of a new menu?
Before we present anything, it will have taken a long journey. Around 85% to 90% of the things we do are failures. It takes six months to build a new menu—each new menu is completely different to the previous one. The process begins every May. Once launched, the menu will last for one year. The experimentation begins down in The Clumsies basement, our fermentation room. Fermentation and preservation are great trends in bars globally now, but they are methods of preparation that go back hundreds of years.
Can you tell us the stories behind some of your cocktails?
With a cocktail like Infinity, the idea was to create bread without bread. So, it contains natural acidity and hazelnut which has a very bread-like flavor. After speaking to coffee experts, we learned that during the roasting process, coffee is normally heated to 210 degrees but at 170 degrees—the temperature at which we take a sample—it smells like bread crust. Often added to bread in Greece are olives. And so in our Infinity, we also place our Greek olive across the top of the glass.
For our Hennessy X.O Perfect Serve, the drink comes with a "Clumsy" chocolate on the side and Vietnamese Terroir Perfume containing smoke and citrus, because we don't adulterate spirits of this quality. As with everything we do, the flavors balance. The chocolate is white ganache which we created with a chocolatier. Outside it has the bitterness of dark chocolate, and inside the sweet ganache is aromatized with bitter extra-virgin olive oil from Greece—a combination of flavors like a Negroni. On the top, we have sea salt from Greece, and sour dehydrated dry-frozen raspberry.
Greece has built a global reputation for bars and gastronomy. How did that come about?
We can pinpoint the change in the identity of Greek bars to 2009. It was then that Thanos Prunarus opened the first "modern" bar, the Baba Au Rum. Before that, bars didn't have much variety. The financial crisis forced the industry to be more creative. Places realized they needed to do something special to differentiate themselves.
The city helps. In Athens, everything is within walking distance. Five or ten minutes away will be twenty bars, ten of which will be done properly. A short stay in Athens will blow your mind—but you had better be ready to get drunk. For us, we need the competition that a city like Athens provides to force us to push ourselves. Now, it's viewed as one of the top four or five cities for bars in the world, and it's a distinguished gastronomic destination. That's partly because Greece is perfectly positioned in the Mediterranean. When I eat a tomato in London, that tomato may have been picked and shipped a week before. In Greece, it will have been picked the same morning. The taste is completely different. So, behind the growth of the Athens bar scene is fresh local ingredients that provide intense flavors. Only 3% of our ingredients are sourced from outside the country.
How can a Vietnamese bar break into the Top 50?
Create your own identity and strive for uniqueness. If I'm a judge or a voter, I will recognize immediately if something has been copied. Be aware of global trends, then disregard them by finding your own way to make and present your cocktails. If I visit Bar Termini in London, I can recognize its identity immediately. If I visit the American Bar in London's Savoy Hotel, it's the same.
Also, in the team you build, combine different characters and personalities. The Clumsies does not have one person running the place. We are a group—everyone has input. We have five partners, including me and Vassilis, each one with a completely different role. Plus we have six bartenders who all have a say in what we do.
What advice would you give to young bartenders here?
Even if you have learned great techniques, you have all the best equipment, and your bar is successful, remain humble, because the second you start to think you know everything is when you lose. Never stop exploring new ideas.
I've worked in the industry for almost half my life. I started at 15 as a waiter in a restaurant. Then for the next two years I worked in another very good restaurant that focused on wine—which was my first passion. Both myself and Vassilis have served our time working our way up in the industry. That apprenticeship, I think, is important. We also spent all our salaries traveling the world visiting bars to discover new things. Then we created our world which is The Clumsies.
If you could work in any bar, at any time, which would you choose?
London and New York are great cities for bars but I have already worked in my favorite one in the world as a guest. It's in Munich and it's called Schumann's Bar. First, the place is run by a Greek guy, Kostas. He's worked at Schumann's for close to twenty years now. And the Founder, Charles Schumann, is now 78 years old but despite that, he has never stopped working behind the bar doing 12-hour shifts. I imagine myself in my 70s being just like him. If I left The Clumsies, I would immediately go and work with those guys. Then of course there is the American Bar at the Savoy Hotel which is often recognized as the world's best bar. I would choose to work there back in the day—probably in the 1930s.
Can you give us a one-day Athens itinerary?
You should wake up and walk to the old historic center near the Acropolis. There you should have a coffee at The Underdog, a multi-award winning coffee shop. Then wander around the Acropolis Museum. After that, go for lunch at Warehouse. They have a 300 or 400 bottle wine list with around 70 served by the glass—many of which are Greek wines. Then you should probably take a rest. When you're refreshed come and see us at The Clumsies, and later go to Baba Au Rum as well.