Since 2019, premium office space in Ho Chi Minh City, along with major international cities in the region including Hanoi, Tokyo, Hong Kong, and Shanghai, have been in critically short supply, while demand continues to grow at a breakneck pace
The Hallmark is part of the 7.6-hectare Metropole development project in Thu Thiem New Urban Area, Tran Bach Dang Street, An Phu Ward, Thu Duc City.
The tower sits conveniently at Thu Thiem's doorway, directly across from District 1 via Thu Thiem 2 Bridge.
Thu Thiem New Urban Area is Vietnam's new central business district of the future and is connected to the old center in District 1 via multiple boulevards, Metro Line No.1, Thu Thiem bridges, and tunnels.
This linkage offers opportunities for the establishment of schools, international hospitals, parks, art centers, museums, sports areas, marinas, and other amenities in the area, bringing the Thu Thiem peninsula closer to becoming the epicenter of new development.
Located within a 5-minute walk of Central Plaza Park, the conference center, and the peninsula's futuristic symphony theater, The Hallmark provides easy access to important areas in the future.
Tenants will enjoy sweeping panoramic views of the city, as well as nearby mass transit systems, lush, green parks, and cultural spaces.
With twenty-six floors of office space and four floors of commercial space, The Hallmark provides a modern working environment that not only meets but exceeds international Grade A+ office standards with high-end amenities, cutting-edge technology, and unparalleled service.
With a total floor space of 68,000-sqm, The Hallmark's floor plates range from 1,600 to 2,300-sqm, giving flexibility to tenants, whether small startups or multinational corporations.
Each floor has a 2.75-meter-high ceiling, a 100-mm raised floor, and a column-free design that allows for maximum natural light.
The entire exterior is covered in high-end SYP glass cladding with two layers of 30mm insulation, sound insulation, and UV protection. Interior amenities include hospital-grade HEPA air ventilation and filtration systems, working in conjunction with the latest in passive cooling systems to deliver clean, sanitized air and comfortable temperature ranges, all while reducing energy wastage.
The Hallmark is undergoing Singapore's Green Mark certification.
The Hallmark prioritizes health and lifestyle experiences with several relaxing spaces for tenant enjoyment.
The 5th-floor podium's lush gardens provide a lively outdoor space with panoramic views of District 1 and the Saigon River.
Standing tall along HCMC's skyline, The Hallmark utilizes 20 Schindler high-speed elevators equipped with the latest AI-driven load balancing technology to minimize waiting times.
Sixteen elevators serve the lower (1-16) and upper (17-29) floors. Three elevators facilitate transit between the basement floors and the ground floor. A final service elevator aims to minimize workplace disruptions while providing large cargo access to the entire building.
Three basement floors have been allocated for parking. Electric vehicle charging stations are integrated into each garage floor. Drivers can take advantage of the bike room, a driver's lounge, and bathrooms with a washroom.
Each office floor's restrooms are outfitted with the latest advancements in sanitation technology. VIP restrooms are also conveniently located on each floor.
In addition to high-quality facilities, the building will be managed by a state-of-the-art building management system (BMS) that meets international standards for security and streamlines operation. These features include touchless entry, seamless visitor management, tailored card access and buttonless elevators.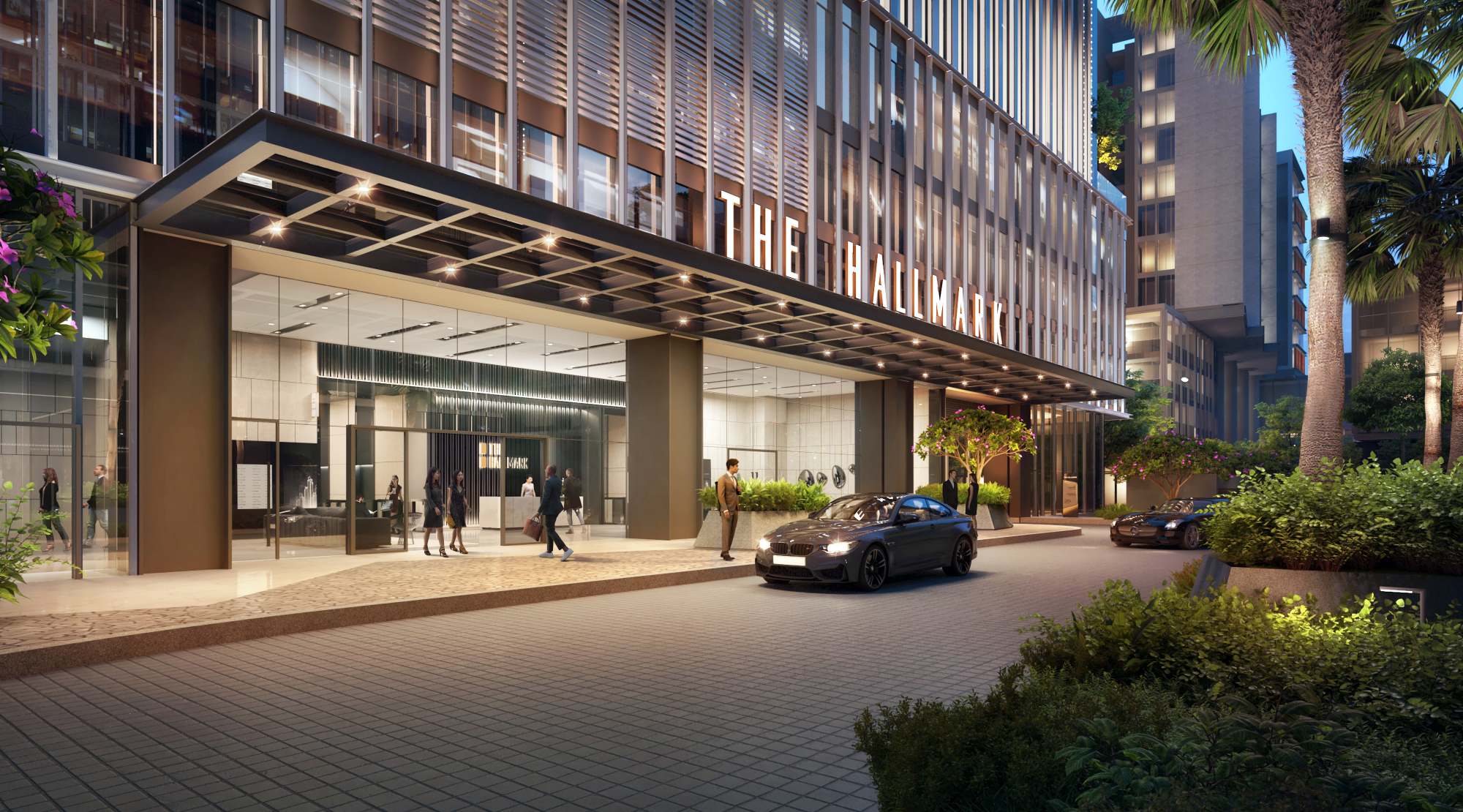 "The Hallmark proudly aims to raise the bar for tenant experience. We are excited to deliver the first Grade A+ building, in the city's most advanced business district in the most vibrant city of Vietnam," said Karl Truong, Director of Business Development.
The inauguration of Thu Thiem 2 Bridge has brought new opportunities for the Thu Thiem area. The building's 11th floor is currently under construction with topping out expected to be completed in Q3 2022. The Hallmark expects to welcome its tenants in early 2023.
Real estate experts are looking forward to the arrival of The Hallmark. According to Troy Griffiths, Deputy General Director of Savills Vietnam, The Hallmark holds immense potential and promise within the HCMC office market space.