It's Sunday morning in Saigon and the city is just waking up. Construction workers are slurping steaming bowls of pho, vendors are preparing their market stalls, and the photographers of the Southern Photo Club are strolling down twisting alleyways deep in the heart of Saigon.
The Southern Photo Club brings together native Saigonese and expats from all over the world who share a common interest - street photography. They meet weekly to explore new neighborhoods of Saigon with cameras in hand to capture the everyday routines of this bustling city. Whether it's finding beauty in the mundane, or catching a perfect fleeting moment, every photo walk is a unique opportunity to see a different corner of this massive metropolis.
Saigon is a city of contrasts - quiet hems open onto chaotic streets gridlocked with motorbikes, ancient buddhist temples sit in the shadows of glass and steel skyscrapers, and street vendors cook over charcoal briquets while clicking away on the latest smartphone. Even the name of the city can't be pinned down. 
It's this captivating contrast that provides a perfect backdrop for photography. However, while most people think of vivid colors when they think of Saigon, it is much more rare to see the city in stark black and white. 
To celebrate its first year, the Southern Photography Club is hosting a black and white photography exhibition called SaigonMono. By removing the color, black and white photography forces the focus to be the composition of the scene and the contrast of light and shadow. SaigonMono will feature the work of 14 photographers from 9 different countries. Though these photographers have walked the same routes every Sunday, each has captured the city in his or her own unique way. Taken across the city's 24 districts, the photos celebrate the daily lives of people from all walks of life who call Saigon home.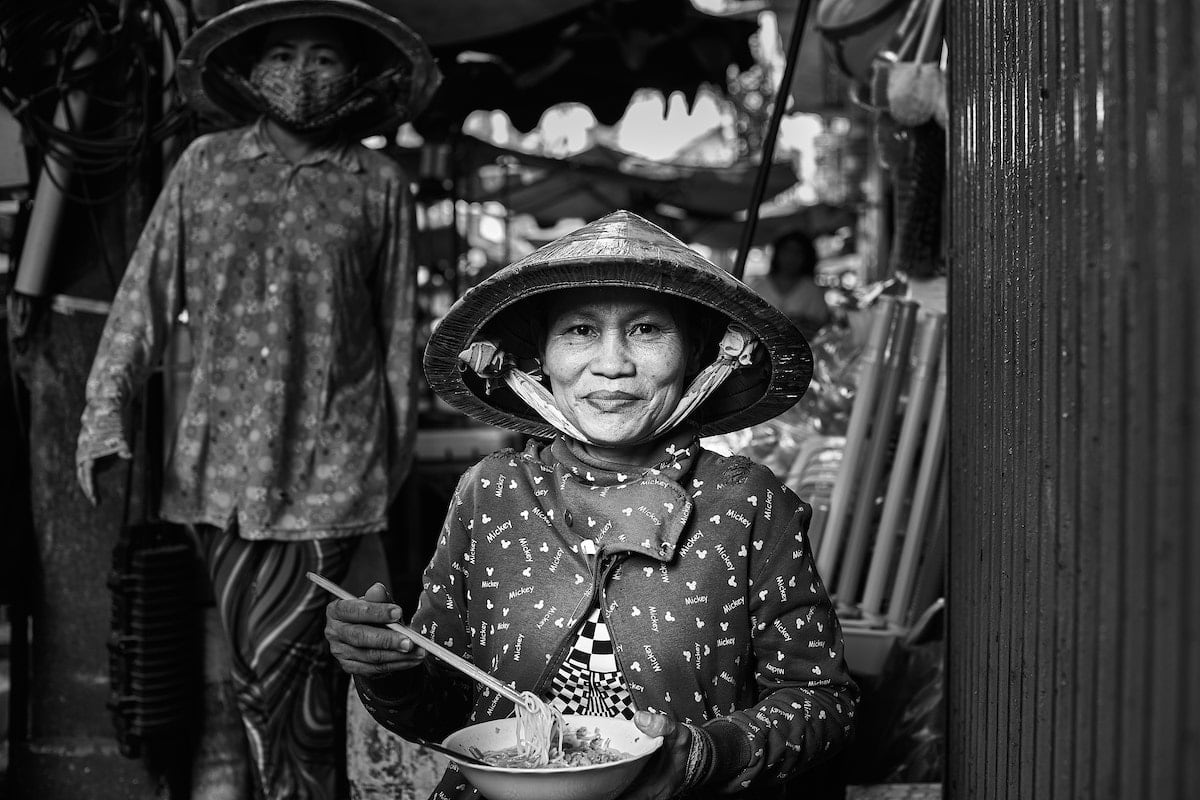 SaigonMono will be on display at BLOQ Lifestyle Retail Park in Thao Dien from November 14th to the 29th. The opening reception is on November 14th at 6pm. This event is free and open to the public. On opening night, attendees will have the opportunity to meet the photographers and learn about what inspired their interest in street photography.
BLOQ is also home to several bars and restaurants, so you can enjoy dinner and drinks during the opening reception.
If you're an aspiring photographer, this is a great opportunity to connect with others who share your passion. Perhaps you'll even be inspired to join the Southern Photo Club for one of their Sunday morning walks through the bustling hems and markets of Saigon. 
"We started the Southern Photo Club as a way to bring together photographers from all nationalities and backgrounds. It was important to us to make street photography, and all forms of photography, approachable for everyone. All of our photo walks are free and open to anyone and everyone who cares to join - even if you just want to bring your cell phone. There is no need to have an expensive camera to take compelling photos."
- Paul Mildner, Co-Founder, Southern Photo Club