As we wrap up yet another year full of stories and insights, we want to thank you for choosing Vietcetera as your source for all-things Vietnam. We hope that you will continue to be with us in the new year as we expand our coverage to bring you more insights, stories, and features.
-Hao Tran, CEO and Editor-In-Chief
Our Ten Most-Read Stories Of 2019
"Conversations about yellow fever, or Asian fetish, a term coined specifically for men who have a special affection towards Asian women, have been around for decades. But only in the United States does there seem to be debated."
With that being said, contributing writer Annie Trieu decides to take on the local Vietnamese perspective surrounding this discussion. Diving into a range of topics: Hollywood's perpetual role, academic research on global power dynamics, opportunists' white fever, this feature explores how Vietnamese women have become fetishized in global media.
In Vietcetera's "first business trends report, we've reached across industries to include advertising and communications, manufacturing, investing, import and export, and real estate. [But] lots of themes crossover with our culture reports—the increasing focus on the environment, cautious optimism for Vietnam's future, and the country more and more becoming the focus of global interest."
To collect such insights, our editorial team has spoken to five experts in each industry: president Giang Nguyen of The Purpose Group; director Paul Norriss of Un-Available Garment Manufacturer; partner Chris Freund at Mekong Capital; managing director Crystal Lam of Vinawood; and board member Sylvia Nguyen Ngoc My of Alphanam Group.
"Of course, the nature of acting and business are completely different. Every film project has its own pressure and difficulties, but when the movie premieres, I've fulfilled my role. After each project, I returned to zero, and had time to rest before starting new projects. But business is different; it's like a never-ending project. When starting a business, it took me time to adjust to this."
In one of Vietcetera's most popular stories among the 'A Working Woman' series, veteran actress Tang Thanh Ha explains her transition from film into business, how family life has affected The Crab Shack's model, as well as the lessons she has learned within the F&B industry at large.
"For 2019, [our team at Vietcetera] expanded our reach to include seven experts in film, music, travel, branding, and the creative industries to lend us their insights into what really happened in 2018, and what we can expect in the year ahead."
Film director Charlie Nguyen has high hopes for the expansion of locally produced films and local theaters, although comedies are still considered safe investments. Likewise, in fine arts, Acting Independent Art Space director Tra Nguyen speaks on similar growth of young, ambitious local exhibitions and experiments in re-imagining Vietnamese heritage. Fashion designer Tom Trandt also chimes in on the rise of made-in-Vietnam streetwear and the bold evolution of homegrown labels. Writer and researcher Ly Truong, creative agency co-founder Alan Cerutti, travel blogger Ly Thanh Co, and artist Kumkum Fernando also share their intake. Overall, the common thread among the seven cultural experts is: there is great growth in the local sector as well as support in taking risks and building up the local identity.
"Teeming with options for global cuisine, Ho Chi Minh City may well have the best food and drink scene in Vietnam. But its brunch scene is only beginning to take shape, with young Vietnamese diners looking for new experiences beyond just cuisine type. While these brunch spots are spread all across town, the heart of the city's brunch scene is still mostly found in District 1, where young urbanites continue to innovate with new concepts."
From southern France breakfast to fusion new-American brunch, this editorial explores five different locations of cafes and restaurants. You could enjoy building your own breakfast amidst the sun-kissed interiors or Cafe Marcel, or get your fix of new-wave com tam and kombucha at Godmother Bake & Brunch. If you prefer people-watching as a side dish, Haan Saigon – Drink & Eatery on Nguyen Hue walking street is the place to be. For those that prefer a getaway from downtown to enjoy their eggs and mimosas, the Vintage Emporium and its District 2 poolside estate allows you to as if escape to Palm Springs. Last but not least, for the classic, hearty toasty experience, L'Usine's bite-size brunch board offers a bit of everything for you to spend your Sundays coming back for more.
"Tattooing is undeniably a traditionally male-dominated profession. Ink has always been a symbol of manhood and masculinity. And until recently, lists of the best tattooists were often almost exclusively male. There have been exceptions, like Kat Von D, the artist and entrepreneur who featured on the show LA Ink that premiered back in 2007. And I-D Magazine recently highlighted female artists breaking into the industry—while reminding us that only one in six tattooists in the industry is female."
Considering that Vietnam's tattoo industry is even more up and coming than that of the west, female Vietnamese artists and studio owners also have a higher ladder to climb here. But that's precisely why these five featured tattooists of this editorial are so impressive and worth mentioning.
"'Goodbye Mother' is a recently released Vietnamese film that spotlights love in the Vietnamese LGBTQ+ community. Set in the beautiful Mekong Delta, the movie tells the journey of Van and his partner Ian in seeking acceptance of their relationship from their family members…Unlike other Vietnamese LGBTQ+ films that are often times a tragic love story, 'Goodbye Mother' exudes authenticity in its love story, and normalizes a same-sex relationship."
Lanh Thanh, who plays the main character Van in the film, speaks more on both the progress and the struggles of the Vietnamese LGBTQ+ community in this editorial. The emotional commitment and research required for the role has allowed the actor to also become more aware of the gap between generations, Vietnamese binary expectations, and how said things have prompted him to advocate safe spaces and systems of support for the community.
"One minute we were bemoaning the lack of eating and drinking options compared to regional capitals like Hong Kong, Singapore, and even Bangkok; then the next minute the scene blew up. It felt like there were speakeasies everywhere, and international-standard restaurants redefining what Vietnamese cuisine could be. Plus there were some brands that had carefully been building momentum for a few years, and a few classics that still refused to bow to trends or changing times."
With that being said, it was difficult to decide which were better than each other when the options were all so good. But after careful consideration, the team at Vietcetera has come together with twenty industry experts to vote and hand-pick the best restaurants, bars and brands among eight sub-categories for 2018.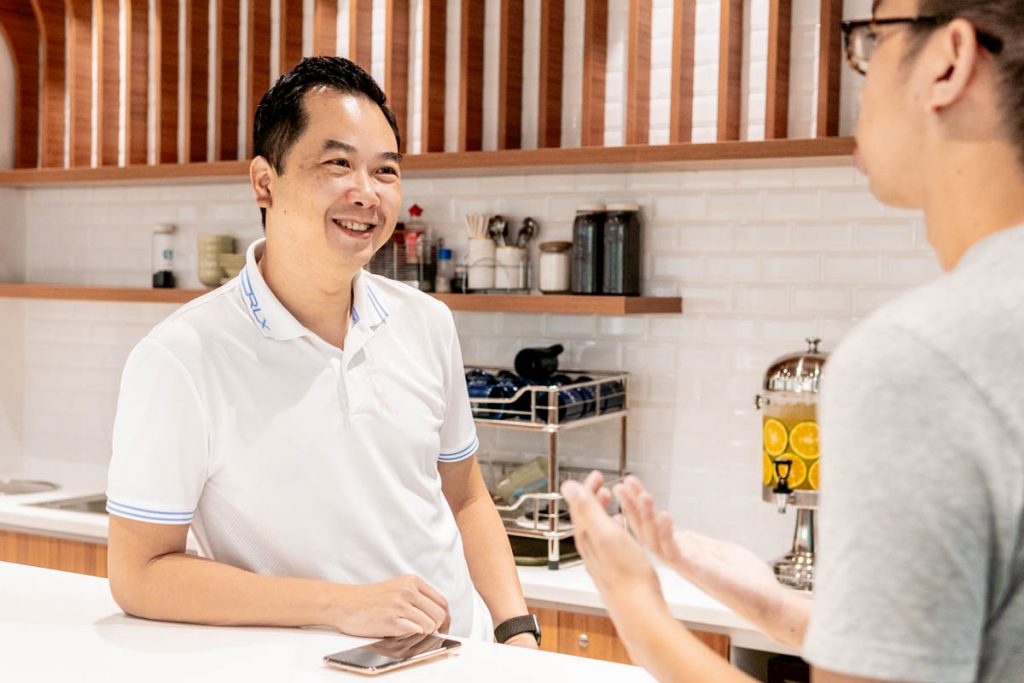 "Real estate is one of the least technology disrupted industries in the world, not just in Southeast Asia. This has started to change and a new chapter is coming. In the US, REIT (Real Estate Investment Trust) is a trillion dollar industry, yet in Southeast Asia, there is almost no REIT with the exception of Singapore. Retail investors have very limited ways to access real estate investments."
James Vuong further discusses other problems of access, risk reduction, and efficiency that RealStake is trying to tackle, namely the lack of transparency, unreliable data, bad actors, etc. Solving these would not only allow more average Joes (or HENRYs, in James' terms) to be able to invest in real estate but also to help the industry grow at large. With the help of technology and softwares, the solutions that RealStake offers are transforming Vietnam all the more too.
"People in Vietnam still love casual footwear such as Converse, Vans. There aren't enough local brands in this segment. That's why I decided to develop this particular line. We're new in the market. I thought that if we wanted to create a strong, consistent brand image, we should present ourselves with just a single design. Since we don't have a lot of models, we can focus our resources into making that one version more complete."
Huynh Quang Ngoc Han, co-founder of MOT, delves into the philosophy behind the brand's slogan – "one pair, all day" – as we learn of its original backstory in pioneering modern Vietnamese footwear. From researching the industry and manufacturing to developing the design, Vietcetera explores how such unique philosophy not only impacts MOT's identity but also its business strategy.
Related Content:
[Article] Vietcetera: Our Nine Most Popular Stories Of 2018
[Article] The Twelve Most Popular Vietcetera Stories of 2017