We're all aware that drinking on an empty stomach can hasten inebriation and cause gastrointestinal discomfort. To fully savor your cocktail experience, a satisfied stomach is crucial. So, imagine a cocktail bar that not only offers delectable drinks but also serves scrumptious food to complement them.
Listed below are such establishments that provide the perfect blend of tasty drinks and satisfying meals.
3PIAS Clubhouse
The name 3PIAS refers to 3 Piastres (in French), a currency unit that was in circulation in Vietnam from 1885 to 1954. Tucked away in the heart of Hanoi's old quarter, 3PIAS, also endearingly known as the "Three Piastres Clubhouse," is the brainchild of the team that brought you the renowned Hanoi bar, The Haflington. The ambiance at 3PIAS harkens back to an old merchant's clubhouse, offering a distinctive twist in the cocktail bar scene.
When it comes to beverages, 3PIAS makes a name for itself by forgoing classic cocktails in favor of surprising its guests with a range of artfully crafted drinks such as the Flower-Tini, Mango-Quiri, Afternoon Tea Sour, and more. All cocktails are thoughtfully curated to highlight the unique flavors of local ingredients while encapsulating the refined palate of Hanoians.
Additionally, should you need a bite to eat, the chefs at 3PIAS stand ready to serve "small bites" or "cold cuts" that are perfect for warding off hunger and accompanying their exceptional cocktails.
Address: 30 Bat Su, Hoan Kiem District, Hanoi
Opening hours: 19:00 - 1:30
Contact: 034585999
419 Bar & Restaurant
419, a hidden bar exuding an Iyakaza-style ambiance, is situated in District 1. Hidden behind an unassuming wardrobe door, 419 encapsulates a miniature Japan, providing a warm, comfortable, and inviting atmosphere akin to a homecoming. The name "419" phonetically resonates with "for one night," encouraging customers to spend an enjoyable and relaxed evening.
At 419, you must try the Signature menu featuring cocktails infused with distinctive Asian flavors; each served alongside a small accompanying dish. One must-try cocktail at 419 is Xôi Xoài, a delightful concoction that blends the scent of ripe mangoes with the alluring aroma of Pandan Syrup and Nếp Mới Vodka. Also, enjoy the 419's Beef and 419's Duck—two potent dishes with uniquely captivating flavors.
In addition to hosting "Lady Night" every Wednesday and offering free tarot readings from 20:00 to 23:00 daily, 419 also boasts a Happy Hour Combo (priced at 248,000 VND) from Monday to Thursday between 17:00 to 20:00. The combo includes seven delectable BBQ skewers and a choice of a Premium Gin Tonic or House Sake, promising a priceless "flavor-catching" experience.
Address: 158/6 Nguyen Cong Tru, Nguyen Thai Binh, District 1, HCMC
Opening hours: 17:00 - 3:00
Contact: 0836419420
Bến - Lakeside Cocktail Bar & Kitchen
Bến - Lakeside Cocktail & Kitchen has embraced an Indochine (French Colonial Indochina) concept. In addition to cocktails and liquors, Bến offers an enticing fusion food menu and a premium view of West Lake. This makes Bến an ideal spot for dates or just chilling with friends. Additionally, Bến hosts live music performances weekly and a matchmaking event ("Rao duyên").
The Vietnamese essence is apparent, from the bar's name to the names of drinks like "Kiếp Đỏ Đen," "Hòn Ngọc Viễn Đông," and "Trà Đá," all made from local ingredients. For instance, the "Kiếp Đỏ Đen" cocktail has a unique blend of tequila's spicy bitterness, watermelon's sweetness, and peppermint's distinct aroma.
If visiting Bến during Vietnam Bar Week from May 21 to June 4, you'll experience live music every Wednesday, the dazzling view of West Lake at dusk, and a special cocktail menu exclusively prepared by Ben.
Address: 3rd and 4th Floor, No. 87 Nguyen Dinh Thi, Tay Ho District, Hanoi
Opening hours:
Cocktail Bar: 15:00 - 1:00
Kitchen: 16:00 - 23:00
Contact: 09790400 54
CLAY - Cocktails & Cuisine
"Clay" symbolizes earthenware, and the entire space reflects this warm earthy tone. Nestled in the heart of Saigon, CLAY offers a tropical garden ambiance, a view of the Saigon River, delicious food, and delightful drinks. It's a favorite dating spot from dusk to late night.
CLAY's cuisine draws inspiration from Asia and dishes are cooked with wood fire using an abundance of local ingredients. Upon arrival, you'll be greeted with a welcoming cocktail, and a set menu prepared by Chef Benoit Leloup. The menu here changes seasonally, with standout dishes including black cod, beef tartare, and lobster salad.
Moreover, don't miss CLAY's signature cocktails, especially the "Touch My Peach" - a perfect blend of Bulleit Bourbon, peach, almond, and vanilla. CLAY also has a Happy Hour from Tuesday to Sunday from 15:00 to 19:00 and from 22:00 until closing time.
Address: No. 18, Street 6, Thao Dien Ward, District 2, HCMC
Opening hours:
Monday - Friday: 15:00 - 00:00
Saturday - Sunday: 11:00 - 00:00
Contact: 0907351010
PURE - Fusion & Bespoke
PURE - Fusion & Bespoke is a unique bar hidden behind a secret door, offering a special atmosphere. Here, traditional elements are blended with modern details to form striking accents.
At PURE, you'll find an eclectic and inventive menu, along with friendly and entertaining bartenders. The bartenders here create drinks tailored to the emotions of their customers, delivering fascinating and priceless experiences. Every weekend, PURE hosts acoustic music nights, providing a relaxed environment for guests to enjoy.
The food at PURE merges Asian and Western influences smoothly. The menu may vary for special occasions. For instance, PURE adds a special dish to their menu on Black Valentine's Day (April 14th): Black noodles accompanied by crispy fried fish.
Address: 2nd Floor, 30 Dang Tat Street, Tan Dinh Ward, District 1, HCMC
Opening hours: 17:00 - 1:00
Contact: 0933371090
Switch - Eatery & Cocktail Bar
Switch is a rooftop cocktail bar offering sweeping views of the Bitexco tower. It's nestled within a high-rise building on Ngo Duc Ke Street. Switch welcomes all those in search of solace or celebration; whether you're feeling lonely, troubled, or joyful, you're sure to find comfort at Switch.
Immerse yourself in the warm and inviting atmosphere at Switch with the rhythm of heartfelt tunes filling the air, sipping the carefully crafted drinks and munching the appetizing bar snacks. Switch also love playing as a matchmaker to help you find your soulmate with the green and red wristbands.
Switch also offers food and drink combos, creating the perfect setting for a wholesome meet-up with friends and loved ones.
Address: 68 Ngo Duc Ke, Ben Nghe Ward, District 1, HCMC
Opening hours: 18:00 - 2:00 am (closed on Monday)
Contact: 0965433232
The Deck Saigon
Once lauded by The Guardian (UK) as one of the world's best spots for unwinding with music and drinks, The Deck Saigon stands as a premier bar in Saigon, treating patrons to a remarkable view, intriguing dishes, and tempting drinks. It offers an idyllic escape from the city's constant noise and activity. The Deck Saigon dishes up Pan-Asian cuisine, a rich medley of flavors from all over Asia, made with fresh ingredients. Its drink selection features a range of classic cocktails.
During Vietnam's Bar Week, The Deck Saigon presents a unique cocktail menu with items like Spicy Cilantro, Yuzu, Tepache, and Forest Hibiscus.
Address: 38 Nguyen U Di, Thao Dien Ward, Thu Duc City, HCMC
Opening hours: 8:00 - 00:00
Contact: 02837446632
Time Bar & Eatery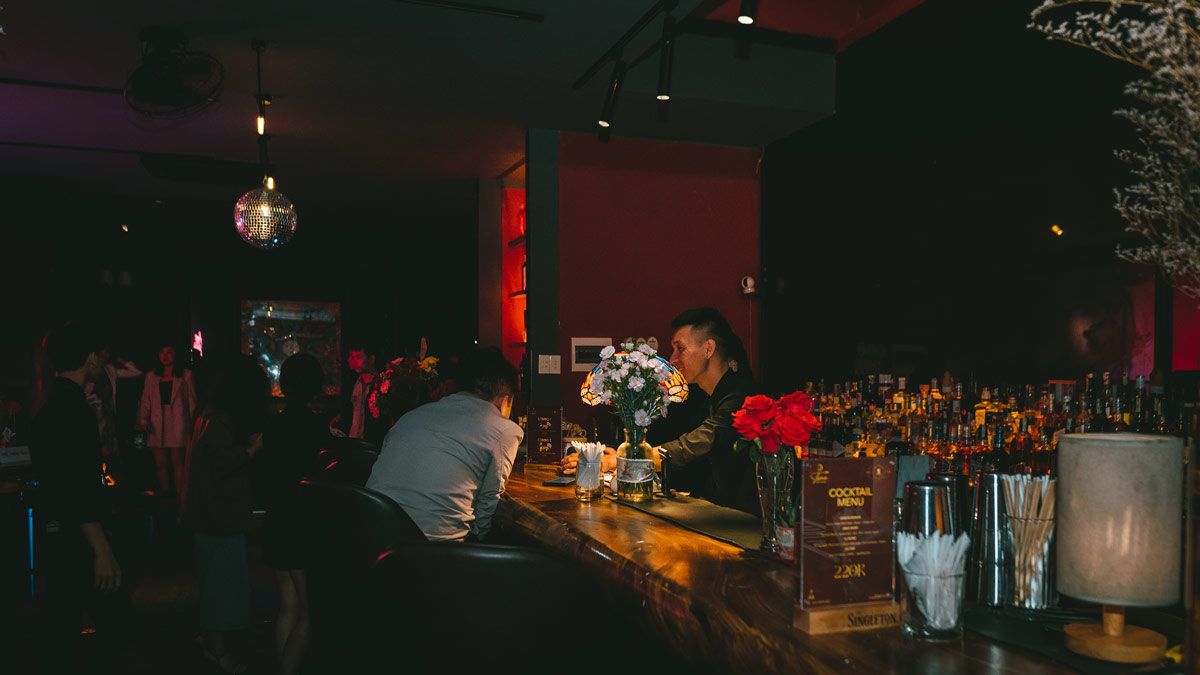 Situated at 195 Tran Phu, one of Da Nang's most picturesque streets, Time exudes a distinctive warmth and familiarity. Besides a selection of wines and cocktails, Time offers a varied dinner menu that artfully blends different culinary traditions. In addition to its combo menus, Time provides individual dishes at reasonable prices, grouped for easy selection.
The bar's warm lighting and cocktails—from classic sweet & sour to exotic umami flavors—complement a relaxed dinner and create an unforgettable gathering with friends. Time's bartenders are not just skilled in mixology but are also attentive listeners to your conversations.
Address: 195 Tran Phu Street, Hai Chau Ward, Da Nang
Opening hours: 18:00 - 2:00
Contact: 09319519 50
Vietnam Restaurant and Bar Week —one of the most anticipated events of local food enthusiasts — returns on its second year, spanning two weeks from May 20 to June 4, 2023, in Hanoi, Ho Chi Minh City, and Danang.

The Sticker Promotion starts at the beginning (20 May 2023) until the end (04 June 2023) of Vietnam Restaurant Week and Vietnam Bar Week 2023. Customers can collect and accumulate stickers and redeem a special gift package published exclusively by Vietcetera.

Special thanks to all sponsors of Flavors Vietnam 2023: Mastercard, Tanqueray, Johnnie Walker, Ly Gia Vien, Andros Asia, Lacàph, Oda , Peroni Nastro Azzurro, Duvel Moortgat, New Zealand Trade & Enterprise, Kamereo Vietnam, Penfolds, San Pellegrino, Acqua Panna, and KPMG.