The relationship between Vietnam and Europe dates back to the colonial era of the 19th century, during which Vietnam was occupied by the French. Since the French colonization of Vietnam, many ethnic Vietnamese have emigrated to France to study and live. Neighborhoods like the 13th, 18th and 19th arrondissements in Paris are notable enclaves for France's Vietnamese immigrants, which now number over 400,000.
Beyond France, large Viet Kieu communities can be found in the United Kingdom, Germany, Poland, and the Czech Republic. While some of these communities can be traced to refugees fleeing the Vietnam War, there have also been subsequent waves of migration in recent years, including migrant and guest workers. Today, there are several notable Vietnamese neighborhoods across Europe's cities, including Shoreditch in London, Sapa in Prague, and Lichtenberg in Berlin — where you can find Vietnamese supermarkets, restaurants, and more. Fun fact: the most common Vietnamese last name, Nguyen, has even become the 9th most popular last name in the Czech Republic.
With Vietnamese immigrants forming an important part of modern European society, Vietnamese food has become increasingly popular across the continent in the last few decades. Several notable Vietnamese restaurants like London's Song Que or Paris' Pho Tai have become essential, longstanding establishments in their cities. And beyond the classics: as more young first and second-generation Vietnamese Europeans come of age, they are bringing more visibility to the cuisine through more modern establishments as well as on social media.
Ready to discover the best Vietnamese food in Europe? From London to Madrid, here are 20 of the best Vietnamese restaurants and cafes — big and small, traditional and modern — worth checking out in Europe.
Belgium
Bun Bar & Restaurant (Antwerp)
The sibling of noodle shop Little Bun, Antwerp's Bun Bar & Restaurant offers a mix of traditional and innovative Vietnamese cuisines. Having received a Bib Gourmand by Michelin, Bun transforms well-loved street foods of Saigon and Hanoi into sophisticated dishes. The restaurant blends Vietnamese flavors with top quality ingredients sourced from Belgium and the Netherlands. There's fine dining a la carte and chef's specials, like the nom rau muong thit lon and bun. Don't miss the homemade rice distillate, known as uou de, which serves as a base for cocktails like the saketini and Qui Nhon mule, is not to be missed.
Le Nénuphar (Brussels)
The word "nenuphar" is a Latin term for waterlily, and this restaurant conveys all the tranquility and elegance of its namesake, from the food to the tastefully appointed interior. Included in Michelin Guide for gastronomic destinations, the restaurant is hidden in an alley in Woluwe-Saint-Lambert in Brussels. Since its opening in 1982, its fine Vietnamese cuisine has become a familiar taste among the large Vietnamese community in the Belgian capital and the locals alike. Le Nénuphar offers a wide array of Vietnamese classics like pho and banh cuon, but its roasted duck in crepe is one of its best-sellers. If you visit, enjoy a chilled Saigon Beer in the garden terrace, amidst lush greenery.
France
Pho Tai (Paris)
Awarded the Michelin Bib Gourmand in 2021, Pho Tai is a standout in the 13th Arrondissement — the largest of Paris' Asian neighborhoods. Customers of this restaurant rave about the flavorful — and generous — servings of Bun Bo Hue and southern-style pho. We recommend ordering a durian milkshake to wash it all down.
Germany
District Mot (Berlin)
District Mot, the colorful, lively eatery with the tiny plastic stools in the Mitte district, had made it to this year's Gault et Millau list for its authentic Vietnamese street cuisine. This is one of the few spots in Germany where you can get Vietnamese food that's not just pho and spring rolls. From the outdoor seating to its chopstick holders and tissue paper containers, District Mot's goal is to take their customers to the lively streets of Vietnam.
Madame Ngo (Berlin)
While Berlin is home to one of the largest Vietnamese communities outside Vietnam, there aren't too many successful modern Vietnamese restaurants in the city. But Vietnamese-French brasserie Madame Ngo is a gem in Berlin's dining scene, a story of food heritage that's unique to its owner, Hanoi-born Duc Ngo. After pioneering a new restaurant that served California-style sushi alongside Vietnamese dishes in 1999 and practically setting the ramen craze in Berlin with his Cocolo Ramen in 2005, Duc built Madame Ngo as a "love expression" to his parents, family and Vietnam. Today, the northern-style pho is at the heart of the menu, understandably so.
Monsieur Vuong (Berlin)
At a young age, Dat Vuong left his hometown Saigon to move to Germany with his parents. Missing the taste of home — the aroma of lemongrass, roasted sesame and traditional Vietnamese street-style food — Vuong opened a tiny Indochina Café in Berlin's historic Scheunenviertel district in 1999. Since then, the restaurant has moved to Alte Schönhauser Strasse and is now called Monsieur Vuong. This laid-back restaurant offers specially selected, elaborate Vietnamese dishes as well as a creamy Vietnamese espresso. Unlike other establishments which tend to stick to the same few dishes, Monsieur Vuong changes their menu twice a week to encourage customers to try new offerings with every visit. They have banquette seating, outdoor tables and a trendy vibe. Apart from dine-in services, Monsieur Vuong also provides catering for small to medium-sized events.
Italy
Vietnamonamour (Milan)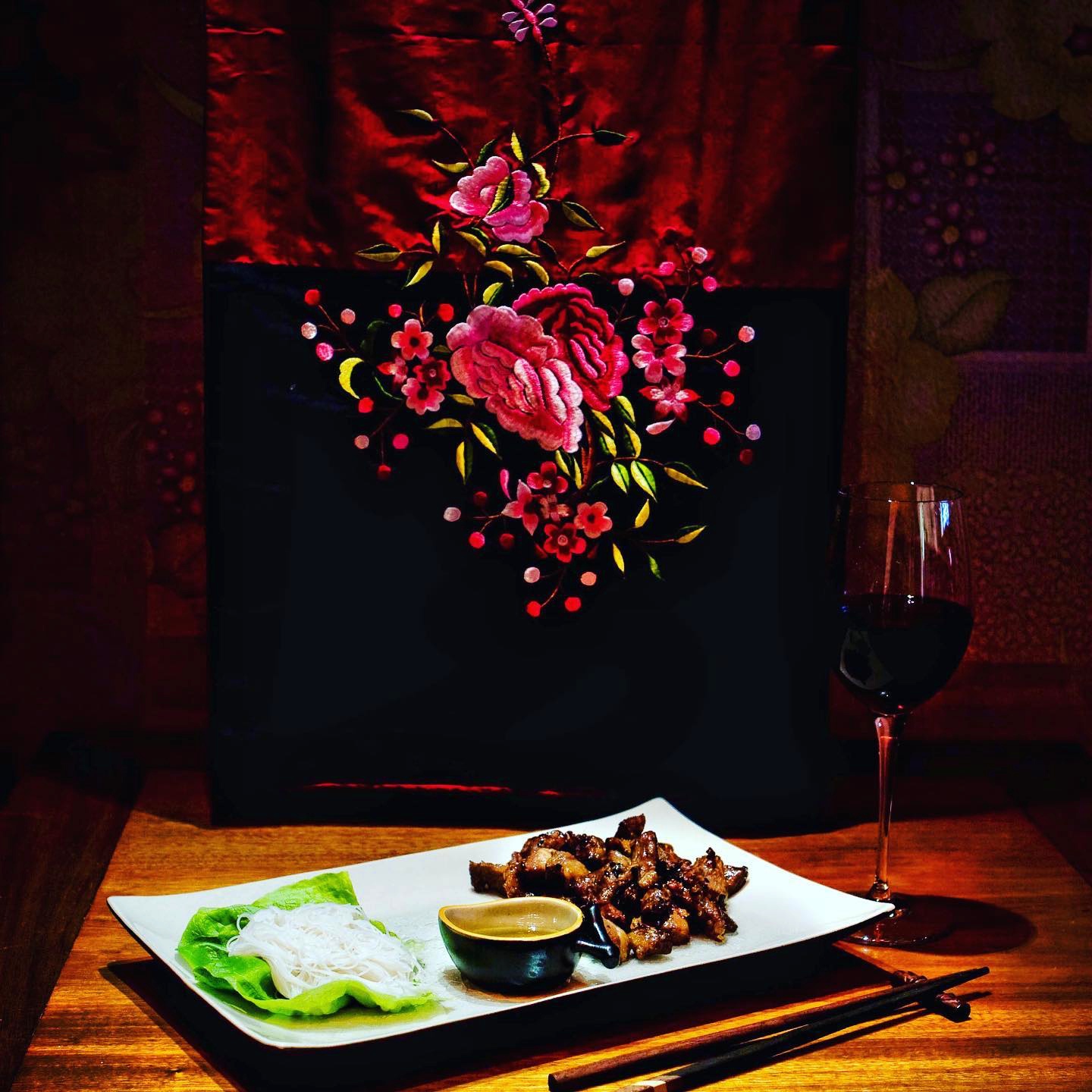 It's no secret that Milan is the most romantic place in Europe, and Vietnamonamour is the most romantic dining venue in the city for fans of Vietnamese cuisine. Situated in a renovated century-old house, the restaurant is complete with a mezzanine and tranquil garden area that offer elegant spaces for romantic dinners. Like the entire house, the parquet is made of bamboo. The second branch in Pestalozza — also a renovated colonial-style house — is as charming and storied. Aside from an a la carte menu, Vietnamonamour offers Earth and Sky menus; the former a three-course selection of meat dishes, and the latter, all vegetarian.
Spain
Distrito 1 (Madrid)
From its yellow wood fence to the striking mural that quickly tells customers the story of Vietnam, Distrito 1 manages to stand out from the rows of restaurants in Calle Delicias in Madrid, Spain. It opened in 2019, offering traditional home cooking to Spanish fans of Vietnamese cuisine. House specialty bao bun cha is a hit among the locals, while the preset menus (appetizer, entree, dessert and drinks) are said to be a pretty good deal at €24.5.
Switzerland
Les Rues de Saigon (Lausanne)
Established in November 2018, Les Rues de Saigon offers a modern and warm setting for lovers of Saigonese cuisine. The menu puts emphasis on the comfort of home-cooking, as it's owned and managed by mother-of-three Chef Cuc. Its best-sellers are the beef or tofu pho and bo bun. But all of its dishes are guaranteed fresh and of top-quality. Beyond the exceptional Vietnamese food, customers enjoy the excellent service — the waitstaff is highly knowledgeable and always ready to explain and recommend dishes.
L'Indochine (Lausanne)
When L'Indochine opened its doors in the city of Lausanne, Switzerland, in 2000, it wanted to focus on serving simple, tasty and authentic dishes found in each region in Vietnam. Now 20 years later, it's made a name for itself as the go-to place for diners who want to discover the cooking methods and food cultures of Vietnam. Besides pho, the restaurant's minced chicken with coriander, rice cakes and vermicelli is a local favorite. Customers can either unwind within the formal setting inside or eat in the colorful, relaxed atmosphere outdoors.
The Netherlands
Deli Tasty (Rotterdam)
Whether it's for a quick brunch, lunch or a hearty dinner, Deli Tasty in Rotterdam, a port city known for world-class dining, is a must-try. The restaurant's interior proudly pays homage to its heritage with its non la-shaped lights on the ceiling to the wooden tables and chairs and the colorful photographs of Vietnamese scenes. The vegetarian-friendly menu features a wide array of Vietnamese classics like banh mi and bun rieu. Loyal customers say that Deli Tasty's price-performance ratio is one of the best in the area.
Hanoi Old Quarter (Amsterdam)
When Feng Doan moved to the Netherlands in 2000, she brought with her the dream of bringing Hanoi's exciting flavors to her new home. And so, she opened Hanoi Old Quarter right in the center of the city, on the historic Nieuwezijds Voorburgwal. The restaurant menu's main star is its pho Hanoi, but it's also known for its great selection of vegetarian dishes like nem chay and vegetarian pho with tofu and mushrooms.
Kimmade (Utretch)
Traditional Vietnamese food is known for being fresh and balanced — two characteristics Kimmade is built for. Kimmade offers two dining options, a reservation-only Food Village Restaurant and the Street Food Cafeteria, with menus that feature some of the finest and healthiest Vietnamese goods in the Netherlands. The Village Restaurant has a relaxing, open-air setting, making it perfect for a more refined group dining experience. For those who can't decide which Vietnamese dish to try, Kimmade has "Vietnamese rice table dish", a platter of six Vietnamese goodness.
Little V (The Hague)
With a single important philosophy in mind — to serve great food— restaurateur Tan Do opened Little V in 2006 in The Hague. Do started with a small venue to make sure he gives hands-on service to customers who want to discover the Vietnamese kitchen. After more than ten years of improvement and expansions (a Rotterdam branch was built in 2009), Little V stresses the culture of shared dining, where huge servings of different dishes are served in the middle of the table for everyone to enjoy. Its crispy coconut pancakes with fresh prawns and traditional Vietnamese pho soup are ideal for a nice family dinner.
United Kingdom
Aobaba (London)
The first Aobaba shop was established in 2011 in Kingston upon Thames. Since then, they have branched out to three other locations in London — Walworth Road, Camden Town, Kingsland Road — and one in Dublin, Ireland. Even if the Vietnamese community is only about 0.1% of the overall UK population, this bubble tea and Vietnamese street food spot managed to successfully bring the Vietnamese experience there, with their expansion as proof. Their offerings include spring rolls, rice noodle soup, pho, banh mi and a large selection of flavored tapioca pearls.
Banh Banh (London)
As an homage to their grandma who worked as a chef in Saigon during the 1940s, five Vietnamese-British Nguyen siblings opened Banh Banh in 2016 — first as a pop-up in Bussey Building and later on as a classy fixture at the tip of Peckham Rye and then the second branch in Brixton. The banh khot pancakes are the house special, but Banh Banh makes regular changes to its menu to reflect what ingredients are in season — a source of excitement for its customers. There's also a particularly good cocktail selection; try the spiked iced coffee — a mix of vodka, Vietnamese coffee, and condensed milk. To honor the Vietnamese tradition of 'an chay' (eat vegetarian), Banh Banh has a completely meat-free menu on Mondays.
Cay Tre Soho (London)
The energetic streets of Soho compliment Cay Tre's vibrant vibe. Founded by Hieu Trung Bui, who moved from Saigon to London some 20 years ago and was frustrated with the lack of authentic Vietnamese food in the city, Cay Tre Soho is a member of the Vietnamese Kitchen Restaurant family, along with the famous Cay Tre Shoreditch, Keu Banh Mi Deli and Viet Grill. It's best known for its summer rolls and pho bo kho, and the lemon-cured beef salad is impeccable. Cay Tre Soho's minimalist decor and bamboo wall art add charm to an already-endearing dining venue.
Go Viet (London)
Named one of the best places to eat in London by BBC in 2020, Go Viet is a relaxed cafe-style dining venue that offers a menu made from the finest Vietnamese ingredients cooked the Western style. Go Viet was founded by Chef Jeff Tan, the skilled culinary professional that brought a 1-star Michelin rating for Hakkasan. With a carefully curated menu of delicate and aromatic dishes that are MSG-free, Go Viet was also named in Michelin Guide in 2019. Lunch concentrates on classics like pho and bun, while dinner provides a more sophisticated experience, offering interesting flavourful dishes with a distinctly modern edge.
Hanoi Bike Shop (Glasgow)
Considered to be Glasgow's first and original Vietnamese canteen, the Michelin-recommended Hanoi Bike Shop screams "Vietnam" from every angle — the colorful silk lanterns, red plastic chairs, old bike parts and of course, Vietnamese flaglets. The restaurant's full focus is on pho, even making this flavor-packed noodle and broth bowl it's only offering from Mondays to Wednesdays. A full menu is available on other days — a highlight is organic, hand-pressed tofu that's built from scratch right at the restaurant.
Song Que Cafe (London)
Established in 2002 by the immigrant Pham family, Song Que Cafe has become one of London's top Vietnamese establishments, with Time Out calling it the "star of the Kingsland Road Vietnamese scene." Three months after its April opening, Song Que saw lines around the block, which haven't dwindled since. The restaurant has always taken pride in its heavenly bowl of pho — a personal recipe from the family's matriarch Mrs. Anh Phuoc Thi Pham. Beyond pho, the soft shell crab and fresh summer rolls are also a must-try.