Looking for a place to celebrate your loved one over dinner? You certainly cannot go wrong with an elegant course accompanied by a bottle of good wine. Curated by yours truly, here are 6 elegant dinner spots for intimate celebrations.
Gia Restaurant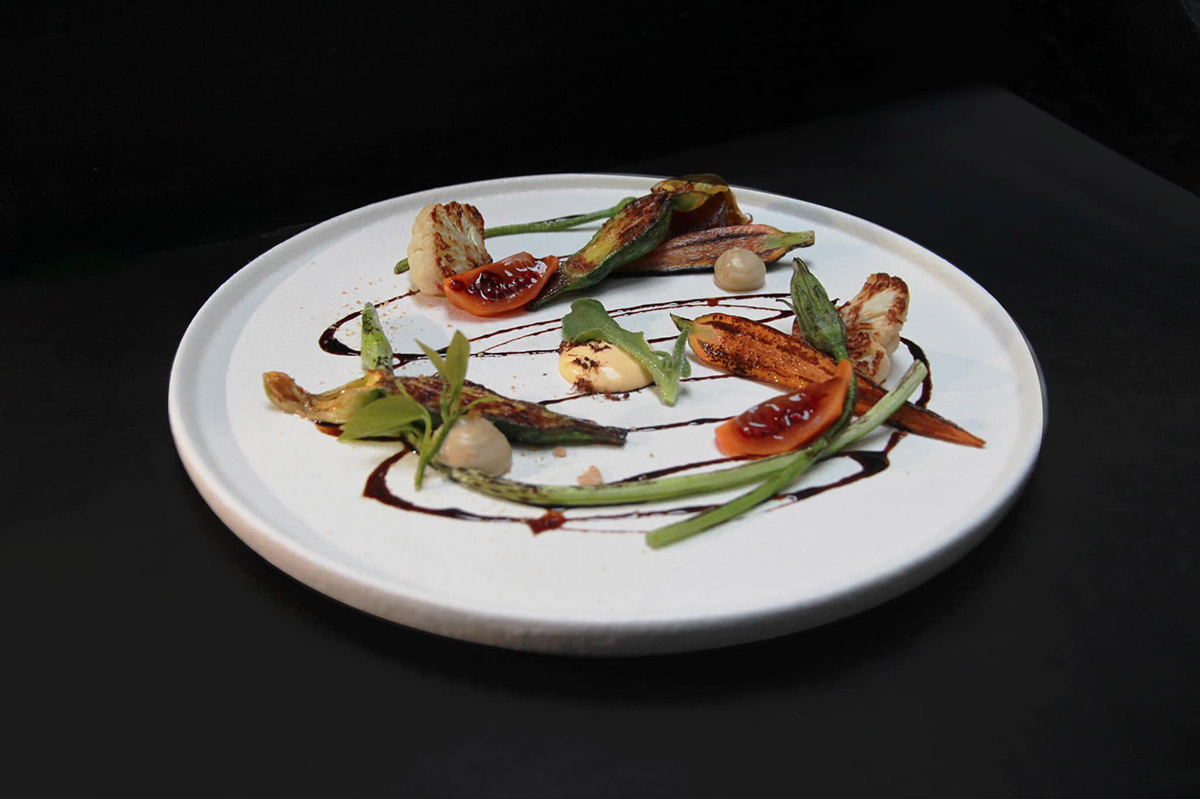 "Gia" means "home", and dinner at Gia Restaurant sure feels like a homely meal with an innovative twist. Vietnamese ingredients like pickled mustard greens or pickled eggplants give you that familiar sense while Gia's special flavors and décor take you on an adventure.
Gia serves fine dining with a set menu of 12 dishes, changing seasonally.
Gia is currently offering their Spring menu with mackerel, grouper, Tay Bac-style seasoned pork, and much more. Their dining space décor inspired by the Temple of Literature will surely take you on a journey through the homeland.
Address: 61 Văn Miếu, Đống Đa
Contact: 089 668 2996
Opening hours:
Closed Sunday evening & Monday
Tue – Sat: 18:00 – 23:00 / Thu – Sun: 11:30 – 14:30
Le Goût de Gia
Le Goût de Gia shares some key features with its sibling Gia Restaurant: elegant dining space, and creative dishes prepared with the highest care. The difference is, if the journey at Gia Restaurant takes you "back home", Le Goût de Gia aims for a worldlier trip through tobiko roe or Wagyu beef with a modern and artistic edge.
Complete your meal with Le Goût's extensive selection of renowned wine such as the Sul Vulcano from Italy's famous winery Donnafugata, or Raisins de la Colère made from organic Merlot grapes.
Le Goût also offers brunch with duck rolls, smoked salmon, etc. Have it small to savor, or get a hearty portion enough to energize the rest of your day.
Address: 12 Lê Phụng Hiểu
Contact: 089 661 4996
Opening hours: 11:30 – 21:00
DragonCELLO
With authentic Italian pizzas and pasta and a dreamy West Lake view from this impressive yellow building, you'd feel like you're in Venice.
DragonCELLO's menu varies from premium Italian cold cuts to traditional tomato soup, and they also have an impressive range of nearly 20 types of pizza, from originals to DragonCELLO's specials.
DragonCELLO offers delivery service for your convenience.
Address: 201 Vệ Hồ, Xuân La, Tây Hồ
Contact: 035 578 5046
Opening hours: 11:00 – 23:00
Masu Japanese
"Masu" is the name of the Japanese traditional sake cup. True to this traditional spirit, guests at Masu are guaranteed to have an authentic experience from cuisine to service.
At Masu, you will find fresh sashimi daily, Wagyu beef tartare or delicate nigiri choices.
All of this can also be enjoyed in the comfort of your home thanks to Masu's fast delivery service.
Address: 60 Lý Thường Kiệt, Trần Hưng Đạo, Hoàn Kiếm
Contact: 085 622 9339
Opening hours: 10:00 – 14:00 and 18:00 – 23:00
Vinci
Vinci has an immaculate Italian menu from pasta to pizza, but don't forget to also check out their grill menu with Wagyu rib sirloin, Tasmania salmon or homemade Italian sausages. They also offer flavorful homemade sourdough if you fancy.
Vinci serves dinner and brunch. Every Sunday, Vinci offers brunch sets with unlimited alcoholic drinks or wine.
Address: 100 Linh Lang, Ba Đình
Contact: 096 975 63 04
Opening hours: 11:30 – 21:00
Vietnam Restaurant Week 2022 runs from 5 to 13 March 2022 in Hanoi and Ho Chi Minh City, presented by Vietcetera and Mastercard. With a special restaurant map, you can explore over 50 venues, earn program stickers, and get access to exclusive menus for a week-long dining experience showcasing Vietnam's best of the best.

Special thanks to all sponsors of Vietnam Restaurant Week 2022: Mastercard, Diageo (owner of Johnnie Walker and Tanqueray), Lighthouse Group Indochina (exclusive distributor of Peroni and Super Bock), Good Food, Nestlé (exclusive distributor of San Pellegrino and Acqua Panna), Kamereo and Lacàph.

During the course of Vietnam Restaurant Week 2022, Mastercard cardholders enjoy the privilege of an exclusive 15% discount for all menus.