By 2025, Gen Z is expected to take up 25% of the total workforce in Vietnam. Understanding those born between 1997 to 2012 better and designing a workplace experience that makes them tick could help companies become much more successful in both attracting and retaining these young, creative, worldly employees.
So what does Gen Z want? What drives them? And how different are they really from Millennials? A wide-ranging study led by Decision Lab, a behavioral design think tank, and Dreamplex, which designs and delivers employee-centric workplace experiences, set out to find the answer to those questions.
In a series of blog posts, we dive into the results across The Job, Ways of Working, The Workplace, and the need for Personalization and Choice.
The Job – designing roles that attract and retain Gen Z
In Vietnam, where virtually every company struggles to attract and retain talent in a highly competitive market, being able to deliver an attractive and competitive work experience is a matter of survival. Bosses need to know: who are the employees of the future, and what do they care about?
To start, we take a look at what Gen Z wants from the job itself. After all, designing a job so that it fits with Gen Z employees is the best place to start to attract and retain them better.
Gen Z's experience growing up with social platforms has directly impacted what they want to do for a living. Asked what their dream job was, they ranked Entertainment & Media and Creative Industry the highest, giving each 19% of the votes. Compared to Millennials, Gen Z are much less interested in pursuing careers in technology, education, industrial, and retail.
This trend towards entertainment and creative jobs explains TikTok's appeal to Gen Z in Vietnam. To quote from a recent article that appeared in Digiday, a trade magazine for online media: "TikTok makes it easier to go viral on the app than other more established social media platforms. It also feeds in perfectly to Gen Z's desire for entrepreneurship and being a creator."
TikTok has had a rocking rise in Vietnam as well, according to a nationwide online study by Decision Lab earlier this year. It showed that 30% of Vietnamese now use the video-sharing app on their phones, up from 15% just six months prior to the study.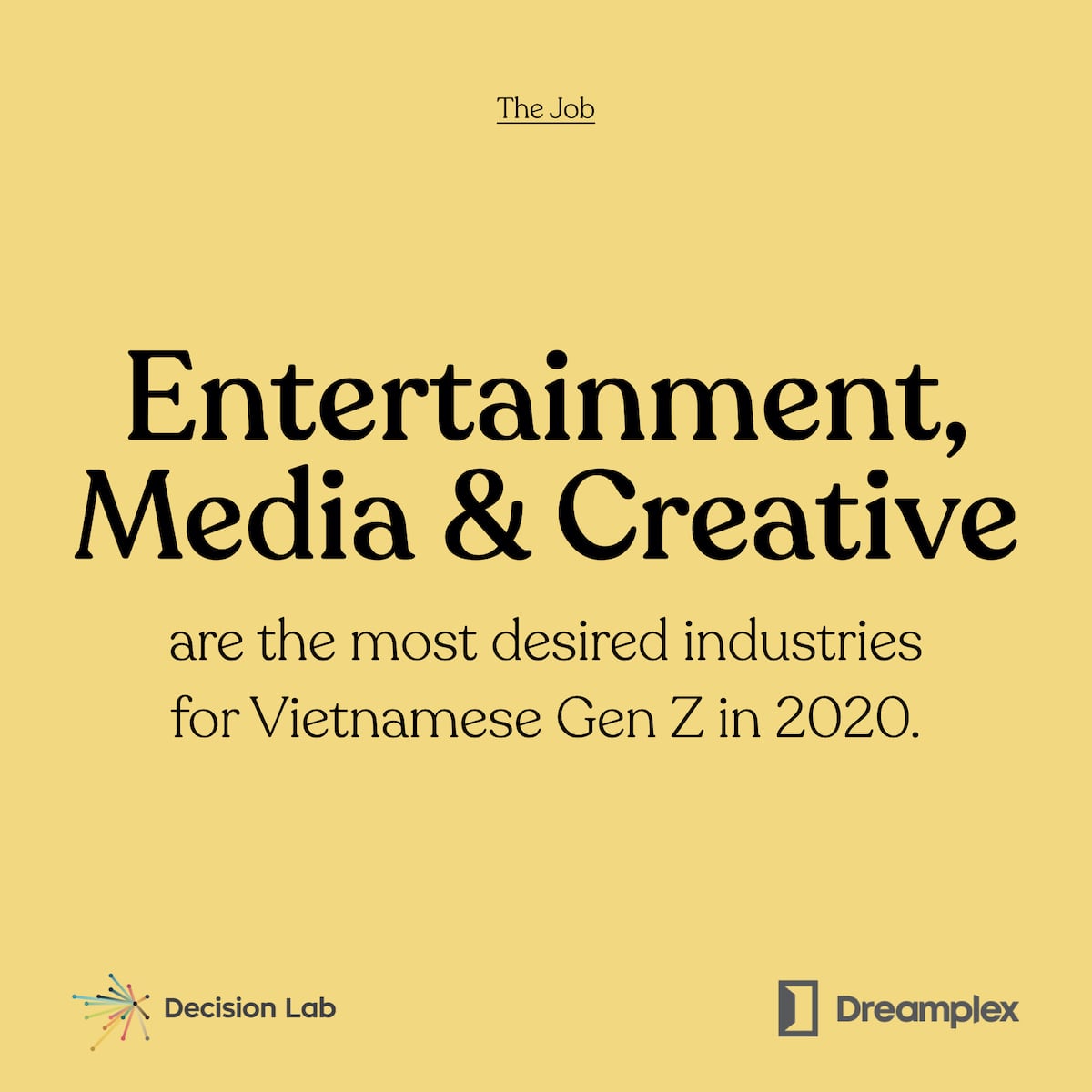 It's not all about the money
Only two in ten Gen Z'ers say that income and benefits are the key motivation to take a new job. Learning new skills (44%) and acquiring new knowledge (21%) beat earning salary (18%) when it comes to making Gen Z excited about starting a new job. Which is very different from Millennials, who still see earning a (better) salary as the most exciting part of a new job.
This is hardly surprising given their age, as they carry more responsibilities such as providing for their families or saving for big-ticket items. Still, understanding these differences in motivation means that companies can be smarter about how they create, and communicate, job opportunities that target Gen Z.
Another crucial difference between the two generations is that Gen Z wants to keep growing: 57% of all Gen Z'ers agree that "no room for development" is the key reason for them to burn out.
Smart employers keep this hunger for personal development and growth in mind, not only when recruiting, but also when thinking of retaining their best people. Development should be front and central in everything the company does.
So what does Gen Z want to learn?
To support Gen Z, focus on job skills first and industry skills later. When asked what they expect to receive from a company during their first month on the job, Gen Z made it clear that they preferred technical job skills.
Given that only 8% of companies in Vietnam feel that graduates have the required skills to perform well, that may not be surprising. But in their first year, fresh graduates need to expand their knowledge beyond just the job skills and quickly gain industry insights, understand the company culture, and acquire soft skills.
Here, Networking and Communication are deemed indispensable: 31% (almost one in three) Gen Z'ers chose this skill as the one to gain from their workplace.
Languages came a close second – important but far less popular than with Millennials, 30.6% of whom see languages as the most crucial skill to learn.
The importance of purpose
An earlier Decision Lab report showed that 93% of Vietnamese Gen Z want to change the world and 80% have already lent their support to a cause. Also in 2020, Gen Z cares. A lot.
Recycling and protecting the environment is by far their most important cause, 66% of respondents said this is of concern, followed by COVID-19 protection and the importance of feeling protected from crimes such as theft.
And while Vietnamese Gen Z generally cares about the same topics as Millennials, what is remarkable is that they care more about every single one of them: out of the 15 suggested topics, Gen Z cares more about a given topic by a factor of 12.
Look closely, and a clear trend emerges: almost every topic they care significantly more about concerns human rights: LGBT, Equal Rights for Races, Gender Equality, and Women's Rights.
The way to design a job for Gen Z
First, start by looking at how creativity (and ideally content creation) can be central to the role. What is it that employees can look forward to in their role that taps into their abilities and passion for sharing content online?
Second, ensure that pay is competitive, but keep a close eye on opportunities for Gen Z employees to learn, grow, and discover themselves. Focus on job skills when they start, and on industry knowledge later, with a focus on communication and networking skills.
Create and sustain meaning by understanding that they care, and learning what they care about. Companies would do well to tap into this sense of purpose and make Gen Z-ers' everyday work more meaningful.