You don't really know Saigon if you haven't experienced its lively and stimulating nightlife. From moody speakeasies to glitzy sky bars, we're on our way to find out which of the city's top drinking spots were picked by the Grand Jury and the public.
And while voting with your wallet is admittedly the best way to show appreciation, for the team behind your favorite watering holes nothing says we've made it like a nice, shiny trophy. As the industry emerges from one of the toughest years on record, we could all use a bit of good news right now.
Vote below and learn more after the poll. Polling closes at 5pm Vietnam local time on 4 November 2020. Also note, the system will only recognize your first vote.
You can vote for Restaurant of 2020 here.
The results will be disclosed when we announce the full range of winners of our #BanhmiAwards 202o on 5 November 2020 at Mai House Saigon Hotel.
The shortlist of the best bars in Saigon in 2020
Firkin Bar
Last year's Grand Jury winner in the Bar of the Year category, it's no surprise to find Firkin Bar returning to the line-up.
But amid the cocktail boom and the rise of craft libations, does the team have what it takes to maintain their top spot as competition is heating up? The ball is in your court.
Layla Eatery & Bar
When it comes to drawing in Saigon's white collar crowd, Layla Eatery & Bar has few rivals. The happy hour at this buzzing neighborhood hangout is a popular affair.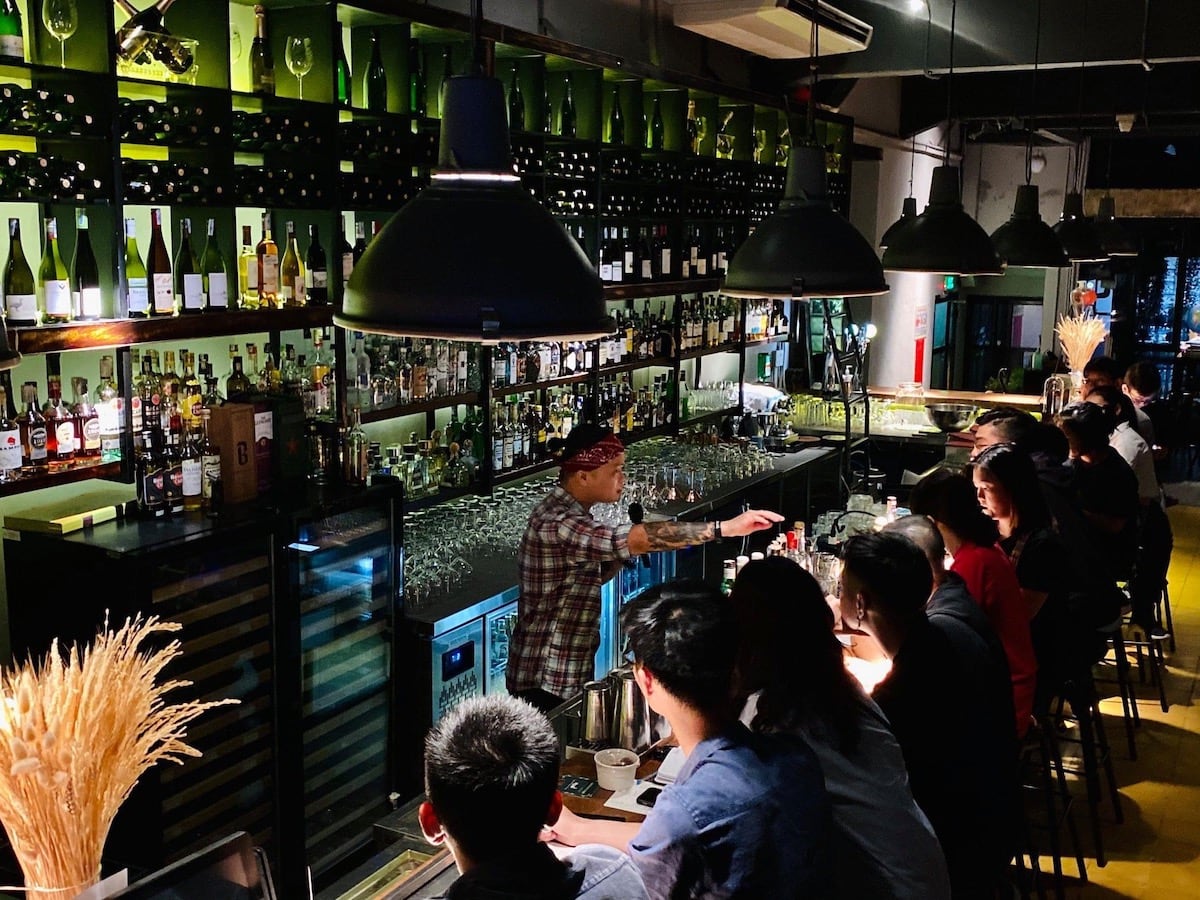 Jay Moir, Layla's Aussie co-owner, and head bartender Thep Dinh lead an impressive team known for consistency, and have gone on to open a crafty sibling bar, Summer Experiment, on Ly Tu Trong.
The jury has spoken, but where will Layla place amongst our readers?
Bam Bam
Bam Bam's Bali vibes and great late night music have landed it among the top bars for our jury this year.
Saigon's revelers can't seem to get enough of Bam Bam's bright and easy charms – the crowd is a colorful mix of younger partygoers and seasoned clubbers.
MAD Wine Bar
From the team that brought us MAD House, comes the cozy MAD Wine Bar. A newcomer to Thao Dien's bar scene, it instantly touched the right tone with a community keen to expand its wine knowledge.
Driven by the owner-operator model which Vietcetera is an advocate for, MAD Wine Bar never fails to deliver immaculate service and friendly attention.
Drinking & Healing
A favorite with the younger crowd, Drinking & Healing is often regarded as one of the emerging hubs for the Millenial cocktail crowd.
Instagram-friendly in decor, yet with enough mystique to justify its speakeasy cred, the bar mixes heritage and contemporary with flourish.
Dram Bar
Perched atop the new Stoker in Thao Dien, Dram took no time rising to the top of Saigon's bar scene. Located in District 2, an area not exactly known for vibrant nightlife, Dram succeeded in pulling the downtown bar crowd away from D1 and turning them into loyal and appreciative customers along the way.
With international business travelers thin on the ground this year, is the new trend here to stay?
The First Bar
Likely the eldest inclusion on the list, The First makes a surprising addition to the jury's top 8 given that the Japanese owned and managed spot hasn't made too much noise of late.
Yet, its lifetime achievement in the industry is not to be understated and earns The First a spot on our list.
Rabbit Hole
A runner-up contender for the Bar of the Year 2018, Rabbit Hole is a steady dark horse in this year's race. The founders' bet on timelessness as opposed to trendiness will probably bode well in the years to come given the constant arrival of new bars vying for the attention of those who crave novelty.
Nomination and voting timeline
5 - 10 October 2020 – each committee member votes, anonymously, for ten favorites from best restaurants, bars, brands, and more across eight categories, in no particular order. Venues with the most votes in each category make it on the shortlist.
28 October 2020 – the Grand Jury meets for the second round of voting. Best restaurant and best bar votes are cast.
28 October 2020 – Vietcetera editors vote in the Social Responsibility category, Brand to Watch, Neighborhood Hangout of the Year, Design of the Year, Bartender of the Year and Chef of the Year categories.
30 October 2020 – the shortlist of venues is revealed and public poll goes live.
4 November 2020 – public poll closes.
5 November 2020 – 'People's Choice', 'Grand Jury' and 'Editors' Pick' winners are announced at the awards ceremony at Mai House Saigon.
Our values
As our judges visit restaurants and bars throughout the year, they do so as regular paying customers and receive no special treatment. As they cast their votes, first for the shortlist and later for the winners, they base their decision solely on their personal experiences and are not influenced in any way by Vietcetera advertisers, partners or friends.
Though their tastes differ, our judges are united in their passion for quality dining and seek out outstanding experiences and locally-grown talent. Comprising both established industry professionals and up-and-coming foodie personalities, the committee is as diverse as Vietnam's food and beverage landscape itself.
Eligibility
Nominees nation-wide in Vietnam that opened before October 1st, 2019 are eligible for awards.
For 'Chef of the Year' and 'Bartender of the Year' categories, the contender must have been employed by the current venue, in any capacity, for at least six months.
How to attend
Although the Vietnam Restaurant & Bar awards are invitation-only, tickets to the first edition of the Vietnam Food & Beverage Conference 2020 include an invitation to the awards ceremony at Mai House Saigon. Conference attendees can expect panel discussions, fireside chats, and immersive brand experiences that will explore topics like emerging food technology, investment, and sustainability. Tickets can be purchased online.