Teeming with options for global cuisine, Ho Chi Minh City may well have the best food and drink scene in Vietnam. But its brunch scene is only beginning to take shape, with young Vietnamese diners looking for new experiences beyond just cuisine type. While these brunch spots are spread all across town, the heart of the city's brunch scene is still mostly found in District 1, where young urbanites continue to innovate with new concepts. Here are our go-to brunch spots for food and drink, whether for a quick workday lunch bite or a two-hour boozy brunch on the weekends.
Café Marcel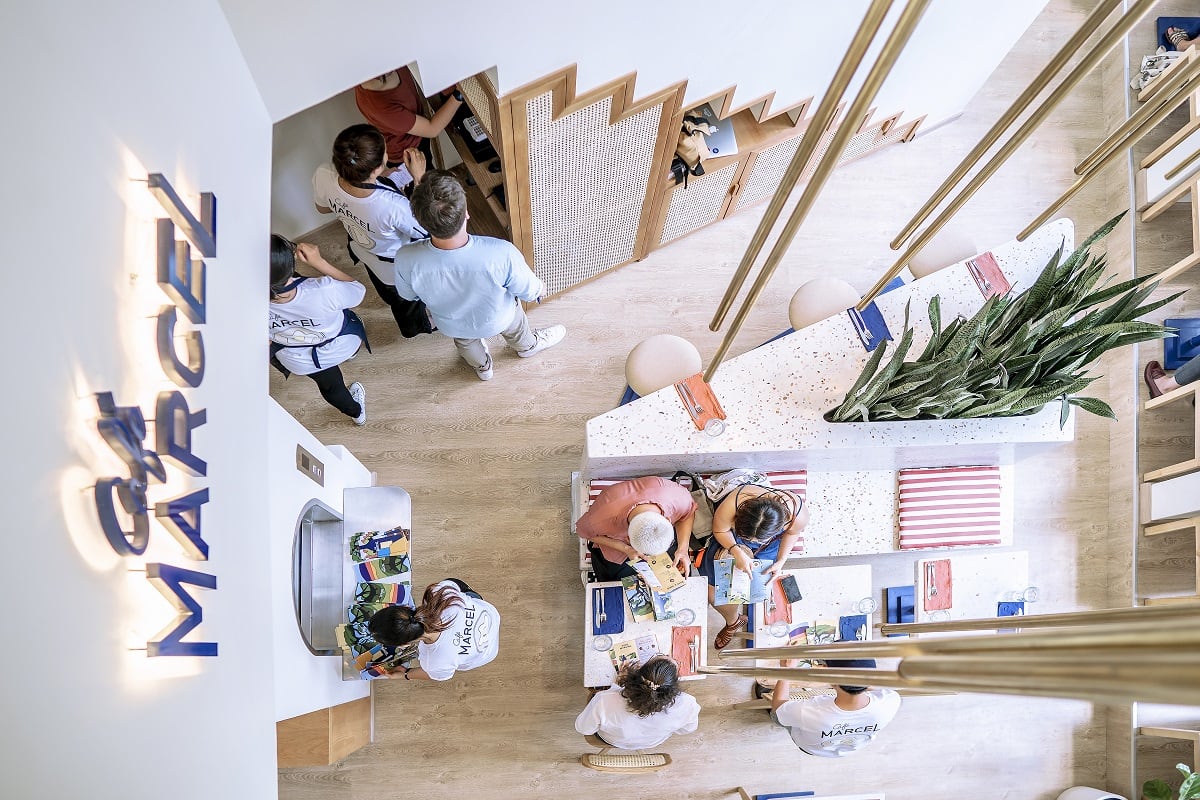 The Marcel brand entered Saigon in 2017 with its first restaurant, Marcel Gourmet Burger. The brand continues its culinary mission to introduce gourmet French cuisine to Vietnam. Café Marcel draws inspirations from cafes in southern France, where spaces are filled with sunshine during the day to create an airy and light atmosphere. This brunch venue is ideal for those looking to get a little French experience while catching up with friends.
At Café Marcel, brunch lovers can explore classic breakfasts with small twists. For those interested in personalizing their brunch experience, Café Marcel offers a build-your-own-breakfast in which you can choose your style of eggs and sides, coupled with one of their four sauces. For some, brunch would not be complete without a refreshing cocktail. To complement the food, Café Marcel offers a selection of classic and signature drinks such as the Thyme Tonic or the Tennessee Sour.
Location: 96 Nam Ky Khoi Nghia, Ben Nghe Ward, District 1, Ho Chi Minh City
Godmother Bake & Brunch
Located in District 1, Godmother Bake & Brunch is on the third floor and overlooks Dong Khoi Street. With a sophisticated and chic atmosphere, Godmother's interior design is defined by its pink couches, large windows, and potted plants. The design creates a serene area, perfect for enjoying an early afternoon brunch with friends.
Godmother is especially known for their unique take on traditional dishes. In particular, many come to Godmother to try their Secreto Com Tam, a modern twist to the traditional com tam. Outside of their popular Secreto Com Tam, this charming restaurant also serves a variety of western-style breakfast dishes, such as egg benedict, pancakes, and avocado toast. Godmother also provides a wide array of healthy drinks to choose from, ranging from Kombucha to green smoothies.
Location: 4 Dong Khoi, Ben Nghe Ward, District 1, Ho Chi Minh City
Haan — Drink & Eatery on Nguyen Hue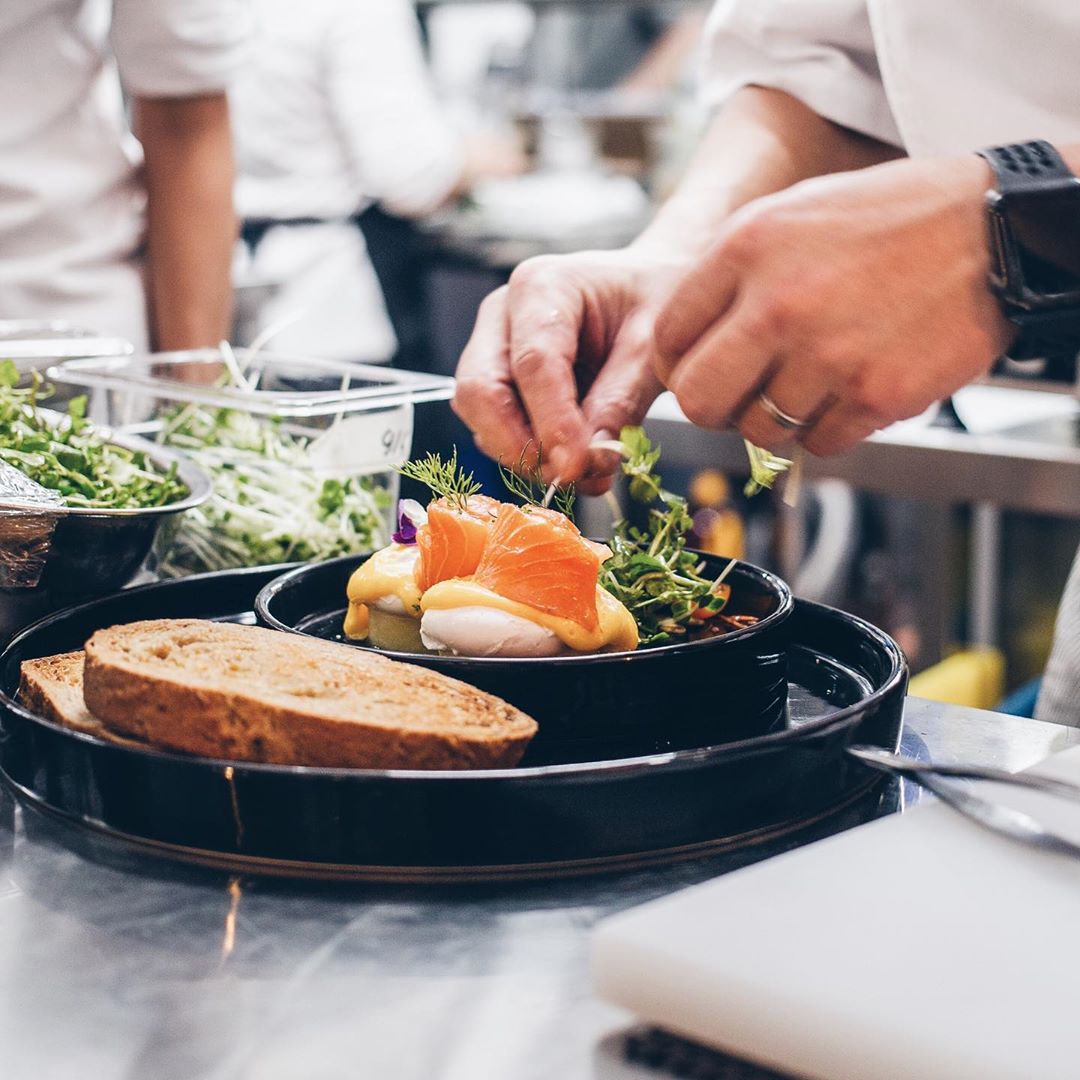 A favorite for many, Haan Saigon — Drink & Eatery encompasses a wide variety of cuisines from across the world, such as Italy's Porcini Risotto, Australia's Beef Tartare, and France's Chocolate Soufflé. Gently resting beside the buzz of Nguyen Hue Walking Street, Haan is the perfect place to go with friends on a Sunday morning after a night out. Haan is everything you could want in one location — a cafe, restaurant, and bar. If you're not looking for an afternoon brunch, Haan can also be the place to go for an evening cocktail or just to converse with friends.
Similar to their variety of cuisines, Haan also strives to create a unique style that welcomes different cultures. With a focus on naturally and locally grown products, Haan is the place to go to at any time of the day. Haan has also held workshops for youth looking to dive into Saigon's creative world. Just recently, Haan collaborated with Amberstone Media and held a music workshop. Visit their Facebook to see if they have any upcoming events.
Location: 4th Floor, Saigon Garden, 99 Nguyen Hue, Ben Nghe Ward, District 1, Ho Chi Minh City
The Vintage Emporium
Located on Nguyen Van Thu in District 1, The Vintage Emporium wins any foodie's heart over with its hearty Western breakfast, sandwiches and pastas. In 2018, the Vintage Emporium opened its second location in a spacious villa in Thao Dien. This District 2 location comes with a poolside for those looking to escape the sweltering heat. Although the two locations have some unique distinctions, their interior designs brings a classic feels with simple, sleek furniture. If you're looking for a spot for a quiet, enjoyable brunch with friends and family, the Vintage Emporium is the perfect option.
The Vintage Emporium also takes pride in their food quality and presentation. All dishes are made with selective, health-oriented ingredients. In addition, the Vintage Emporium is known for their colorful, intricate, and eye-catching presentation. You can pair your brunch with a diverse selection of drinks from smoothies and juices to cocktails.
Location: 95B Nguyen Van Thu, Da Kao Ward, District 1, Ho Chi Minh City
#1, Duong 39, Thao Dien Ward, District 2, Ho Chi Minh City
L'Usine
L'Usine has always been a reliable brunch spot for many in Ho Chi Minh City. Known as both the original concept-store and cafe, L'Usine offers a delightful and hospitable brunch experience. Customers can browse around L'Usine store before, during or after their meals. The store offers not only local, made-in-Vietnam brands, but also prestigious foreign brands such as Maison Kitsuné and Comme Des Garcons.
While their flagship store in Le Thanh Ton opened in 2017, recently, a new store has already opened in Thao Dien. L'Usine continues to innovate as a culinary brand with dishes that incorporate local ingredients from Vietnam. Moreover, L'Usine has a diverse drink list that features wines from independent producers, local breweries and specialty cocktails. L'Usine is the place to be for anyone who loves brunch but can't decide between savory and sweet dishes. L'Usine Dong Khoi and Thao Dien offer a popular brunch board during the weekend. The brunch board comes with bite-size classic brunch dishes such as pancakes, French toast, and avocado toast. L'Usine also serves daily, all-day breakfast for those looking to enjoy a spontaneous brunch during the week.
Location: Le Thanh Ton: 19 Le Thanh Ton, D.1, HCMC (Opens from 7:00 am until 10:00pm)
Dong Khoi: 151/5 Dong Khoi D.1, HCMC (Opens from 7:00 am until 10:00 pm)
Le Loi: 70B Le Loi D.1, HCMC (Opens from 7:00 am until 10:00 pm)
Thao Dien: 24 Thao Dien, D.2, HCMC (Opens from 6:30 am until 10:30 pm)
Written by Agnes Tran and Phuoc Ho
Related Content:
[Article] Vietnam Guide, The Directory June 2019: Eat and Drink, and See
[Article] Sweet + Sour: Serving Saigon's Sweetest Stories Since 2010