The start of 2020 hasn't been exactly smooth sailing. Plans, big and small, were abandoned as COVID-19 steamrolled across the world. Businesses and consumers alike had to learn to adjust on the fly to the new, uncertain reality.
On March 15th, Vietnam's People's Committee ordered the closure of cinemas, bars, beer clubs, night clubs and massage parlors in Saigon as a measure to contain the spread of the virus.
The news came as a hard blow to the F&B and entertainment sectors. Tourism industry that was hit first is in even more dire straits.
In these difficult times, Vietcetera and Kamereo have joined forces to offer F&B businesses full use of their media platforms to communicate industry news to the community. We are in this together.
This is your guide to eating well while supporting Saigon's F&B community.
Thursday's Child
With a concept centered on wholesome food and poolside vibes, Thurday's Child is to brunch what brunch is to your weekend: a well-deserved treat. The experience aims to appeal to all the senses and succeeds in creating a harmonious space where to relax with a cup of coffee, enjoy a meal or catch up with friends in the natural surroundings.
On March 22nd Thursday's Child will start offering delivery services, as well as launching an exciting new menu. For those who prefer to dine in, the restaurant has taken every measure to ensures the latest hygiene and safety regulations are strictly followed. Every item and all surfaces are cleaned regularly and the staff are wearing face masks at all times. Hand sanitizer is provided at the table.
Address: 49 Nguyen Đang Giai, Thao Dien, District 2, Saigon
Facebook | Instagram
The Other Place
Serving cross-cultural cuisines, The Other Place is an Asian-inspired bistro where style and substance co-exist beautifully and in perfect harmony.
This is fusion done right with every new flavor carefully researched and tested before making its way on the menu. At The Other Place local ingredients meet imported cooking techniques resulting in a collection of perfectly executed dishes.
The Other Place sees itself, first and foremost, as a community hub and has implemented the strictest hygiene measures to create a safe environment.
On March 19th The Other Place is launching door-to-door delivery services. Guests who opt to dine in are being asked to fill out a questionnaire detailing their most recent travel history. The restaurant has increased the frequency and intensity of their already rigorous cleaning and sanitation practices.
Address: 93 Ton That Dam, District 1, Saigon
Facebook | Instagram
Chuck's Burger
The ultimate comfort food, the humble burger reaches across cultures and generations. Given how many people have strong opinions about burger places, Chuck's Burger's ability to satisfy everyone is nothing short of miraculous.
Chuck's is a classic American burger made with the freshest of ingredients. While usually we would grab a seat at the counter and watch the chef at work in the show kitchen, these days Chuck's Burger team recommends delivery.
Address:
71 Pasteur, District 1, Saigon
196 Le Lai, District 1 , Saigon
Facebook | Website
Chanh Bistro Rooftop Saigon
Chanh Bistro Rooftop is a crowd-pleaser with a menu running the gamut of cuisines and flavors. From Western food and "new wave" Asian cuisines to vegetarian dishes, there is something for everyone. A laid-back venue in the heart of downtown Saigon, it's a popular spot with finicky eaters (and their grateful friends and family).
On weekends, Chanh Bistro offers free delivery for orders over 700,000 VND.
Address:
3rd floor, 171 Calmette, District 1, Saigon
215 Ly Tu Trong, District 1, Saigon
Facebook | Instagram
Mezze Saigon
While the Middle Eastern food reigns supreme at Mezze Saigon, an attentive diner will find plenty of Vietnamese influences hidden in plain sight. Mezze's take on tradition and assimilation translates into a bold, monthly-changing menu that reflects the preferences and tastes of the restaurant's patrons.
Mezze Saigon now offers delivery services (free for orders over 700,000 VND).
Address: 5th floor, 215 Ly Tu Trong, District 1, Saigon
Facebook
ComXiu
ComXiu fuses traditional Cantonese recipes and ingredients with Western cooking methods, to public acclaim. Vietnamese diners have been making a beeline to sample the resulting Cantonese-light dishes.
The head and the hands behind the concept is Chef Dobee Lam from Hong Kong whose vision for ComXiu is "delicious, clean and creative food". He achieves just that with an ambitious marriage of Cantonese and Vietnamese culinary traditions.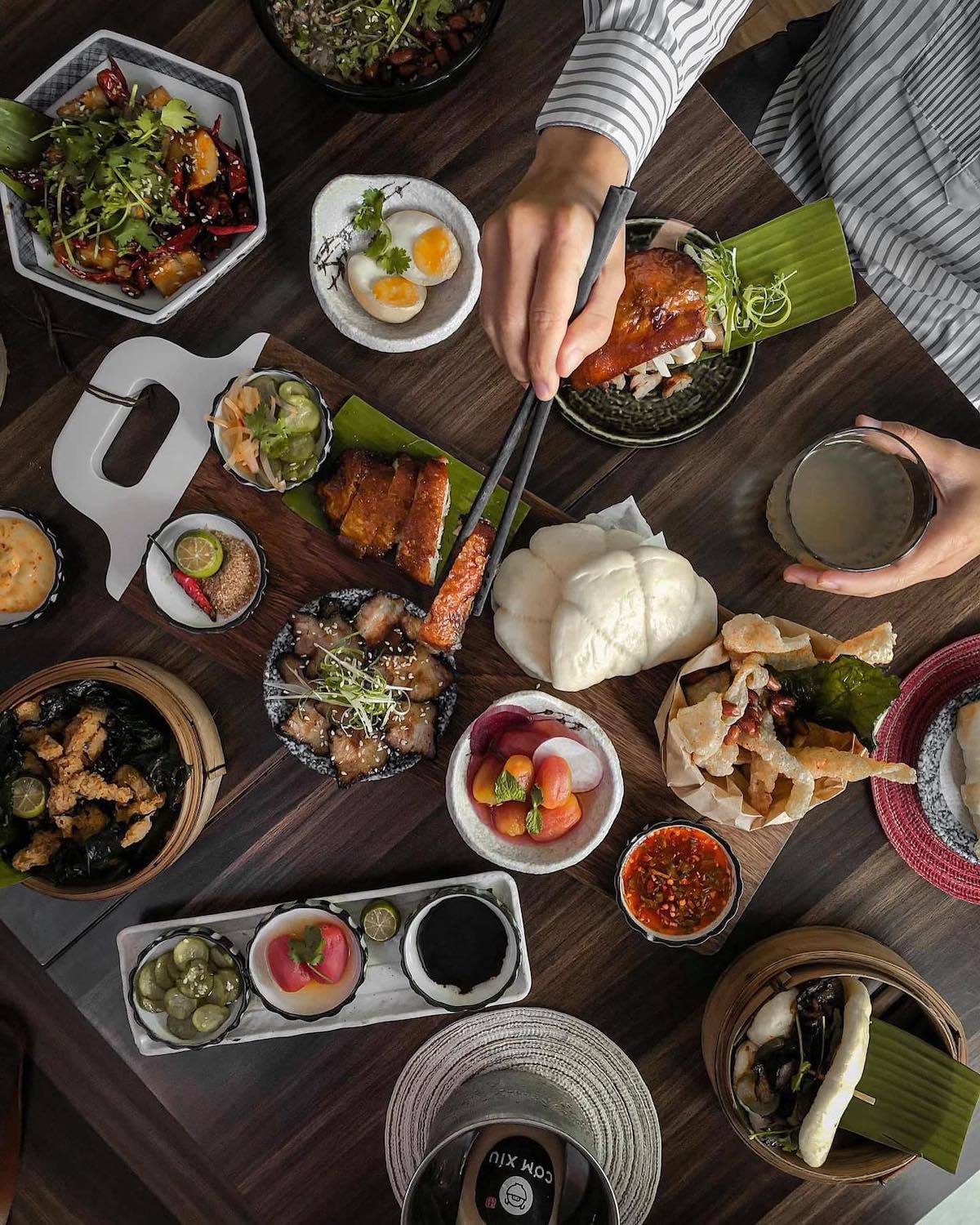 ComXiu offers free delivery services in central districts for orders over 500,000 VND.
Address: 106A Le Thi Rieng, District 1, Saigon
Facebook | Instagram
Ngọc Sương Seafood & Bar
A veteran of Vietnamese culinary scene, Ngoc Suong's philosophy hasn't changed in its 64 years in business. With chef-owner Le Quoc Vinh taking over the reigns of the family business, the restaurant's ambition is to remain relevant to the new generation of diners while staying true to core brand values.
The launch of Ngoc Suong Kitchen, a premium on-site catering service, brings the renowned brand to the client's location of choice. Not just a delivery service, Ngoc Suong's catering guarantees a restaurant-quality experience with private chefs and silver service.
Address: 6 Thai Van Lung, District 1, Saigon
Facebook Ngọc Sương Seafood & Bar | Facebook Ngọc Sương Kitchen
Bandido Saigon
Bandido Saigon dazzles with both its delicious menu of Mexican street food and the immersive setting. As the name of the restaurant suggests, this is no fine dining, but rather a casual taco and nacho experience. Backed up by multiple research trips to Mexico, the Bandido team delivers a menu that is positively bursting with flavors. The beverage list hits all the right notes too.
In the coming weeks, Bandido Saigon is planning to launch its delivery services.
Address: 42bis Dong Du, District 1, Saigon
Facebook | Instagram | Website
Latest Recipe Restaurant – Le Méridien Saigon
A sprawling buffet restaurant on the ground floor of Le Méridien Saigon, Latest Recipe is an institution beloved by many Saigon residents. The winning formula behind its staying power is the combination of stunning river views, food quality and variety. An open, airy space filled with natural light during the day and an atmospheric date spot at night, the restaurant is equally popular with families and couples.
From April, the restaurant offers a Buy 1 Get 1 on bookings made on Facebook for both dinner and Sunday brunch (valid from 1 April till 31 May)
While the restaurant doesn't offer home delivery, Le Méridien Saigon is planning to roll out its cake delivery services in the near future.
Address: Le Méridien Saigon Hotel, 3C Ton Duc Thang, District 1, Saigon
Facebook | Instagram | Website
N°21 Restaurant
A cozy, beautifully designed venue, N °21 steals your heart at first glance. Yet it's not just the decor that makes this oasis of peace and quiet such a popular choice. The menu is meticulously crafted too. An all-day dining restaurant, N °21 is open from 6 am to 10 pm.
Address: 21 Ngo Thoi Nhiem, Ward 6, District 3, Saigon
Facebook
Cáfe Tartine Saigon
Run by passionate sourdough bakers, Cáfe Tartine is an artisan bakery with a focus on naturally leavened bread. Here, excellent coffee, wholesome sandwiches and vegan treats share space with an ever-growing selection of freshly baked breads.
For large orders and to ensure your preferred bread is available, place your order the day before to have it delivered (free for orders over 500,000 VND) or drop by to collect in person.
Address: 27 Tran Quang Long, Ward 19, Binh Thanh, Saigon
Facebook | Instagram | Website

About Vietcetera x Kamereo F&B Enterprise Support Project:
To help support Vietnam's F&B businesses struggling amid COVID-19 outbreak, Kamereo and Vietcetera pledge to promote their information on Kamereo and Vietcetera channels free of charge.
To be featured, please submit information about your business by filling out the form on the link below: https://bit.ly/33pxhuN