When Walt Power accepted the position of the CEO at The Grand Ho Tram Resort & Casino, he stacked his chips on turning Vietnam into Southeast Asia's pre-eminent gaming destination. It was a bold bet even before the challenges brought on by the pandemic had to be factored in. But Walt's confidence is unshakable and comes from knowing what he knows. 
A gaming industry veteran with 30 years of experience in Macau, United States, Argentina, South Africa and the Philippines, he is credited with being an integral part of turning Macau's Sands Casino into the largest and most financially successful casino in the world. Yet, tellingly, it's a motto from his time with the US Marine Corps that he picks to illustrate his strategy in Ho Tram: "The difficult we do immediately. The impossible takes a little longer."
And he has his troops in fine fettle too. The 1,500-plus staff who are running the resort, including the current hotel tower that will be rebranded as the InterContinental by Q2 2021, a premier Greg Norman-designed golf course and the casino will be joined by 400 new hires when the adjoining Holiday Inn Resort, currently under construction, opens next door.
In this episode of Vietcetera's "How I Manage" series, Walt talks about leading in times of crisis, his vision for Ho Tram and why, in leaders, he prizes empathy over skill set.
What is your vision for The Grand Ho Tram?
With The Grand Ho Tram, the objective is to make the property the number one destination resort in Vietnam. But there is a bigger vision too – to make Vietnam a destination of choice for the gaming industry, with Ho Tram at its center.
The Grand is known for its casino, of course. In fact, it is probably the most unique aspect of the resort, as there are very few of them in Vietnam. And this is where I come into play. I want to download my brain into Vietnam and use my experience running Macau's most successful casino for the benefit of Vietnam's economy.

Running a casino vs running an integrated resort, what are the similarities and differences from a management perspective?
Comparing my experience in Macau and Vietnam, I'd say the commonality is that in both cases I wanted to make a difference and create something that would ensure that my DNA remains in the country long after I am gone. 
In Macau, we managed to turn gaming into a $38-billion dollar industry. Vietnam is at the very beginning of that journey and this is what excites me. Using an analogy from the Navy, Vietnam is a speedboat while Macau is an aircraft carrier. And, truth be told, driving a speedboat is just more fun!
How does leadership in the environment of COVID compare with leadership in times when things are going well?
I am a contrarian when it comes to this. I don't think there is a difference: either you can lead or you can't. You start with creating a great team and articulating a strategy and you execute it aggressively. And you do that in good times and in challenging times.
I am an American. The great American presidents – Lincoln, Washington, Roosevelt – are considered great leaders because they were in charge during times of crisis. Perhaps Lincoln's skill set wasn't that far superior to that of JFK, but Lincoln was successful during a crisis and that's what he is remembered for.
But of course it takes a team to accomplish a mission. If you think of elite organizations – the Berlin Symphony Orchestra, the Delta Force, the New England Patriots – they all have two things in common: they recruit the best people and they train them better than anyone else. If I can use that philosophy in Ho Tram, I should be fairly successful, crisis or no crisis.
With borders closed, what market segment are you targeting domestically? 
My friends and colleagues in Macau all said: "Wasn't it bad luck you showed up in Vietnam in mid-February right at the start of the pandemic?" But I feel very lucky. For me personally, being on the battlefield is one of the most rewarding experiences and I am grateful to be able to take The Grand through this trying period. 
I am not accepting the fact that international borders are closed as an excuse not to be successful. We've been very fortunate from the very beginning to have multiple market segments working in concert: we attract families but also we have a casino, a golf course and great MICE facilities. And the strategy hasn't changed since the start of the pandemic.  
I have always contended that every successful casino operation has as its primary market the local population. Macau is successful because Guangdong province next door has 90 million people in it; similarly, Las Vegas is successful because it's a four-hour car ride from Southern California, not because people are coming from Boston or New York.
In Ho Tram's case, we have a metropolis of 15 million people two hours away. Saigon's expat population is huge and even when the borders reopen, they will continue to be the focus for us. That said, once international travel resumes, we will of course aim to augment the local market by targeting people flying in from various destinations.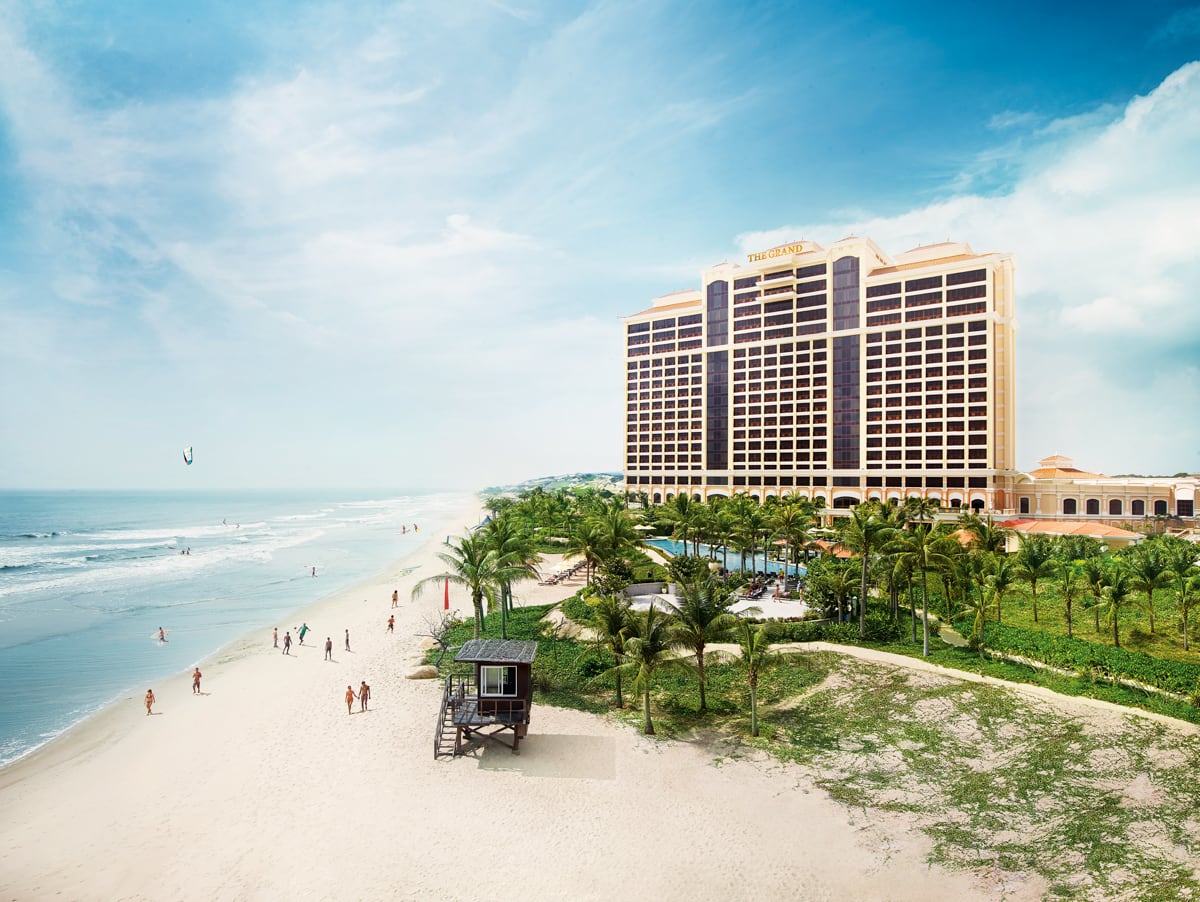 Ho Tram is competing with other beach destinations in Vietnam for the travelers' attention. What does it have to offer that Nha Trang, Quy Nhon and others don't?
Speaking of competitive advantages, we have a synergy between the golf course, the MICE business and the casino. The Bluffs is annually rated as the top golf course in Vietnam. Then there are a number of international developments happening just down the road and once we have a critical mass of multiple high-end resorts, we will be even more successful. 
Do we feel competition from other destinations in Vietnam? Absolutely. People running all these resorts are type A personalities who are very competitive, but quite frankly we all want Vietnam as a whole to be the winner, not just one destination. 
The way I see it, international travelers might want to start with Hoi An, then hop on a flight to Phu Quoc before spending a few nights in Ho Tram because we provide the best gaming experience. 
What is your ambition for Vietnam's gaming industry and what role do you hope The Grand Ho Tram will play in laying the foundation for what comes next?
Change is in the air. I hear guests saying things like: "I can't quite put my finger on it but I can sense things are changing." In Phu Quoc, the government is piloting a casino where the Vietnamese can gamble. They are now starting the third year of a three-year pilot program. And if all goes well with Phu Quoc's Corona Casino, we hope the authorities choose Ho Tram as part of the expansion. But again, I don't accept the fact that the Vietnamese currently can't gamble as an excuse for us not to be successful with foreign passport-holders.