Sourdough bread has seen a recent surge in popularity in Saigon, leading to the emergence of artisanal bakeries all across the city to cater to the increasing demand. Its intricate flavor and chewy texture have made it a beloved choice among bread enthusiasts. The unique tang and rise of the loaf are achieved through the use of a starter fermented from wild yeast.
If you're on the hunt for the finest sourdough in town, look no further than these five exceptional bakeries. With their commitment to the slow fermentation process, use of high-quality ingredients, and skilled bakers, you are certain to discover a truly exquisite sourdough loaf. Here, we present Saigon's top purveyors of sourdough bread.
Breadventure
The owner embarked on this project to chronicle their breadmaking odyssey, aiming to enhance their knowledge and engage with like-minded bread enthusiasts. The response has been overwhelmingly positive, culminating in establishing a bakery that has garnered a devoted following.
Besides its signature sourdough bread, Breadventure is renowned for its delectable buttered croissants and cinnamon rolls. The bakery exudes an intimate and welcoming ambiance, with a charming outdoor seating area surrounded by lush greenery, perfect for savoring their delectable
Address: 24 Do Quang, Thao Dien, District 2
Opening hours: 9:00 - 18:00 (Friday - Sunday)
Zeroism Vegan - Cafe & Sourdough Bakery
Zeroism Vegan - Cafe & Sourdough Bakery offers a unique experience that caters to your taste buds and well-being. The bakery is committed to providing the highest quality vegan food without compromising flavor. This serene and macrobiotic environment allows you to relax and connect with yourself while enjoying delicious and nutritious vegan food, beverages, and baked goods.
Their philosophy is centered around the belief that a compassionate mind and a healthy body are essential for happiness. With an extensive range of vegan meals, baked goods, beverages, and supplies, you'll surely find something you'll love at Zeroism.
From artisan sourdough bread and savory pastries to vegan sauces, cheeses, and healthy drinks like juice and kombucha, Zeroism has everything you need. They carefully select premium goods from local and imported sources and even offer eco-friendly decor accessories and groceries.
Address: 50 Nguyen Cu, Thao Dien Ward, District 2
Opening hours: 8:00 - 21:00
Tartine
Tartine is more than just a bakery - it's an artisan sourdough bakery-café-restaurant dedicated to bringing real, good bread to the sunny streets of Saigon. With several locations throughout the city, they're passionate about sharing their love for bread with as many people as possible.
But that's not all they do. In addition to their freshly baked bread, Tartine also serves up delicious brunch dishes made from their bread products. From classic avocado toast to hearty breakfast sandwiches, our brunch menu is the perfect way to start your day on a delicious note.
At Tartine, they're not just passionate about bread - they're passionate about creating a warm and welcoming atmosphere where people can come together and enjoy good food, good company, and good vibes.
Address: Tartine Saigon locations
Opening hours: 7:00 - 22:00
Sharon Artisan Bakery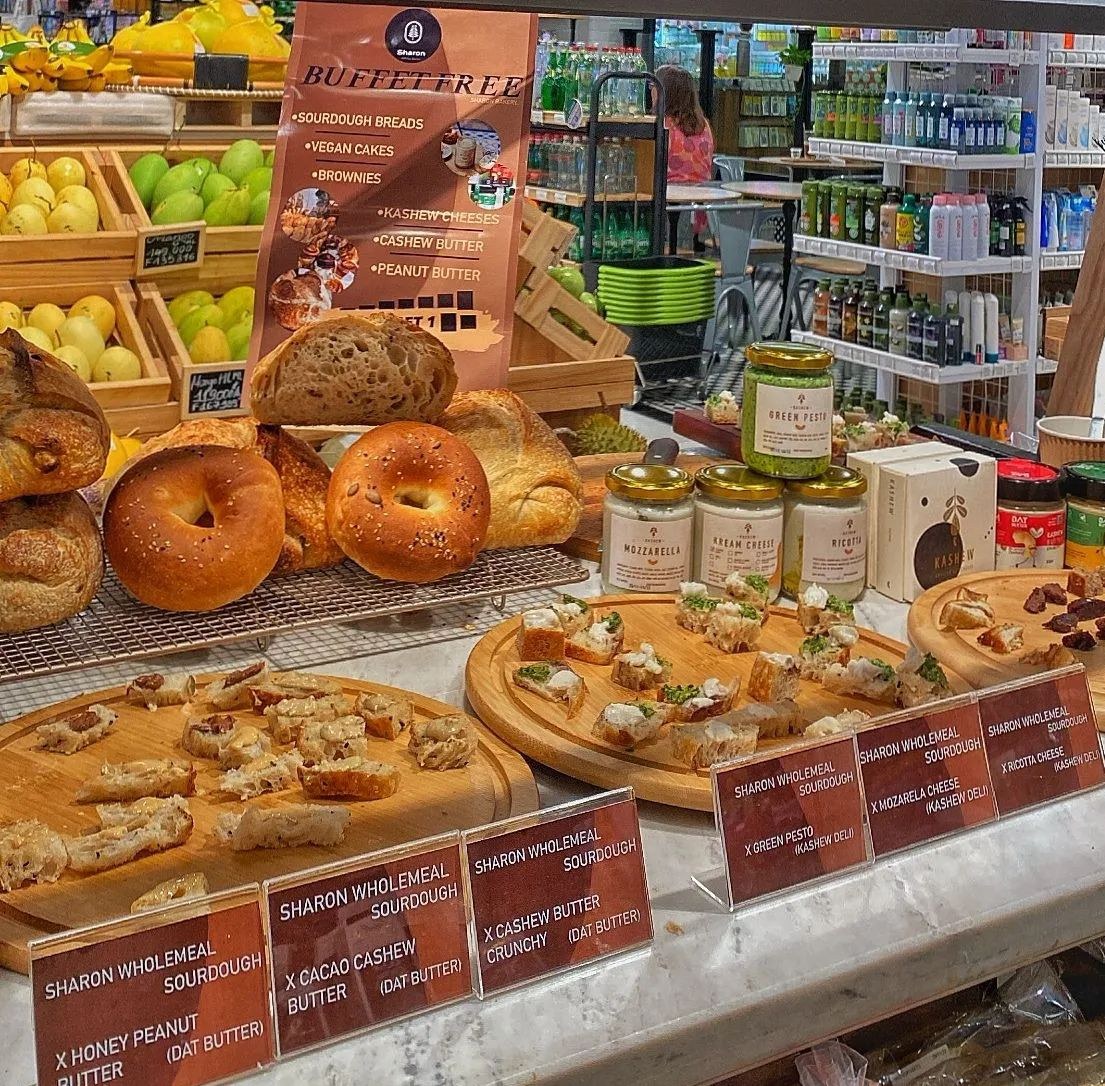 At their bakery, their passion lies in creating exceptional sourdough bread and food products that not only taste amazing but also promote good health. Sharon Artisan Bakery also upholds the highest quality standards, ensuring that every item they produce has the best ingredients and raw materials available.
In addition to their dedication to quality and sustainability, the bakery prioritizes supporting local communities and businesses. They work closely with local providers to source ingredients, which helps boost the local economy and ensures that their products are as fresh as possible.
You can find Sharon Artisan Bakery's delectable goods exclusively in Annam Gourmet supermarket chains, where they're proud to offer their products to discerning customers who value quality and taste.
In addition to their in-store availability, they also accept online orders, so you can easily satisfy your cravings for delicious baked goods from the comfort of your home. Whether you're looking to indulge in a freshly baked pastry or a hearty loaf of bread, they've got you covered.
Address: Annam Gourmet supermarket chain
Micro Boulangerie
While small bakeries and restaurants may be commonplace in District 2, Micro Boulangerie is a true standout that will transport you to a charming, fairy-tale bakery straight out of a Disney film. From the moment you step inside, you'll be greeted by the tantalizing scents of bread yeast, chocolate, and freshly baked scones.
Speaking of scones, these English cakes are a true delight for the senses - a perfect combination of butter, milk, and eggs that create a rich and delectable flavor. At Micro Boulangerie, they also take pride in offering traditional sourdough bread and a variety of unique and adventurous flavors that are sure to tantalize your taste buds. From the rich and chocolaty to the savory and cheesy, our selection of "difficult" bread flavors is anything but ordinary.
For those who love a touch of sweetness, their purple sweet potato bread is a must-try. They use only the highest quality sweet potatoes to create a unique and vibrant, delicious, visually stunning bread. And for those who prefer something a bit richer, their chocolate bread is the perfect indulgence - a decadent treat for any time of day.
Address: 25 Street No. 38, Thao Dien, District 2
Opening hours: 7:00 - 19:00