As languages evolve and get more frequently adapted by other countries, Merriam-Webster, an American dictionary publisher, regularly adds new words to its language information platform.
In September, Merriam-Webster announced that it officially added 370 new words, including Vietnam's world-famous baguette banh mi.
The dictionary defines banh mi as "a usually spicy sandwich in Vietnamese cuisine consisting of a split baguette filled typically with meat (such as pork or chicken) and pickled vegetables (such as carrot and daikon) and garnished with cilantro and often cucumbers."
Merriam-Webster said that adding globally-recognized foods that have become familiar to people across continents through menus, recipes, and cooking shows thus deserves to be added to the dictionary.
Pumpkin spice, omakase, plant-based, and oat milk are some of the other food-related words that now appear in Merriam-Webster.
Other words and phrases that have been popularly used for over a decade, including free dive, cringe, side hustle, and supply chain, have also been added to the new list.
"A word gets into a dictionary when it is used by many people who all agree that it means the same thing, according to an explainer of how Merriam-Webster chooses the words to be added. We're looking for three criteria: frequent use, widespread use, and meaningful use."
Pho, considered the most famous Vietnamese cuisine, was added to the dictionary in 2014.
Lending new legitimacy
Banh mi's addition to the Merriam-Webster dictionary lends new legitimacy to the Vietnamese term. This homegrown flavor has been eaten and used by Vietnamese at home, around the world, and foreigners who discovered the iconic streetside sandwich.
The origins of the Vietnamese banh mi remain unclear. But historical records note that the French introduced the baguette during their colonial occupation of Indochina. Banh mi stems from the french term "pain de mie" which translates as "soft white bread."
Banh mi became a favorite breakfast meal by Vietnamese of all ages — it can be bought anywhere and eaten quickly. It's Vietnamese comfort food, to say the least, and a rising star in the global culinary arena.
With the emergence of authentic Vietnamese restaurants in the US, especially in "Little Saigon" neighborhoods, more and more Americans have been introduced to the intriguing flavors of banh mi.
The late American writer and travel host Anthony Bourdain also significantly popularized banh mi in 2009. The legendary gourmand ate at Banh Mi Phuong in Hoi An, filmed for his No Reservations series.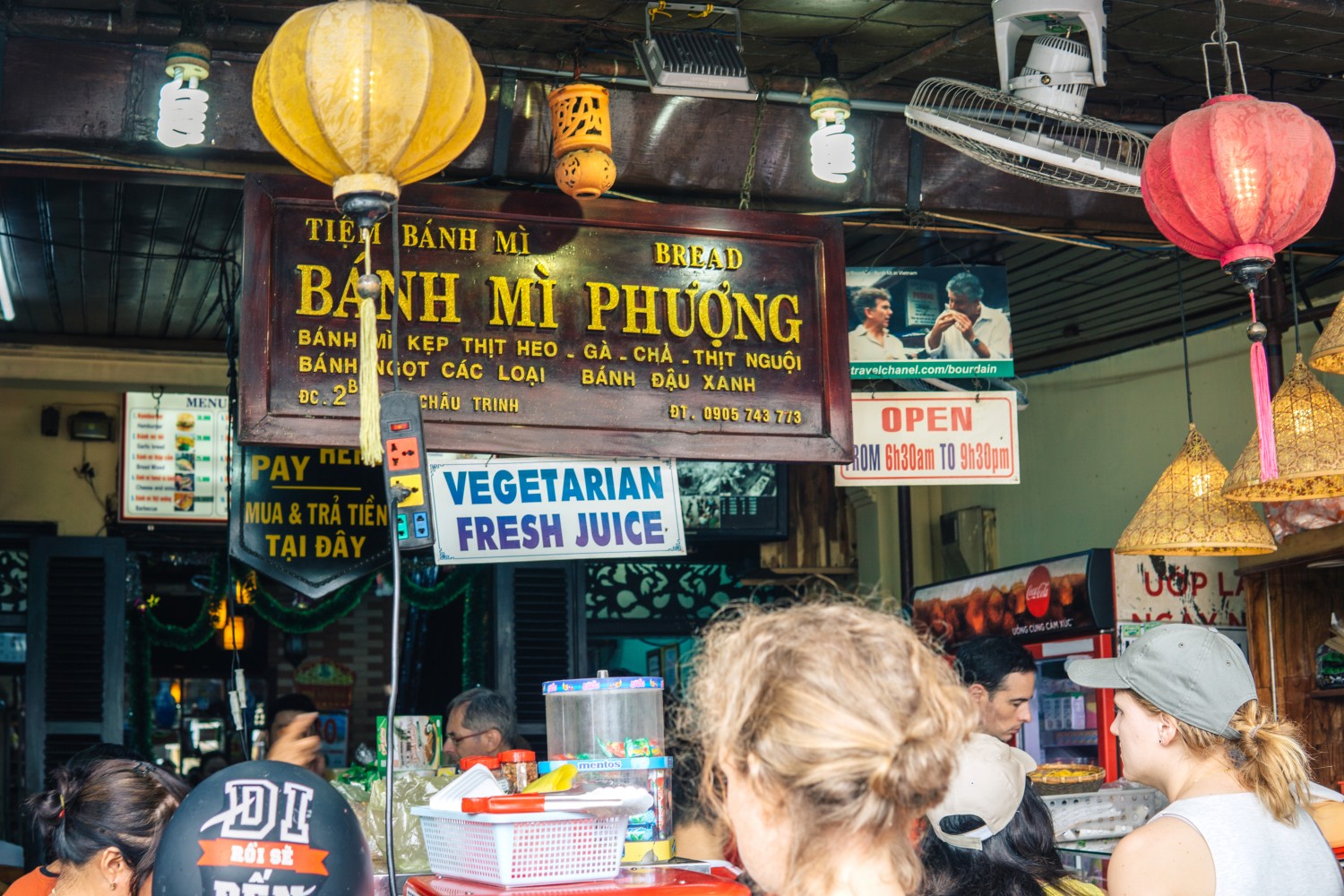 A typical banh mi has a crispy outer layer that adds a mouthwatering crisp crack in every bite. Inside the seven-inch airy bread are roasted pork belly, locally-sourced cold cuts, pate, pickled vegetables, cucumbers, cilantro, fresh chilies, and a drizzle of seasoning.
Other types of banh mi have also emerged over time to cater to its growing fans. To name a few, banh mi cha ca has fried fish cakes instead of pork, while banh mi ga nuong is a baguette stuffed with marinated grilled chicken.
A $100 banh mi made famous by Chef Peter Cuong Franklin of Anan Saigon in 2017 has gotten the nod of international gastronomes and food vloggers, too. The Anan Banh Mi Đac Biet features sautéed foie gras, grilled pork chop, sweet potato fries, and black truffle mayonnaise. It also comes with a tin of Caviar De Duc and two glasses of Prosecco.