Christina Nguyen is the chef and co-owner of Hai Hai, a James Beard nominated Southeast Asian street food restaurant in Minneapolis. Working in the dining industry since 2014, Nguyen's reputation precedes her as a self-taught chef who brings the most innovative flavors of Southeast Asia to Minnesota. Dining at Hai Hai, you can experience the excitement of Nguyen's own trips to Vietnam vicariously through her food: whether it's the sweet & savory Grilled Pork Belly skewers with rhubarb tocino marinade, or the Chicken Banana Blossom Salad with nuoc cham sauce, or the Cha Ca La Vong from Hanoi of turmeric coated pan-fried cod, Nguyen tells stories that flirt with your taste buds.
Growing up in the Twin Cities with Vietnamese immigrant parents, Nguyen inherited a strong work ethic from her mother and always aspired to one day become a business owner. After college, Nguyen tried her hands at opening small businesses like a boba shop called the Tea Garden and a locally-designed clothing boutique called Design Collective.
It wasn't until 2011, when Nguyen and her now-husband and business partner, Birk Grudem, decided to open a Latin food truck in response to the blossoming food truck scene in Minneapolis. Three years later, the simple truck became Hola Arepa — a local restaurant serving the couple's unique take on Latin street food, inspired by their trips to Latin America. The signature dishes on the menu, as the name suggests, are arepas — grilled cornmeal cake with stuffings like Chimichurri Chicken, Chorizo Sausages, or Slow-Roasted Pork. The restaurant became an instant neighborhood favorite.
The success of Hola Arepa gave Nguyen the confidence to join the larger Vietnamese food community in Minneapolis. In 2017, Nguyen and her partner opened Hai Hai. Unlike many other Southeast Asian restaurants that serve the region's most well-known dishes like pho and pad thai, Hai Hai shines the spotlight on some lesser known delicious regional dishes, like Bun Cha Hanoi (Vietnamese meatballs), Banh Xeo (Vietnamese Crepe), and Banh Meo (Water Fern Cakes).
Also inspired by dishes that Nguyen grew up eating at home, in Vietnamese Sunday school basements, and on her several trips to Southeast Asia, Hai Hai is a celebration of Southeast Asia's rich food culture and Nguyen's own Vietnamese identity. Recently, Vietcetera caught up with Nguyen to learn more about how she became a chef, her experience in the dining industry, and her connection with the Vietnamese-American identity.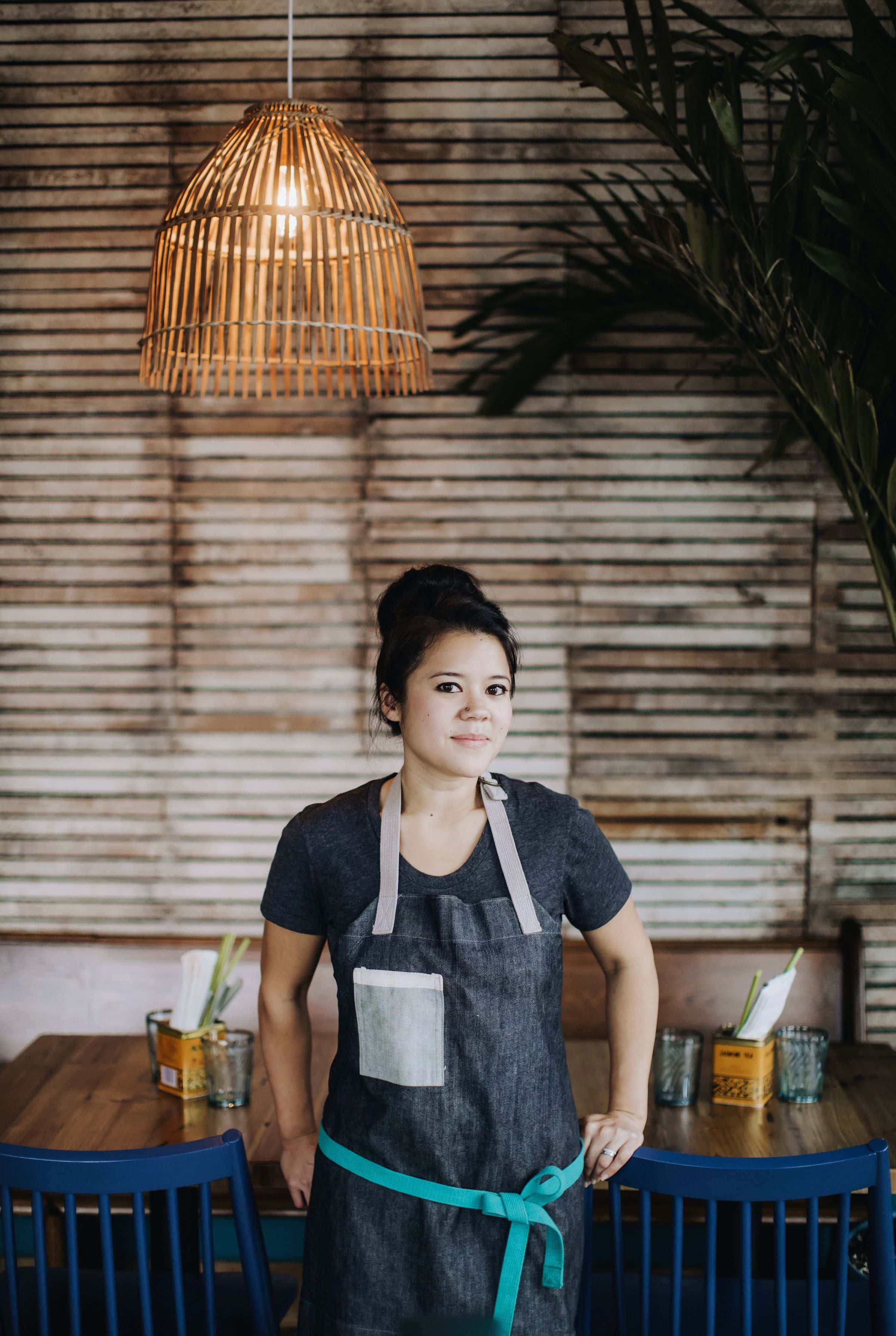 The Twin Cities have a large Vietnamese population. What was your experience like growing up Vietnamese-American?
Growing up, I learned that my experience as a Vietnamese-American person is a lot different from my parents'. My parents came to America in 1975 as teenagers when a lot of people were fleeing Vietnam. Though they didn't know each other back then, they both landed in the Twin Cities where there were a lot of sponsors. Like most immigrants, they had to assimilate really quickly and learn a lot of English very fast. So growing up speaking the language here and being able to speak Vietnamese as a child was definitely an advantage for me, compared to my parents.
Another thing about growing up with an immigrant family is that they hustled really hard, and I learned that from them. Even when we were kids, my parents worked full-time jobs while putting together sewing kits at night for extra income. My mom even started a small printing business at home, making paper menus and wedding cards for the Vietnamese community. Eventually, she got a printing shop and became a business owner. Growing up, she has always been my role model because of her fearlessness. I admired that she wasn't afraid to start her own thing. Now that I am a business owner as well, I can truly appreciate how much courage it takes to make a name for yourself.
What inspired you to be a chef?
Like most people, I grew up loving food, but my path to becoming a chef wasn't very traditional. Though I had not cooked in restaurants before starting my businesses, I always had a passion for food, entertainment and hospitality. I got into the food industry when I started our food truck business with my boyfriend at the time — who is now my husband! Back then food trucks were just becoming popular and legal in the Twin Cities. So we thought it would be a fun idea to start a food truck serving Venezuelan arepas.
I actually thought about starting a Vietnamese food truck at first, but I was wary because there was so much great Vietnamese food in the Twin Cities at the time, and I didn't know if I had anything good to add to that conversation. But after a lot of traveling to Southeast Asia and eating different regional foods, I found out there's more to offer in Vietnamese food than what we have in the Twin Cities. That's when I finally came full circle to open Hai Hai, because I wanted to offer the Vietnamese dishes that I love, but wasn't able to find in Minneapolis.
How do you express your Vietnamese identity through food?
It's a very interesting experience not being born in Vietnam but still having visited it so many times and having Vietnamese food at home growing up. A lot of the dishes I had in my childhood were South Vietnamese food, and then I went to Vietnam and discovered the food of Central and North Vietnam, and of course all the amazing street food in Saigon. Vietnamese food to me is both nostalgia and discovery — and that's the story I am trying to tell at Hai Hai.
As a self-taught chef and a woman of color, how have you overcome challenges and barriers in the dining industry?
I think in some way I was lucky to have carved my own path instead of taking the traditional route. I know that a lot of women who took the traditional route of working their way up in restaurants had to deal with misogyny, because it's a very male-dominated industry.
And even though I started on my own and didn't have to face that, I still had times in my career when being the face of the restaurant was uncomfortable for me. Even though I was the chef, I never said it publicly until later on when I realized that people were just assuming that my husband and business partner Birk was the chef. It was hard at first to put my name out there, but I wanted to take ownership of my work and get the credit I deserve.
What was the inspiration behind Hola Arepa and Hai Hai?
At both Hola Arepa and Hai Hai, we serve food that's not always typical for restaurants here. For example, at Hola Arepa we don't do tacos or burritos — and we don't do pho or banh mi at Hai Hai even though they are all very delicious. I wanted to dig into dishes that are lesser known and more regional. v
We try to create a cool vibe at our restaurants that makes you feel like you're traveling to another country. We are also thoughtful when it comes to creating our menus, incorporating Latin ingredients at Hola Arepa and different Southeast Asian ingredients at Hai Hai. For example, we make cocktails with Thai tea, passionfruit, lychee.
What are your hopes for the future of global Vietnamese food culture?
Growing up I always wished that people wouldn't only think of the war when they think of Vietnam. We are a culture that has existed long before the West was involved in our history, and I want people to love Vietnam as much as I do. From North to South, the food, the language, the people, there's so much more to Vietnam than what people understand.
I am glad to see that my generation of Vietnamese-Americans is putting our own twist on Vietnamese food, fusing it with our personal experiences of growing up here in the United States. I hope that by introducing lesser known Vietnamese dishes to Americans, we can educate people on our cuisine. I believe one day, people will appreciate how beautiful Vietnamese culture is and all its nuances.