Cultural trends in Vietnam emerged in 2017, and it was a year of collaborations, commitments, and, inevitably, continued globalization. When Spotify—another international brand with their eyes on expansion into this Southeast Asian "tiger cub" economy—launched in Ho Chi Minh City in mid-March, the music streaming service remembered to hang Vietnamese lanterns and bring a stack of conical hats to the event at the Park Hyatt. To internationals, aside from the war and pho, those are the enduring symbols of Vietnam.
But driven by opportunities for overseas study, greater disposable income, and returning Viet Kieu, Vietnam is redefining itself. Inspired, Vietcetera went looking to identify cultural trends in Vietnam that emerged last year, and ones we think will be realized this year.
Here's what's happening in design, branding, architecture, art, and fashion according to five local experts who are helping to redefine their industries.
Cultural trends in Vietnam: Design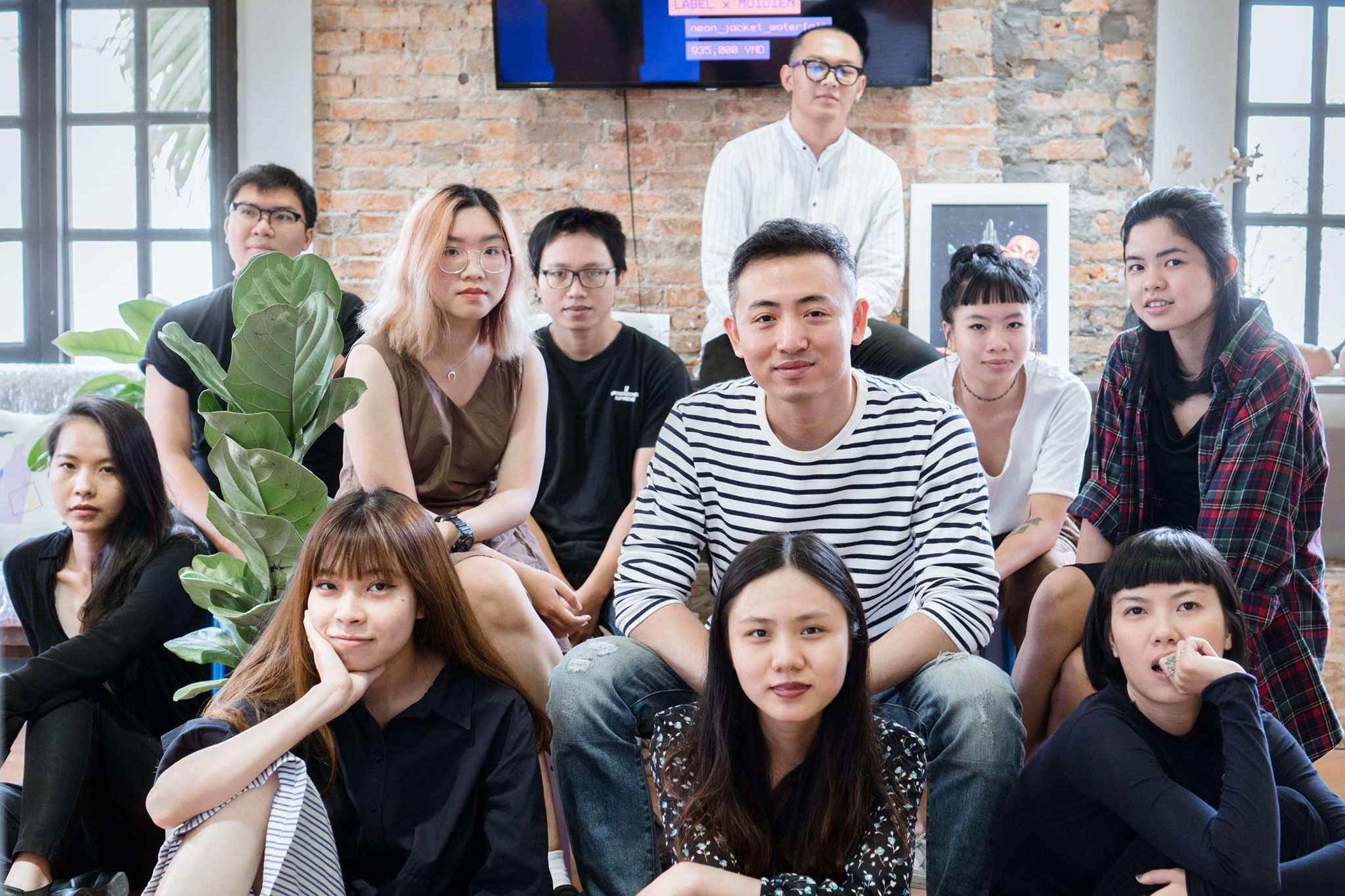 "With design in Vietnam, there's been a long overdue incorporation of local identity," Tuan Le tells us. Born in Danang and raised in California, Tuan has been based in Ho Chi Minh City for almost six years. He runs The Lab, a creative studio, and Label, a collaborative design store. "We can recognize Japanese or Scandinavian design instantly. But Vietnam is only now developing its look," he adds. "And how often have we seen references to hems and straw hats?"
Label's "connected" philosophy was recently captured in their "Label Concept Film." Directed by Robin & Cako, the short is a snapshot of "The creative energy of Saigon. Of all its influences. All that comes before. All that comes back. All that comes next." It taps into other symbols of Vietnam that are the private preserve of some of its residents—like custom motorbikes by Bandit9 and old apartment blocks, like the Cu Xa Thanh Da that appears in the film.
What projects did you complete in 2017 that personify new cultural trends in Vietnam?
Tuan: We try to pay homage to our city, our country, and our culture without relying on tired motifs. We try not to dig for ideas in spaces that have already been explored. Besides our Label Concept Film, I would highlight our interior design of Anan Kitchen + Bar.
Also, although not as obvious, 2017 featured an undercurrent of Instagram-ready pink, neon, and anti-design elements. Take a tour of The New Playground or the Ton That Thiep apartment complex and you'll see what I mean.
What projects by other designers and creatives excited you last year?
Tuan: The Rooster Beer branding from Rice Creative comes to mind. Their work references Vietnamese culture without being too obvious. Another project I love is Ve Ve Hat Boi, in which designers from different disciplines reinterpret traditional Vietnamese operas in different media.
How will you continue to impact Vietnamese design in 2018?
Tuan: We're working on a concept that'll redefine "nhau" [the Vietnamese street drinking tradition that's something akin to the Japanese izakaya culture]. And we're introducing a redesigned ancestral altar into our concept store. This one was a really tough project to crack but we're excited about the results.
What's exciting you about design in Vietnam in 2018?
Tuan: We're likely to see more local inspirations incorporated into design projects. However, I expect the references will be more subtle and more obscure highlighting cultural nuances that we've missed until now.
In doing so, Vietnamese design identity should continue to evolve into something unique, harder to explain, but impossible to ignore. I know Chef Peter from Anan is also working on concepts to reimagine various Vietnamese staples. I'm waiting on that too.
Cultural trends in Vietnam: Fashion
A self-defined fashion and menswear geek, Vu Quan Nguyen is currently creative director at Leo Burnett Vietnam. Previously, he worked in global development for a Japanese menswear label—an industry he still blogs about—while lecturing on the Bachelor of Fashion Management program at RMIT Vietnam. The former Rice Creative Head of Strategy has also written extensively on culture and fashion trends blogging for French fashion magazines like L'Express Styles.
"Vietnam has a singular recent history and consequently consumer identities are shifting constantly," Vu Quan begins. "Now, I would say Vietnamese consumers are both random followers and trendsetters. Because so much has changed so quickly—from new market segments being introduced to new brands appearing—it's difficult to identify trends amid the chaos."
Describe 2017 in Vietnamese fashion in a few sentences.
Vu Quan: Welcome, globalization! After years of rumors, and decades of grey market goods—from counterfeits to hand-carried imports and factory rejects—Vietnam finally saw a number of global brands open their doors. It's a game changer for lots of people involved in the fashion industry in Vietnam, from manufacturers to retailers and of course media and consumers.
What were the key fashion trends in Vietnam in 2017? How did they reflect global trends in fashion?
Vu Quan: One story in footwear made me proud. In a period when the global market is dominated by streetwear and performance gear, Vietnamese brand Biti's developed their Hunter line which captured the public's attention.
Vietnamese industry insiders like Ha Mi and Dzung Yoko have grown creatively producing brands and a lifestyle with a Vietnamese angle, but connected to the global fashion community. You can see that in, for example, their engagement with "socially aware" fashion. Their environmental protection campaign following the toxic pollution incident in Central Vietnam was particularly memorable.
Do you have any favorite personal stories from the fashion industry in 2017?
Vu Quan: I worked on UberMOTO's new uniforms and "swag packs" with Rice Creative and Linda Mai Phung. After the launch, a black market emerged where drivers were reselling their gear. It's reminiscent of the trend of reselling rare streetwear and sneaker culture items like Supreme apparel or Yeezys. You couldn't make it up.
In the past two years, Instagram has become both a platform for creative influence and a retail tool. Fashion is more socially-driven than ever before. Asian markets are growing in influence at the same time as the perception of Western luxury, fronted by European or American heroes and heroines, is fading. Fashion is democratizing. And it will be pioneered in Vietnam.
How will 2018 be different for fashion in Vietnam?
Vu Quan: Local brands will be the best laboratories to understand trends in Vietnam. Under pressure from international brands, they will look for ways to differentiate themselves. I am also curious as to why so few menswear brands exist. Especially as the number of young, fashion-conscious men is booming.
More broadly, the fact that The Label's Concept Film made it onto 88Rising—the platform that gave prominence to Rich Brian, formerly known as Rich Chigga—is exciting. It signifies that the coming together of creatives from all backgrounds in Vietnam is taking shape. Something powerful will be made and recognized worldwide very soon.
Which upcoming projects in 2018 completed by other people in the industry would you highlight?
Vu Quan: I feel we're still waiting for the first Vietnamese homegrown brand to impact the global market. There's a new brand, who are just about to launch, called Super Vision. The brand, which is inspired by Berlin's bicycle culture, might be the first to achieve that goal.
The reason I believe they can succeed is due to their focused concept, and a direct-to-customer distribution approach. At its core, it's a brand that connects Europe and Asia, so it has the chance to connect to a global, well-traveled, hyperconnected audience. I could see it having a similar trajectory to brands like Revolve and Mansur Gavriel. Plus men's technical wear is growing as seen in the popularity of brands like Stone Island, Y3, and The North Face.
Cultural trends in Vietnam: Brands
Along with Rice Creative's other co-founder, Chi-An De Leo, Joshua Breidenbach has been pivotal in helping Vietnamese brands receive international recognition. Marou, whose branding was developed by Rice, are as well known for their colorful packaging as their bites of satisfyingly bitter cacao.
Like many of the people Vietcetera connected to for this article, they also have a curator's eye for a collaboration—the Maison Marou cafe on Calmette Street was the result of a partnership with HTAP architects (and so too was their new office); the UberMOTO "swag pack" the result of a team-up with French-Vietnamese designer Linda Mai Phung.
"I think everyone here is really focused on raising the bar. There is some sense of being isolated, but that's not necessarily negative. It's like in music when a scene is born and allowed to develop underground. That process is what breeds authenticity, and in most cases it's what draws more people in to help form the next trend," Joshua says.
Can you describe how brands evolved in Vietnam last year in a few sentences?
Joshua: Branding in Vietnam is determined to be Vietnamese. The practice is becoming more and more thoughtful and brand builders are increasingly aware that they are responsible for a big shift in perception—brands are some of the best purveyors of the stories of a nation.
What do you think were the key trends last year for brands in Vietnam?
Joshua: I just see a trend in individuality, which is all we need. It is the most exciting thing ever. People here do not see the need or appeal in emulating something done elsewhere.
How did your work at Rice Creative exemplify those trends? What specific projects would you highlight?
Joshua: I wish more of our work from this past year was published. Two projects that we did complete and launch, and that come to mind as being really unique, are Suboi's E.P's artwork and Rooster Beers. The branding and design of both are so conscious of their origins and focused on talking to a local audience, that they look really refreshing to everyone else.
Which projects completed by other people in the industry would you highlight?
Joshua: Coming from an advertising background, I really appreciate the recent spot for Vietnamobile by Phibious and Clubhouse films, directed by Connor Gilhooly. It is a great example of a bigger brand trusting that the market is hungry for edgy communication.
I've also been really thrilled to see additions to the culinary scene, and with that, thoughtful restaurant design from people like The Lab and their Anan restaurant, whose success is also due to the hard work of Peter Cuong Franklin. It's become a must-visit whenever we have guests in town.
The recently opened Quince and Tomatito are also raising the bar, along with a more established favorite, Pizza 4P's. These are the types of high-quality, thoughtful, and ambitious dining options this city needs. Their growth from here should be exponential as the market witnesses these risk-takers cashing in.
How do you see 2018 being different for brands in Vietnam?
Joshua: It's getting more "real." In 2011, when we founded Rice, we didn't quite feel the energy at that time. Now, client work coming in is on the level we always wished. And Ho Chi Minh City is still such a wonderful place to experiment, with lots of local brands with bright destinies. They are well-informed and ready to be strategic.
Cultural trends in Vietnam: Art
2017 was a really significant year for artist Richard Streitmatter-Tran. "I've really been going into hermit mode and focusing on my own work," the prolific Ho Chi Minh City-based artist laughs.
It's the year he shelved his gallery, Dia Projects. That allowed Richard to complete shows like "Departures: Intersecting Modern Vietnamese Art" that had the artist exhibit new work alongside forty modern Vietnamese masterpieces by artists like Le Pho at the de Sarthe Gallery, Hong Kong between May and June.
"After 15 years, I signed with a gallery—de Sarthe—for the first time. This came both from chance and necessity and I've started to reconfigure my own studio practice to reflect this, balancing works created for institutions and events that are largely-non salable to works that can be sold to collectors," Richard explains.
International interest in Vietnamese art has also been piqued by artists like Tran Trong Vu with "The Sonnet In Blue", an "extravagant maze of handmade flowers," at the National Gallery Singapore.
And Vietnamese-born Mexico City-based artist Danh Vo had significant shows both in 2017 and already in 2018—last year, he completed his Ng Teng Fong Roof Garden Commission for the National Gallery, Singapore, and this year his show "Take My Breath Away" was held at the Guggenheim Museum, New York.
And there's also Dinh Q. Le's "Skin On Skin" at the 10 Chancery Lane Gallery, Hong Kong which opened in March—a show that includes a "series of woven photographs" that explore the evolution of attitudes towards sex in Vietnam.
Can you describe developments in the art scene here in 2017?
Richard: We saw many Vietnam-based artists exhibit in major exhibitions both abroad and locally. And here in Ho Chi Minh City, The Factory continued to innovate, Salon Saigon opened, Dia Projects closed, Mot+ emerged, and Galerie Quynh reopened. An interesting tapestry is evolving which is helping to create a diversity of exhibitions and events—from curated shows to more ad-hoc happenings.
How do you feel trends in Vietnamese art reflected global trends?
Richard: For me, it's not about trends. That idea is a bit diminishing. For example, would we call environmental concern a trend? I'd describe that as an awareness. And personally, I'm not really following trends nor do I care much about them.
I would say, however, that the demand for socially-engaged art is high from international curators—as it has been for the last decade or so. I feel though that there may be a slight turn toward artists invested in craft. I've seen artists putting more time into learning new techniques and taking personal approaches to making art that is not reliant on well-trodden tropes such as the Vietnam War.
Also, although I can understand that there may be other competing and pressing needs the nation has to tend to, I would like to see Vietnam develop its cultural infrastructure—from education to museums to better access to information such as world-class libraries and bookstores. But I'm optimistic that the country will improve on that front over time, as it already has been doing.
How do you see 2018 being different?
Richard: Hopefully, we'll see more ambitious projects happening in Vietnam. Two new curators have been hired, David Wilis for Mot+, and Brian Curtin at San Art. I wish them both the best as they begin their new positions. I'm also happy to learn that the VCAA (The Vincom Center For Contemporary Art, Hanoi), after its initial groundbreaking period, will relinquish more artistic control to its director.
Vin Gallery is engaging with some of the top emerging artists in Vietnam and the region and showing internationally at art fairs like VOLTA, New York and Art Kaohsiung, Taiwan. And more artists are coming to Vietnam for residencies—for example, a group will be joining the French Institute's new residency program in Ho Chi Minh City, which could be really exciting.
What projects of your own or other people's are you most excited about?
Richard: One reason that Dia Projects is shelved for the time being is that I'm focusing heavily on my work. I'm currently preparing for a solo show at the Bangkok University Art Gallery that opens at the end of April.
And I'll also call out a reason to be excited regionally. There are two first-time biennales in Thailand at the end of 2018, The Bangkok Art Biennale, and The Thailand Biennale that's in Krabi, which will include a number of artists from Vietnam—and I might be one of them. There's also an alternative biennale being organized by various art spaces in Bangkok. Keep your eyes and ears open for those.
Cultural trends in Vietnam: Architecture
Architectural developments in Ho Chi Minh City have been as hopeful as they have been heartbreaking. "So much value has been lost that I gave up being upset when I see another modernist gem get destroyed. We can only document and hope that the new generation will be thoughtful in architectural and urban planning," Rice Creative's Joshua Breidenbach had mused during our discussion about trends in branding in Vietnam.
Despite the tragic loss of heritage buildings like the Ba Son Shipyard, visionary Vietnamese and Vietnam-based architects are helping to "reimagine the chaotic Vietnamese metropolis with beauty, sustainability, and livability in mind," according to a recent piece in the South China Morning Post. KIENTRUC O are one of the architecture teams behind that reason for optimism.
Dam Vu graduated from the Saigon University Of Architecture in 2001, set up his first practice in 2007—ONE ARCHITECTURE—and in 2010 moved to Lund, in Sweden, to explore the wider context of European architectural practice. He returned to found KIENTRUC O in 2013.
Can you describe architectural trends here in 2017?
Dam Vu: Branching off from the architectural monotony that the world is spiraling into, new Vietnamese architecture in 2017 was filled with promise and potential. And it still is in 2018.
New spaces that embrace nature are providing extra value to our living environments. Those themes continue across all kinds of building typologies—from houses, offices, restaurants, to hotels, schools, and other educational institutions. This phenomenon is an inspiration for architects of all generations, and students of architecture here.
Which projects that have been completed by other architects do you feel were most relevant in 2017?
Dam Vu: Most intriguing to me were projects that exhibited a strong understanding of traditional Vietnamese sense of space but which were complemented by the sophisticated use of local materials and construction techniques. To name two that were finished in 2017, "Chau Doc House" by NISHIZAWA Architects and "Binh House" by VTN Architects, although there are many others that were equally inspiring.
And which of your own KIENTRUC O projects would you highlight?
Dam Vu: At KIENTRUC O, we always strive to communicate and instill a strong sense of emotion in our spaces. We want to inspire the human heart, and foster better living conditions for our end users. We realized a diverse range of projects that fit those objectives in recent years. There was the "T House," the "D House," and Chuon Chuon Kim Kindergarten 1.
What projects are you looking forward to in 2018?
Dam Vu: We are preparing to announce two recently completed kindergarten projects— Chuon Chuon Kim Kindergarten 2 and ABI International Preschool in Ben Tre Province. They are the result of our careful study of how children grow up in crowded, cluttered cities. We strongly recognized that their world differs from ours—it's full of adventures and imaginative stories—and so each kindergarten incorporates an experiential environment that is sure to arouse the curiosity that every child has.
But every new project for us is exciting because we breathe new and unique characteristics into everything we do. That's what keeps us motivated.
Related Content:
[Video] Pizza 4P's Ben Thanh and Shunri Nishizawa Architects
[Article] Rice Creative: Meet The Team Setting Design Standards In Vietnam